Published on December 9, 2019

Did you know that anxiety is the most common mental illness in the United States, affecting approximately 18% of the population? And about half of those experiencing anxiety are also suffering from depression? The following infographic created by OmegaQuant is an illustration to show some of these statistics about anxiety and omega-3s.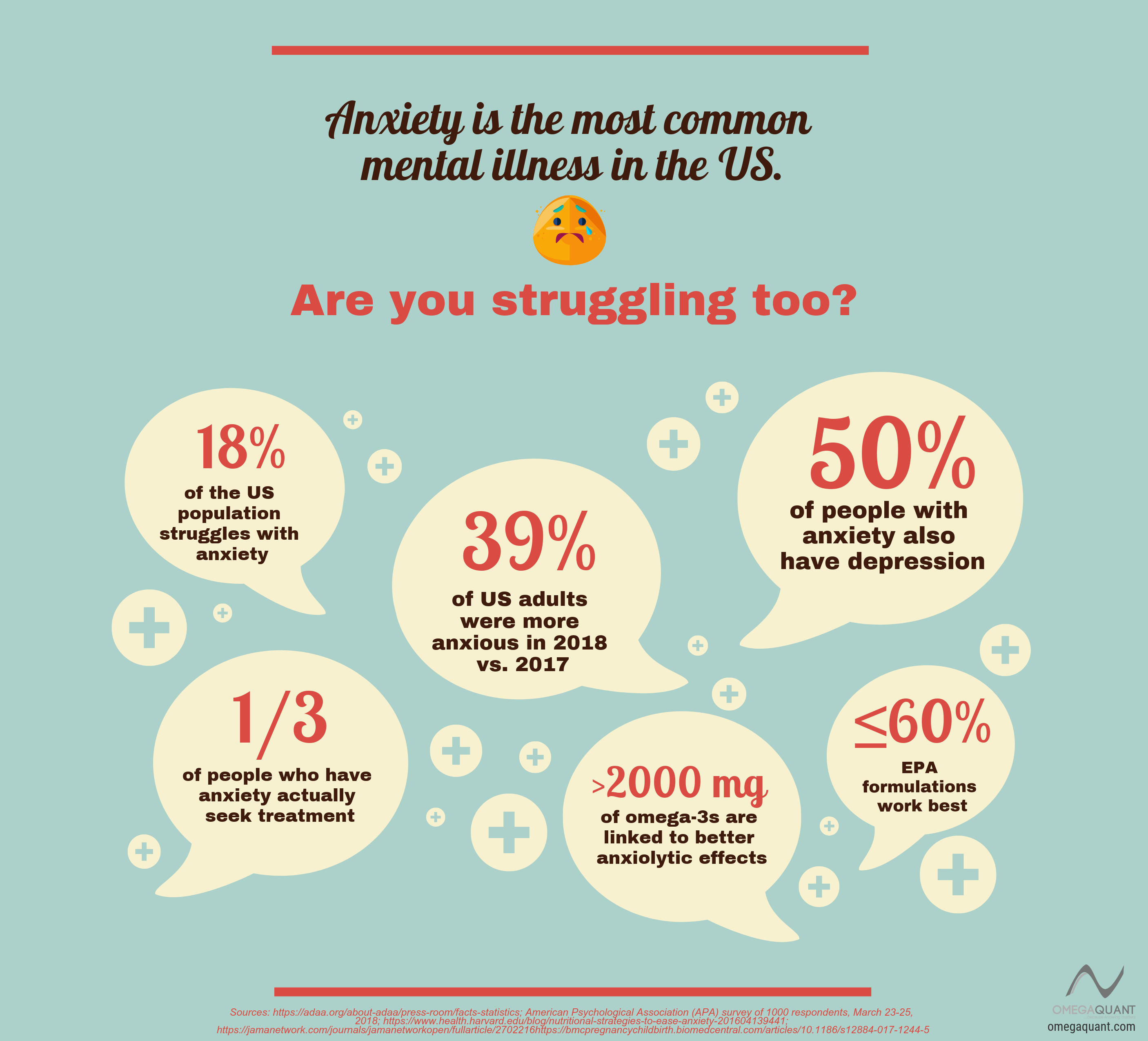 What does the research say about how vitamin D & omega-3s affect anxiety and depression?
Grassroots Health has featured several studies with data showing a beneficial effect of both vitamin D and omega-3s on mental and emotional disorders, such as anxiety and depression. Our last post focused on Seasonal Affective Disorder (SAD) and the benefits that vitamin D and omega-3s may provide for people who suffer from it. However, vitamin D and omega-3s can have positive benefits for mental and emotional wellbeing throughout the year.
Better mental health with higher vitamin D levels
In October 2017, results were published from a study assessing the relationship between vitamin D levels and indicators of mental health such as depression, anxiety, and stress among 7,518 adult Canadians. All measured indicators of mental health (emotional health, self-perceived mental health, self-perceived general health, and self-perceived stress) were positively associated with higher vitamin D levels.

Mental Health, Inflammation, and Vitamin D
Mental disorders, such as depression, anxiety, substance abuse, and schizophrenia, have been associated with chronic inflammation as well as vitamin D deficiency. A meta analysis by Jamilian et al., published in the journal Progress in Neuropsychopharmacology & Biological Psychiatry, reviewed the research available on inflammation, mental health, and vitamin D in patients diagnosed with psychiatric disorders.

Omega-3 Effect on Depression Backed by Strongest Level of Evidence
The world's largest review (called a meta-synthesis) of nutrient supplements and mental disorders published by Firth et al. examined 33 meta analyses of randomized controlled trials on dietary supplements and mental health. The analysis included data from 10,951 individuals with diagnoses such as depression, stress and anxiety, bipolar, personality disorder, schizophrenia, and attention-deficit/hyperactivity disorder (ADHD). The researchers looked at the potential benefits of specific nutrient supplements, including dosage, target symptoms, safety and tolerability, for each of the mood and mental disorders.

Don't Forget about Magnesium and other Co-Factors!
Another paper, published in PLoS ONE by Pouteau et al., looked at individuals with moderate to severe stress to see how treatment with magnesium or magnesium plus vitamin B6 affected perceived stress levels. Since vitamin B6 has also shown anti-stress benefits, and it assists in the cellular uptake of magnesium, this study compared the effects of magnesium alone versus magnesium combined with B6 on stress.

Test to know your status of these essential nutrients to help protect your mental and emotional health
Make sure you know your Omega-3 Index (target of at least 8%) and your vitamin D level (target of 40-60 ng/ml or 100-150 nmol/L), and are taking daily steps to keep both within range. Find out your levels today! Log on to the test selection page (click the link below) to get your tests and see for yourself if your levels can be improved.
Make sure you track your results before and after, about every 6 months!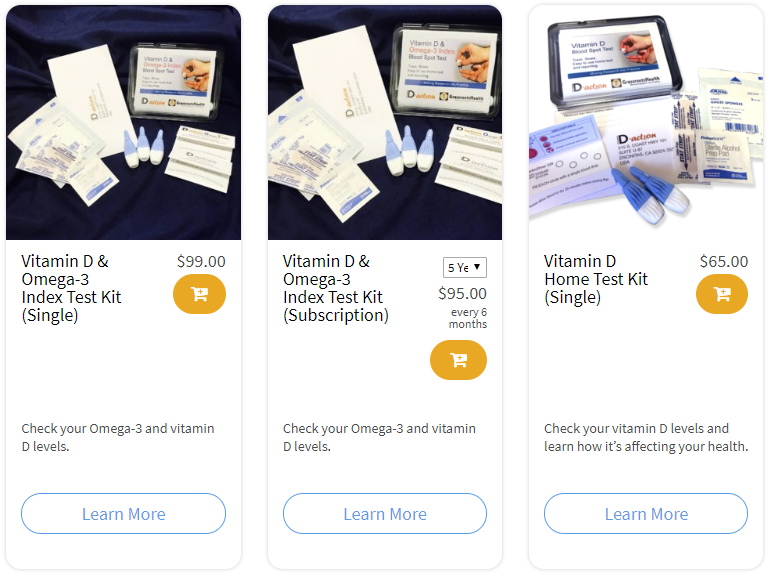 Click Here to Access the Test Page
How can I track my nutrient intake and levels over time?
To help you track your supplement use and nutrient levels, GrassrootsHealth has created an online tracking system called myData-myAnswers. For each specific supplement, you can track what days you take it, how much, and many other details. This will help you know your true supplemental intake and what patterns of use work for you to reach and maintain optimum nutrient levels. Check it out today!
How Can You Use this Information for YOUR Health?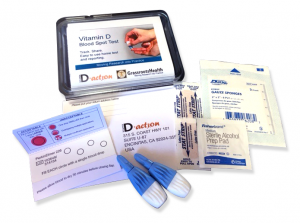 Having and maintaining healthy vitamin D and other nutrient levels can help improve your health now and for your future. Measuring is the only way to make sure you are getting enough!
STEP 1 Order your at-home blood spot test kit to measure vitamin D and other nutrients of concern to you, such as omega-3s, magnesium, essential and toxic elements (zinc, copper, selenium, lead, cadmium, mercury); include hsCRP as a marker of inflammation or HbA1c for blood sugar health
STEP 2 Answer the online questionnaire as part of the GrassrootsHealth study
STEP 3 Using our educational materials and tools (such as our dose calculators), assess your results to determine if you are in your desired target range or if actions should be taken to get there
STEP 4 After 3-6 months of implementing your changes, re-test to see if you have achieved your target level(s)