Published on January 3, 2022


Supplementing with vitamin B6 with magnesium improved stress by an additional 24% compared to magnesium supplementation alone
Key Points
According to previous research, supplementing with magnesium has demonstrated a significant improvement in depression and anxiety symptoms
Vitamin B6 has also shown anti-stress benefits and it assists in the cellular uptake of magnesium
The study reviewed below showed a 24% greater improvement in stress in the magnesium with vitamin B6 group compared to the magnesium only group for those with severe or extremely severe stress
---
Magnesium is a mineral essential for many functions within the body. Magnesium is the second most prevalent cation within our cells, and is involved in 700-800 different enzyme systems, including protein synthesis, energy metabolism, bone development, muscle and nerve function, blood pressure regulation, and blood glucose control. Magnesium also plays a key role in the metabolism of other important minerals such as calcium and potassium, and is needed for vitamin D activation.
Other vitamins, including vitamin B6 (pyridoxine), are also known to work in conjunction with magnesium.
Magnesium, Vitamin B6, and Anxiety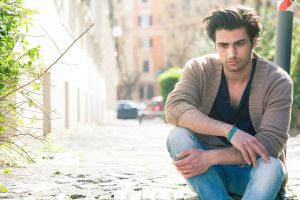 A previous blog reviewed the results from a clinical trial assessing whether magnesium supplementation could improve depression and anxiety symptoms. Within two weeks, participants supplementing with magnesium demonstrated a significant improvement in depression and anxiety symptoms, whereas no improvement was seen in those without magnesium supplementation.
Another paper, published in PLoS ONE by Pouteau et al., looked at individuals with moderate to severe stress to see how treatment with magnesium or magnesium plus vitamin B6 affected perceived stress levels. Since vitamin B6 has also shown anti-stress benefits, and it assists in the cellular uptake of magnesium, this study compared the effects of magnesium alone versus magnesium combined with B6 on stress.
This study enrolled 268 adults with moderate to extremely severe stress who also presented with low levels of magnesium. Participants were randomized into two groups – one receiving either a combination of 470 mg magnesium with 5 mg vitamin B6 per day, or just 465 mg magnesium. Supplements were taken every day for eight weeks. Stress levels were assessed using a clinically validated questionnaire designed to measure levels of depression, anxiety, and stress over the previous week.
What were the findings of this study?
As illustrated in the chart below, both the magnesium only group and the magnesium plus B6 group experienced rapid and significant reductions in stress over the 8 week period; overall, the reduction was around 40%. However, there was a 24% greater improvement in stress in the magnesium with vitamin B6 group compared to the magnesium only group for those with severe or extremely severe stress.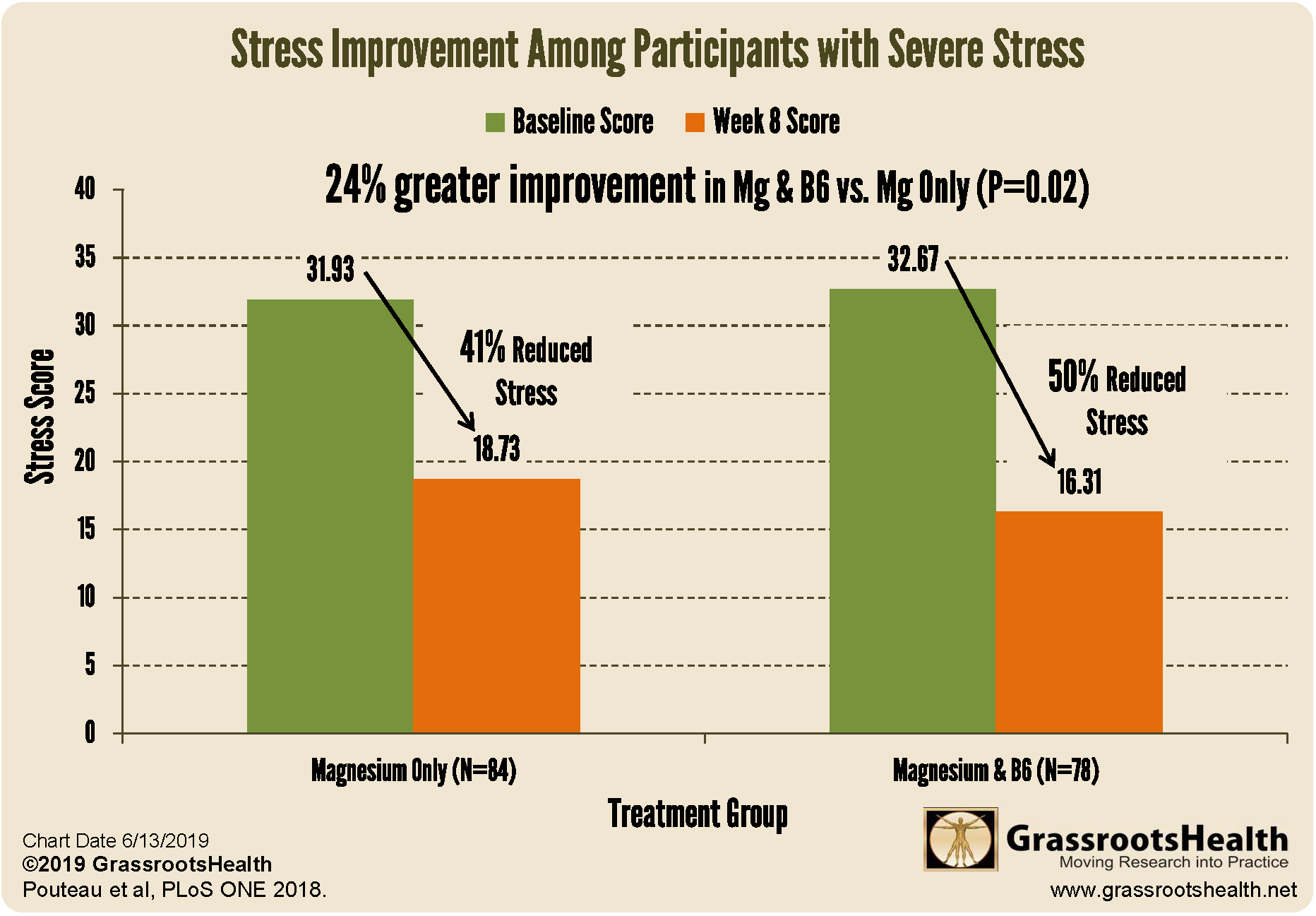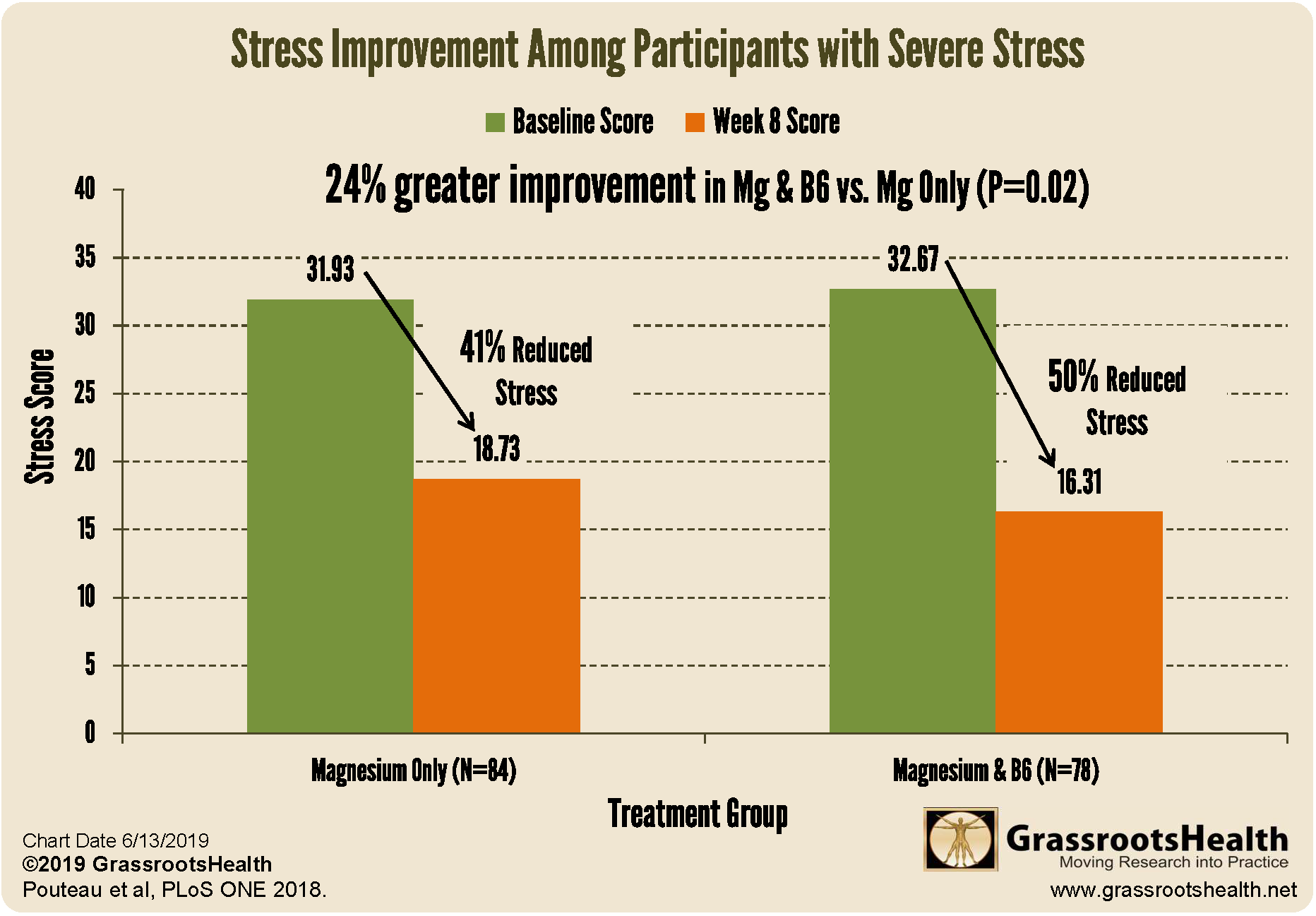 This study is an example of how nutrients can work together to produce a greater effect on health than either nutrient alone.
How does your magnesium level compare to others?
Make sure you know your level of magnesium and are taking daily steps to keep it within range. Find out your levels today! Log on to the shop (click the link below) to get your tests and see for yourself if your levels can be improved.
Make sure you track your results before and after, about every 6 months!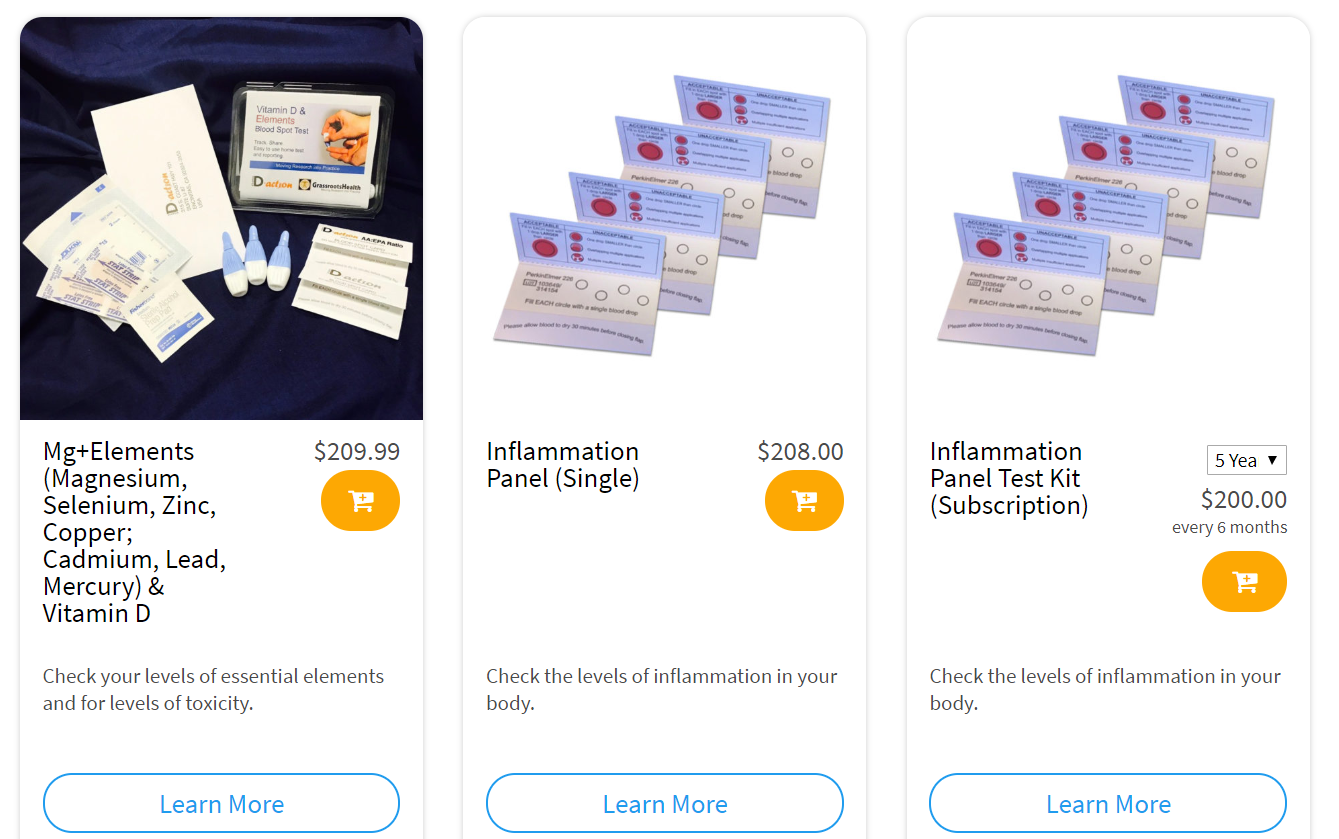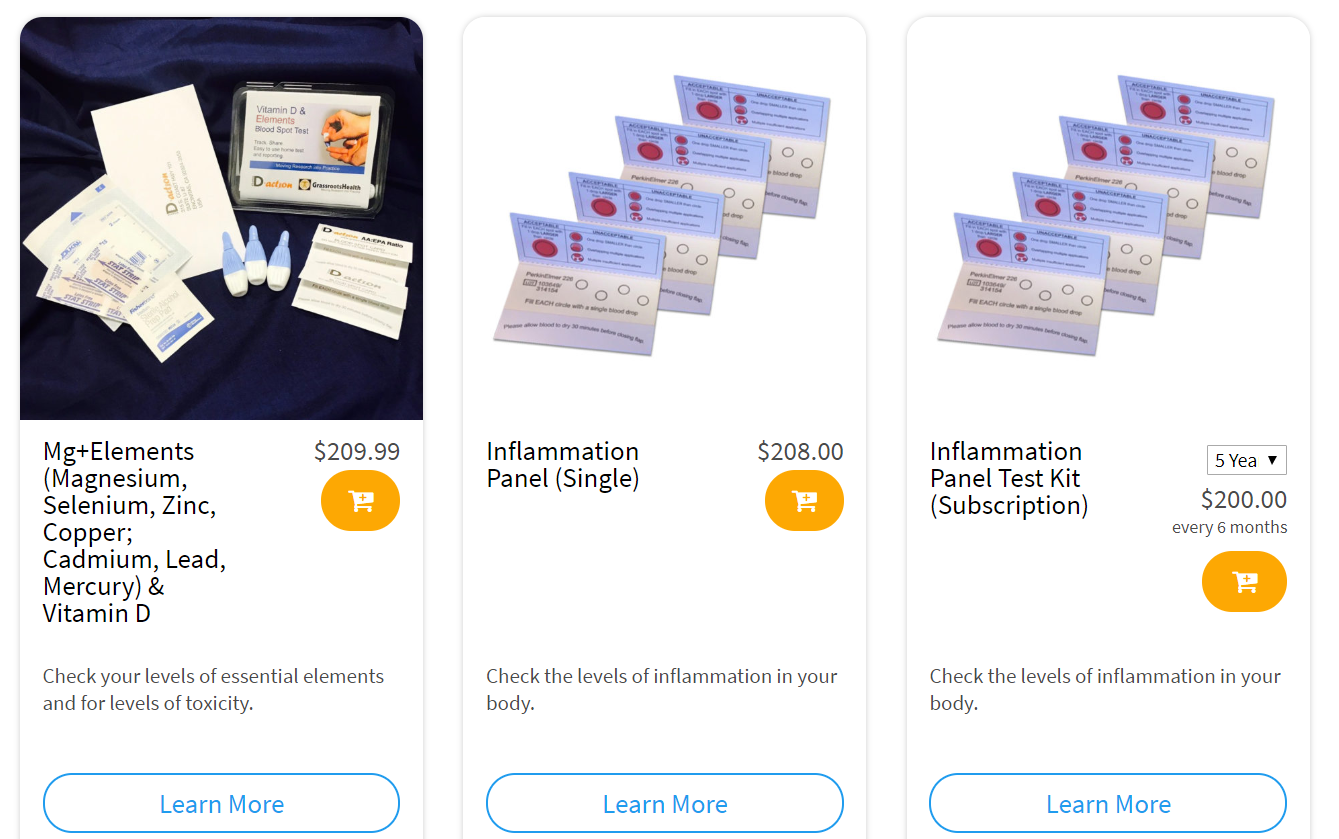 Click Here to Access the Shop Page
How can I track my magnesium level and intake?
To help you track your magnesium intake along with your resulting level, GrassrootsHealth has created an online tracking system called myData-myAnswers. You can track any of your supplemental and dietary nutrient intakes to see how they impact your levels and overall health. Check it out today!
How Can You Use this Information for YOUR Health?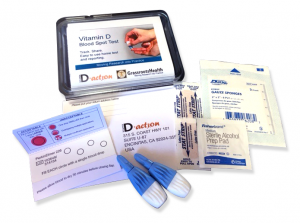 Having and maintaining healthy vitamin D and other nutrient levels can help improve your health now and for your future. Measuring is the only way to make sure you are getting enough!
STEP 1 Order your at-home blood spot test kit to measure vitamin D and other nutrients of concern to you, such as omega-3s, magnesium, essential and toxic elements (zinc, copper, selenium, lead, cadmium, mercury); include hsCRP as a marker of inflammation or HbA1c for blood sugar health
STEP 2 Answer the online questionnaire as part of the GrassrootsHealth study
STEP 3 Using our educational materials and tools (such as our dose calculators), assess your results to determine if you are in your desired target range or if actions should be taken to get there
STEP 4 After 3-6 months of implementing your changes, re-test to see if you have achieved your target level(s)