Published on December 6, 2019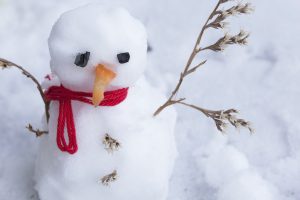 In many areas of the northern hemisphere, we are now faced with darker, longer days, little sunshine. For some people, this leads to a serious bout with Seasonal Affective Disorder (SAD). There are two specific nutrients that have been demonstrated to greatly help prevent and/or manage this condition: Vitamin D and Omega-3.
Omega-3
Many Americans' diets are lacking in healthy fats, including the animal-based omega-3 fats EPA (eicosapentaenoic acid) and DHA (docosahexaenoic acid). Although omega-3s are most well known for their role in heart health, they also play an integral role in brain health and mental health. The 2001 book, "The Omega-3 Connection," written by Harvard psychiatrist Dr. Andrew Stoll, was among the first works to bring attention to, and support the use of, omega-3 fats for depression.
Here is a paper, Omega-3 fatty acids and major depression: A primer for the mental health professional, by Alan C Logan from Canada.
Abstract
Omega-3 fatty acids play a critical role in the development and function of the central nervous system. Emerging research is establishing an association between omega-3 fatty acids (alphalinolenic,eicosapentaenoic, docosahexaenoic) and major depressive disorder. Evidence from epidemiological, laboratory and clinical studies suggest that dietary lipids and other associated nutritional factors may influence vulnerability and outcome in depressive disorders. Research in this area is growing at a rapid pace. The goal of this report is to integrate various branches of research in order to update mental health professionals.

Vitamin D
In addition to the importance of the Omega-3s, vitamin D is a major player in SAD. Another publication, Relationships Between Vitamin D and Depression and other Mental Health Disorders.
Abstract
There has been research examining the relationship of vitamin D to seasonal affective disorder (SAD), schizophrenia, and depression. Several studies have examined whether light therapy improved mood. Partonen, Vakkuri, Lamberg-Allardt, and Lonnqvist (1996) randomized 29 patients (16 with SAD and 13 controls) in a parallel fashion to either one hour or 15 minutes of light therapy in the morning for two weeks in the winter. One hour of light therapy significantly decreased depressive symptoms more so in the group with SAD than the control group (p = .003). Gloth, Alam, and Hollis (1999) randomized 15 participants with SAD to either 100,000 IU of vitamin D (one time dose) (n = 8) or phototherapy (n = 7). They reported that depression (assessed with the Hamilton Depression Scale) decreased in persons who received vitamin D (from 10.9 to 6.2, p = .040) as compared to those who received phototherapy (from 12.6 to 11.3, p = ns).There were no untoward side effects from the dose of vitamin D; however, a limitation of the study was the one time dose.

Are you getting enough vitamin D and Omega-3s to support a healthy mood?
Is your dietary and supplemental intake of omega-3s enough to ensure an Omega-3 Index of at least 8%? Make sure you also know your vitamin D level (with a target of 40-60 ng/ml or 100-150 nmol/L). Find out your levels today! Visit the test selection page (click the link below) to get your tests and see for yourself if your level can be improved.
Make sure you track your results before and after, about every 6 months!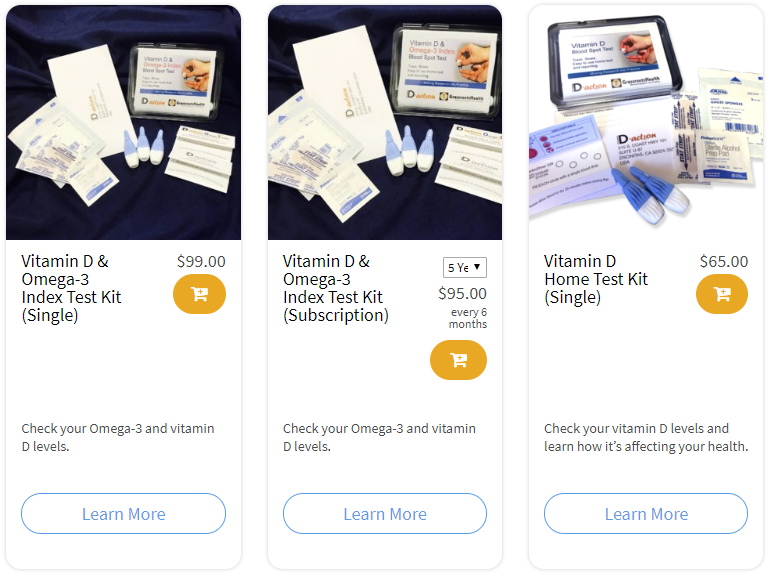 Click Here to Access the Test Page
How can I track my nutrient intake and levels over time?
To help you track your supplement use and nutrient levels, GrassrootsHealth has created an online tracking system called myData-myAnswers. For each specific supplement, you can track what days you take it, how much, and many other details. This will help you know your true supplemental intake and what patterns of use work for you to reach and maintain optimum nutrient levels. Check it out today!
How Can You Use this Information for YOUR Health?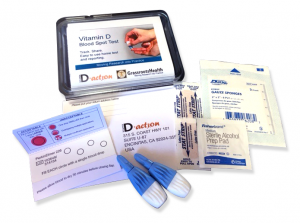 Having and maintaining healthy vitamin D and other nutrient levels can help improve your health now and for your future. Measuring is the only way to make sure you are getting enough!
STEP 1 Order your at-home blood spot test kit to measure vitamin D and other nutrients of concern to you, such as omega-3s, magnesium, essential and toxic elements (zinc, copper, selenium, lead, cadmium, mercury); include hsCRP as a marker of inflammation or HbA1c for blood sugar health
STEP 2 Answer the online questionnaire as part of the GrassrootsHealth study
STEP 3 Using our educational materials and tools (such as our dose calculators), assess your results to determine if you are in your desired target range or if actions should be taken to get there
STEP 4 After 3-6 months of implementing your changes, re-test to see if you have achieved your target level(s)