Published on December 31, 2020


Happy New Year! As we welcome 2021, let's review the top hits from 2020
Happy New Year's to YOU!  Before we say goodbye to 2020, let's take a look at the top 10 most popular blogs from the past year. If you haven't seen these yet, now is the time to read them and spread the word!
---
A simplified review of how vitamin D helps to protect against COVID-19 infection and improve outcomes. Topics include vitamin D's role in regulating the immune response and how it helps to prevent upper respiratory tract infections, how vitamin D can protect the lung cells from the SARS-CoV-2 virus, and its association with ACE-2 expression.  Read More
---
GrassrootsHealth, along with some of the top vitamin D researchers in the world, have put together this infographic to present an easy-to-comprehend visual handout to get anyone started on vitamin D. One of the most important messages conveyed with this graphic is that simply taking a vitamin D supplement may not be providing enough vitamin D, especially when the current medical recommendations are too low for almost all people.  Read More
---
Using data from NHANES 2011-2014, Peeri et al. studied the interaction between magnesium and vitamin D by assessing magnesium intake and serum vitamin D levels, and their association with cognitive decline in older adults. They found a significant association between magnesium intake and reduced odds of cognitive impairment for the third and highest quartiles of magnesium intake compared to the lowest, and similarly for the third and highest quartiles of vitamin D serum levels compared to the lowest.  Read More
---
A study by Radujkovic et al. analyzed data from 185 COVID-19 patients to see if vitamin D status at hospital admission had any association with COVID-19 disease severity and survival. Patients admitted for inpatient care were more likely to have a vitamin D level below 12 ng/ml (30 nmol/L). By the end of the study, those with a vitamin D level below 12 ng/ml had a 6-fold higher risk of severe disease resulting in the need for invasive mechanical ventilation and/or death, and approximately 15 fold higher risk of death.  Read More
---
If we need to be outside while the sun is at its peak to make vitamin D, then why have we been told for decades by health organizations to avoid midday sun exposure? Early morning and early evening light only provide us with UVA sunlight, not UVB which is necessary for vitamin D production. Watch this video and read these highlights to see what factors you need to consider when relying on the sunshine for your vitamin D.  Read More
---
A study by Castillo et al. enrolled 76 COVID-19 patients with symptoms of acute respiratory infection and randomized them to the vitamin D treatment group (n=50) or the control group (n=26). Their goal was to determine if early intervention with 25(OH)D could improve outcomes and reduce the need for ICU admission. Of the 26 patients in the control group, 13 (50%) required admission to the ICU with two resulting deaths, while only one patient out of the 50 (2%) in the vitamin D group required admission to the ICU, with no resulting deaths.  Read More
---
A study by Shirvani et al. enrolled 30 healthy individuals to take either 600, 4000 or 10,000 IU of vitamin D per day for 6 months and measured gene expression in white blood cells to determine if there were differences triggered by higher intakes of vitamin D. They found a 4-fold greater effect among those who took 10,000 IU of vitamin D per day (with approximately 1,200 genes affected), compared to those who took 4,000 IU per day (with approximately 300 genes affected). The difference between the 600 IU dose (with approximately 150 genes affected) and 10,000 IU per day was 8-fold greater.  Read More
---
This is a continuation of Part 1 of the simplified review of how vitamin D helps to protect against SARS-CoV-2 infection and improve outcomes in those with active COVID-19.
Topics include the effects of vitamin D in fighting a SARS-CoV2 infection, what causes a severe SARS-CoV-2 infection, and how vitamin D helps to control the cytokine storm and therefore reduce symptom severity. Also covered are more ways that vitamin D helps to regulate the immune response.  Read More
---
This study found that those receiving the DMB combination were significantly less likely to require subsequent oxygen therapy or intensive care support, meaning that simply taking vitamin D, magnesium and vitamin B12 supported immune and lung function. Only 3 out of the 17 patients (18%) in the DMB group required subsequent oxygen therapy. For the patients who did not receive supplementation, 16 of the 26 (62%) required subsequent oxygen therapy.  Read More
---
An experimental study by Schuit et al. (2019) examined the impact of simulated sunlight on aerosol transmission of the influenza virus. The results showed an inverse relationship between simulated sunlight intensity and transmission of the influenza virus over long distances regardless of humidity. In darkness, the half-life (the time it takes for half of the virus to decay) was 31.6 minutes. In simulated sunlight, the half-life was reduced to approximately 2.4 minutes, with nearly 100% viral decay after only 8 minutes, suggesting that it would be unlikely for long-range outdoor transmission of influenza to occur during the daytime sun. Transmission would be more likely over short distances and at lower light intensities.  Read More
---
Start Your New Year Knowing Your Nutrient Status!
By joining the GrassrootsHealth projects, you are not only contributing valuable information to our study, but you are also gaining knowledge about how you could improve your own health through measuring and tracking your nutrient status, and educating yourself on how to improve it. Do you know what your status of vitamin D, omega-3s, and other essential nutrients is? Could your levels be improved? Test now to find out!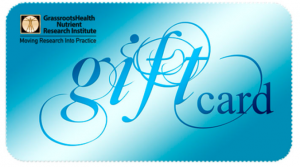 We now have a NEW GIFTING SERVICE that allows you to quickly send 'Gift Cards' to friends, family and coworkers who you consider might need immediate access to testing, and to Claim the Joy of Your Health TODAY. Give the gift today!
What Does it Take YOU to Get Your D to 40 ng/ml (100 nmol/L)?
Did you know your health could be greatly affected by making sure you have a vitamin D level of at least 40 ng/ml (100 nmol/L)? Help us help you.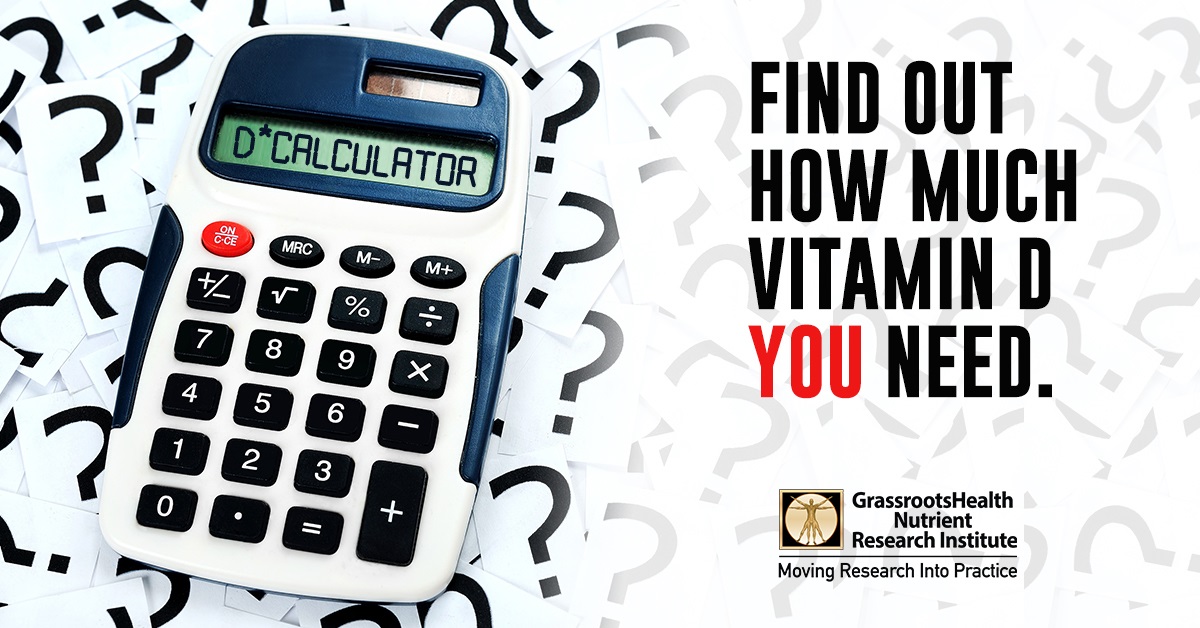 STEP 1 - Do you know what your vitamin D level is? If not, be sure to test today to find out.
STEP 2 – Determine your target level. Are you at your target level? Experts recommend a level of at least 40-60 ng/ml (100-150 nmol/L).
STEP 3 – Need to boost your level? Use the D*calculator to see how much vitamin D it may take to reach your target. Opt for the Loading Dose for a quicker boost.
STEP 4 – Optimize how your body absorbs and utilizes vitamin D with co-nutrients and these simple steps.
STEP 5 – Re-Test! This is an important step to make sure you have reached your target level, and to ensure you are not taking too much! Re-testing after 3-4 months is recommended.
STEP 6 – Adjust, Repeat…
Give your immune system the nutrients it needs to support a healthy you and protect yourself from unnecessary diseases, especially COVID-19.
NEWS ALERT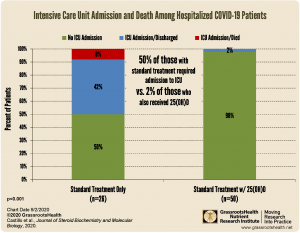 The first Randomized Controlled Trial on vitamin D and COVID-19 has shown a 96% lower risk of ICU admission for those receiving vitamin D (as 25(OH)D to quickly boost vitamin D blood levels) along with the standard treatment, compared to those receiving standard treatment alone.
These results support many previous observational studies showing a relationship between vitamin D levels and intake and COVID-19 severity.
Review the Latest Nutrient Research for COVID-19
GrassrootsHealth Nutrient Research Institute has launched the new Immune Boost project with the use of our myData-myAnswers nutrient health system that nearly 15,000 people are already using for their health. Specific markers that influence immune health are suggested for testing as part of this project including:
Vitamin D
Omega-3 Index
Essential elements magnesium, selenium, and zinc
hsCRP
Our goal is to demonstrate how one can use the Nutrient Research Model established by Dr. Robert Heaney to show the effect of vitamin D serum levels of at least 40 ng/ml (100 nmol/L) on risk reduction for all ethnicities in the population. Status and intake of other nutrients will also be analyzed for any type of relationship to immune status and symptom severity. Join the project today!
Please let us know if you're interested in helping sponsor this project.

CLICK HERE for updates and new information about the project.
Through GrassrootsHealth Nutrient Research Institute, you can also test your essential elements magnesium, copper, zinc and selenium, toxins such as lead, mercury and cadmium, as well as your omega-3 levels, inflammation levels and thyroid stimulating hormone (TSH) level. Find out your levels today! Log on to the test selection page (click the link below) to get your tests and see for yourself if your levels can be improved.
Make sure you track your results before and after, about every 6 months!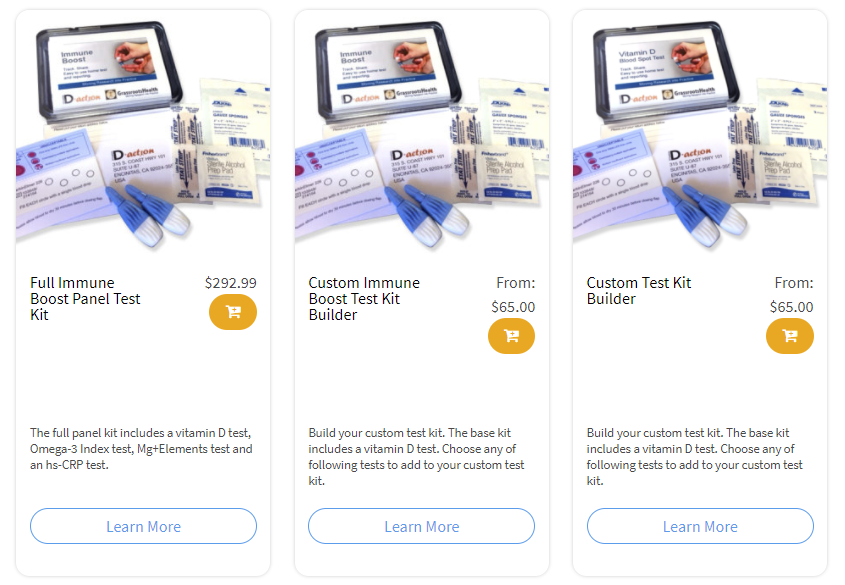 Click Here to Access the Test Page
How can I track my nutrient intake and levels over time?
To help you track your supplement use and nutrient levels, GrassrootsHealth has created the Personal Health Nutrient Decision System called

For each specific supplement, you can track what days you take it, how much, and many other details.  This will help you know your true supplemental intake and what patterns of use work for you to reach and maintain optimum nutrient levels. Check it out today!