Published on May 7, 2020


There is evidence to support that maintaining a vitamin D level of at least 40-60 ng/ml (100-150 nmol/L) is protective against influenza and at least 30 ng/ml (75 nmol/L) to protect against COVID-19 has currently been demonstrated.
People living closer to the equator get more UVB light from the sun and generally have higher serum vitamin D levels than those who live farther away. Within the United States, it has been found that the incidence of pneumonia and death from influenza are lower in lower latitudes. Several scientific papers have recently been published in the wake of COVID-19 that support vitamin D status and sun exposure as important factors to consider for reducing rates of transmission, infection, and symptom severity.
Sunlight could reduce the spread of influenza virus
An experimental study by Schuit et al. (2019) examined the impact of simulated sunlight on aerosol transmission of the influenza virus.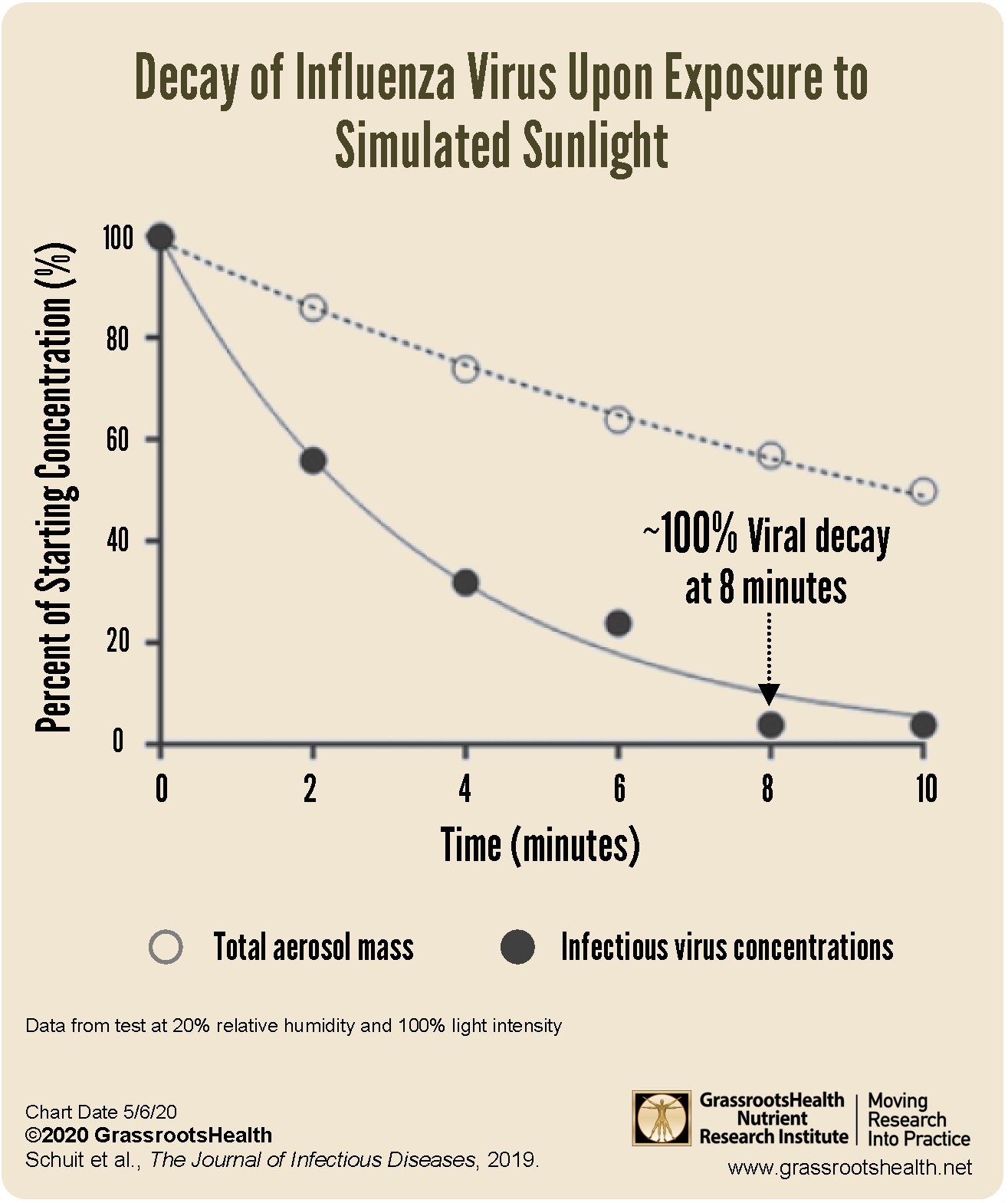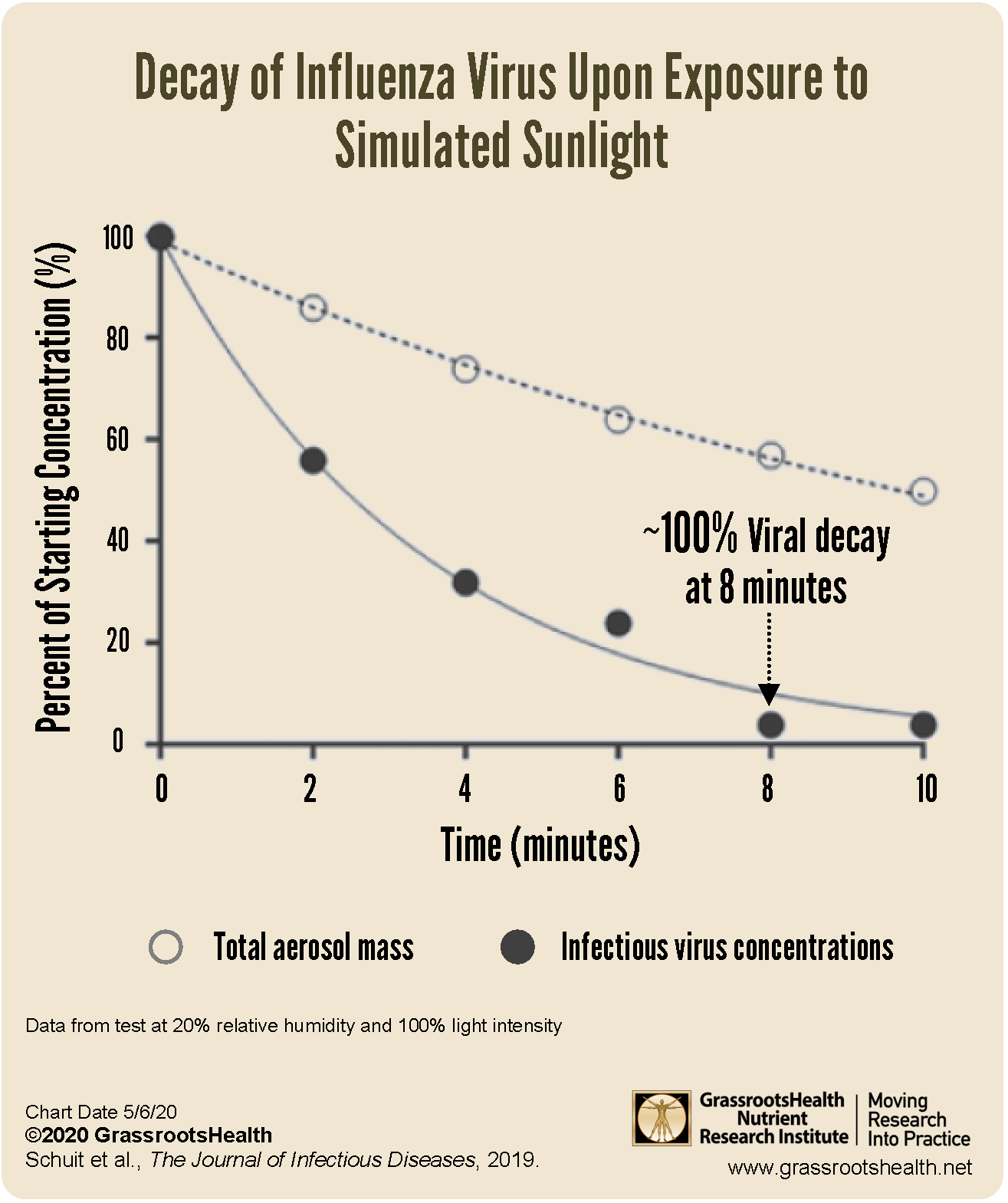 The results showed an inverse relationship between simulated sunlight intensity and transmission of the influenza virus over long distances regardless of humidity. In darkness, the half-life (the time it takes for half of the virus to decay) was 31.6 minutes. In simulated sunlight, the half-life was reduced to approximately 2.4 minutes, with nearly 100% viral decay after only 8 minutes, suggesting that it would be unlikely for long-range outdoor transmission of influenza to occur during the daytime sun. Transmission would be more likely over short distances and at lower light intensities.
Dr. Marc Sorenson, founder of the Sunlight Institute, commented on the Schuit et al. (2019) study saying, "The information from that simple paper is astounding… A decay rate (of influenza virus) 13-times higher for sunlight vs darkness is remarkable. It means instead of isolating at home, we need to either get out in the midday sunshine or get in a sunbed… Sunlight is the best disinfectant." He continues by saying, "This is a beautiful thing, because internally, vitamin D can shut down the cytokine storm (inflammatory immune response), and externally, sunlight can cleanse the air. A great one-two punch."
Latitude and climate may impact incidence of COVID-19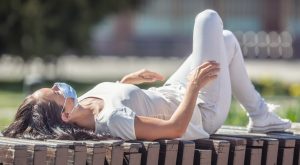 An editorial by Rhodes et al. (2020) indicates vitamin D deficiency as a risk factor for mortality from COVID-19, because without supplementation people at latitudes above 35°N do not maintain adequate vitamin D levels over the winter months. This may help explain why we saw such a massive outbreak and spread of COVID-19 during the winter in the U.S. (37° N), Spain (40° N), and Italy (42° N) compared to countries in more southern latitudes.
Aldridge et al. (2020) reports that another coronavirus, seasonal human coronavirus (HCoV), in England is most intense in the wintertime (Nov – Mar) with far fewer cases reported in the summertime (May – Sept), although there are a few instances of continued transmission. The authors also point out evidence that suggests immunity against recurring infection from the same strain of virus. This pattern may be useful to help guide response to the current SARS-CoV-2.
Correlation between COVID-19 and vitamin D deficiency
Rhodes et al. also point out that low vitamin D levels correlate with ethnicity, hypertension, diabetes, and obesity – all of which are associated with increased risk and severity of COVID-19. A review by Grant et al. (2020) supports this with data indicating vitamin D deficiency as a risk factor for acute respiratory distress syndrome and fatality from chronic disease, with the risk increasing with age. To reduce the spread of COVID-19 in older and immunocompromised populations, Laird and Kenny (2020) present results from the Irish Longitudinal Study on Ageing to advocate for vitamin D supplementation to increase vitamin D status and enhance the immune response.
To help protect against COVID-19, McCartney and Byrne (2020) also stress the importance of supplementing with vitamin D in vulnerable populations, including older adults, nursing home residents, those with diabetes mellitus, compromised immune function, darker skin, vegans, vegetarians, overweight or obese, smokers, and healthcare workers.
Overall, getting regular or daily exposure to sunlight, and taking additional supplementation as needed to achieve and maintain a vitamin D level of 40-60 ng/ml (100-150 nmol/L), may help decrease the risk of becoming infected with all types of coronavirus, including that which causes COVID-19, and help lower severity of symptoms if infected.
Do You Have Enough Vitamin D to Support a Healthy Immune System?
We're in a time of great crisis that could be greatly affected by making sure you and everyone you know has a serum level of at least 40 ng/ml. Help us help you.
Do you know what your vitamin D level is? Be sure to test today to find out, and take steps to keep it within a target of 40-60 ng/ml or 100-150 nmol/L! Give your immune system the nutrients it needs to support a healthy you and protect yourself from unnecessary diseases.
GrassrootsHealth is prepared to move forward by using science to drive global action, with using either clinical trials with our key researchers or by doing community Field Trials with individuals or other organizations. Please let us know if you are interested and how we can quickly setup your projects.


Through GrassrootsHealth Nutrient Research Institute, you can also test your essential elements magnesium, copper, zinc and selenium, toxins such as lead, mercury and cadmium, as well as your omega-3 levels, inflammation levels and thyroid stimulating hormone (TSH) level. Find out your levels today! Log on to the test selection page (click the link below) to get your tests and see for yourself if your levels can be improved.
Make sure you track your results before and after, about every 6 months!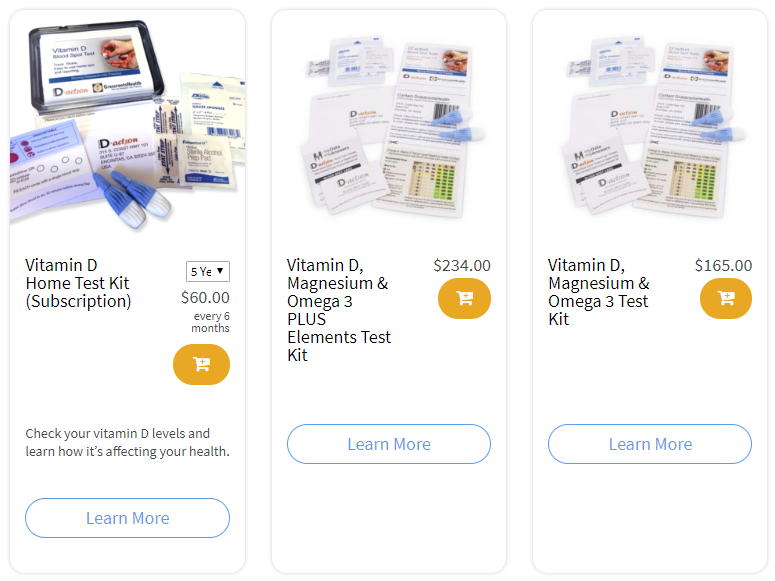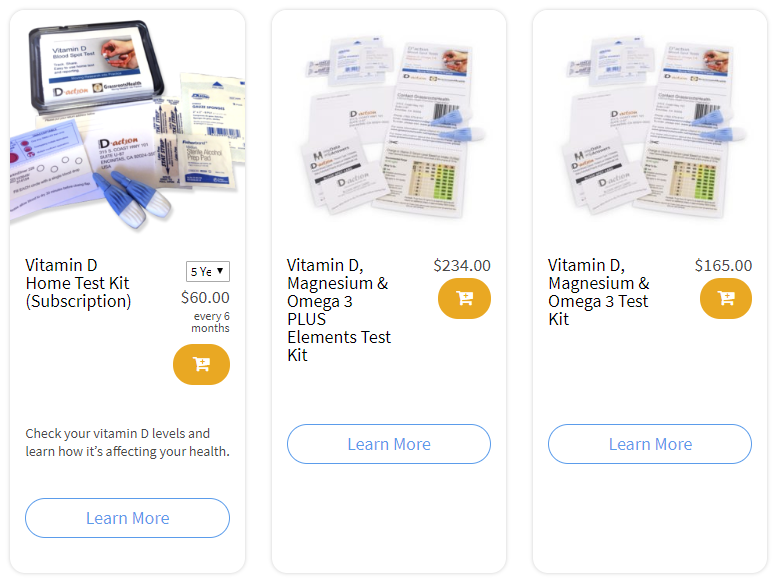 Click Here to Access the Test Page
How can I track my nutrient intake and levels over time?
To help you track your supplement use and nutrient levels, GrassrootsHealth has created the Personal Health Nutrient Decision System called


For each specific supplement, you can track what days you take it, how much, and many other details.  This will help you know your true supplemental intake and what patterns of use work for you to reach and maintain optimum nutrient levels.  Check it out today!
How Can You Use this Information for YOUR Health?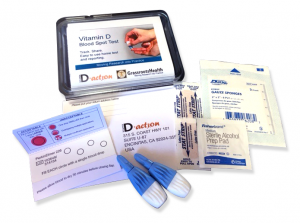 Having and maintaining healthy vitamin D and other nutrient levels can help improve your health now and for your future. Measuring is the only way to make sure you are getting enough!
STEP 1 Order your at-home blood spot test kit to measure vitamin D and other nutrients of concern to you, such as omega-3s, magnesium, essential and toxic elements (zinc, copper, selenium, lead, cadmium, mercury); include hsCRP as a marker of inflammation or HbA1c for blood sugar health
STEP 2 Answer the online questionnaire as part of the GrassrootsHealth study
STEP 3 Using our educational materials and tools (such as our dose calculators), assess your results to determine if you are in your desired target range or if actions should be taken to get there
STEP 4 After 3-6 months of implementing your changes, re-test to see if you have achieved your target level(s)