Published on August 10, 2023

It is not uncommon for those relying on sun exposure for vitamin D to experience an unexpected dip in vitamin D level, making testing now a helpful step to avoid deficiency
Are you one of the many who rely on sunshine exposure as your source of vitamin D, especially during the summer months? Do you decrease supplementation during this time?
Many of our participants do, and unfortunately, we often receive questions about an unexpected vitamin D test result during this time – usually a level is lower than expected. This is likely due to not getting enough midday sunshine exposure to keep vitamin D levels within their target range, especially since many work indoors throughout the summer and use sunscreen when in the sun.
Make sure your level didn't dip too low by taking advantage of this special offer…
15% OFF ALL TEST KIT ORDERS*
with code SUMMER23
This offer is available now until Sunday, August 20th, 2023 at 11.59PM PST.*
(Offer not valid on the T1D Prevention Test Kit)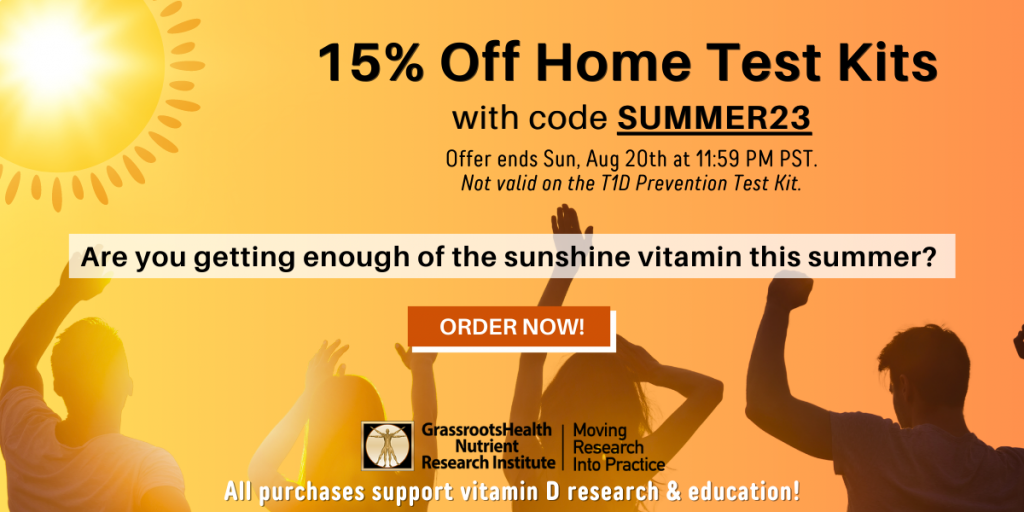 Vitamin D levels are known to vary markedly according to season, with levels peaking towards the end of summer and dipping at the end of winter. In an effort to maintain a target vitamin D level throughout the year [recommended as 40-60 ng/ml (100-150 nmol/L) by our panel of vitamin D scientists], GrassrootsHealth recommends measuring the vitamin D level at the end of summer (September-October) and at the end of winter (March-April), and adjusting your vitamin D routine to make up for what the change in seasons may bring.
---
Where Did Your Vitamin D Level "Peak" This Summer?  Be sure to include other important measurements for your health!
Build your custom kit by adding your choice of the options above, or choose from our top selling test combinations:
| Inflammation Panel | Vitamin D & Omega-3 Index | Immune Boost Panel |
| --- | --- | --- |
| | | |
| | | |
---
How Do You Measure Up?  Find out today.
How is your sunshine exposure and diet affecting your nutrient levels?  Should you be taking more or less supplements? Measuring your levels of specific nutrients, such as vitamin D, omega-3s and magnesium, and other markers of health can offer insights on steps to take to help improve overall physical and mental health.
Research shows that the following nutrients are especially important to overall health:
VITAMIN D
Vitamin D is needed by virtually every cell in the body, and is essential for hundreds of processes each and every day. It acts as a protector and regulator of all cell types, tissues, and organs, it is able to enhance the functioning of each system of the body to help keep us healthy.
Approximately 90% of the general US population has a vitamin D level below the scientists' recommended 40-60 ng/ml (100-150 nmol/L)
OMEGA-3s
A lower Omega-3 Index is associated with increased risk for heart disease, loss of cognitive function, cellular aging, depression, dry eye disease, and death from all causes
The recommended Omega-3 Index is 8% or higher – yet 85% of GrassrootsHealth participants were below this level
BALANCED OMEGA-6s & OMEGA-3s
The AA:EPA ratio and Omega-6:3 ratio are measures of pro/anti-inflammatory fatty acids; knowing these ratios can help you take more specific steps towards achieving lower levels of inflammation through diet and supplements
MAGNESIUM PLUS ESSENTIAL & TOXIC ELEMENTS
Magnesium deficiency is a contributor to health problems such as musculoskeletal pain, atrial fibrillation, stroke, heart failure, preeclampsia, bone health, mental, emotional & behavioral disorders, diabetes, and even vitamin D deficiency
Choose to measure additional elements such as Selenium, Zinc, Copper, Zinc:Copper Ratio and toxic elements Cadmium, Lead, and Mercury
DIRECTLY MEASURE INFLAMMATION LEVELS WITH hsCRP
Elevated CRP levels have been linked to metabolic syndrome, future heart attacks, stoke, peripheral arterial disease, and the development of diabetes
MEASURE YOUR METABOLIC HEALTH WITH HbA1c
HbA1c is a measure of how healthy average blood sugar levels have been in the recent few months, and is a better representation of blood sugar health than a single glucose measurement
Higher levels of HbA1c are associated with higher levels of inflammation, a higher risk of metabolic syndrome, diabetes, and cardiovascular disease
THYROID STIMULATING HORMONE (TSH)
Measure your TSH levels as an indicator of thyroid health
CHECK YOUR TYPE 1 DIABETES AUTOANTIBODY STATUS
T1D Autoantibodies are immunologic markers of the process that can cause type 1 diabetes
The presence of these autoantibodies can indicate an autoimmune response against the cells of the pancreas, and is strongly associated with the development of T1D

ENSURE HEALTHY LEVELS BY TESTING TODAY
Having and maintaining healthy nutrient levels can help improve your health now and for your future. Choose which nutrients to measure with your vitamin D, such as your omega-3s and essential minerals including magnesium and zinc, by creating your custom home test kit today with our special offer. Take steps to improve the status of each of these measurements to benefit your overall health. With measurement you can then determine how much is needed and steps to achieve your goals. You can also track your own intakes, symptoms and results to see what works best for YOU.
*Offer valid until Sunday, August 20th, 2023 at 11.59PM PST. Valid on all at-home test kits from GrassrootsHealth except the T1D Prevention Test Kit; enrollment included. Not cumulative with other coupon codes.
Take steps for your own health to ensure optimal vitamin D levels – for your family and loved ones as well – by measuring at home today.
How Can You Use this Information for YOUR Health?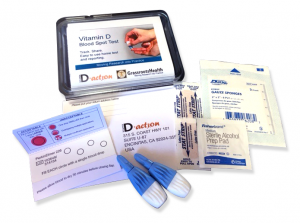 Having and maintaining healthy vitamin D and other nutrient levels can help improve your health now and for your future. Measuring is the only way to make sure you are getting enough!
STEP 1 Order your at-home blood spot test kit to measure vitamin D and other nutrients of concern to you, such as omega-3s, magnesium, essential and toxic elements (zinc, copper, selenium, lead, cadmium, mercury); include hsCRP as a marker of inflammation or HbA1c for blood sugar health
STEP 2 Answer the online questionnaire as part of the GrassrootsHealth study
STEP 3 Using our educational materials and tools (such as our dose calculators), assess your results to determine if you are in your desired target range or if actions should be taken to get there
STEP 4 After 3-6 months of implementing your changes, re-test to see if you have achieved your target level(s)