Published on December 19, 2022


Child told he was 'doomed' for T1D diagnosis at age 11 has remained T1D free for over 23 years! Learn more about the T1D prevention protocol he follows, now implemented as part of an official project of GrassrootsHealth.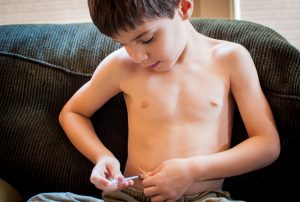 Type 1 diabetes (T1D) has historically been thought of as a childhood-onset disease, hence referred to as 'juvenile onset' diabetes. However, a 2022 review by Harding et al. demonstrates that the incidence of adult-onset T1D (among those 20 years or older) is substantial and is often misdiagnosed as type 2 diabetes.
While T1D is a disease now recognized to be diagnosed among both children and adults, a diagnosis in early childhood can be especially stressful and difficult for both the child and the parents due to the constant monitoring of blood sugar levels and the ongoing potential for the need for insulin. Delaying onset of diagnosis even by a few years can bring much relief to those affected.
23+ Year Delay: A T1D Prevention Protocol Success Story
At age 11, Ben tested positive for two of the type 1 diabetes (T1D) autoantibodies, which were present along with high levels of inflammation in his blood. Because of the presence of these autoantibodies, Ben's doctors were convinced that he would be diagnosed with T1D within the next few months.
Determined not to allow this to happen, Ben's mom dug into the research and discovered a connection between inflammation and T1D, and consulted with researchers who had proposed a role of fish oils in delaying T1D diagnosis. Based on what they said, she developed a 'cocktail' of supplements and started both Ben and his sister on the protocol, which includes high doses of omega-3 fats and vitamin D.
After observing a trend of disappearing autoantibodies (they disappeared within months of starting the protocol!), and re-appearing autoantibodies (they would return when Ben stopped taking his supplements), it has become obvious the effect they have had on his T1D autoantibody status.
Ben's parents were told he would become diabetic within "months" when he was 11; he is now 34! That is an astonishing 23 year delay in T1D diagnosis since being told he would become diabetic due to his autoantibody status.
"Ben's Cocktail" has now been shared with many others around the world who have tested positive for the T1D autoantibodies, and we are receiving similar stories from those who have implemented it with their children, and for themselves. We now invite anyone who shares this experience, or who would like to give this protocol a try, to become part of our T1D Prevention Study, so that we can measure, track, and publish the findings to help make this an officially recognized protocol in the scientific journals – and more likely to be discovered, shared, and accepted.
Join this project now to measure these T1D autoantibodies along with other essential markers for yourself or your child.
Order Your Test Kit & Enroll Here
Interested in more information?
Complete this short contact form, and our study coordinator will be in touch with you.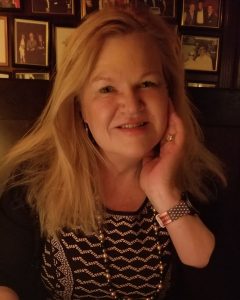 Our study coordinator is likely one of the most knowledgeable individuals on this topic… and she also happens to be Ben's mom! GrassrootsHealth is excited to be working on this project with Sonia Chritton, as she brings years of experience, research, and involvement with the protocol and within the T1D community.
Schedule a call with Sonia to discuss the project here.
What Are T1D Autoantibodies, and How do They Relate to a T1D Diagnosis?
Autoantibodies are antibodies created by a person's immune system that attack proteins in their own cells, as seen in many autoimmune diseases. The presence of the T1D islet cell autoantibodies above indicates an autoimmune response against the cells of the pancreas, and is strongly associated with the development of T1D; the detection of these autoantibodies can be used as markers of the process that can cause type 1 diabetes. According to the American Diabetes Association, the presence of two or more of these autoantibodies in the blood, but with normal blood glucose levels, defines Stage 1 Type 1 Diabetes. **This does not mean that a person with two or more of these autoantibodies in fact has Type 1 Diabetes**
As part of this project, participants can test for the presence of
Anti-Insulin (also known as mIAA or IAA)
Anti-IA2 (IA-2A)
Anti-GAD65 (GAD65 or GADA)
Anti-ZnT8 (ZnT8)
The presence of autoantibodies can change over time, and can be influenced by factors such as the status of the body's immune system and levels of inflammation. Improved vitamin D and omega-3 status, as well as decreased inflammation, have been associated with lower levels of these autoantibodies and therefore lower risk of T1D development.
If you or someone you know has tested positive for T1D autoantibodies in the past, and have not yet been diagnosed with T1D, follow-up testing for both autoantibodies and vitamin D and omega-3 status is highly recommended. Your data is especially valuable to this project, and we encourage you to enroll today.
If you are interested in joining this project to measure these T1D autoantibodies for yourself or your child, join now or complete this short form, and our study coordinator will be in touch with you.
Order Your Test Kit & Enroll Here
Complete the Interest Form Here
Type 1 Diabetes Prevention Study Project Goal
The goal of this open source study is to learn if taking omega-3 and vitamin D3 supplements in order to achieve minimum target blood levels of one or both can delay or prevent T1D in those who have tested positive for one or more of the T1D autoantibodies, now or in the past. Other measurements included in the testing and analysis for this study are hsCRP (a measure of inflammation) and HbA1c (a measure of blood sugar health, included as a cautionary measure). We hope to eventually publish these results, and those who participate in this effort are greatly appreciated — you are helping find the answer!
We hypothesize that getting to an optimal AA:EPA Ratio and an optimal vitamin D level [measured as 25(OH)D] may assist in slowing progression towards T1D, even for those who test positive for one or more autoantibody. Your time and effort in answering the online questions and participating in the blood spot testing is instrumental in this prevention effort.
Are You Interested in Sponsoring a Participant?
The fees associated with the testing in this program (3 test kits over a span of approximately 18 months, at a cost of $315 plus shipping per kit) may not be affordable for everyone interested, and we highly encourage donations to help sponsor participation. Can you sponsor a qualifying participant in the study? Even sponsoring a single test kit could make a big difference for someone at risk.
Are Your Nutrient Levels OK?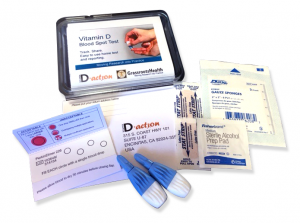 Having and maintaining healthy vitamin D levels and other nutrient levels can help improve your health now and for your future. Choose which to measure, such as your vitamin D, omega-3s, and essential minerals including magnesium and zinc, by creating your custom home test kit today. Take steps to improve the status of each of these measurements to benefit your overall health. You can also track your own intakes, symptoms and results to see what works best for YOU.
Enroll and test your levels today, learn what steps to take to improve your status of vitamin D (see below) and other nutrients and blood markers, and take action! By enrolling in the GrassrootsHealth projects, you are not only contributing valuable information to everyone, you are also gaining knowledge about how you could improve your own health through measuring and tracking your nutrient status, and educating yourself on how to improve it.
How Can You Use this Information for YOUR Health?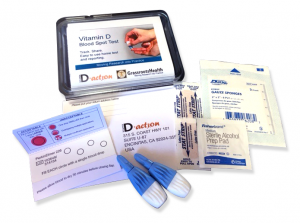 Having and maintaining healthy vitamin D and other nutrient levels can help improve your health now and for your future. Measuring is the only way to make sure you are getting enough!
STEP 1 Order your at-home blood spot test kit to measure vitamin D and other nutrients of concern to you, such as omega-3s, magnesium, essential and toxic elements (zinc, copper, selenium, lead, cadmium, mercury); include hsCRP as a marker of inflammation or HbA1c for blood sugar health
STEP 2 Answer the online questionnaire as part of the GrassrootsHealth study
STEP 3 Using our educational materials and tools (such as our dose calculators), assess your results to determine if you are in your desired target range or if actions should be taken to get there
STEP 4 After 3-6 months of implementing your changes, re-test to see if you have achieved your target level(s)