Published on April 25, 2019


Join us tomorrow (Friday, April 25) for the 2nd PreDiRe T1D (Preventing Disease and its Recurrence in Type 1 Diabetes) Symposium. GrassrootsHealth project manager, Jen Aliano, will be presenting on the D*action Type 1 Diabetes Prevention Project, which focuses on preventing T1D with vitamin D and omega-3s. For those who can't make it in person, the event will be live streamed on Vimeo at https://vimeo.com/event/6335.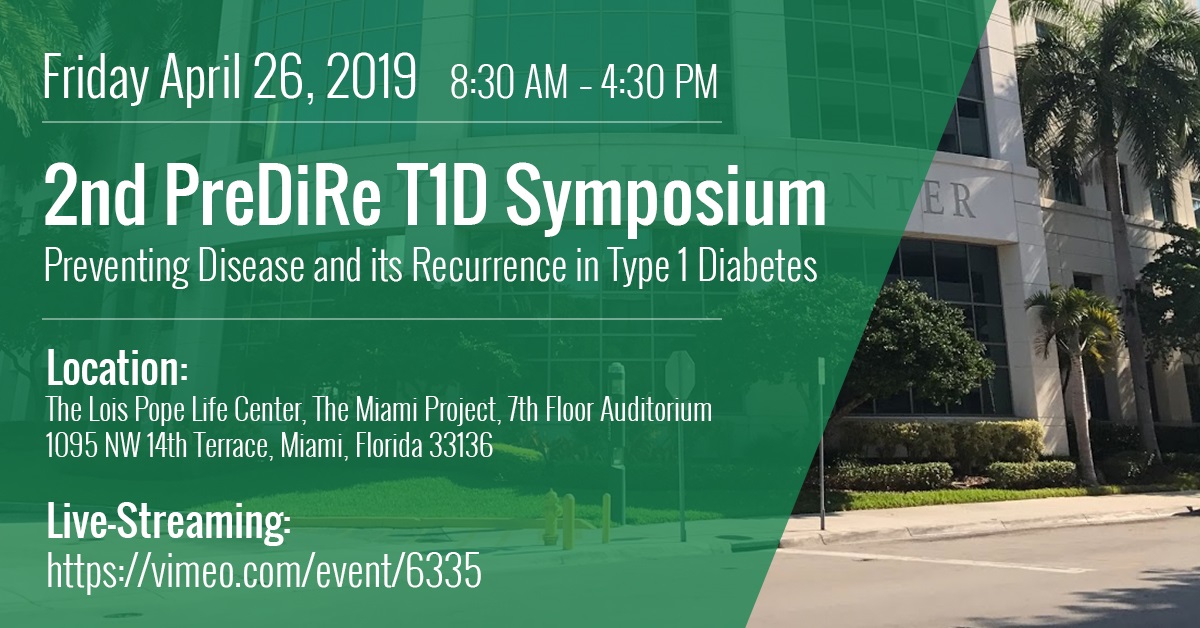 About the Symposium
The 2nd PreDiRe T1D Symposium will be hosted by the Diabetes Research Institute at the University of Miami. Symposium objectives include:
To review findings from the ongoing screening programs
To review emerging strategies to halt progression of autoimmunity
To continue developing prevention protocols that could be applicable for both prevention of T1D and to prevent disease recurrence after a successful intervention strategy in autoimmune diseases, such as immunotherapy or biologic replacement
Co-Chairs Camillo Ricordi, MD, FNAI, Director of the Diabetes Research Institute and Cell Transplant Center, University of Miami and Founding President of The Cure Alliance, and Sonia Chritton, President of the Children With Diabetes Research Foundation, will be presenting alongside other T1D, vitamin D, and omega-3 experts. A schedule can be viewed here.
The Latest in Type 1 Diabetes (T1D)
Type 1 diabetes (T1D) affects 1.3 million people in the United States. The expected medical expenses and income loss due to diabetes totals $643 billion annually, with an increase of 3-5% each year. Relatives of people with T1D are 15 times more likely to develop the disease than the general population. The JDRF, the American Diabetes Association, and the Endocrine Society have now published that T1D should be diagnosed when an individual has two or more of the known islet cell autoantibodies, even when blood sugar is normal (Stage 1), two or more autoantibodies (Stage 2), and clinical diagnosis (Stage 3). It is now believed by some that in the absence of any intervention, the risk of a T1D diagnosis is nearly 100% if an individual is already at Stage 1 or Stage 2.
Major ongoing studies are now testing interventions at Stages 1 and 2, to prevent or delay life-long insulin dependence.
What is role of the D*action Type 1 Diabetes Prevention Project?
A major gap exists between basic nutrient research and its implementation into clinical practice. The D*action project with T1D serves to bridge that gap using the nutrient field trial model. This model allows a large group of individuals to participate by submitting blood spot samples for nutrient measurement and providing health data. GrassrootsHealth provides education and tools for making individualized changes in daily routine or supplement intake to reach a desired target nutrient level. Levels are tested every 3-6 months and tracked along with participant health outcomes. For the T1D project, the goal is to decrease the levels of islet cell autoantibodies in those who have previously tested positive for one or more autoantibody, and to reduce levels of inflammation through the improvement of vitamin D and omega-3 status.
The field trial model is a way to validate the results of randomized controlled trials (RCT) or other studies that have effectively defined nutrient efficacy and safety. Through nutrient field trials, results from RCTs can be replicated in a much larger group of community-based participants, such as was recently done at the Medical University of South Carolina with the implementation of the D*action Protect Our Children NOW! project. And, since the field trial is implemented in a much larger group with a wider scope of data, new possibilities for additional nutrient research can be discovered and defined for future RCTs.
What is the protocol for the D*action Type 1 Diabetes Prevention Project?
This D*action Type 1 Diabetes Prevention project will help identify potential changes in T1D onset that may result from vitamin D and omega-3 testing and education, as well as provide additional education about islet autoantibodies, inflammation, and other T1D-related information. Participants measure their vitamin D serum levels, Omega-3 Index and AA:EPA Ratios, hsCRP as a measure of inflammation, and HbA1c as a precautionary measure. GrassrootsHealth provides education about supplementation, diet, UVB exposure, and other lifestyle modifications that could be used to increase vitamin D levels to 40-60 ng/ml (100-150 nmol/L) and achieve an Omega-3 Index at or above 8% and an AA:EPA ratio of less than 3. Nutrient status testing every 3 months for a period of 5 years is suggested.
This IRB-approved project's purpose is to move research into practice–NOW! We will publish the results in a peer reviewed journal and use the findings to help move research about vitamin D and omega-3s into clinical practice, where it can be put to use to help prevent future cases of T1D in the general population.
Are you keeping your level of inflammation in check?
Chronic inflammation can lead to chronic diseases such as diabetes. What are your levels of inflammation? Could vitamin D and omega 3s make a difference for you? Make sure you know your inflammation and nutrient levels are within the range for good health and optimal functioning. Find out your levels today! Log on to the shop (click the link below) to get your tests and see for yourself if your levels can be improved.
Make sure you track your results before and after, about every 6 months!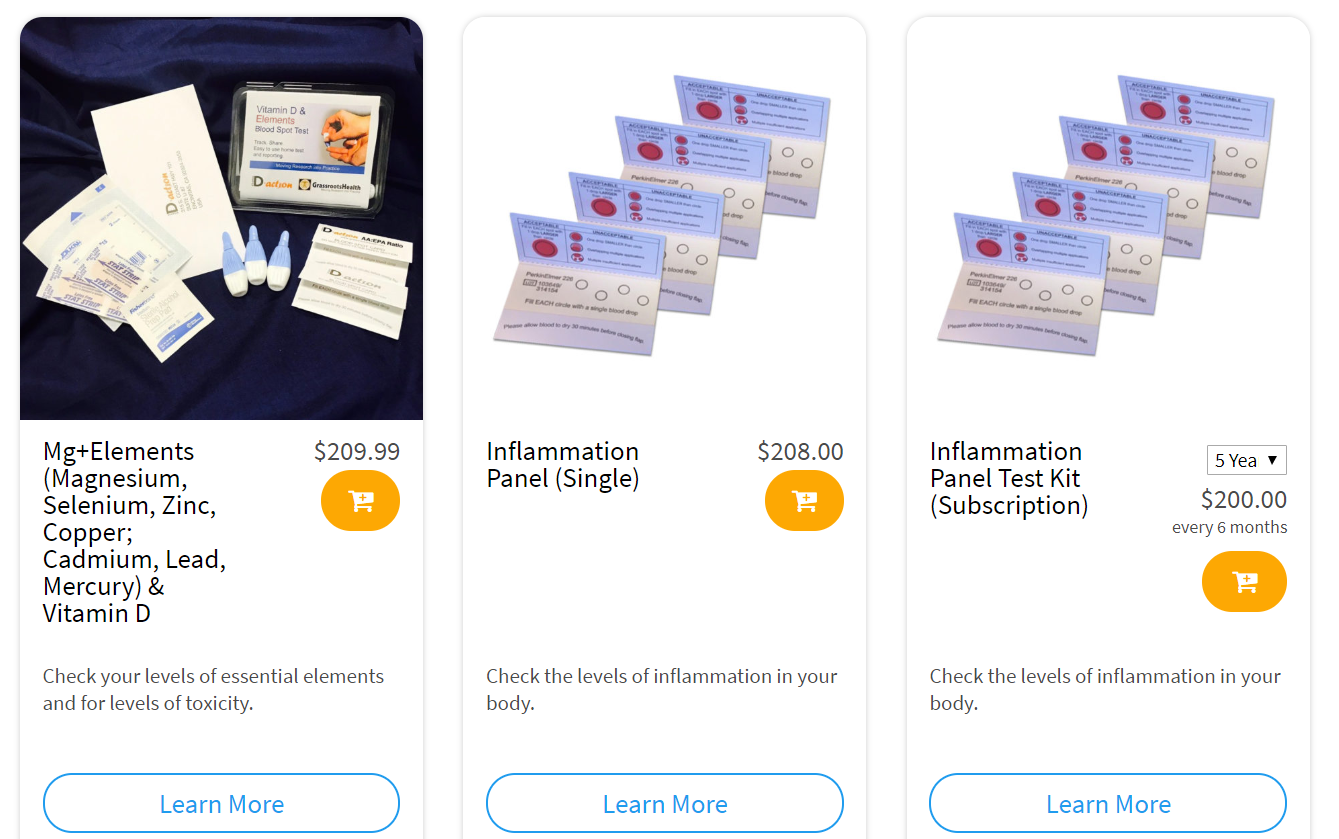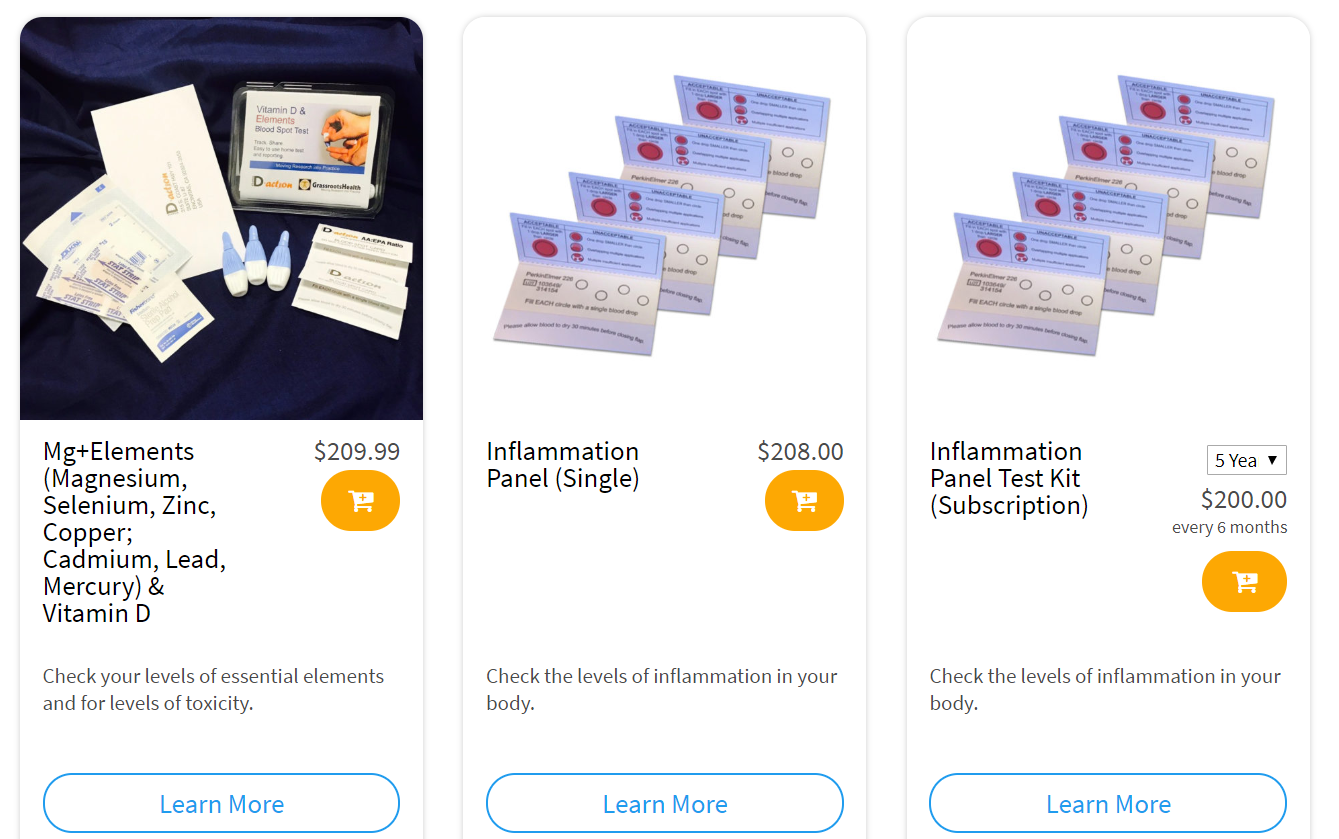 Click Here to Access the Shop Page
How can I track my inflammation and nutrient levels?
To help you track your nutrient levels, GrassrootsHealth has created an online tracking system called myData-myAnswers. You can also track your supplemental and dietary nutrient intake to see how they impact your nutrient levels. Check it out today!
How Can You Use this Information for YOUR Health?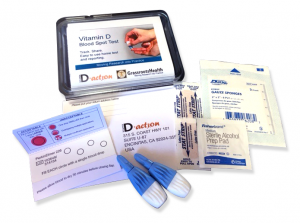 Having and maintaining healthy vitamin D and other nutrient levels can help improve your health now and for your future. Measuring is the only way to make sure you are getting enough!
STEP 1 Order your at-home blood spot test kit to measure vitamin D and other nutrients of concern to you, such as omega-3s, magnesium, essential and toxic elements (zinc, copper, selenium, lead, cadmium, mercury); include hsCRP as a marker of inflammation or HbA1c for blood sugar health
STEP 2 Answer the online questionnaire as part of the GrassrootsHealth study
STEP 3 Using our educational materials and tools (such as our dose calculators), assess your results to determine if you are in your desired target range or if actions should be taken to get there
STEP 4 After 3-6 months of implementing your changes, re-test to see if you have achieved your target level(s)