Download to easily share about vitamin D, omega-3s, magnesium, and other nutrients, and the benefits of participating in the GrassrootsHealth Nutrient*action projects!
Do you talk to others about the importance of vitamin D? Not just taking a supplement or getting mid-day sunshine, but also knowing their levels to see that they are getting enough for their health? How do you explain why measuring is important, or why the same dose you take may not be right for the people you are talking to?
To make it easier for you to talk about vitamin D, the steps to take to determine if you are getting enough, and how other nutrients are also essential, GrassrootsHealth has created a new brochure that answers several of the most frequently asked questions about vitamin D and other nutrients, and the steps to take to help obtain healthy levels.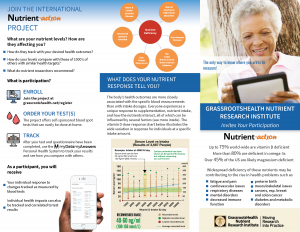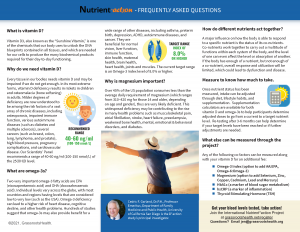 What's Inside the Brochure?
The following frequently asked questions are answered:
What is vitamin D?
Vitamin D3, also known as the "Sunshine Vitamin," is one of the chemicals that our body uses to unlock the DNA blueprints contained in all tissues, and which are needed for our cells to produce the many biochemical products required for their day-to-day functioning.
Why do we need vitamin D?
Every tissue in our bodies needs vitamin D and may be impaired if we do not get enough. In its most extreme forms, vitamin D deficiency results in rickets in children and osteomalacia (bone softening) in adults. Milder degrees of deficiency are now understood to be among the risk factors of a vast array of chronic diseases, including osteoporosis, impaired immune function, various autoimmune diseases (such as diabetes and multiple sclerosis), several cancers (such as breast, colon, lung, lymphoma, and prostate), high blood pressure, pregnancy complications, and cardiovascular disease. Our Scientists' Panel recommends a range of 40-60 ng/ml (100-150 nmol/L) of the 25(OH)D level.
What are omega-3s?
Two very important omega-3 fatty acids are EPA (eicosapentaenoic acid) and DHA (docosahexaenoic acid). Individual levels vary across the globe, with most countries and regions having levels that are considered low to very low (such as the USA). Omega-3 deficiency can lead to a higher risk of heart disease, cognitive decline, and other health problems. Hundreds of studies suggest that omega-3s may also provide benefit for a wide range of other diseases, including asthma, preterm birth, depression, ADHD, autoimmune diseases, and cancer. They are beneficial for normal vision, liver function, immune function, skin health, maternal health, brain health, heart health, joints and muscles. The current target range is an Omega-3 Index level of 8.0% or higher.
Why is magnesium important?
Over 45% of the US population consumes less than the average daily requirement of magnesium (which ranges from 310–420 mg for those 14 years and older, depending on age and gender), thus are very likely deficient. This widespread deficiency may be contributing to the rise in many health problems such as musculoskeletal pain, atrial fibrillation, stroke, heart failure, preeclampsia, weakened bone health, mental, emotional & behavioral disorders, and diabetes.
How do different nutrients act together?
A major influence on how the body is able to respond to a specific nutrient is the status of its co-nutrients. Co-nutrients work together to carry out a multitude of functions within each system of the body, and the level of one can even affect the level or absorption of another. If the body has enough of a nutrient, but not enough of a co-nutrient, overall response and utilization will be limited, which could lead to dysfunction and disease.
Measure to know how much to take.
Once nutrient status has been measured, intake can be adjusted through diet, lifestyle habits, and supplementation. Supplementation calculators are available for both vitamin D and omega-3s to help participants determine adjusted doses to go from a current to a target nutrient level. Re-testing after 3-6 months can help determine if your target levels have been reached or if further adjustments are needed.
What does your nutrient response tell you?
The body's health outcomes are more closely associated with the specific blood measurements than with intake dosages. Everyone experiences a unique response to supplementation, nutrient intake, and how the nutrients interact, all of which can be influenced by several factors. The vitamin D dose-response chart below illustrates the wide variation in response for individuals at a specific intake amount.
Sharing About Being a GrassrootsHealth Participant
This brochure is an excellent way to share about the GrassrootsHealth Nutrient*action projects, including:
What is participation?
What do participants receive?
How could their nutrient levels be affecting them?
What else can be measured through the project?
Any of the following co-factors can be measured along with your vitamin D for an additional fee:
Omega-3 Index (option to add AA:EPA, Omega-6:Omega-3)
Magnesium (option to add Selenium, Zinc, Copper, Cadmium, Lead and Mercury)
HbA1c (a marker of blood sugar metabolism)
hsCRP (a marker of inflammation)
Thyroid Stimulating Hormone (TSH)
Get your blood levels tested, take action!
Join the International Nutrient*action Project at grassrootshealth.net/register