GrassrootsHealth has compared the National Health and Nutrition Examination Survey (NHANES, 2009-2010) data to look at rates and trends of vitamin D deficiency in the United States in both adults and children and how it compares to the GrassrootsHealth cohort (US participants who tested anytime in 2009 or 2010). With recent NHANES data sets, lab results from across the years have been standardized when different lab testing was used, allowing for a more accurate comparison.
To note, GrassrootsHealth participants consist of individuals and, in the case of children, have parents who are generally educated about vitamin D and have tested their level at least once.
When downloading, both charts are included, with Adults age 18+ on page 1 and Children and Teens, ages <18 on page 2.
Adults
This first chart illustrates the difference between vitamin D serum levels in adults in the NHANES cohort vs the GrassrootsHealth cohort (ages 18+ years):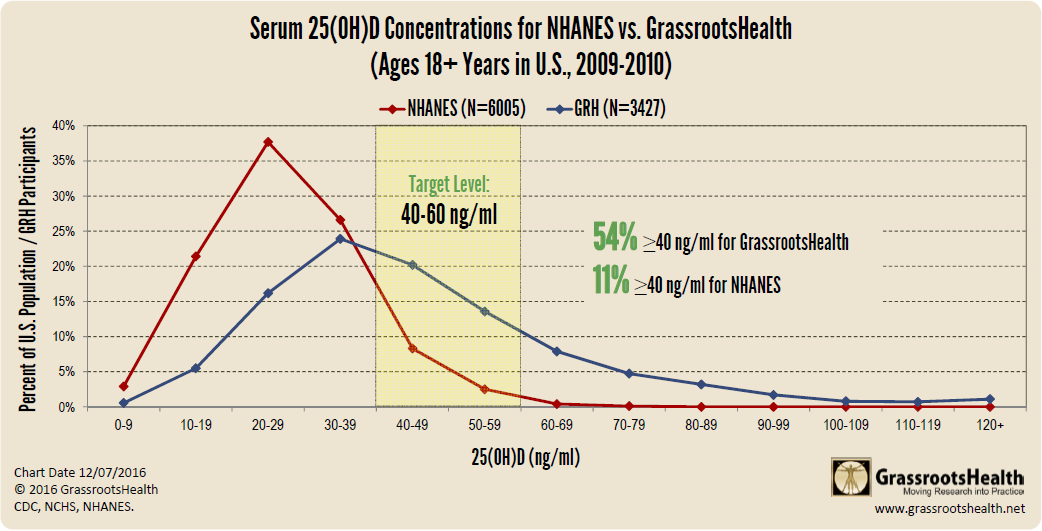 Adults in the GrassrootsHealth cohort have significantly higher levels than those in the NHANES cohort
54% of adults in the GrassrootsHealth cohort have levels at or above 40 ng/ml compared to 11% in the NHANES cohort
6% of adults in the GrassrootsHealth cohort have levels below 20 ng/ml compared to 24% in the NHANES cohort
Almost 90% of U.S. adults in the NHANES data set have a vitamin D level below the recommended range of 40-60 ng/ml, with about 25% below 20 ng/ml
Children & Teens
This next chart above illustrates the difference between vitamin D serum levels in children and teens (ages <18) in the NHANES cohort vs the GrassrootsHealth cohort: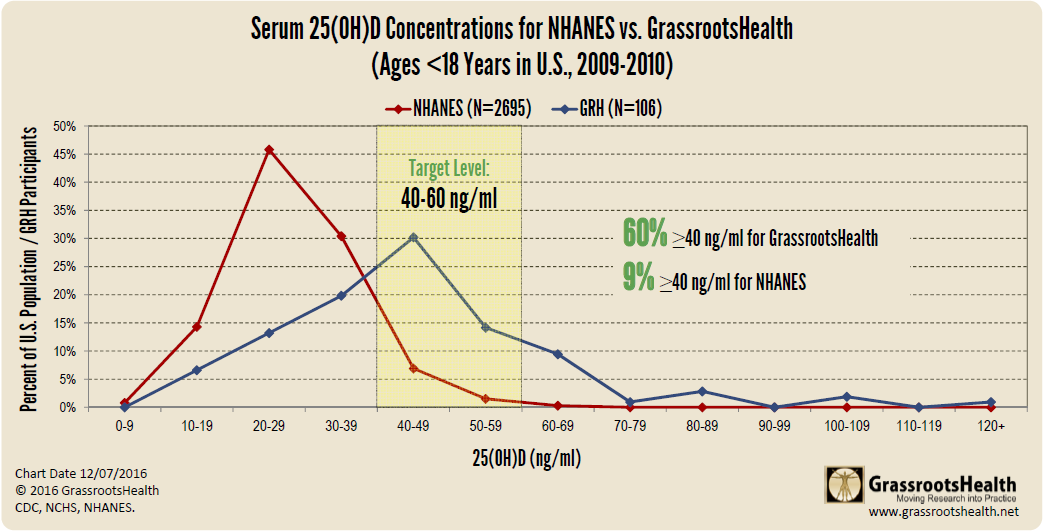 Children and teens in the GrassrootsHealth cohort have significantly higher levels than those in the NHANES cohort
60% of children and teens in the GrassrootsHealth cohort have levels at or above 40 ng/ml compared to 9% in the NHANES cohort
7% of children and teens in the GrassrootsHealth cohort have levels below 20 ng/ml compared to 15% in the NHANES cohort
More than 90% of U.S. children and teens in the NHANES data set had a vitamin D level below the recommended range of 40-60 ng/ml, with about 15% below 20 ng/ml
Format: PDF
Pages: 2