Published on April 19, 2022

A randomized controlled trial demonstrates effectiveness and safety of vitamin D supplementation against SARS-CoV-2 infection
Key Points
A new double-blind, randomized controlled trial found that participants taking vitamin D had a 77% reduced risk of SARS-CoV-2 infection compared to those taking a placebo
All participants were highly-exposed frontline healthcare workers who were caring for hospitalized COVID-19 patients, tested negative for a current SARS-CoV-2 infection prior to enrollment, and had not yet been vaccinated
There were no safety issues among the participants taking vitamin D
---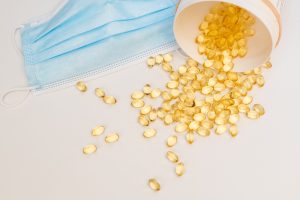 A number of studies, such as those included in the COVID-19 and vitamin D research review eBook and on our COVID-19 and vitamin D review page, have provided much evidence showing the significant effect that vitamin D has on COVID-19 disease progression and outcomes.
Vitamin D is needed for the proper function of immune cells so that they can defend against pathogens and maintain a regulated and effective immune response. In addition, vitamin D supports the function of epithelial cells, and has been shown to regulate the accumulation of certain pro-inflammatory chemicals, thereby reducing the risk of acute respiratory distress syndrome (ARDS), myocarditis, and cardiac injury due to COVID-19. Vitamin D itself has been found to disrupt the function of 19 out of 27 (70%) SARS-CoV-2 proteins, protect the lungs, and regulate the inflammatory response.
Can Vitamin D Supplementation Help Prevent COVID-19?
A new double-blind, randomized controlled trial by Villasis-Keever et al. looked to see how effective vitamin D supplementation was at preventing SARS-CoV-2 infection among highly-exposed frontline healthcare workers who were caring for hospitalized COVID-19 patients. The participants, who tested negative for a current SARS-CoV-2 infection prior to enrollment and had not yet been vaccinated, were randomized to either receive 4000 IU of vitamin D (n=160) or a placebo (n=161) every day for 30 days. PCR testing for SARS-CoV-2 took place at baseline as well as if and when COVID-19 symptoms presented, and testing for SARS-CoV-2 antibodies took place at baseline and at 45 days after enrollment.
What did the study find?
At the end of the study, the participants taking vitamin D had a 77% reduced risk of SARS-CoV-2 infection (based on either a positive PCR test or a positive antibody test) compared to those taking a placebo.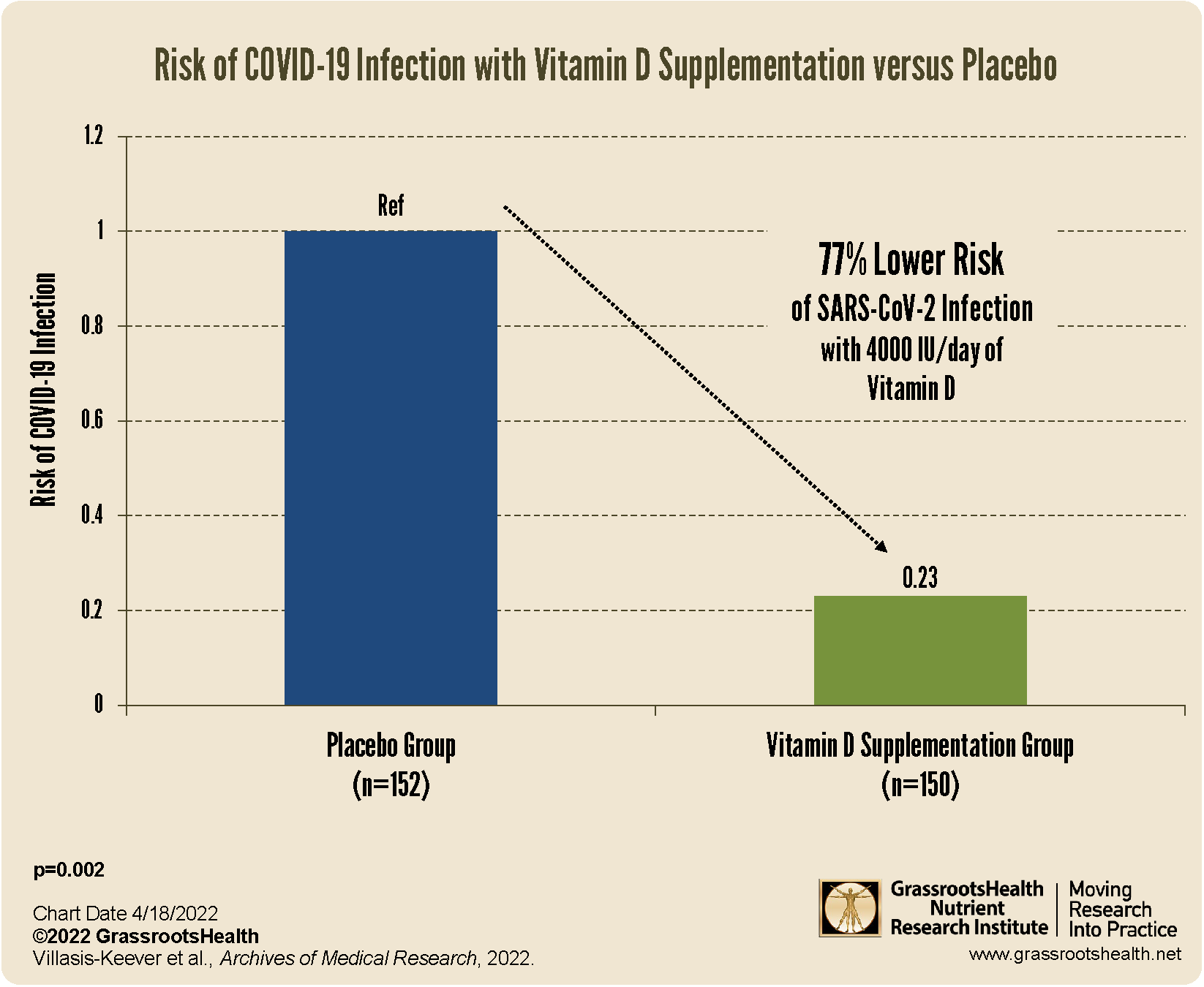 This finding was independent of the baseline vitamin D status, although an analysis of the data showed that increases in vitamin D level were still predictive of the risk of infection, which adds further support to previous studies linking higher vitamin D levels to lower risk.
The authors also looked at the severity of disease among those who did test positive for SARS-CoV-2, and found no hospitalizations or deaths among the vitamin D group and only one hospitalization among the placebo group. There were no safety issues among the participants taking vitamin D.
Why Vitamin D Level is Important
A review by Grant et al. has defined optimal vitamin D levels necessary to help prevent certain diseases known to be major causes of death, based on a review of the strongest evidence published to date. Diseases identified as those with the highest mortality rates included cardiovascular disease, hypertension, cancer, type 2 diabetes, Alzheimer's Disease, as well as COVID-19. As the authors state, based on the evidence, "…given the multiple indications of significant health benefits from raising serum 25(OH)D concentrations above 30 or 40 ng/mL as well as the near absence of adverse effects, significant improvements in health at the individual and population levels could be achieved." These results could be seen simply through achieving and maintaining optimal vitamin D levels!
Everyone responds differently to vitamin D supplementation, due to several key factors. This makes measuring your vitamin D status especially important. Testing and supplementing to reach optimal levels is a safe, simple, and effective way to improve health and help prevent disease – start by finding out your level today!
Make Sure You Are Getting Enough Vitamin D!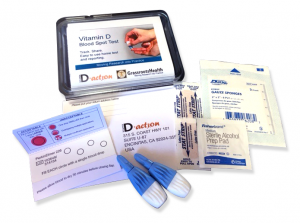 Having and maintaining healthy vitamin D levels and other nutrient levels can help improve your health now and for your future. Choose which additional nutrients to measure, such as your omega-3s and essential minerals including magnesium and zinc, by creating your custom home test kit today. Take steps to improve the status of each of these measurements to benefit your overall health. With measurement you can then determine how much is needed and steps to achieve your goals.  You can also track your own intakes, symptoms and results to see what works best for YOU.
Enroll in D*action and Test Your Levels Today!
How Can You Use this Information for YOUR Health?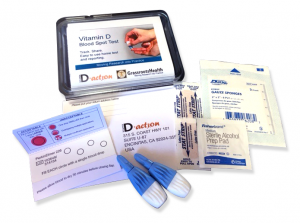 Having and maintaining healthy vitamin D and other nutrient levels can help improve your health now and for your future. Measuring is the only way to make sure you are getting enough!
STEP 1 Order your at-home blood spot test kit to measure vitamin D and other nutrients of concern to you, such as omega-3s, magnesium, essential and toxic elements (zinc, copper, selenium, lead, cadmium, mercury); include hsCRP as a marker of inflammation or HbA1c for blood sugar health
STEP 2 Answer the online questionnaire as part of the GrassrootsHealth study
STEP 3 Using our educational materials and tools (such as our dose calculators), assess your results to determine if you are in your desired target range or if actions should be taken to get there
STEP 4 After 3-6 months of implementing your changes, re-test to see if you have achieved your target level(s)