Two different research groups conclude the US RDA is off by an order of magnitude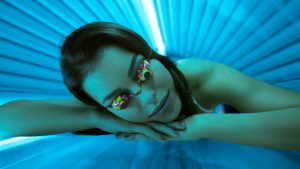 GrassrootsHealth scientists and staff have published a research letter, citing the D*action data, calling for the Institute of Medicine (IOM) to increase its current vitamin D recommended dietary allowance (RDA) from 600 IU/day to 7,000 IU/day from all sources. This includes an estimated 3875 IU/day in supplementation and approximately 3000 IU/day from other sources (primarily food and sun exposure).
What does this mean for people trying to achieve their target vitamin D level through UVB exposure?
Sunlight is a well-known source of vitamin D, but other sources of UVB light, such as indoor tanning lamps, can also effectively raise vitamin D levels. In addition to sun exposure habits, we also ask our D*action participants about their habits relating to indoor tanning. Participants are asked how often they have used indoor tanning equipment in the prior 6 months. The chart below summarizes the vitamin D levels among participants who reported not using vitamin D supplements according to indoor tanning frequency.
The average vitamin D level was 41 ng/ml (102 nmol/L) for those who regularly used indoor tanning, 34 ng/ml (85 nmol/L) for infrequent users, and 28 ng/ml (70 nmol/L) for non-users. More than half of regular users (55%) had a vitamin D level at or above 40 ng/ml (100 nmol/L) compared to 31% of infrequent users and 17% of non-users. Only 3% of regular users had vitamin D levels less than 20 ng/ml (50 nmol/L) compared to 5% of infrequent users and 18% of non-users.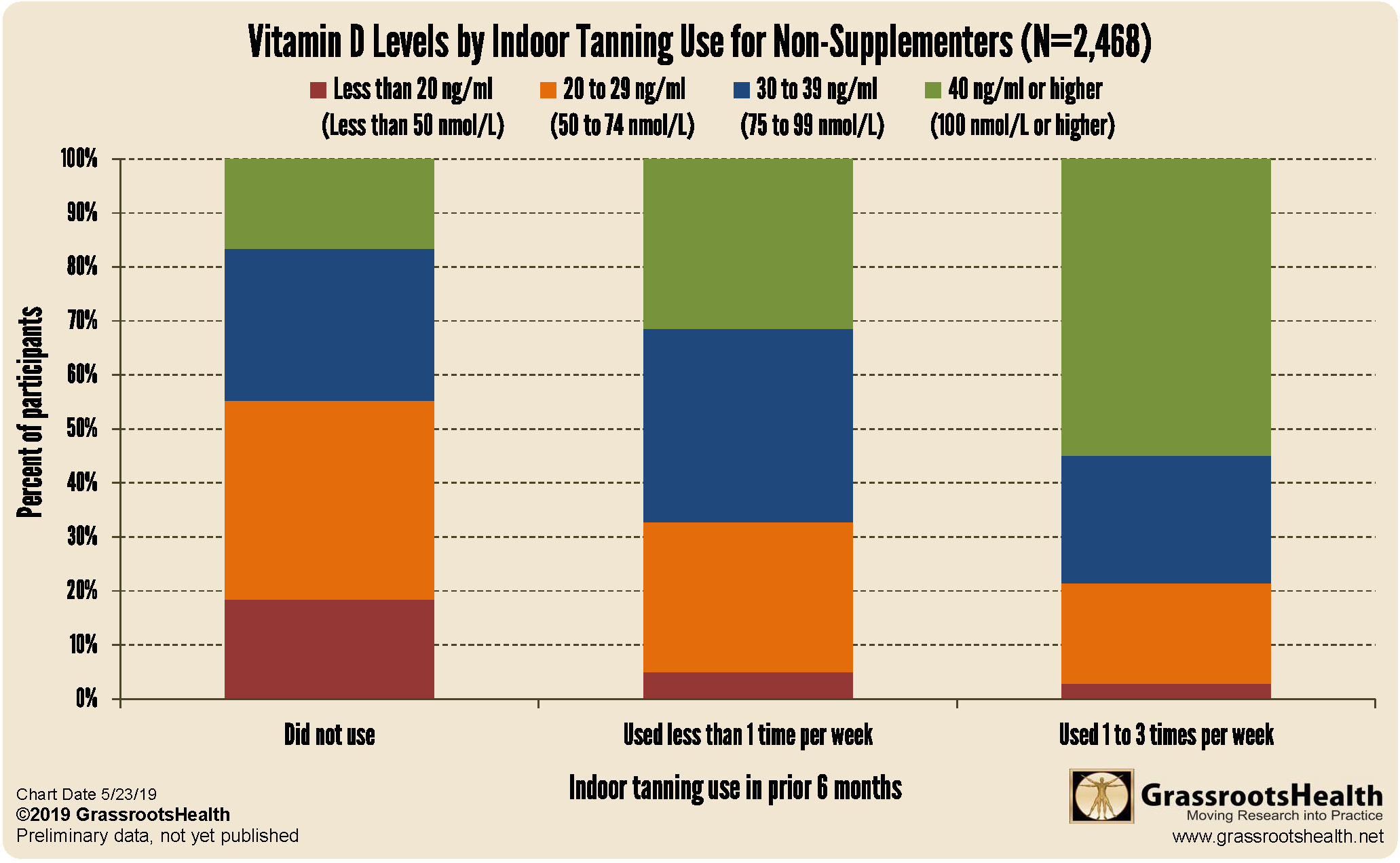 These results show that indoor tanning could be used to achieve a vitamin D level at or above 40 ng/ml (100 nmol/L), but that frequency is important.
As with sun exposure, it is also important to be mindful of duration with indoor tanning and not burn.
Back to the question of how long….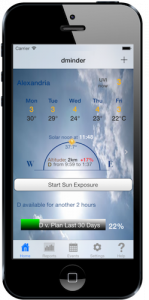 If you are trying to get vitamin D from the sun, a phone app called dminder allows you to optimize UVB and sun exposure time based on your location, skin type, and time of day, and gives an estimate of how much vitamin D has been produced. The app also gives warnings of any risk to your skin getting burned so that you have a better idea of when to get out of the sun or cover up. dminder is very conservative because it uses estimates from the environmental protection agency (EPA). And, an added bonus – you can link your dminder data to your GrassrootsHealth.net participant account!
The lighter your skin and the more you have stayed indoors- the more important it is to be cautious and slow, allowing your skin to adjust to sun exposure gradually, and always being careful not to burn.
Are you using UVB as a source of vitamin D?
Is UVB exposure, whether from indoor lamps or from the sun, helping to improve your vitamin D level? Make sure you know your vitamin D level, and see if you are in the target range of 40-60 ng/ml (100-150 nmol/L). Find out your levels today! Log on to the shop (click the link below) to get your tests and see for yourself if your levels can be improved.
Make sure you track your results before and after, about every 6 months!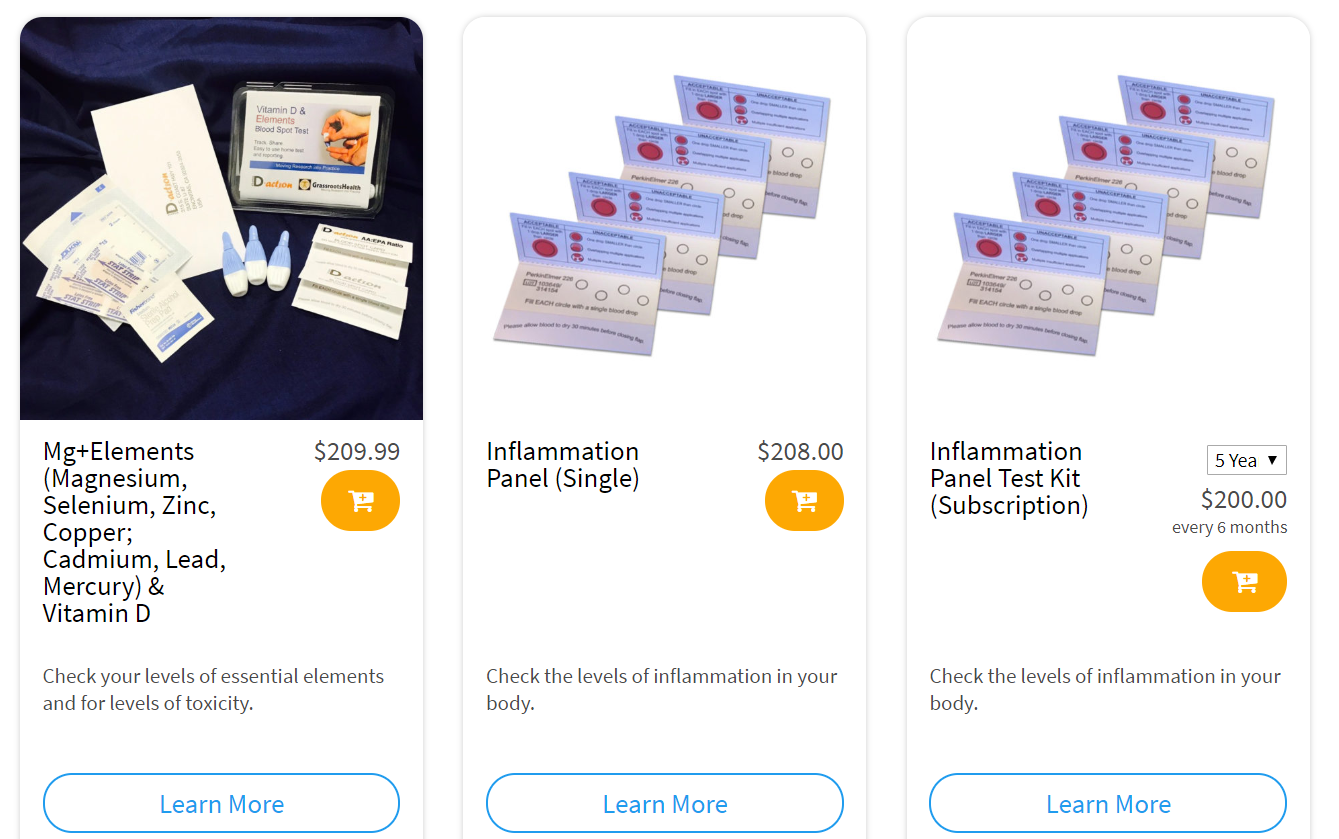 Click Here to Access the Shop Page
How can I track my UVB exposure and my vitamin D levels?
To help you track your indoor UVB and sun exposure along with vitamin D levels, GrassrootsHealth has created an online tracking system called myData-myAnswers. You can also track your dietary intake and supplement use to see how both sun exposure and vitamin D from food and supplements impact your vitamin D levels and your health. Check it out today!
Important Message
NEWS ALERT: States, Governments Acknowledge the Need for Vitamin D to Build the Immune System; Vitamin D*action has achieved a major milestone of 'Moving Research into PRACTICE'!
EVERYONE needs to know about the benefits of vitamin D... We need your help to do this. Donating $25.00 today will positively affect millions of lives!
We will take this opportunity to use our extensive network to get pertinent information on vitamin D to the new US COVID Panel as well as local and state government representatives around the world.
Donate $25 today to help support this outreach effort (and, let us know if your employer could match the donations made by individuals from now until January 1, 2021!). You can also "text-to-give" by simply texting Daction to 44321.
Donations made through GiveLively are received in full by GrassrootsHealth.
What Does it Take YOU to Get Your D to 40 ng/ml (100 nmol/L)?
Did you know your health could be greatly affected by making sure you have a vitamin D level of at least 40 ng/ml (100 nmol/L)? Help us help you.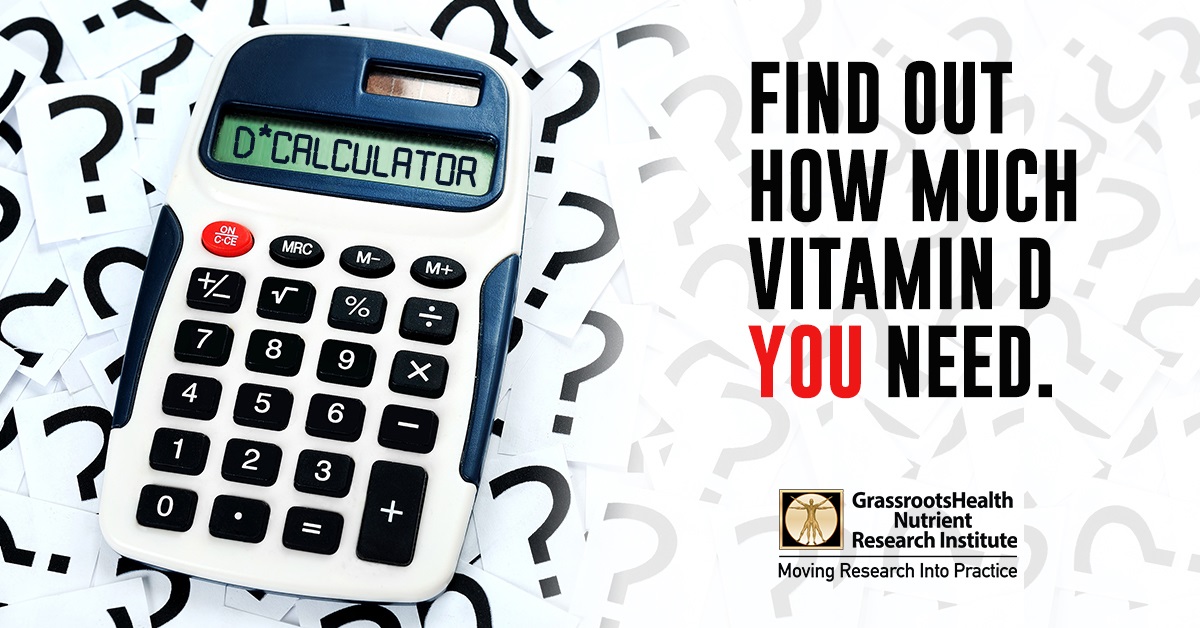 STEP 1 - Do you know what your vitamin D level is? If not, be sure to test today to find out.
STEP 2 – Determine your target level. Are you at your target level? Experts recommend a level of at least 40-60 ng/ml (100-150 nmol/L).
STEP 3 – Need to boost your level? Use the D*calculator to see how much vitamin D it may take to reach your target. Opt for the Loading Dose for a quicker boost.
STEP 4 – Optimize how your body absorbs and utilizes vitamin D with co-nutrients and these simple steps.
STEP 5 – Re-Test! This is an important step to make sure you have reached your target level, and to ensure you are not taking too much! Re-testing after 3-4 months is recommended.
STEP 6 – Adjust, Repeat…
Give your immune system the nutrients it needs to support a healthy you and protect yourself from unnecessary diseases, especially COVID-19.
NEWS ALERT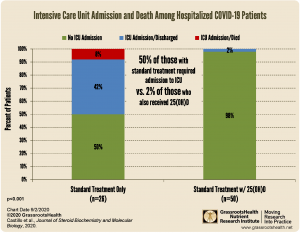 The first Randomized Controlled Trial on vitamin D and COVID-19 has shown a 96% lower risk of ICU admission for those receiving vitamin D (as 25(OH)D to quickly boost vitamin D blood levels) along with the standard treatment, compared to those receiving standard treatment alone.
These results support many previous observational studies showing a relationship between vitamin D levels and intake and COVID-19 severity.
Review the Latest Nutrient Research for COVID-19
GrassrootsHealth Nutrient Research Institute has launched the new Immune Boost project with the use of our myData-myAnswers nutrient health system that nearly 15,000 people are already using for their health. Specific markers that influence immune health are suggested for testing as part of this project including:
Vitamin D
Omega-3 Index
Essential elements magnesium, selenium, and zinc
hsCRP
Our goal is to demonstrate how one can use the Nutrient Research Model established by Dr. Robert Heaney to show the effect of vitamin D serum levels of at least 40 ng/ml (100 nmol/L) on risk reduction for all ethnicities in the population. Status and intake of other nutrients will also be analyzed for any type of relationship to immune status and symptom severity. Join the project today!
Please let us know if you're interested in helping sponsor this project.

CLICK HERE for updates and new information about the project.
Through GrassrootsHealth Nutrient Research Institute, you can also test your essential elements magnesium, copper, zinc and selenium, toxins such as lead, mercury and cadmium, as well as your omega-3 levels, inflammation levels and thyroid stimulating hormone (TSH) level. Find out your levels today! Log on to the test selection page (click the link below) to get your tests and see for yourself if your levels can be improved.
Make sure you track your results before and after, about every 6 months!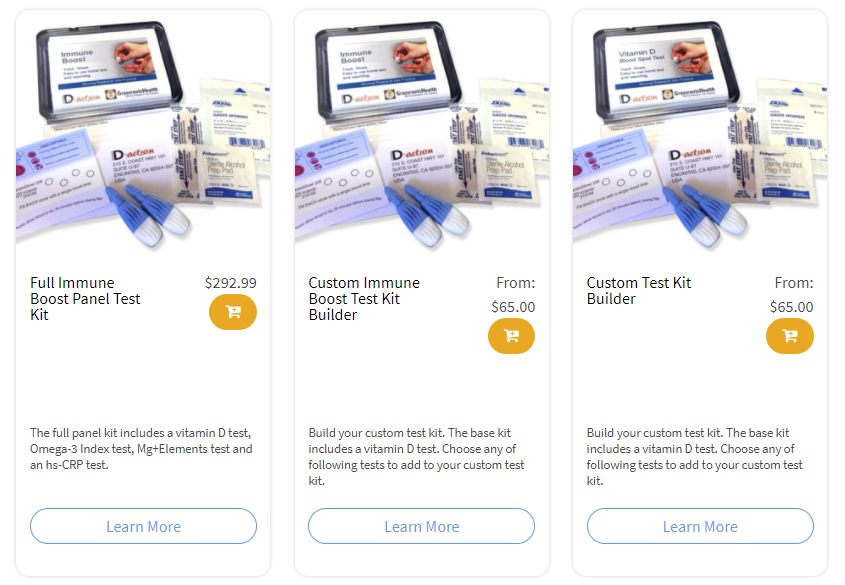 Click Here to Access the Test Page
How can I track my nutrient intake and levels over time?
To help you track your supplement use and nutrient levels, GrassrootsHealth has created the Personal Health Nutrient Decision System called

For each specific supplement, you can track what days you take it, how much, and many other details.  This will help you know your true supplemental intake and what patterns of use work for you to reach and maintain optimum nutrient levels. Check it out today!