Published on July 11, 2023

This video on 7 Hidden Signs of Selenium Deficiency reviews why the body needs selenium and signs that you may not be getting enough; read on for signs that you might be getting too much
Key Points
Selenium is an essential mineral with a narrow optimal therapeutic range; excess selenium over extended periods of time can become toxic and result in signs and symptoms that are similar to those of deficiency
There is a higher risk of selenium deficiency in people with GI issues, such as IBS, ulcerative colitis, and Crohn's disease, and among older individuals
When experiencing symptoms it is important to consider selenium intake from all supplements and diet, along with your selenium blood level, in order to determine if you may be getting enough or too much
---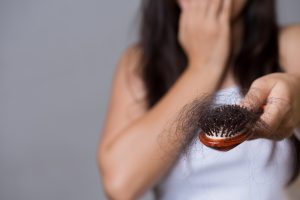 Selenium is an essential mineral that is required for hundreds of processes within the body on a daily basis. The recommended daily allowance for selenium is 40-55 mcg per day with a tolerable upper intake level of 400 micrograms (mcg) per day for adults.  Foods normally high in selenium include Brazil nuts, walnuts, grains, beef, poultry, and some seafood.
Our last post reviewed selenium levels among GrassrootsHealth participants, and while a majority of those participants had a selenium level within the laboratory reference range, some were at the low end of that range or below it, possibly indicating deficiency, while many were above it. It is important to understand that the optimal therapeutic range for selenium is narrow, and excess selenium can become toxic and result in signs and symptoms that are similar to those of deficiency.
Featured Video: 7 Hidden Signs of SELENIUM Deficiency (Some are Subtle)
For a quick review of several key signs of selenium deficiency, check out this video by Ken D Berry, MD, or review the video summary below.
Watch Now
Video Summary
The body only needs a little bit of selenium, but it can be difficult for some people to get enough
Many antioxidants that the body makes require selenium; therefore, not getting enough selenium can lead to increased levels of oxidation, inflammation, and stress in the body
There is a higher risk of selenium deficiency in people with GI issues, such as IBS, ulcerative colitis, and Crohn's disease
Elderly people over the age of 80 years old are also less able to absorb selenium
Symptoms of selenium deficiency include
Infertility in men and women
Muscle weakness – mitochondria need selenium to function
Low thyroid symptoms, or symptoms associated with hypothyroid, including trouble losing weight, overall fatigue, low drive, feeling cold
Mental fog
Hair loss
Weak immune system – increased number of infections in the body
Selenium must be present in the soil that food is grown on or that it grazes on in order for selenium to end up in that food source
Selenium Toxicity Can Result from Taking Too Much
Selenium toxicity, which usually results from taking too much supplemental selenium, can lead to symptoms that are similar to those of selenium deficiency, including hair loss, brittle nails, fatigue, diarrhea, joint pain, and nausea. Rarely, toxicity can also result in heart and neurological problems or even paralysis.
When experiencing symptoms it is important to consider selenium intake from all supplements and diet, along with your selenium blood level, in order to determine if you may be getting enough or too much.
Could You be Getting Too Much Selenium?  Not Enough?
Measure your selenium levels at home as part of the Elements Panel! Selenium, along with vitamin D, magnesium, zinc, and omega-3s, are just a few nutrients vital to maintaining many aspects of our health. To know if you are getting enough, make sure you test today!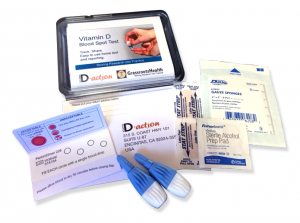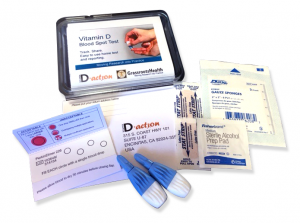 You can also measure your:
Vitamin D
Magnesium PLUS Essential and Toxic Elements
Omega-3 Fatty Acids
hsCRP
HbA1c
TSH
Type 1 Diabetes Autoantibodies
Did you know that each of the above can be measured at home using a simple blood spot test? As part of our ongoing research project, you can order your home blood spot test kit to get your levels, followed by education and steps to take to help you reach your optimal target levels. Start by enrolling and ordering your kit to measure each of the above important markers, and make sure you are getting enough of each to support better mood and wellbeing!
Create your custom home test kit today. Take steps to improve the status of each of these measurements to benefit your overall health. With measurement you can then determine how much is needed and steps to achieve your goals.  You can also track your own intakes, symptoms and results to see what works best for YOU.
Enroll in D*action and Test Your Levels Today!
How can I track my nutrient intake and levels over time?
To help you track your supplement use and nutrient levels, GrassrootsHealth has created the Personal Health Nutrient Decision System called


For each specific supplement, you can track what days you take it, how much, and many other details.  This will help you know your true supplemental intake and what patterns of use work for you to reach and maintain optimum nutrient levels.  Check it out today!
How Can You Use this Information for YOUR Health?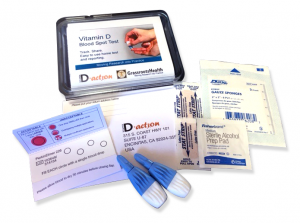 Having and maintaining healthy vitamin D and other nutrient levels can help improve your health now and for your future. Measuring is the only way to make sure you are getting enough!
STEP 1 Order your at-home blood spot test kit to measure vitamin D and other nutrients of concern to you, such as omega-3s, magnesium, essential and toxic elements (zinc, copper, selenium, lead, cadmium, mercury); include hsCRP as a marker of inflammation or HbA1c for blood sugar health
STEP 2 Answer the online questionnaire as part of the GrassrootsHealth study
STEP 3 Using our educational materials and tools (such as our dose calculators), assess your results to determine if you are in your desired target range or if actions should be taken to get there
STEP 4 After 3-6 months of implementing your changes, re-test to see if you have achieved your target level(s)