Published on January 21, 2019


Some may be wondering why it's important to test omega-3 levels. In this blog, we talk about what omega-3s are, why they are important, and the importance of testing your omega-3 levels.
What are omega-3s and why are they important for health?
Omega-3s are a healthy type of fat that comes in multiple forms. Long-chain omega-3s, primarily EPA and DHA, can be found in fish and shellfish while short-chain omega-3s, primarily ALA, are in plant oils such as flaxseed and soybean. The omega-3s found in fish (EPA and DHA) have been linked to the most health benefits. These benefits include a lower risk of cardiovascular disease, dementia, depression, asthma, inflammation, and cancer. These omega-3s can also help treat symptoms of lupus, arthritis, and dry eye disease. While ALA from plant oils can be converted to EPA and DHA, this happens at a very low level.
What does an Omega-3 Index test measure?
The Omega-3 Index is a blood test that measures the amount of the EPA and DHA in red blood cell (RBC) membranes and is expressed as a percent of total RBC fatty acids. This measurement reflects long-term (about four months) intake of EPA and DHA from food and supplements.
Why is it important to measure your Omega-3 Index?
Evidence shows that an Omega-3 Index of greater than 8% is optimal and less than 4% is deficient. However, the typical diet in most countries does not provide enough EPA and DHA to achieve optimal levels. The map below shows the widespread omega-3 deficiency around the world. Among GrassrootsHealth participants, 81% have an Omega-3 Index less than 8%. Even if you have a high fish intake or use omega-3 supplements, similar to vitamin D, there is a wide variation in response (Omega-3 Index) to a specific intake amount so the only way to know if you have optimal levels is to test.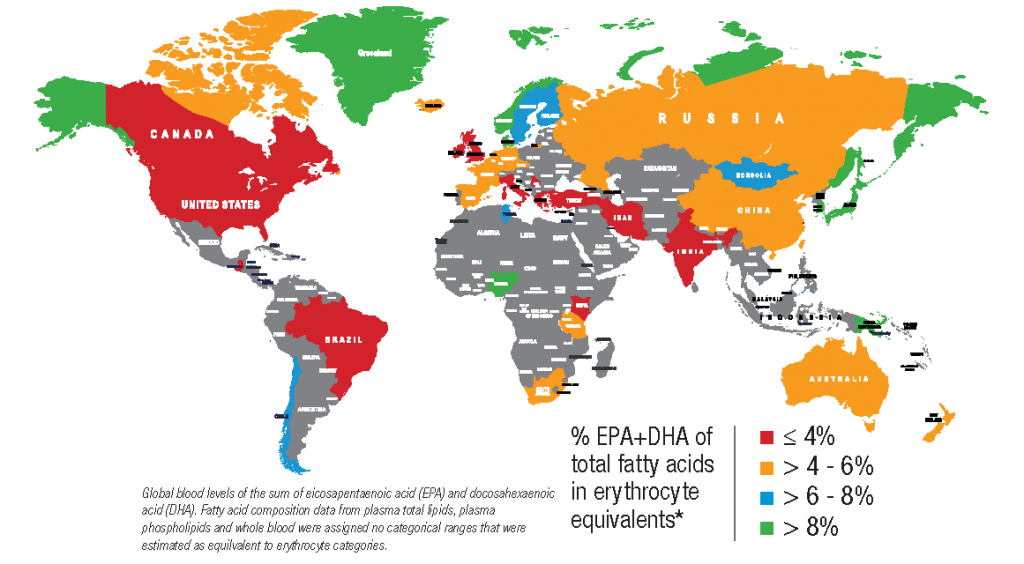 What can the additional omega-6 to omega-3 ratios tell me about my health?
In addition to the Omega-3 Index, GrassrootsHealth also offers testing for your omega-6 to omega-3 ratio (using the same Omega-3 Index blood sample). While omega-3s reduce inflammation, an excess amount of the omega-6s, specifically LA and AA, which are found in cooking oils, processed foods, and animal products, promote inflammation which can lead to the development of chronic disease. This test will provide both your combined omega-6 to omega-3 ratio as well as your ratio of the primary pro/anti-inflammatory omegas (AA to EPA). Evidence shows that lower ratios are better for health. Generally, the desirable range for the omega-6 to omega-3 ratio is 3:1 to 5:1 and for the AA to EPA ratio is 2.5:1 to 11:1 (some experts, however, recommend 3:1 or lower). Among GrassrootsHealth participants, 30% have an omega-6 to omega-3 ratio of 5:1 or lower and 57% have an AA to EPA ratio of 11:1 or lower (11% have a ratio of 3:1 or lower). Knowing your ratios can help you take more specific steps to achieve an ideal ratio, mainly by increasing omega-3s (EPA and DHA) intake and possibly also decreasing pro-inflammatory omega-6 intake.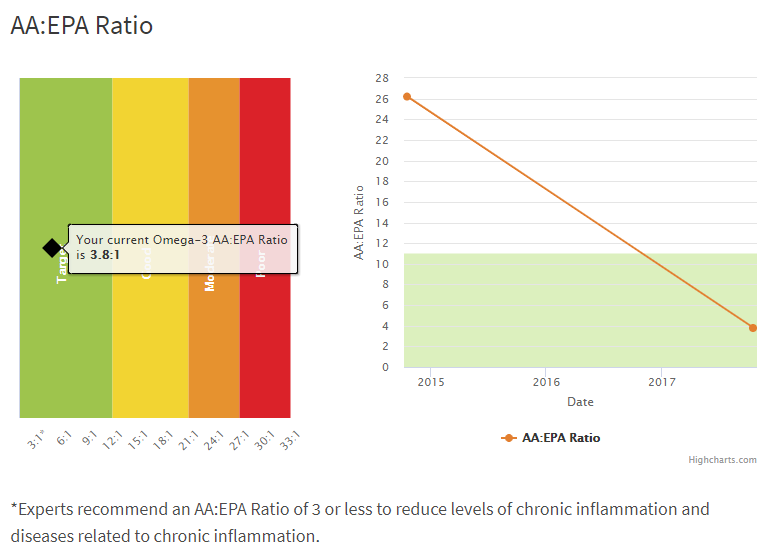 How do I know if my omega-3 intake is working for me?
To help you track your supplement use and nutrient levels, GrassrootsHealth has created an online tracking system called myData-myAnswers. For each specific supplement, you can track what days you take it, how much, and many other details. You can also track your fish intake and other dietary sources. This will help you know your true supplemental intake for EPA & DHA and whether it allows you to achieve an optimal Omega-3 Index. Check it out today!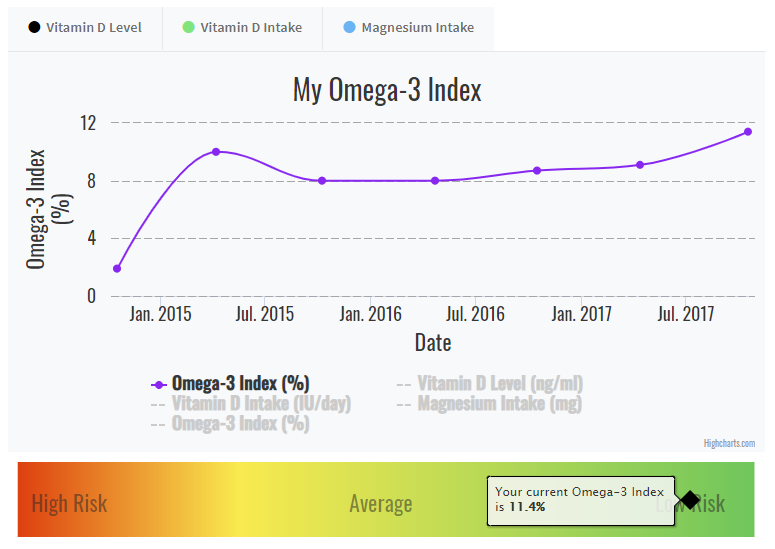 Vitamin D and Omega-3 are co-nutrients!
Vitamin D and Omega-3 can work together to improve health outcomes. Together they can help improve many conditions including depression, cognition, cardiovascular disease, and pregnancy outcomes. Be sure to check both your vitamin D levels and your omega-3 levels with one of our combined Vitamin D & Omega-3 testing kits. Get yours today!
How Can You Use this Information for YOUR Health?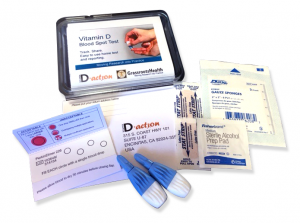 Having and maintaining healthy vitamin D and other nutrient levels can help improve your health now and for your future. Measuring is the only way to make sure you are getting enough!
STEP 1 Order your at-home blood spot test kit to measure vitamin D and other nutrients of concern to you, such as omega-3s, magnesium, essential and toxic elements (zinc, copper, selenium, lead, cadmium, mercury); include hsCRP as a marker of inflammation or HbA1c for blood sugar health
STEP 2 Answer the online questionnaire as part of the GrassrootsHealth study
STEP 3 Using our educational materials and tools (such as our dose calculators), assess your results to determine if you are in your desired target range or if actions should be taken to get there
STEP 4 After 3-6 months of implementing your changes, re-test to see if you have achieved your target level(s)