Published on June 2, 2022

Video Friday: Dr. John Campbell reviews findings from the VITAL trial showing vitamin D reduced the incidence of autoimmune disease by 22%
Key Points
Autoimmune disease (when the immune system attacks its own tissues) is caused by too much inflammation and abnormal immunity
The VITAL study used 2000 IU/day vitamin D or placebo, with 1000 mg/day omega-3s or placebo; it found that those taking vitamin D had a 22% reduction in autoimmune disease in those taking vitamin D versus placebo.  There was a 39% decreased incidence of diagnosed autoimmune disease among those taking vitamin D vs placebo, when diagnosis during the first 2 years was excluded (allowing time for vitamin D to take effect).
"The clinical importance of this trial is high because these are well tolerated, non-toxic supplements, and other effective treatments to reduce the incidence of autoimmune diseases are lacking"
---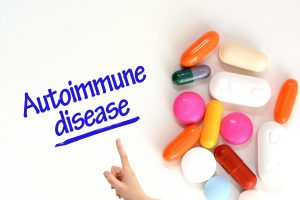 The VITAL trial was a recent, randomized, double blind, placebo-controlled clinical trial conducted in multiple centers around the United States. It included 25,871 participants who were free of cancer and cardiovascular disease diagnoses at baseline. Participants were either male, ages 50 years and older, or female, ages 55 years and older, who were given 2000 IU vitamin D per day and 1 gram of marine omega-3 fatty acids per day, or placebo. The average vitamin D level at baseline among all participants was about 30 ng/ml (75 nmol/L).
Initial findings from the VITAL trial were published in November of 2018; one paper compared cancer outcomes between those assigned to vitamin D (2000 IU/day) versus placebo. When cancer outcome results were analyzed excluding the first two years after study initiation (allowing time for vitamin D to have an effect), there was a 25% reduced risk of cancer mortality among those taking vitamin D (p=0.02). When taking BMI into consideration the reduction in cancer was more pronounced. A significant reduction of metastatic or fatal cancer was seen among those with a normal BMI, with a decreased risk of 38% among those taking vitamin D compared to placebo (p=0.004).
A new analysis from data gathered during the VITAL trial looked at the relationship between supplementation with vitamin D and/or omega-3 fatty acids and the incidence of autoimmune diseases. The primary outcome studied was the total incidence of all autoimmune diseases. Probable diagnoses of autoimmune diseases (cases that lacked enough medical record data to confirm existing symptoms and evidence of autoimmune disease) was also tracked and reported on.
Vitamin D Decreased Autoimmunity: Video Review of Findings
In the video below, Dr. John Campbell reviews the findings from the VITAL trial showing that those who supplemented with vitamin D had a 22% reduced incidence of autoimmune disease.
Video Key Points
Vitamin D regulates a wide array of genes, inflammation, and both acquired and innate immune responses
Autoimmune disease (when the immune system attacks its own tissues) is caused by too much inflammation and abnormal immunity
Some cheap or even free ways to promote and optimize health include using sensible sunshine exposure, vitamin D supplementation, and other non-pharmacological options
The VITAL study used 2000 IU/day vitamin D or placebo, with 1000 mg/day omega-3s or placebo; it found that those taking vitamin D had a 22% reduction in autoimmune disease in those taking vitamin D versus placebo
The population as a whole is low in vitamin D, with widespread deficiency; in fact, almost 90% of U.S. adults in the NHANES data set have a vitamin D level below the recommended range of 40-60 ng/ml
The effect of vitamin D supplementation on reducing the risk of autoimmune disease took a few years to show, and it is possible the study may have seen a bigger effect over a longer period of time; in fact, analysis showed that there was a 39% decreased incidence of diagnosed autoimmune disease among those taking vitamin D vs placebo, when diagnosis during the first 2 years was excluded (allowing time for vitamin D to take effect)
There was a 15% decreased incidence of diagnosed autoimmune disease among those taking omega-3 fatty acids vs placebo, but this result was not statistically significant
"The clinical importance of this trial is high because these are well tolerated, non-toxic supplements, and other effective treatments to reduce the incidence of autoimmune diseases are lacking"
Individuals may also want to consider taking vitamin K2
Types of Autoimmune Diseases
Rheumatoid arthritis
Polymyalgia rheumatica
Hashimoto's thyroiditis (too little thyroid hormone)
Psoriasis
Type 1 diabetes mellitus
Multiple sclerosis
Lupus
Inflammatory bowel disease (Crohn's Ulcerative colitis)
Addison's (too little of cortisol)
Grave's (too much thyroid hormone),
Myasthenia gravis
Pernicious anemia
Autoimmune vasculitis
Celiac disease (gluten protein from grains)
With autoimmune disease being the third leading cause of morbidity in the industrialized world – as Dr. Campbell states, "Prevention is better than a cure!"
Ensure Healthy Vitamin D Levels – Measure at Home Today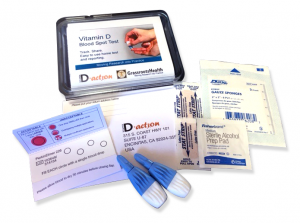 Having and maintaining healthy vitamin D levels and other nutrient levels can help improve your health now and for your future. Choose which additional nutrients to measure, such as your omega-3s and essential minerals including magnesium and zinc, by creating your custom home test kit today. Take steps to improve the status of each of these measurements to benefit your overall health. With measurement you can then determine how much is needed and steps to achieve your goals.  You can also track your own intakes, symptoms and results to see what works best for YOU.
Enroll in D*action and Test Your Levels Today!
How Can You Use this Information for YOUR Health?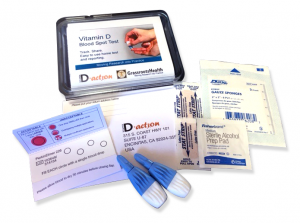 Having and maintaining healthy vitamin D and other nutrient levels can help improve your health now and for your future. Measuring is the only way to make sure you are getting enough!
STEP 1 Order your at-home blood spot test kit to measure vitamin D and other nutrients of concern to you, such as omega-3s, magnesium, essential and toxic elements (zinc, copper, selenium, lead, cadmium, mercury); include hsCRP as a marker of inflammation or HbA1c for blood sugar health
STEP 2 Answer the online questionnaire as part of the GrassrootsHealth study
STEP 3 Using our educational materials and tools (such as our dose calculators), assess your results to determine if you are in your desired target range or if actions should be taken to get there
STEP 4 After 3-6 months of implementing your changes, re-test to see if you have achieved your target level(s)