Published on December 12, 2022


For good reason! These studies provide strong evidence that our brain needs higher amounts of vitamin D and omega-3 fatty acids to stay healthy…
Key Points
Previous research has demonstrated important roles of both vitamin D and omega-3 fatty acids in brain function and cognitive health, as well as in the prevention and outcomes associated with cognitive dysfunction such as Alzheimer's Disease and dementia
A new study found that higher concentrations of 25(OH) vitamin D3 in the brain tissue was associated with a 25-33% significantly lower risk of dying with dementia or mild cognitive impairment, as well as better global cognitive function scores, a slower rate of cognitive decline, and better semantic and working memory before death
Another recent study found that higher concentrations of omega-3s were related to better brain structure and cognitive function in middle-aged adults, with a significant association between a higher Omega-3 Index, larger hippocampal volume, and better abstract reasoning
---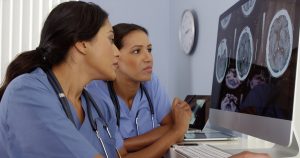 Two very specific nutrients have taken the spotlight over the last couple of weeks in regards to brain health and cognitive function – omega-3 fatty acids and vitamin D. Each has demonstrated important roles in brain function and cognitive health, as well as in the prevention and outcomes associated with cognitive dysfunction, including Alzheimer's Disease and dementia.
For a summary of research on how these nutrients and several other markers can have a protective role on brain health and cognition, and can help decrease the risk of Alzheimer's Disease and other forms of dementia, view the infographic and research summaries on this page.
Vitamin D Concentrations within Brain Tissue Significantly Related to Cognitive Health
A novel study by Shea et al. examined concentrations of vitamin D and its metabolites in the brains of 290 deceased individuals, all of whom had previously participated in the Rush Memory and Aging Project, a study tracking risk factors for Alzheimer's Disease and cognitive decline. The goal was to determine if there was an association between cognitive function prior to death and vitamin D levels found in the brain tissue.
The researchers discovered that the main form of vitamin D measured in brain tissue was 25(OH)D3, with higher concentrations of 25(OH)D3 associated with a 25-33% significantly lower risk of dying with dementia or mild cognitive impairment. Higher vitamin D levels in the brain were also related to better global cognitive function scores, a slower rate of cognitive decline, and better semantic and working memory before death.
Higher Omega-3 Index Related to Increased Brain Volume and Better Cognitive Function
Another recent publication that has received a lot of attention is by Satizabal et al., which compared the concentration of omega-3 fatty acids EPA and DHA in the red blood cells (using the Omega-3 Index) to brain volume (measured by MRI) and cognitive function. The study included 2,183 dementia and stroke-free middle aged participants, with a mean age of 46 years.
This study found that higher concentrations of omega-3s were related to better brain structure and cognitive function in middle-aged adults, with a significant association between a higher Omega-3 Index and larger hippocampal volume, as well as better abstract reasoning.
How do You Know if You Are Getting Enough Vitamin D and Omega-3s?
The only way to know is to test your levels! Testing versus blind supplementation is essential to know for sure if what you are taking is the right amount for you. Once you test your vitamin D level and Omega-3 Index and know where you are NOW, you can account for any upcoming changes in lifestyle over the coming months and adjust your intake to reach (or maintain) your target.
GrassrootsHealth scientists recommend a vitamin D level between 40-60 ng/ml (100-150 nmol/L) and an Omega-3 Index of 8% or higher as an optimal range, however, some individuals may choose to aim for slightly higher vitamin D levels for reasons such as cancer prevention. Once choosing a target level of each, individuals can use the vitamin D*calculator and omega-3 calculator to help determine an estimated daily dose of each. It may take several rounds of testing, adjusting, and re-testing to find the dose that works best for you in keeping within your target ranges.
Measure Your Levels Today!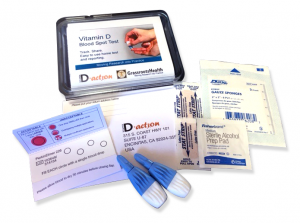 Having and maintaining healthy vitamin D, omega-3, and other nutrient levels can help improve your health now and for your future. Choose which markers to measure, such as your vitamin D, omega-3s, and essential minerals including magnesium and zinc, by creating your custom home test kit today. Take steps to improve the status of each of these measurements to benefit your overall health. You can also track your own intakes, symptoms and results to see what works best for YOU.
Enroll and test your levels today, learn what steps to take to improve your status of vitamin D (see below) and other nutrients and blood markers, and take action! By enrolling in the GrassrootsHealth projects, you are not only contributing valuable information to everyone, you are also gaining knowledge about how you could improve your own health through measuring and tracking your nutrient status, and educating yourself on how to improve it.
How Can You Use this Information for YOUR Health?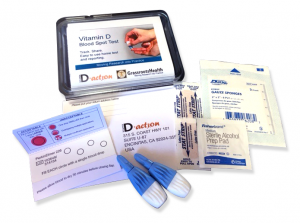 Having and maintaining healthy vitamin D and other nutrient levels can help improve your health now and for your future. Measuring is the only way to make sure you are getting enough!
STEP 1 Order your at-home blood spot test kit to measure vitamin D and other nutrients of concern to you, such as omega-3s, magnesium, essential and toxic elements (zinc, copper, selenium, lead, cadmium, mercury); include hsCRP as a marker of inflammation or HbA1c for blood sugar health
STEP 2 Answer the online questionnaire as part of the GrassrootsHealth study
STEP 3 Using our educational materials and tools (such as our dose calculators), assess your results to determine if you are in your desired target range or if actions should be taken to get there
STEP 4 After 3-6 months of implementing your changes, re-test to see if you have achieved your target level(s)