Published on November 21, 2019

Omega-3 fatty acids are a healthy type of fat that comes in multiple forms. Long-chain omega-3s, primarily EPA and DHA which are found in fish and shellfish, have been linked to numerous health benefits. For the past two years, GrassrootsHealth has collected information about fish consumption and omega-3 supplement use on its health and lifestyle questionnaire and has offered a home blood spot test for the Omega-3 Index, a measurement of the amount of the EPA and DHA in red blood cell (RBC) membranes. Prior studies have shown that an Omega-3 Index greater than 8% is optimal and less than 4% is deficient, particularly for cardiovascular health.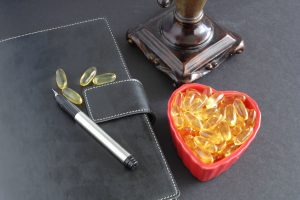 Just published in Nutrition Research is a new paper from GrassrootsHealth using YOUR omega-3 data! Titled "Cross-sectional study of the combined associations of dietary and supplemental EPA+DHA on Omega-3 Index," the objective of this study was to assess fish consumption and omega-3 supplement use among GrassrootsHealth participants and determine the EPA+DHA intake requirement to achieve an Omega-3 Index of 8% or higher. This study included 1795 participants who provided omega-3 supplement information on the questionnaire between May 2017 and August 2018; among those, 985 also completed an Omega-3 Index test. In this blog series we will highlight the key findings from this study.
Key Finding #1:
This study found that 71% of GrassrootsHealth participants consumed less than 2 servings per week of fatty fish and 61% took a supplement with EPA+DHA (marine/algal oil).
Only 19% of participants had an Omega-3 Index of 8% or higher.
Where are you?
The figure below shows the percent of participants achieving an Omega-3 Index of 8% or higher for both fatty fish consumption and EPA+DHA supplement use. Among those who did not take a supplement, only 3% of those consuming 1 fish serving per week and 17% of those consuming 2 or more achieved an Omega-3 Index of 8% or higher.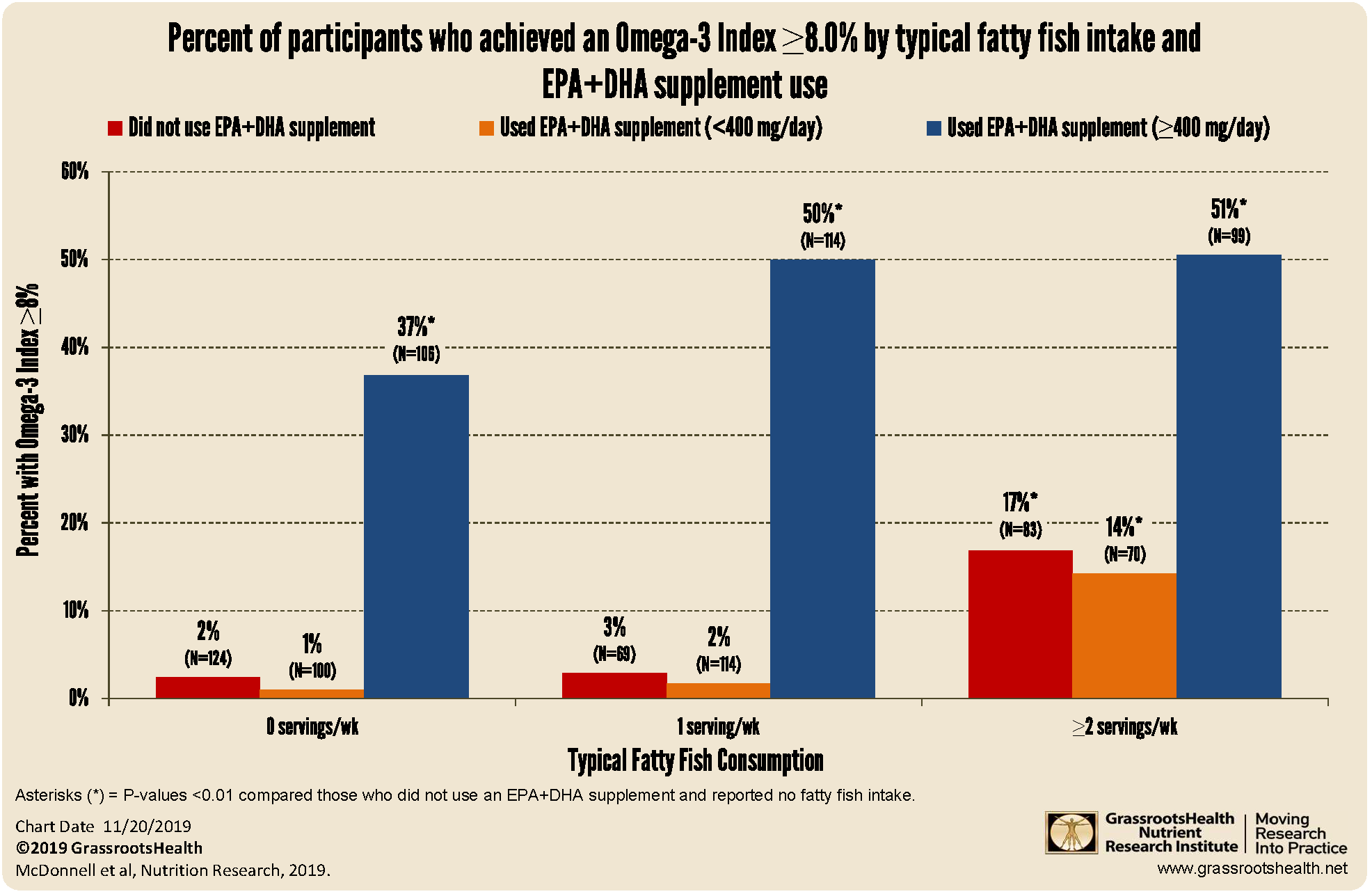 The figure below shows the average Omega-3 Index for the same groups as the figure above. Among those consuming the recommended 2 or more fish servings per week, only those in the group also taking at least 400 mg per day of supplemental EPA+DHA had an average Omega-3 Index of 8% or higher.
The average dose of the group achieving the Omega-3 Index of 8% was 1100 mg of EPA+DHA per day.
Where are you?
Use the Omega-3 Index Calculator
to see what it might take for you to achieve your desired level.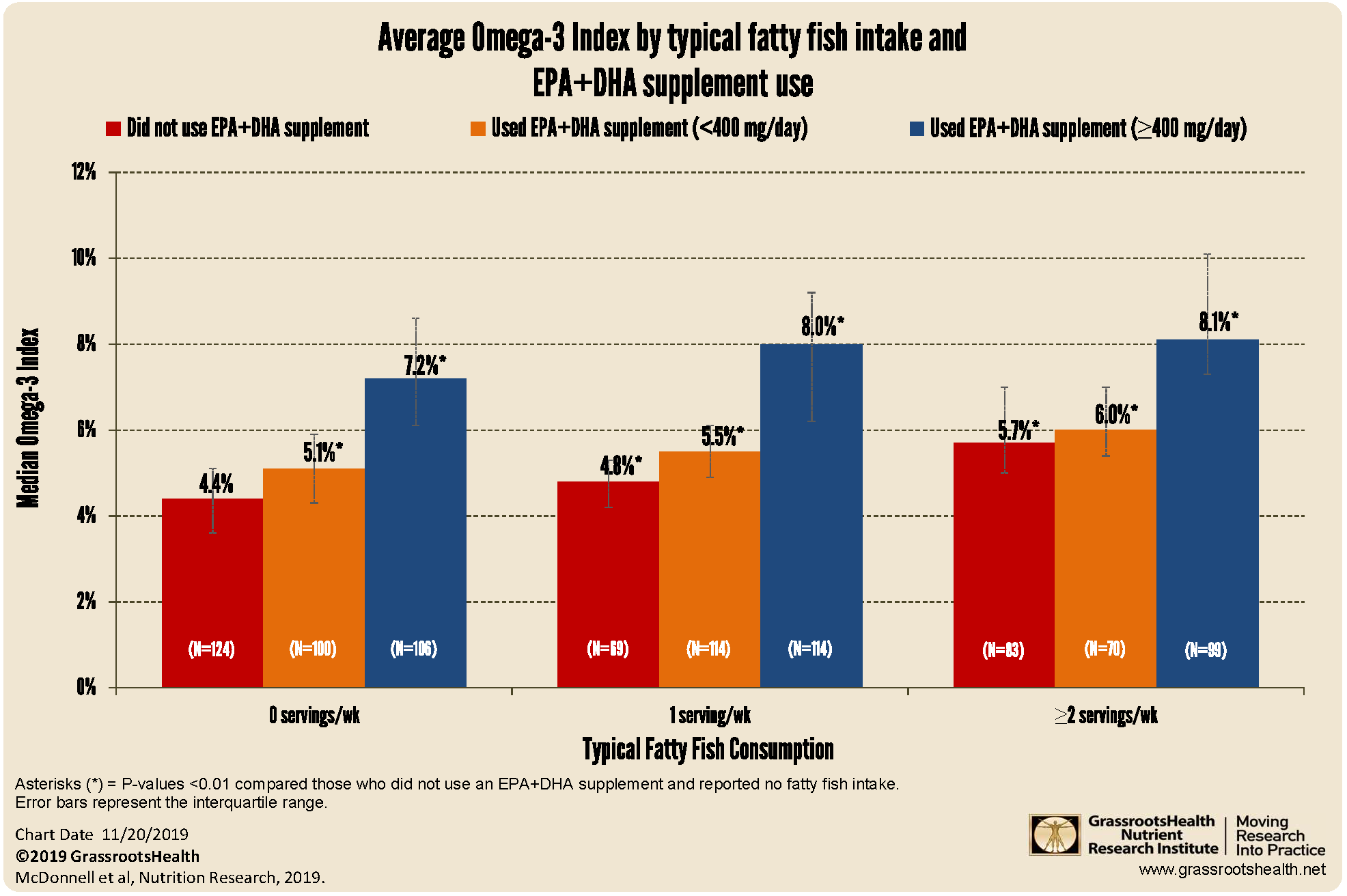 This suggests that following the American Heart Association guidelines (1-2 seafood meals per week) alone does not produce an Omega-3 Index of 8% or higher, nor does taking an omega-3 supplement with insufficient EPA+DHA content. In the next blog in this series we will take a look at the relationship between EPA+DHA intake and Omega-3 Index to assess the intake amount needed to achieve an Omega-3 Index of 8%.
Are you getting enough omega-3 fatty acids?
Is your dietary and supplemental intake of omega-3s enough to ensure an Omega-3 Index of at least 8%? Make sure you also know your vitamin D level (with a target of 40-60 ng/ml or 100-150 nmol/L). Find out your levels today! Log on to the shop (click the link below) to get your tests and see for yourself if your level can be improved.
Make sure you track your results before and after, about every 6 months!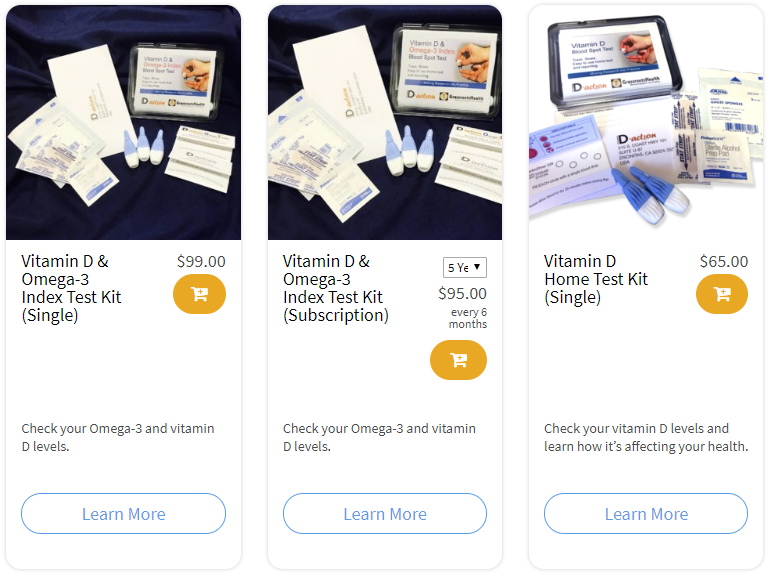 Click Here to Access the Shop Page
How can I track my nutrient intake and levels over time?
To help you track your supplement use and nutrient levels, GrassrootsHealth has created an online tracking system called myData-myAnswers. For each specific supplement, you can track what days you take it, how much, and many other details. This will help you know your true supplemental intake and what patterns of use work for you to reach and maintain optimum nutrient levels. Check it out today!
How Can You Use this Information for YOUR Health?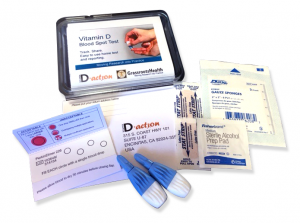 Having and maintaining healthy vitamin D and other nutrient levels can help improve your health now and for your future. Measuring is the only way to make sure you are getting enough!
STEP 1 Order your at-home blood spot test kit to measure vitamin D and other nutrients of concern to you, such as omega-3s, magnesium, essential and toxic elements (zinc, copper, selenium, lead, cadmium, mercury); include hsCRP as a marker of inflammation or HbA1c for blood sugar health
STEP 2 Answer the online questionnaire as part of the GrassrootsHealth study
STEP 3 Using our educational materials and tools (such as our dose calculators), assess your results to determine if you are in your desired target range or if actions should be taken to get there
STEP 4 After 3-6 months of implementing your changes, re-test to see if you have achieved your target level(s)