Published on May 9, 2019
Multiple sclerosis (MS) is a chronic, auto-immune disease that affects the central nervous system. In MS, the immune system attacks the protective covering of nerves which disrupts the brain's ability to communicate with the rest of the body. Typical symptoms include fatigue, numbness and tingling, vision problems, and problems with coordination, memory, and concentration. More than two million people have been diagnosed with MS worldwide. Studies have linked both low vitamin D status and low sun exposure with an increased risk of MS. In this blog we will review some of the latest research on the protective benefits of sun exposure for MS.
Could sun exposure prevent Multiple Sclerosis?
In 2018, results from the Nurses' Health Study examining the relationship between sun exposure and risk of developing MS among 151 cases (people with MS) and 386 controls (people without MS) were published. Researchers assessed both the amount of time spent in the sun and ambient UVB, which is a measure of the amount of UVB in a particular residential area based on latitude, altitude, and cloud cover. The research team found that those living in high UVB areas before the onset of MS had a 45% lower risk of MS compared to those living in low UVB areas (P<0.0001). Also, those who spent 10 or more hours per week outdoors in the summer in high UVB areas during ages 31-40 had an 82% lower risk of MS compared to those who spent less than 10 hours per week outdoors in low UVB areas (P=0.01). Other age groups also showed a decreased risk (chart below).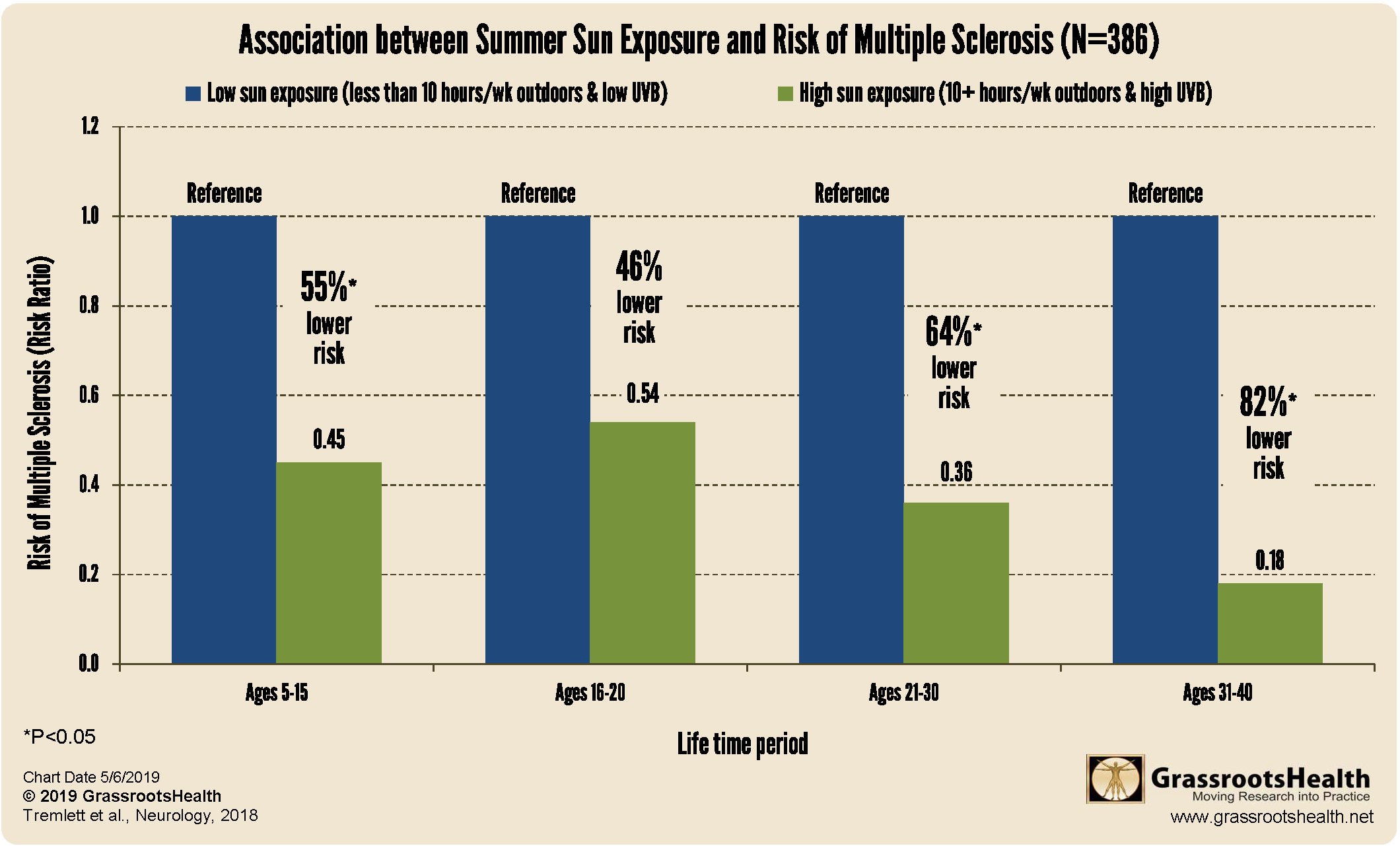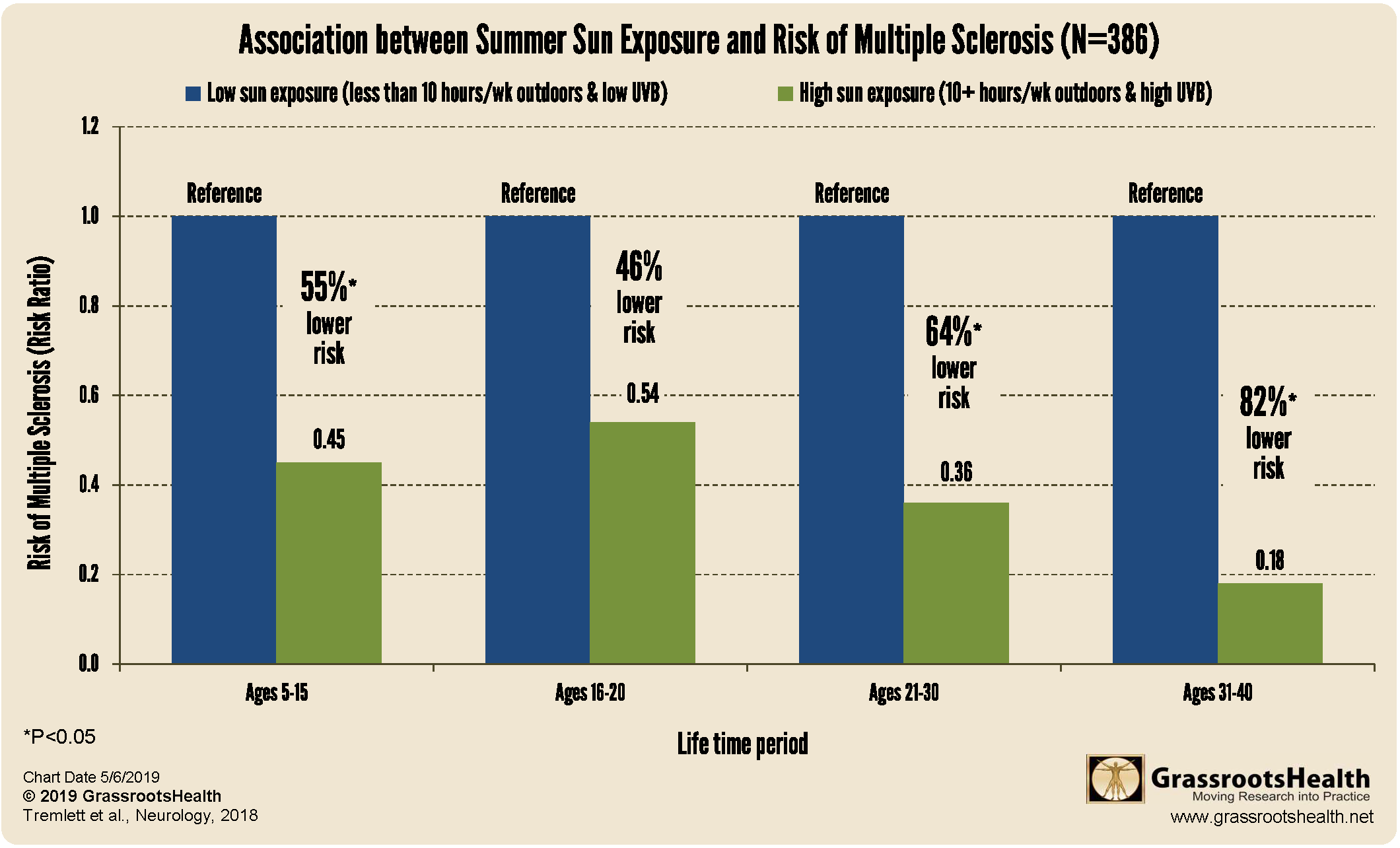 Another study published in 2018 examined whether higher levels of ambient UV exposure were associated with a lower risk of MS among almost 40,000 radiologic technologists. The researchers found that those with the highest lifetime UV exposure in the winter had a 50% lower risk of MS compared to those with the lowest (P=0.007).
Could UV exposure have an independent role in MS prevention?
A third 2018 study took the research one step further by assessing whether lifetime UV exposure, separate from vitamin D status, plays an independent role in reducing the risk of MS by race/ethnicity. This study recruited 546 cases and 595 controls from Southern California Kaiser Permanente. Results revealed that higher lifetime UV exposure was associated with a 47% lower risk of MS in African Americans (P=0.007), a 32% lower risk in Caucasians (P=0.02), and a 34% lower risk in Hispanics (P=0.07) after adjusting for vitamin D level. The researchers also found that vitamin D levels were associated with MS risk in Caucasians, but not African Americans or Hispanics. Since the protective effect of UV exposure could not be explained by vitamin D status alone in this study, non-vitamin D mechanisms likely also play a role in the prevention of MS. In another study from 2018, a review of existing evidence on the effects of UV exposure and vitamin D supplementation on MS also found that there appears to be a sun exposure benefit that is independent of vitamin D.
How could UV exposure prevent MS?
Both UV exposure and vitamin D have immunosuppressive effects, which could reduce the immune system attacks on central nervous system and potentially delay or inhibit the development of MS. Yet another study from 2018 reviewed the evidence regarding low sun exposure and/or vitamin D status as a causal risk factors for MS. The research team found consistent evidence that sun exposure could reduce the risk of MS through both vitamin D and non-vitamin D pathways. The authors concluded by saying, "Perhaps one question is how much evidence is needed before we act, for example to advise the public to reduce or stop smoking, or have regular short periods of sun exposure appropriate for skin type, particularly when action is unlikely to cause harm."
Are you using sun exposure as a source of vitamin D?
Is sun exposure helping to improve your vitamin D level? Make sure you know your vitamin D level, and see if you are in the target range of 40-60 ng/ml (100-150 nmol/L). Find out your levels today! Log on to the shop (click the link below) to get your tests and see for yourself if your levels can be improved. Use coupon code SunMonth to receive 15% off during Sunshine Month only!
Make sure you track your results before and after, about every 6 months!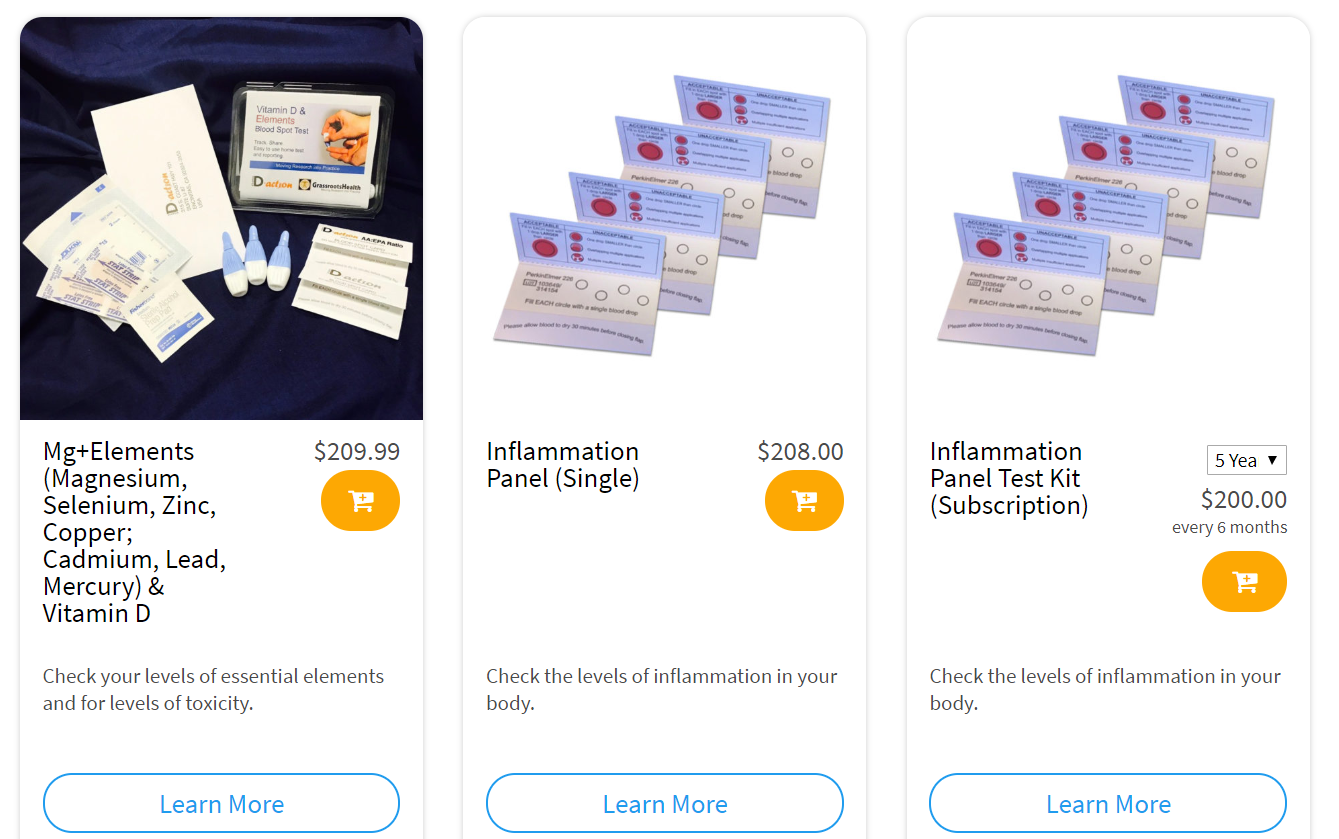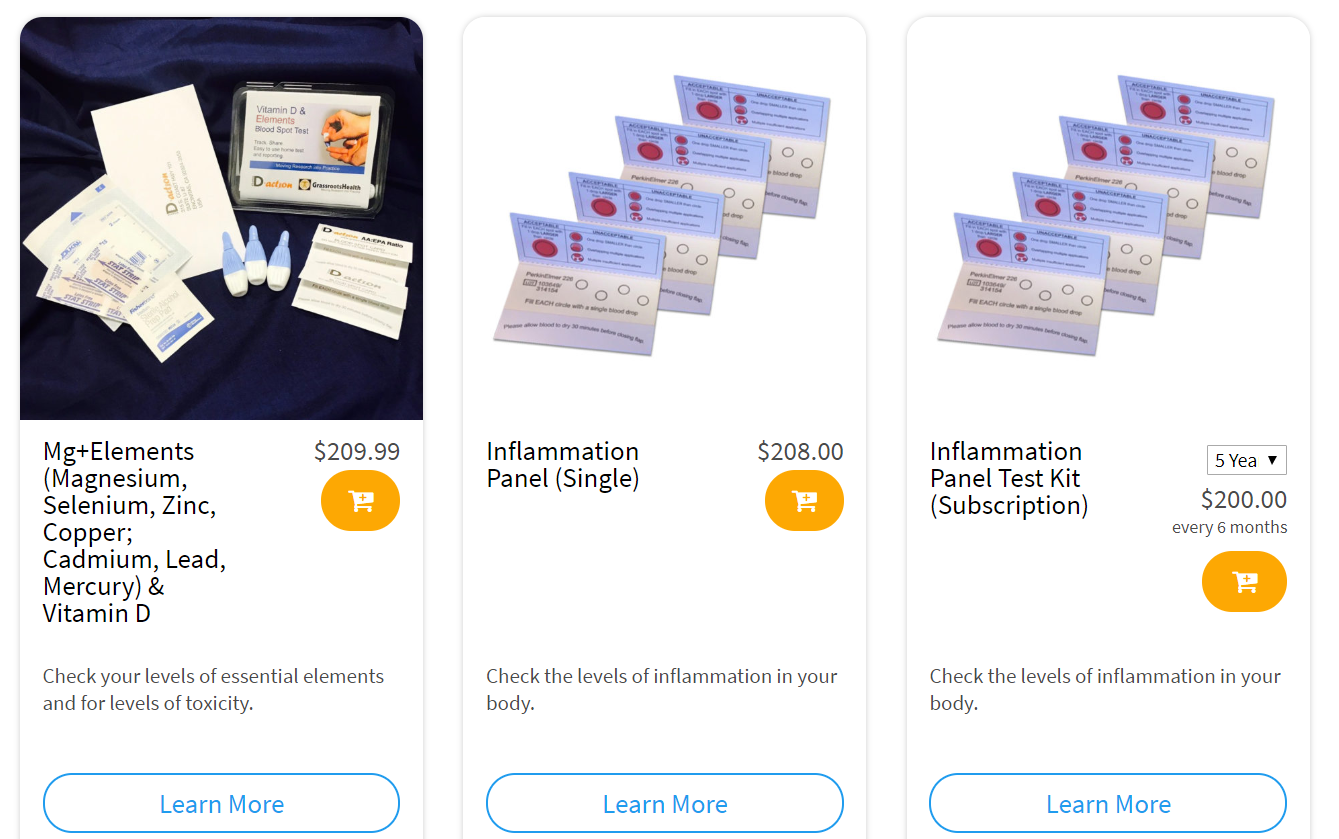 Click Here to Access the Shop Page
How can I track my sun exposure and my vitamin D levels?
To help you track your sun exposure and nutrient levels, GrassrootsHealth has created an online tracking system called myData-myAnswers. You can also track your supplemental and dietary nutrient intake to see how they impact your nutrient levels. Check it out today!
How Can You Use this Information for YOUR Health?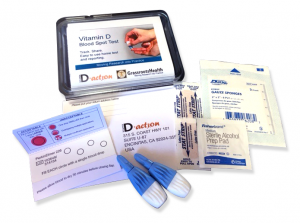 Having and maintaining healthy vitamin D and other nutrient levels can help improve your health now and for your future. Measuring is the only way to make sure you are getting enough!
STEP 1 Order your at-home blood spot test kit to measure vitamin D and other nutrients of concern to you, such as omega-3s, magnesium, essential and toxic elements (zinc, copper, selenium, lead, cadmium, mercury); include hsCRP as a marker of inflammation or HbA1c for blood sugar health
STEP 2 Answer the online questionnaire as part of the GrassrootsHealth study
STEP 3 Using our educational materials and tools (such as our dose calculators), assess your results to determine if you are in your desired target range or if actions should be taken to get there
STEP 4 After 3-6 months of implementing your changes, re-test to see if you have achieved your target level(s)