Published on August 16, 2023


Inflammation can go unnoticed and be very damaging long term – Measure your inflammation markers and save 15% now through Sunday
Key Points
When unresolved, the following initial injuries can lead to chronic, low-level inflammation: microbial invasions, physical injuries (internal and external), diet-induced, oxidative stress-induced, surgery-induced, drug-induced (cancer drugs in particular), and sensor-induced (physical, emotional, environmental)
Inflammation can go unnoticed and be very damaging long term; sometimes an individual will experience symptoms such as pain or fatigue due to inflammation, but often there will be no symptoms until disease occurs
Several tests, such as those included in the Inflammation Panel, can help an individual identify the amount of inflammation hiding within their body
---
Chronic, low-level inflammation (the kind that is not typically associated with pain and can remain silent for years) has been linked to a number of chronic diseases, ranging from cardiovascular disease to diabetes, cancer, dementia, autoimmune disease, mental health disorders, and more. The higher the inflammation levels in the body, the higher the risk of developing these diseases.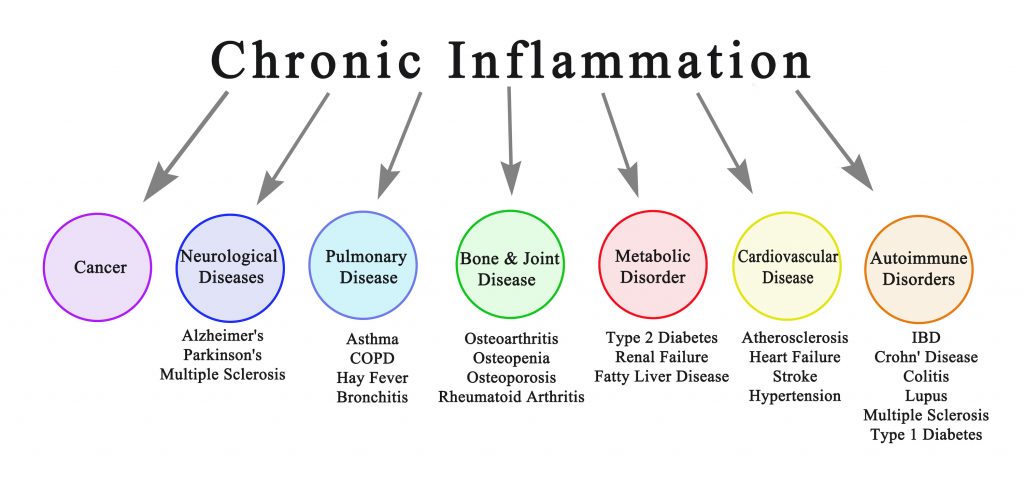 How does this type of silent inflammation come about? A publication by B Sears and AK Saha discusses this topic in detail. The authors describe several steps that are necessary for the resolution of inflammation, including the reduction of an initial acute inflammation, resolution of residual inflammation, and the repair of the damaged tissue. Full resolution is necessary to prevent what can result in chronic, unresolved low-level inflammation.
The authors list the following as causes of an initial, injury induced inflammatory response: microbial invasions, physical injuries (internal and external), diet-induced, oxidative stress-induced, surgery-induced, drug-induced (cancer drugs in particular), and sensor-induced (physical, emotional, environmental).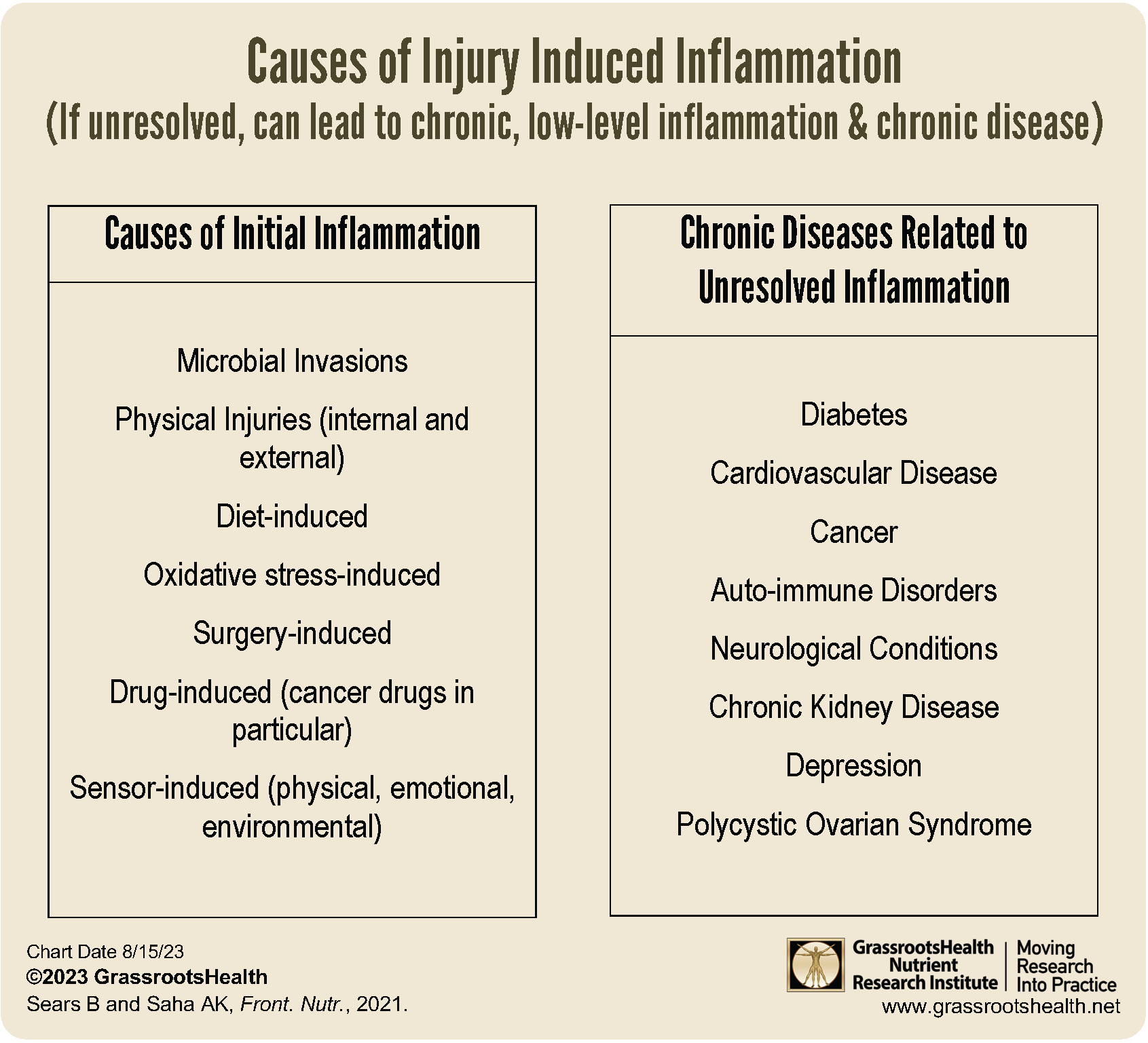 These Markers Can Detect Silent Inflammation and Can Act as an Early Warning of Un-Diagnosed Diseases
Inflammation can go unnoticed and be very damaging long term. Sometimes an individual will experience symptoms such as pain or fatigue due to inflammation, but often there will be no symptoms until disease occurs.
There are several tests that can help an individual identify the amount of inflammation hiding within their body.
C-reactive protein (CRP)
C-reactive protein (CRP) is a byproduct of chronic inflammation that can be measured using a test called hs-CRP. Some research suggests that the level of hs-CRP can predict heart disease even ten years before diagnosis. Studies assessing the effects of chronic inflammation on cognitive health have also shown that higher levels of CRP were related to an increase in cognitive decline.
AA:EPA Ratio
Omega-3 and omega-6 fatty acids are two types of "essential" fatty acids that must be obtained through the diet and that work together to directly regulate inflammation, immune function, and pain. Omega-6s (such as AA) are pro-inflammatory, essential for initiating and sustaining the inflammatory response – a physiologic function necessary for healing from injuries and infection. Omega-3s (such as DHA and EPA) are anti-inflammatory and promote the resolution of the inflammatory process. More specifically, AA plays an important role in the initiation of acute inflammation, which then becomes moderated by the involvement of omega-3s (EPA and DHA) as they replace AA, as well as vitamin D, and begin to resolve inflammation.
The Standard American Diet tends to provide less than 150 mg/day of EPA and DHA, with the intake of linoleic acid at around 7% of energy. This can lead to an abundance of pro-inflammatory omega-6s in the cell membranes, and in turn, increases the risk of inflammation and chronic conditions and diseases related to inflammation.
The AA:EPA Ratio measures the ratio of the amount of pro-inflammatory AA and anti-inflammatory EPA in the red blood cells, and can be used as a biomarker of systemic inflammation, with a smaller ratio being indicative of lower levels of inflammation compared to a higher ratio. A study by Infante et al. suggests an AA:EPA ratio of between 1.5 and 3 to represent optimal inflammation levels.
Hemoglobin A1c (HbA1c)
HbA1c is a measure of blood sugar health; higher levels can indicate blood sugar imbalance, pre-diabetes or metabolic disorder, which is often a combination of increasing insulin resistance and inflammation. Considering this result can give additional clues as to how diet may be affecting your levels of inflammation.
Vitamin D
Vitamin D is also known to be associated with the risk of many inflammation-based diseases, with higher levels of vitamin D associated with lower levels of inflammatory markers and lower disease risk. It acts to suppress the production of inflammatory cytokines (such as IL-1, IL-6 and IFN which are predominant in the cytokine storm characteristic of severe COVID-19), and plays a very important role in preventing the activation of an inappropriate hyper-inflammatory immune response, therefore preventing the now infamous cytokine storm.
A meta-analysis by Jamilian et al. reviewed the research available on inflammation, mental health, and vitamin D in patients diagnosed with psychiatric disorders. The review found a significant reduction in depression, improved quality of sleep, and a significant reduction in CRP following vitamin D supplementation. Evidence-based research points to a minimum 25(OH)D level of 40 ng/ml (100 nmol/L) to fully optimize these demonstrated anti-inflammatory and immune regulating properties of vitamin D.
Measure to Determine Your Amount of Inflammation and Associated Disease Risk with 15% Off Today
Measuring each of the above levels can help individuals take more specific steps towards achieving lower overall inflammation levels and decreasing the risk of chronic diseases. Determine what changes you may need to take, such as increasing vitamin D intake if necessary, and/or increasing omega-3 (EPA and DHA) intake while decreasing pro-inflammatory omega-6 intake (such as AA) and making dietary changes as indicated by the test results.
The Inflammation Panel test kit offered by GrassrootsHealth includes the above measurements – order today and receive 15% off your test kit with the code SUMMER23 (promotion expires 8/20/23).
ORDER THE INFLAMMATION PANEL; Use code SUMMER23 for 15% Off

Create Your Custom Home Test Kit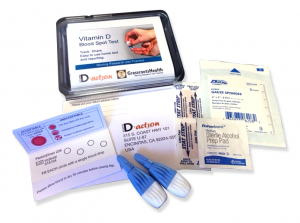 Measure your vitamin D levels at home as part of the D*action project! To know if you are getting enough, make sure you test today!
You can also measure your:
Vitamin D
Magnesium PLUS Essential and Toxic Elements
Omega-3 Fatty Acids
hsCRP
HbA1c
TSH
Type 1 Diabetes Autoantibodies
Did you know that each of the above can be measured at home using a simple blood spot test? As part of our ongoing research project, you can order your home blood spot test kit to get your levels, followed by education and steps to take to help you reach your optimal target levels. Start by enrolling and ordering your kit to measure each of the above important markers, and make sure you are getting enough of each to support better mood and wellbeing!
Create your custom home test kit today. Take steps to improve the status of each of these measurements to benefit your overall health. With measurement you can then determine how much is needed and steps to achieve your goals.  You can also track your own intakes, symptoms and results to see what works best for YOU.
How Can You Use this Information for YOUR Health?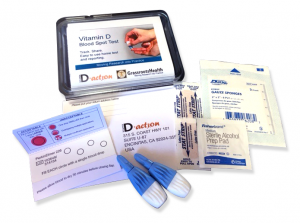 Having and maintaining healthy vitamin D and other nutrient levels can help improve your health now and for your future. Measuring is the only way to make sure you are getting enough!
STEP 1 Order your at-home blood spot test kit to measure vitamin D and other nutrients of concern to you, such as omega-3s, magnesium, essential and toxic elements (zinc, copper, selenium, lead, cadmium, mercury); include hsCRP as a marker of inflammation or HbA1c for blood sugar health
STEP 2 Answer the online questionnaire as part of the GrassrootsHealth study
STEP 3 Using our educational materials and tools (such as our dose calculators), assess your results to determine if you are in your desired target range or if actions should be taken to get there
STEP 4 After 3-6 months of implementing your changes, re-test to see if you have achieved your target level(s)