Published on October 20, 2021


Reducing Breast Cancer Risks and Improving Patient Survival – A Summary of Research on Vitamin D, Other Nutrients & Lifestyle Habits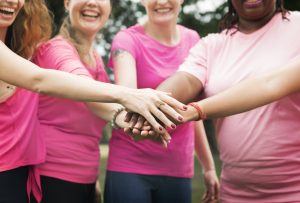 According to breastcancer.org, statistics for breast cancer in the United States indicate the following:
1 in 8 women (about 13%) will develop invasive breast cancer
An estimated 281,550 new cases of invasive breast cancer and 49,290 cases of non-invasive breast cancer are expected to be diagnosed in the year 2021
An estimated 2650 cases of new invasive breast cancer is expected to be diagnosed in men in 2021
An estimated 43,600 women are expected to die from breast cancer in 2021
While the overall death rate from breast cancer between 2013 and 2018 decreased by about 1% each year, most of the decrease has been in women over 50 years of age, with rates holding steady in women under 50. Women who are Black are more likely to die of breast cancer, and a diagnosis before the age of 45 is more common among Black women than White women.
Vitamin D Status Can Help Predict Breast Cancer Risk and Disease Survival
Research has repeatedly shown that women with higher vitamin D levels have up to an 80% decreased risk of getting breast cancer compared to women with lower levels, and breast cancer patients with higher levels of vitamin D are up to twice as likely to survive the disease as women with lower levels. This is JUST with vitamin D!
Unfortunately, almost 90% of U.S. adults have a vitamin D level below the recommended range of 40-60 ng/ml (100-150 nmol/L), with approximately 23% below 20 ng/ml (50 nmol/L).  Blacks overall have a 15-20 fold higher prevalence of severe vitamin D deficiency, which may account for a majority of their increased health and mortality risks, including those with breast cancer.
Summary of Breast Cancer Research… Take action and share the research today!
For any person who is concerned with maintaining good health, it is important to understand the life-saving link between vitamin D and being healthy. Taking the necessary steps to avoid or correct a deficiency and maintain a target vitamin D level is absolutely essential. Vitamin D intake and levels can heavily influence how many diseases progress, the chances of survival, and even getting the disease in the first place – especially in the case of breast cancer.
To make it easier to share how vitamin D and other nutrients and lifestyle habits affect breast cancer risk and outcomes, we have compiled a webpage with a summary of all of our previous research-based posts with the following outline:
Breast Cancer and Vitamin D
Reduced Risk of Breast Cancer Diagnosis – Reduced Risk of Breast Cancer Recurrence & Death
Breast Cancer and Other Nutrients
Breast Cancer and Lifestyle Habits
Click Here for the Breast Cancer Review Page
Check it out and share it today!
Measure Your Status of Vitamin D and Other Nutrients
There is overwhelming evidence showing a significant relationship between higher vitamin D levels and a lower risk of getting breast cancer, as well as a lower risk of death among breast cancer patients.  Other nutrients and lifestyle habits, especially those that contribute to decreasing inflammation, are also important for improving breast cancer outcomes.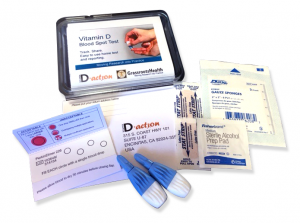 Having and maintaining healthy levels of vitamin D and other nutrients can help improve your health now and for your future. Choose which to measure, such as your vitamin D, selenium with other essential minerals including magnesium and zinc, by creating your custom home test kit today. Take steps to improve the status of each of these measurements to benefit your overall health. You can also track your own intakes, symptoms and results to see what works best for YOU.
Enroll and test your levels today, learn what steps to take to improve your status of vitamin D (see below) and other nutrients and blood markers, and take action! By enrolling in the GrassrootsHealth projects, you are not only contributing valuable information to everyone, you are also gaining knowledge about how you could improve your own health through measuring and tracking your nutrient status, and educating yourself on how to improve it.
Help everyone Move Research into Practice with vitamin D and other nutrients! As a special birthday gift to everyone, in honor of the science, we have created a special scholarship fund for anyone to donate to that will go towards helping others participate. Your donation will allow anyone to get help with funding their participation when they need it.
Text-to-give: Text Daction to 44321 to add to our Scholarship Fund.
How Can You Use this Information for YOUR Health?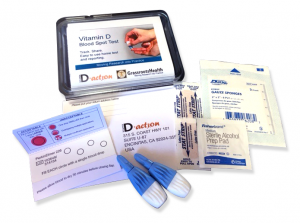 Having and maintaining healthy vitamin D and other nutrient levels can help improve your health now and for your future. Measuring is the only way to make sure you are getting enough!
STEP 1 Order your at-home blood spot test kit to measure vitamin D and other nutrients of concern to you, such as omega-3s, magnesium, essential and toxic elements (zinc, copper, selenium, lead, cadmium, mercury); include hsCRP as a marker of inflammation or HbA1c for blood sugar health
STEP 2 Answer the online questionnaire as part of the GrassrootsHealth study
STEP 3 Using our educational materials and tools (such as our dose calculators), assess your results to determine if you are in your desired target range or if actions should be taken to get there
STEP 4 After 3-6 months of implementing your changes, re-test to see if you have achieved your target level(s)