Published on December 21, 2021


Review of nearly two million individuals from 72 combined studies further supports the link between low vitamin D and increased susceptibility to COVID-19 infection, severity and mortality
Key Points
Another meta-analysis, which included data from nearly two million participants from 72 combined studies, further supports the connection between low vitamin D and increased risks of COVID-19
Vitamin D deficiency/insufficiency was related to a 46% higher risk of developing COVID-19, 90% higher risk of developing severe COVID-19, and 107% higher risk of death due to COVID-19
Share this knowledge easily with the new Vitamin D & COVID-19: A Summary of Published Research eBook, available now through the end of the year for free with any kit purchase or donation
---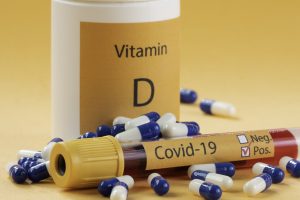 A number of studies, such as those included in our new Vitamin D & COVID-19: A Summary of Published Research eBook and on our blog, have provided much evidence showing the significant effect that vitamin D status has on COVID-19 disease progression and outcomes, where higher vitamin D levels can reduce the risk of infection and severity and help prevent death. Findings from yet another meta-analysis, which included data from nearly two million participants from 72 combined studies, further support the connection between vitamin D and the risks of COVID-19. This analysis is reviewed below and will be added to our eBook in the next revision.
Have you taken action on this information yet, for yourself and those around you? Measure your vitamin D level if you haven't already, and easily share this life-saving information with others. Get your eBook for free with your kit purchase or donation now until the end of 2021!
Another Vitamin D and COVID-19 Meta-Analysis, with Similar Conclusions
A total of 72 studies with data from 1,976,099 individuals was included in the meta-analysis by Dissanayake et al., which was published this month (December, 2021).
The study found that those with vitamin D deficiency/insufficiency had a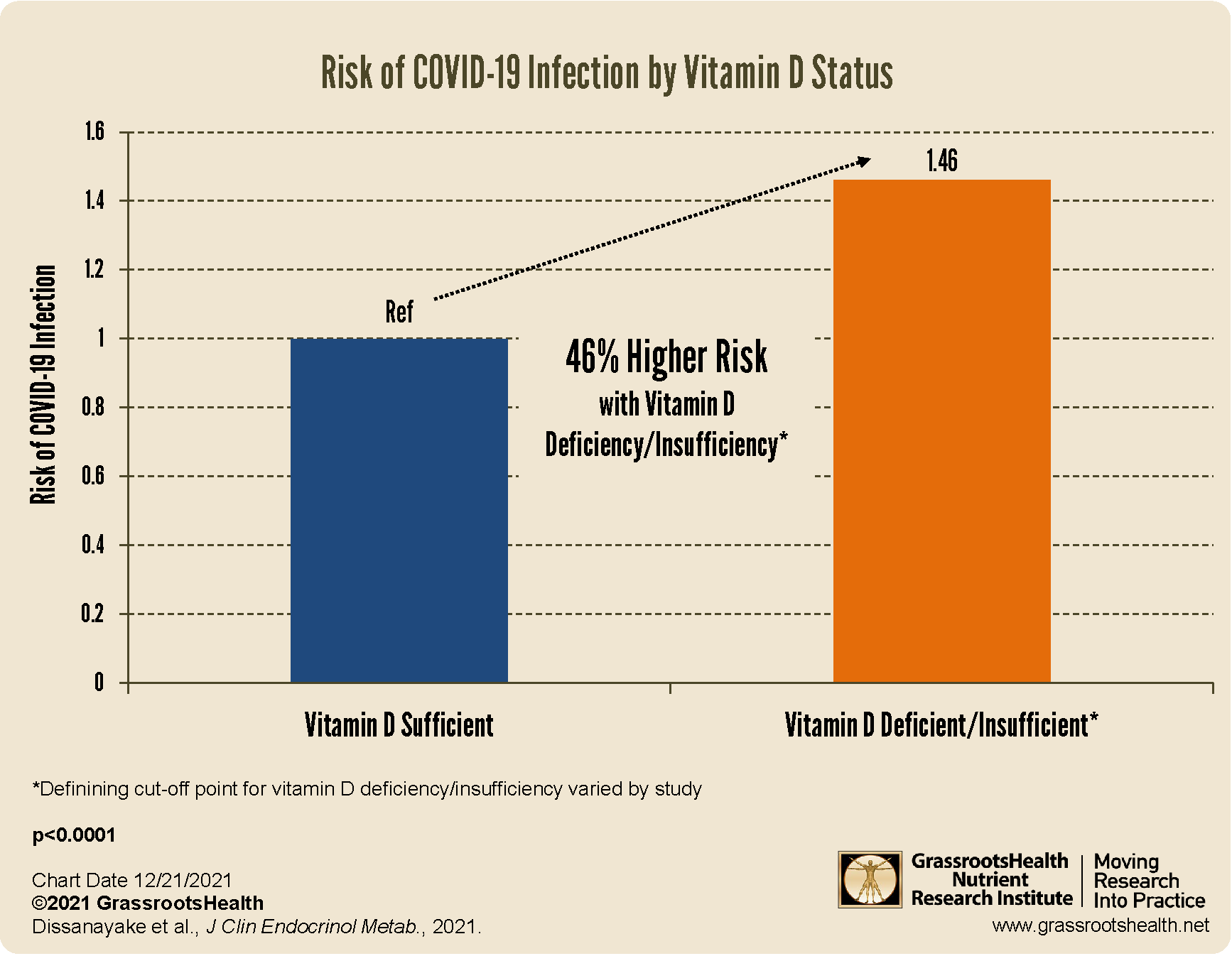 46% higher risk of developing COVID-19 (p<0.0001)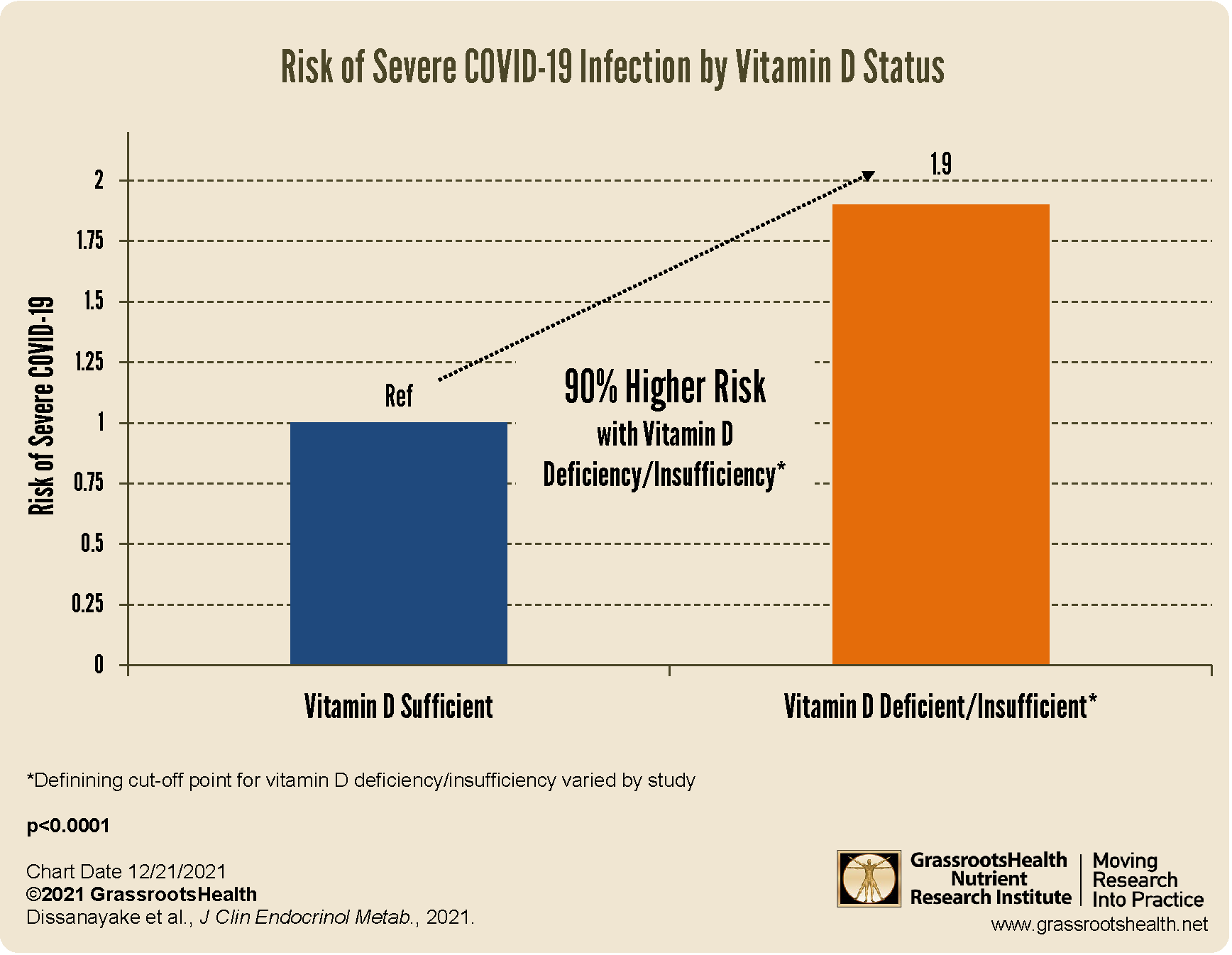 90% higher risk of developing severe COVID-19 disease (p<0.0001)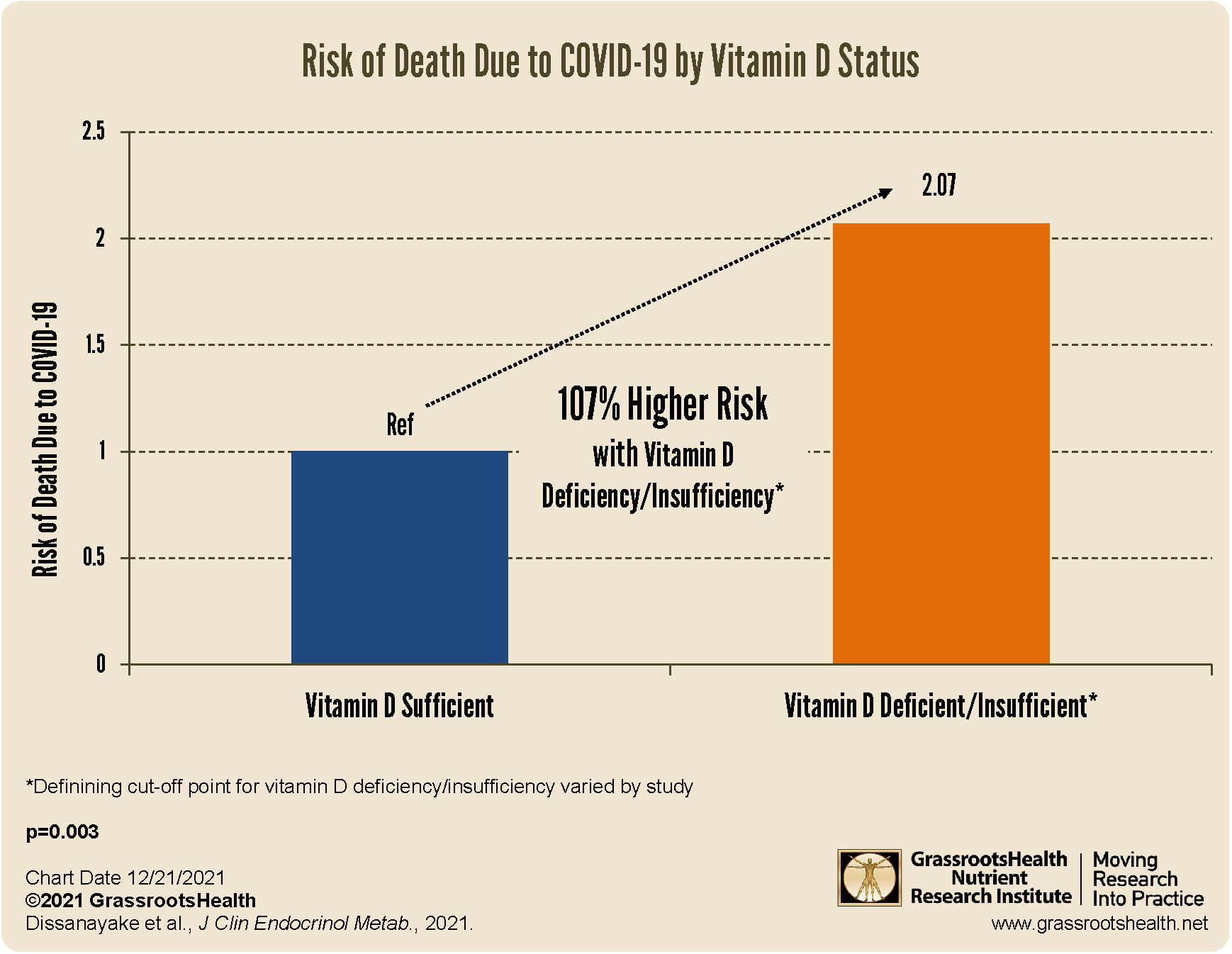 107% higher risk of death due to COVID-19 (p=0.003)
It is important to note that vitamin D deficiency/insufficiency was used to describe vitamin D insufficiency or deficiency of any severity, and was not broken down by specific vitamin D level cut-off points. All findings point to significantly higher risk with lower vitamin D levels. Timing of vitamin D testing in relation to the COVID-19 outcome(s) measured, and the cut-off vitamin D levels used to define deficiency/insufficiency, seemed to have the greatest effect on individual study risk analysis outcomes.
Share this Information and Take Action!
Have you measured your vitamin D level yet? Are those you love aware of this information and of their own vitamin D level?
Share the opportunity to measure vitamin D levels from home as a participant in the vitamin D*action project!  Any kit purchase made now through the end of this year will include the eBook Vitamin D & COVID-19: A Summary of Published Research for free (also free with a donation here).
Thank you for your continued support and in sharing the research on vitamin D!
Vitamin D is an Easily Modifiable Factor to Help Improve Disease Outcomes – Check Your Level Today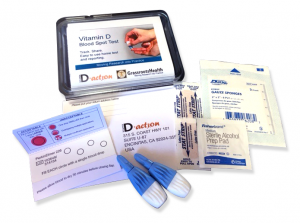 Having and maintaining healthy vitamin D levels and other nutrient levels can help improve your health now and for your future. Choose which to measure, such as your vitamin D, omega-3s, and essential minerals including magnesium and zinc, by creating your custom home test kit today. Take steps to improve the status of each of these measurements to benefit your overall health. You can also track your own intakes, symptoms and results to see what works best for YOU.
Enroll and test your levels today, learn what steps to take to improve your status of vitamin D (see below) and other nutrients and blood markers, and take action! By enrolling in the GrassrootsHealth projects, you are not only contributing valuable information to everyone, you are also gaining knowledge about how you could improve your own health through measuring and tracking your nutrient status, and educating yourself on how to improve it.
How Can You Use this Information for YOUR Health?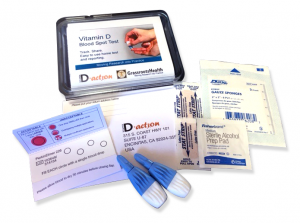 Having and maintaining healthy vitamin D and other nutrient levels can help improve your health now and for your future. Measuring is the only way to make sure you are getting enough!
STEP 1 Order your at-home blood spot test kit to measure vitamin D and other nutrients of concern to you, such as omega-3s, magnesium, essential and toxic elements (zinc, copper, selenium, lead, cadmium, mercury); include hsCRP as a marker of inflammation or HbA1c for blood sugar health
STEP 2 Answer the online questionnaire as part of the GrassrootsHealth study
STEP 3 Using our educational materials and tools (such as our dose calculators), assess your results to determine if you are in your desired target range or if actions should be taken to get there
STEP 4 After 3-6 months of implementing your changes, re-test to see if you have achieved your target level(s)