Published on October 13, 2023

PLUS the New Vitamin D and Breast Cancer Chart eBooklet is Now Available, FREE with Any Purchase or Donation this Month
October is Breast Cancer Awareness Month – Bring awareness to breast cancer PREVENTION all month long by participating in and sharing the research!
Research shows that getting enough vitamin D, omega-3s, magnesium, selenium, and other nutrients can help reduce the risk of breast cancer and improve breast cancer outcomes.
ARE YOU GETTING ENOUGH? FIND OUT TODAY!
GET 10% OFF YOUR BLOOD SPOT TEST KIT
PLUS Get a FREE Copy of Our NEW Breast Cancer Research Summary Chart eBooklet with any Purchase or Donation
Use code BCP23
Hurry! This offer is available now until Tuesday, October 31st, 2023 at 11.59PM PST. Discount not available on T1D Prevention Test Kits.*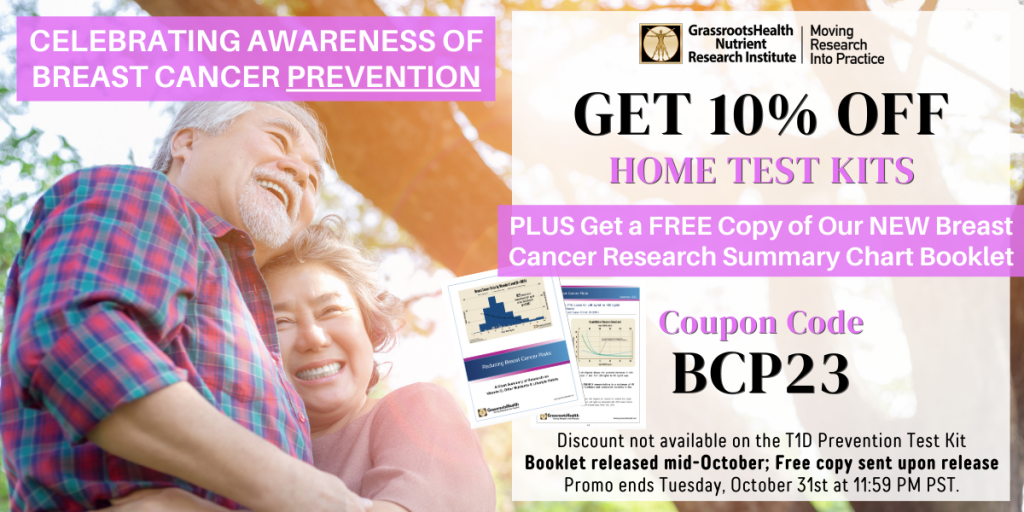 All purchases support vitamin D research and education.
---
GET 15% OFF THE FOLLOWING KITS This Month Only with Code
BCPALL
| All Tests Kit | Inflammation Panel Plus Magnesium | Immune Boost Panel |
| --- | --- | --- |
| | | |
| | | |
Remember to use Code BCPALL for 15% Off the Kits Above
---
The NEW Reducing Breast Cancer Risks Chart eBooklet is Now Available & FREE with Any Purchase or Donation this Month!
RESEARCH SHOWS BREAST CANCER IS AMONG THE MOST PREVENTABLE CANCERS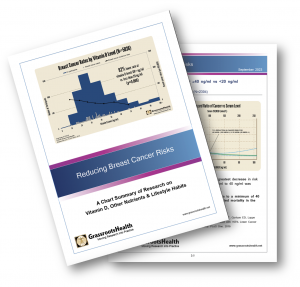 There have been many studies demonstrating a lower risk of breast cancer diagnosis and death when women maintain higher vitamin D levels. The similar findings between these studies emphasizes the importance of improving vitamin D status for reducing the risk of breast cancer, and other cancers, and increasing chances of survival with diagnosis.
In this booklet are some of the key published findings on the topic of breast cancer (and cancer in general) and vitamin D, as well as other nutrients and lifestyle habits that have shown to also play an important role in reducing the risk of breast cancer and improving outcomes among breast cancer patients.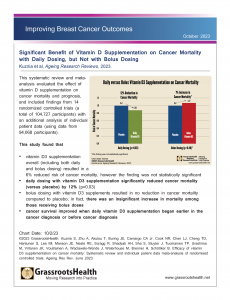 Discover over 30 charts with key findings, each in a single-page layout, making it an easy and convenient way to print and share the research.
WHAT TOPICS ARE INCLUDED IN THE eBOOKLET?
Vitamin D & Reduced Risk of Breast Cancer Diagnosis
Vitamin D & Improving Breast Cancer Outcomes
Vitamin D & Cancer in General
Breast Cancer: Other Nutrients & Lifestyle Habits
Vitamin D: Key Components – Serum Levels, Dosing & Toxicity
Take Action!
WHAT ARE SOME OF THE RESEARCH FINDINGS PRESENTED?
DONATE TODAY FOR YOUR FREE COPY
---
ENSURE HEALTHY LEVELS BY TESTING TODAY
Having and maintaining healthy nutrient levels can help improve your health now and for your future. Choose which nutrients to measure with your vitamin D, such as your omega-3s and essential minerals including magnesium and zinc, by creating your custom home test kit today with our special offer. Take steps to improve the status of each of these measurements to benefit your overall health. With measurement you can then determine how much is needed and steps to achieve your goals. You can also track your own intakes, symptoms and results to see what works best for YOU.
*Offer valid until Tuesday, October 31st, 2023 at 11.59PM PST. Valid on all at-home test kits from GrassrootsHealth except the T1D Prevention Test Kit; enrollment included. Not cumulative with other coupon codes.
Take steps for your own health to ensure optimal vitamin D levels – for your family and loved ones as well – by measuring at home today.
How Can You Use this Information for YOUR Health?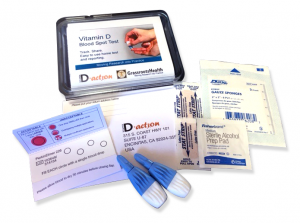 Having and maintaining healthy vitamin D and other nutrient levels can help improve your health now and for your future. Measuring is the only way to make sure you are getting enough!
STEP 1 Order your at-home blood spot test kit to measure vitamin D and other nutrients of concern to you, such as omega-3s, magnesium, essential and toxic elements (zinc, copper, selenium, lead, cadmium, mercury); include hsCRP as a marker of inflammation or HbA1c for blood sugar health
STEP 2 Answer the online questionnaire as part of the GrassrootsHealth study
STEP 3 Using our educational materials and tools (such as our dose calculators), assess your results to determine if you are in your desired target range or if actions should be taken to get there
STEP 4 After 3-6 months of implementing your changes, re-test to see if you have achieved your target level(s)