Published on October 5, 2023

A 2023 meta-analysis of 14 randomized controlled trials reveals daily vitamin D supplementation has a significant benefit on cancer mortality but bolus dosing does not
Key Points
A recent mega-analysis found that daily dosing with vitamin D3 supplementation significantly reduced cancer mortality (versus placebo) by 12%
Bolus dosing with vitamin D3 supplements resulted in no reduction in cancer mortality compared to placebo; in fact, there was an insignificant increase in mortality among those receiving bolus doses
According to cancer research, getting enough vitamin D, magnesium, selenium, and omega-3s may help prevent cancer and improve outcomes and survival among cancer patients
---
RESEARCH SHOWS BREAST CANCER IS AMONG THE MOST PREVENTABLE CANCERS
October is Breast Cancer Awareness Month – Bring awareness to breast cancer PREVENTION all month long by participating in and sharing the research!  Research shows that getting enough vitamin D, omega-3s, magnesium, selenium, and other nutrients can help reduce the risk of breast cancer and improve breast cancer outcomes.
With October focused on breast cancer awareness, GrassrootsHealth continues to educate about the importance of breast cancer prevention and healing with vitamin D (a topic at the roots of why GrassrootsHealth was founded) and other important nutrients. During this month, we are offering everyone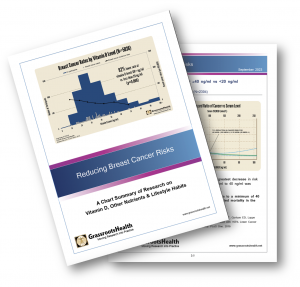 10% OFF HOME BLOOD SPOT TEST KITS
PLUS Get a FREE Copy of Our NEW Breast Cancer Research Summary Chart eBooklet with any Purchase or Donation
(to be released mid-October, Free copy sent upon release)
with code BCP23
Hurry! This offer is available now until Tuesday, October 31st, 2023 at 11.59PM PST.  Discount not available on T1D Prevention Test Kits.*
GET YOUR TEST KIT AND RESERVE YOUR FREE eBOOKLET NOW!
Please support this educational effort by donating to GrassrootsHealth today!
---
Study on Cancer Mortality Demonstrates Importance of Daily Dosing with Vitamin D
A systematic review and meta-analysis by Kuznia et al. evaluated the effect of vitamin D supplementation on cancer mortality and prognosis. The review included findings from 14 randomized controlled trials (with a total of 104,727 participants) with an additional analysis of individual patient data (using data from 94,068 participants).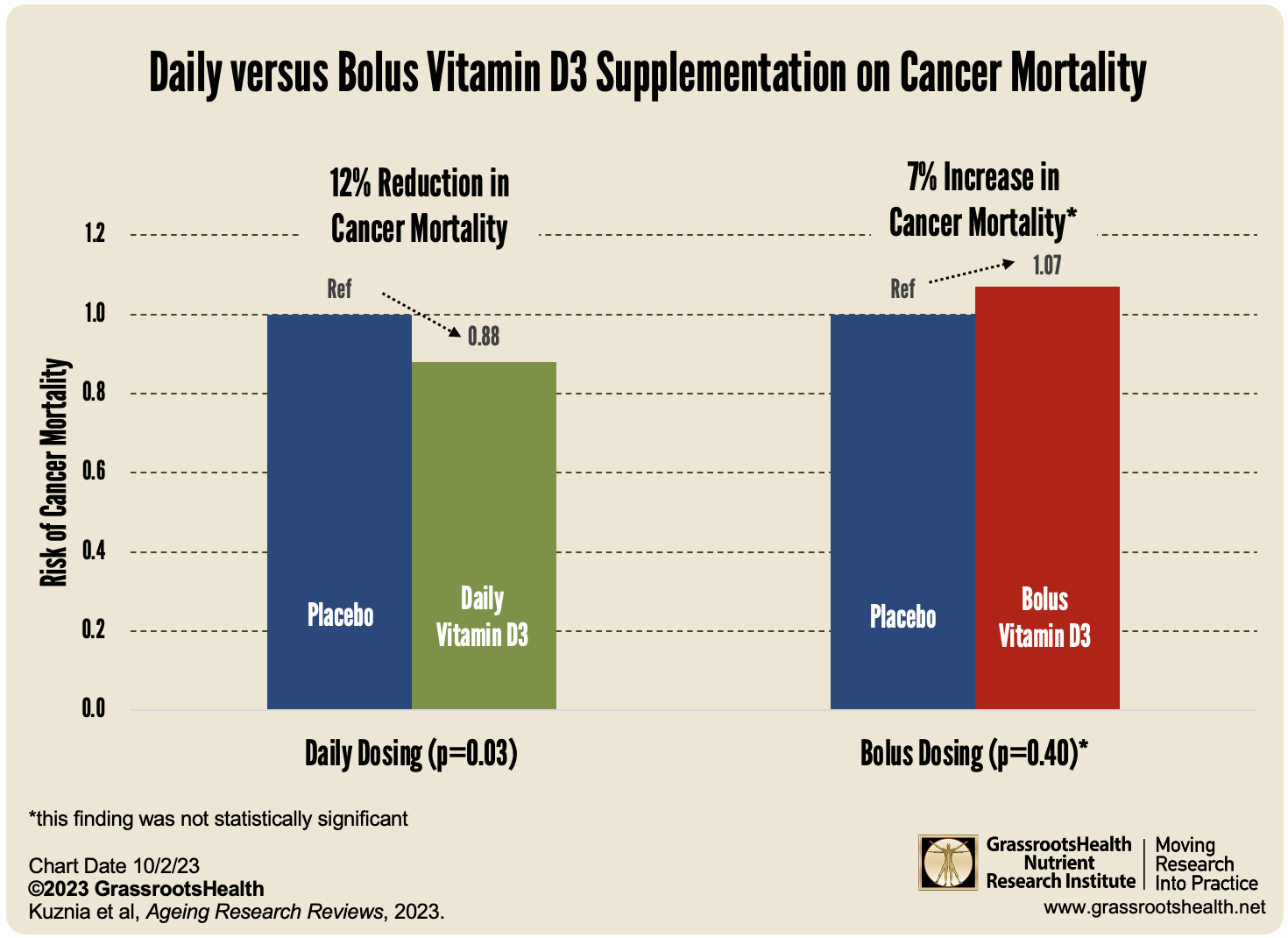 Click to Enlarge & Print
This study found that
vitamin D3 supplementation overall (including both daily and bolus dosing) resulted in a 6% reduced risk of cancer mortality, however the finding was not statistically significant
daily dosing with vitamin D3 supplementation significantly reduced cancer mortality (versus placebo) by 12% (p=0.03)
bolus dosing (providing large doses intermittently) with vitamin D3 supplements resulted in no reduction in cancer mortality compared to placebo; in fact, there was an insignificant increase in mortality among those receiving bolus doses
cancer survival improved when daily vitamin D3 supplementation began earlier in the cancer diagnosis or before cancer diagnosis
The finding that daily vitamin D3 supplementation to reduce cancer mortality is consistent with previous meta-analyses on cancer mortality and all-cause mortality. One reason for this, as stated by the authors, could be due to observations that
"Bolus doses, unlike daily doses, failed to reduce C-reactive protein response and actually elevated anti-inflammatory cytokines and doubled the risk of hypercalcemia in previous studies (Krishnan et al., 2012; Martineau et al., 2017; Mazess et al., 2021)."
Bolus doses of vitamin D were given monthly to every four months in the studies included in this review.  The concept of daily versus bolus dosing with vitamin D is important to keep in mind when evaluating findings from other vitamin D studies, along with other Nutrient Study Criteria as described here.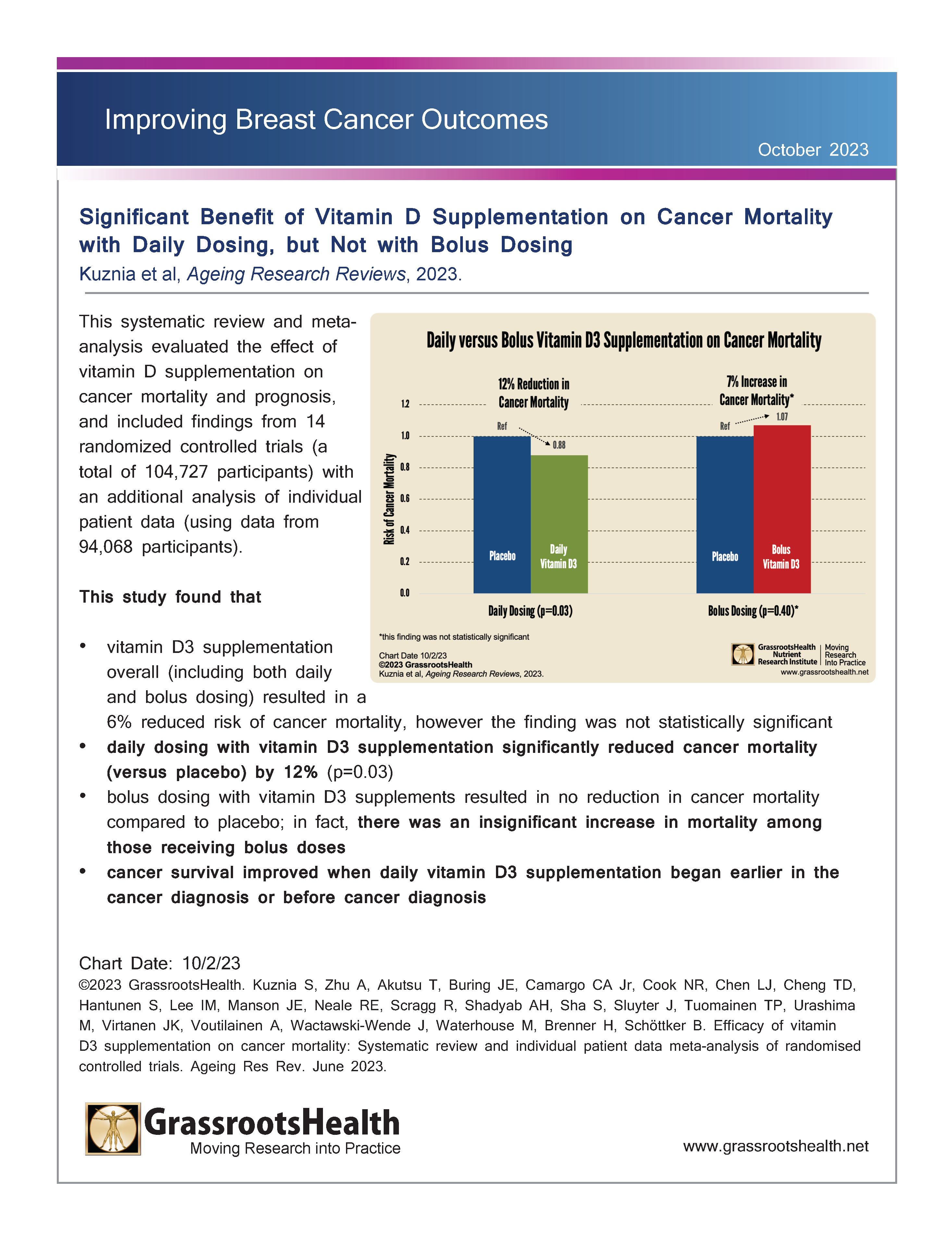 Download Today's Chart Summary Page Here
Get FREE access to an eBooklet of this chart and many more, with easy-to-print single page summaries of the research, with any DONATION or when using the code

BCP23

 for 10% off any purchase during the month of October, 2023!
---

Take Action Today to Measure Your Nutrient & Inflammation Levels – While Supporting and Contributing to Research!
Based on the findings from many studies, measuring your levels of vitamin D, magnesium, selenium, and omega-3s may help determine if more of these nutrients might be needed to provide the greatest risk reduction for breast cancer and improve outcomes in the case of a breast cancer diagnosis.
Create your custom home blood spot kit.  We suggest the following measurements to help you determine your next best steps for cancer prevention and outcomes:
Vitamin D
Omega-3 Index
Magnesium PLUS Elements (this includes selenium, zinc, and others)
hsCRP as a marker of inflammation
HbA1c as a marker of blood sugar health
Measure ALL of the Above and Get 15% OFF with Code BCPALL
Use BCP23 for 10% OFF Any Order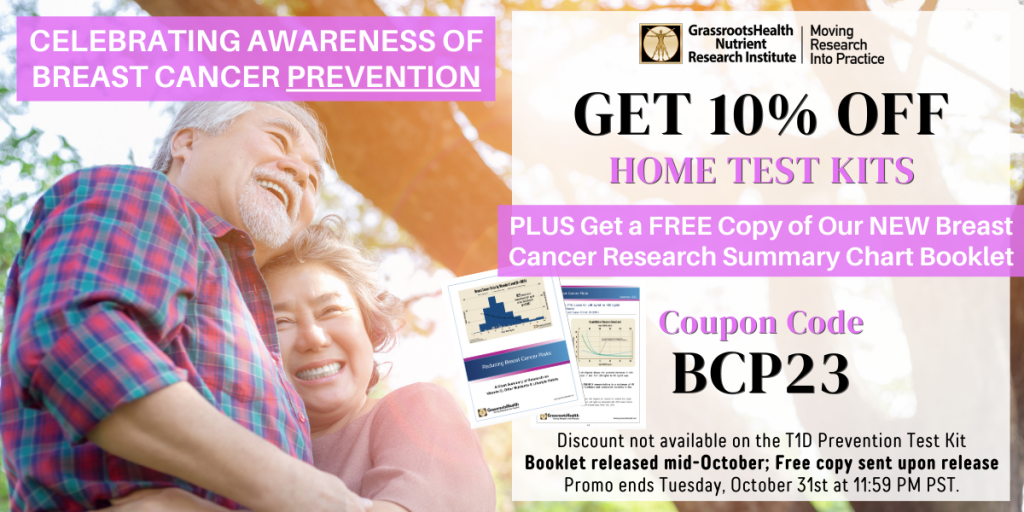 Having and maintaining healthy vitamin D levels and other nutrient levels can help improve your health now and for the future. Enroll and test your levels today, learn what steps to take to improve your status of vitamin D (see below) and other nutrients and blood markers, and take action! By enrolling in the GrassrootsHealth projects, you are not only contributing valuable information to everyone, you are also gaining knowledge about how you could improve your own health through measuring and tracking your nutrient status, and educating yourself on how to improve it.
How Can You Use this Information for YOUR Health?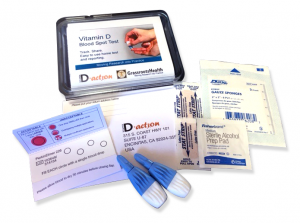 Having and maintaining healthy vitamin D and other nutrient levels can help improve your health now and for your future. Measuring is the only way to make sure you are getting enough!
STEP 1 Order your at-home blood spot test kit to measure vitamin D and other nutrients of concern to you, such as omega-3s, magnesium, essential and toxic elements (zinc, copper, selenium, lead, cadmium, mercury); include hsCRP as a marker of inflammation or HbA1c for blood sugar health
STEP 2 Answer the online questionnaire as part of the GrassrootsHealth study
STEP 3 Using our educational materials and tools (such as our dose calculators), assess your results to determine if you are in your desired target range or if actions should be taken to get there
STEP 4 After 3-6 months of implementing your changes, re-test to see if you have achieved your target level(s)