Dr. Heaney brings over 50 years of experience in vitamin D and calcium research, clinical nutrition trials, and service on editorial boards of several major scientific publications.
SAN DIEGO, CA, July 17, 2012 – GrassrootsHealth (GRH) announced today that Robert P. Heaney, M.D. has been named as Research Director. Dr. Heaney will be responsible for overseeing all research activities by GRH as well as guiding analysis and reporting on data already collected from the first three years of the D*action program. Dr. Heaney will also be instrumental in the organization's goal to establish a methodology to identify the frequently small but important effects of nutrients that are often missed in standard clinical trials.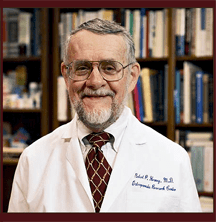 Dr. Heaney is excited to expand the advisory role he has already been playing with GRH to this more formal and involved role as Research Director. "I am looking forward to working closely with the GrassrootsHealth research staff to tease out meaningful results from the large participant database by implementing a nutrient methodology to look for subtle effects of vitamin D within the population."
Executive director, Carole Baggerly, appreciates Dr. Heaney's experience both as a clinician and as a researcher. "Dr. Heaney brings a wealth of knowledge and understanding of the nutritional and clinical value of vitamin D as it relates to other nutrients and how it functions in the body. We're excited to have his input on the analysis of the D*action data and look forward to sharing his work with the greater vitamin D community."
Dr. Heaney is the John A. Creighton University Professor and Professor of Medicine at Creighton University, where he recently served as the Vice President for Research. In recognition of his service to the clinical nutrition research community, Dr. Heaney has received numerous prestigious awards, including the McCollum Award of the American Society of Nutrition, the Atwater Medal of the Agricultural Research Service (USDA), the Frederic C. Bartter Award of the American Society for Bone and Mineral Research, and the Legends Award of the National Osteoporosis Foundation. He is a fellow in the American College of Physicians (Emeritus), American Society for Nutritional Sciences, and the American College of Nutrition, and is also a member of other professional societies including the American Society for Bone and Mineral Research, and American Society for Clinical Nutrition. He has served on editorial boards for major scientific publications such as Journal of Laboratory and Clinical Medicine, BONE, Osteoporosis International, and American Journal of Clinical Nutrition. He has published over 400 original scientific papers, review articles, chapters, monographs, and higher education papers.
Other researchers currently working with GRH on specific projects are Cedric F. Garland, DPH, of the University of California San Diego Moores Cancer Center, and Carol Wagner, M.D., of the Medical University of South Carolina.
About GrassrootsHealth
GrassrootsHealth is a nonprofit public health research organization dedicated to moving public health messages regarding vitamin D from science into practice. GRH is currently running the D*action population intervention program to solve the vitamin D epidemic worldwide. Under the D*action umbrella, there are programs looking at the entire population as well as targeted programs for breast cancer prevention and a newly announced 'Protect Our Children NOW!' program to reduce the complications of pregnancy and childhood.
For more information, please contact Carole Baggerly, [email protected] or visit www.grassrootshealth.net.
###