Published on January 28, 2020

It has long been understood that vitamin D is good for the skeletal system – our bones and teeth. But, did you know that adequate vitamin D may not only support good oral hygiene but also heal existing cavities? And would it surprise you to learn that the vitamin D level of a mother will affect the oral health of her children?
Did we have the answer in the 1930's?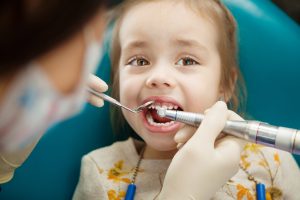 Yes! And it was not grandma's chicken soup. Dr. May Mellanby, who interestingly enough lived until she was 96, spent decades researching diet, vitamin D and their relation to tooth decay.
Dr. Mellanby conducted dietary trials in the 1920's and 1930's in England, using children living in institutions where she could control their diet and monitor their progress. She wanted to find the role of diet and vitamin D in preventing and healing cavities (in her papers they are called 'caries').
The most famous study, which is referenced below and has made the rounds of the Internet, shows that with a diet high in vitamin D and calcium, tooth decay can not only prevented, it can be reversed.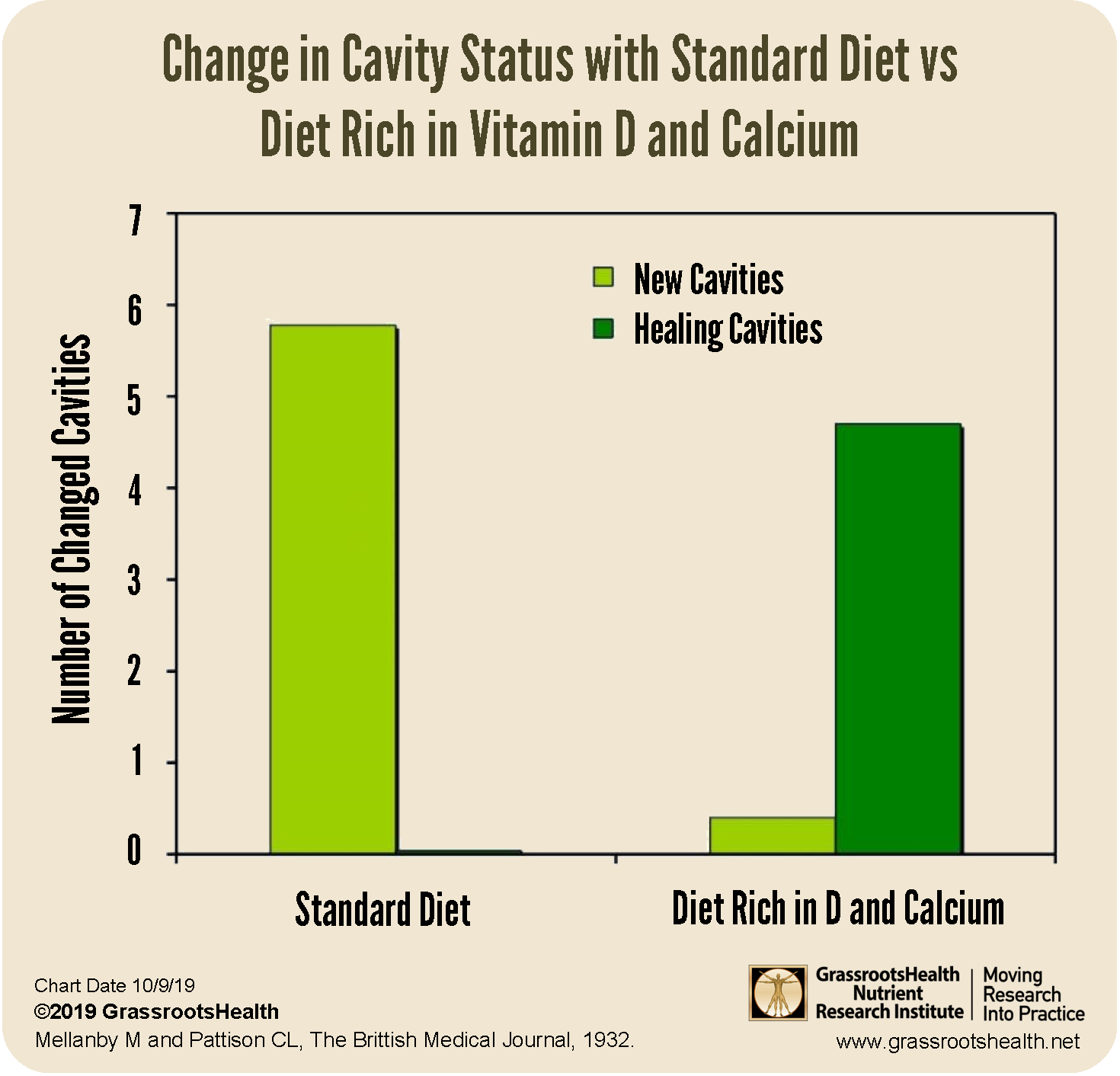 In a study published in March, 1932, The Influence of a Cereal-free Diet Rich in Vitamin D and Calcium on Dental Caries in Children, she found that a diet high in vitamin D (approximately 2,000 IU/day), high in calcium, higher in fats, and lower in carbohydrates – was the optimal condition not only to arrest cavity development, but to heal existing cavities. She studied children of about 5 years old for 6 months, giving them this highly specialized diet. After 6 months there were no new cavities and none of the old ones had spread.
Interestingly enough, in this same paper she mentioned a hypothesis that vitamin D levels during pregnancy could have significant impact on the future health of the child's teeth. She states:
"it would seem that one method of reducing the incidence of dental caries should be the production of teeth of good structure by suitable diets, both for mothers during pregnancy and lactation, and for their offspring during the period of tooth calcification."
Is it your Mom's fault you have bad teeth?
If we fast forward to the modern day, Robert J. Schroth, DMD, MSc, PhD, led a team to study just that. They were seeking to find out if the vitamin D level of the mother affected the dental health of the child in the first year of life, measuring tooth calcification and early childhood caries (ECC). In his paper, Prenatal Caries and Vitamin D in Infants, Dr. Schroth et al. concluded that yes, it did indeed matter. He found that the children with ECC came from mothers with the lowest levels of vitamin D (the average vitamin D level was 19 ng/ml, but the average from mothers of children with ECC was 16 ng/ml).
Protect your teeth!  Test your vitamin D levels to make sure you are getting enough to support strong, healthy teeth.
Make sure you know your vitamin D level, and take steps to keep it within a target of 40-60 ng/ml or 100-150 nmol/L! Through GrassrootsHealth Nutrient Research Institute, you can also test your essential elements magnesium, copper, zinc and selenium, toxins such as lead, mercury and cadmium, as well as your omega-3 levels, inflammation levels and thyroid stimulating hormone (TSH) level. Find out your levels today! Log on to the test selection page (click the link below) to get your tests and see for yourself if your levels can be improved.
Make sure you track your results before and after, about every 6 months!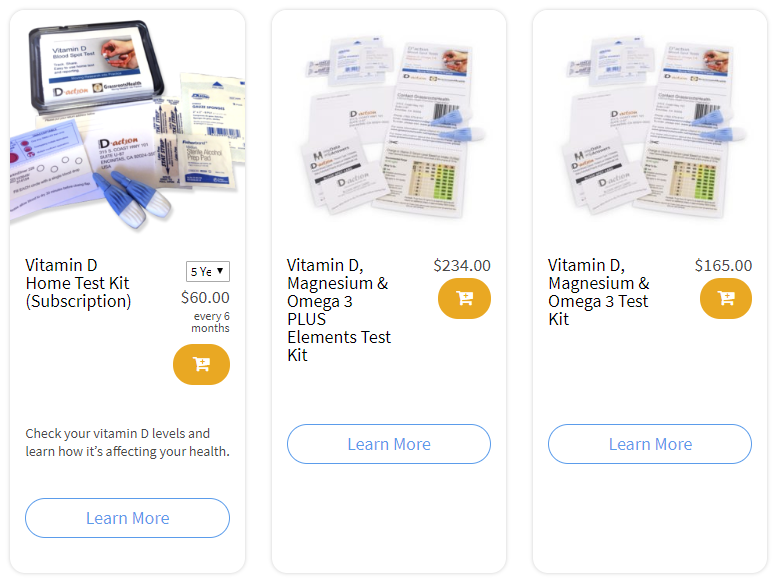 Click Here to Access the Test Page
How can I track my nutrient intake and levels over time?
To help you track your supplement use and nutrient levels, GrassrootsHealth has created an online tracking system called myData-myAnswers. For each specific supplement, you can track what days you take it, how much, and many other details. This will help you know your true supplemental intake and what patterns of use work for you to reach and maintain optimum nutrient levels. Check it out today!
How Can You Use this Information for YOUR Health?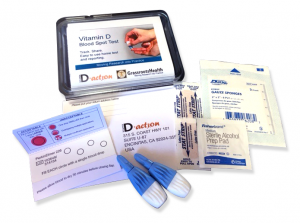 Having and maintaining healthy vitamin D and other nutrient levels can help improve your health now and for your future. Measuring is the only way to make sure you are getting enough!
STEP 1 Order your at-home blood spot test kit to measure vitamin D and other nutrients of concern to you, such as omega-3s, magnesium, essential and toxic elements (zinc, copper, selenium, lead, cadmium, mercury); include hsCRP as a marker of inflammation or HbA1c for blood sugar health
STEP 2 Answer the online questionnaire as part of the GrassrootsHealth study
STEP 3 Using our educational materials and tools (such as our dose calculators), assess your results to determine if you are in your desired target range or if actions should be taken to get there
STEP 4 After 3-6 months of implementing your changes, re-test to see if you have achieved your target level(s)