Published on April 24, 2019


The results of a study comparing vitamin D levels in 1998-2000 vs. 2009-2011 among middle-aged women participating in the Study of Women's Health Across the Nation (SWAN) were published this month (April 2019) in the journal of Clinical Endocrinology. The researchers found that the average vitamin D level increased from 22 to 28 ng/ml (54 to 70 nmol/L) among the 1,585 women in the analysis. The percent of women below 20 ng/ml decreased from 43% to 24%. Also, the percent of women using a supplement, which was defined as taking either a multivitamin or vitamin D supplement at least one day per week, increased from 41% to 67%.
How does this compare to the larger United States population?
Using data from the National Health and Nutrition Examination Survey (NHANES), which collects health information from a representative sample of individuals living in the United States, the chart below presents the vitamin D levels for those aged 18 years and older by year (2001 to 2014). The average vitamin D level increased from 25 ng/ml in 2001-2002 to 28 ng/ml in 2013-2014 (62 to 69 nmol/L). The percent of adults below 20 ng/ml decreased from 26% to 23% during the same time period and those less than 40 ng/ml decreased from 94% to 87%.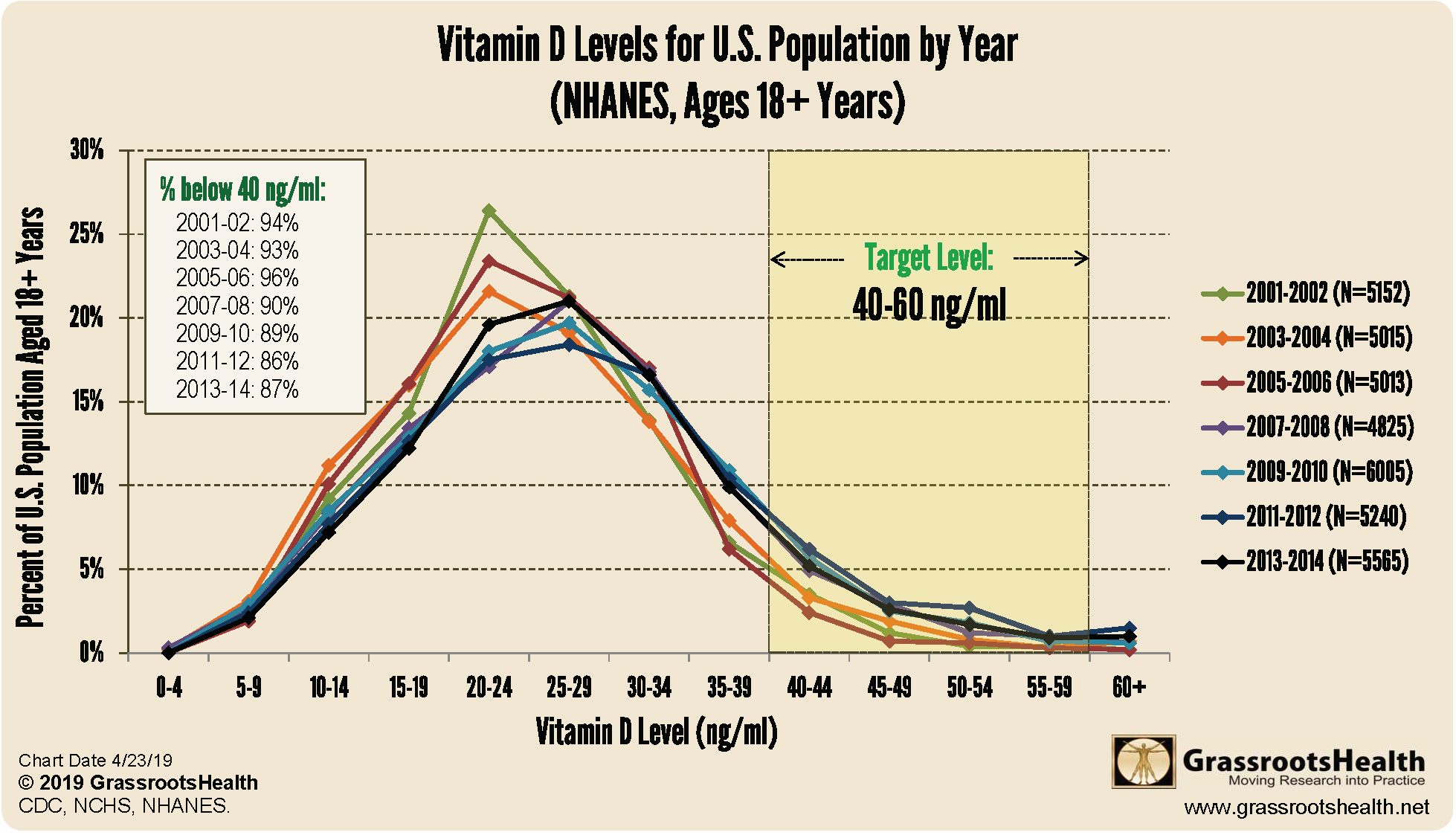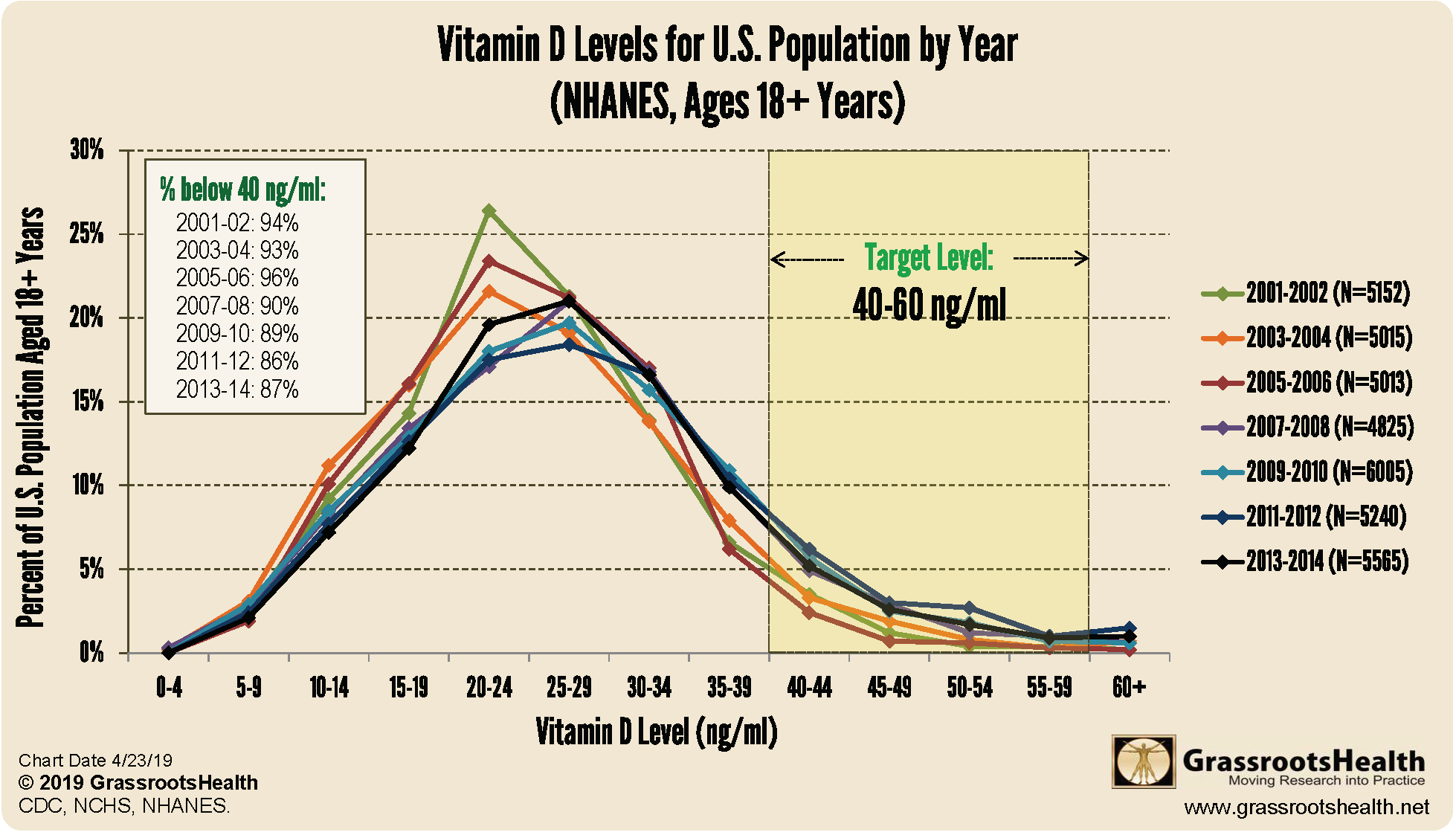 How do these vitamin D levels compare to the GrassrootsHealth cohort?
The chart below compares the vitamin D levels for adult GrassrootsHealth participants residing in the United States to those from NHANES from 2009 to 2014. The average vitamin D level in the GrassrootsHealth cohort was 43 ng/ml compared to 28 ng/ml in the NHANES sample (108 vs. 69 nmol/L). The percent with a vitamin D level at or above 40 ng/ml was more than four times higher in the GrassrootsHealth cohort compared to the NHANES sample (58% vs. 13%).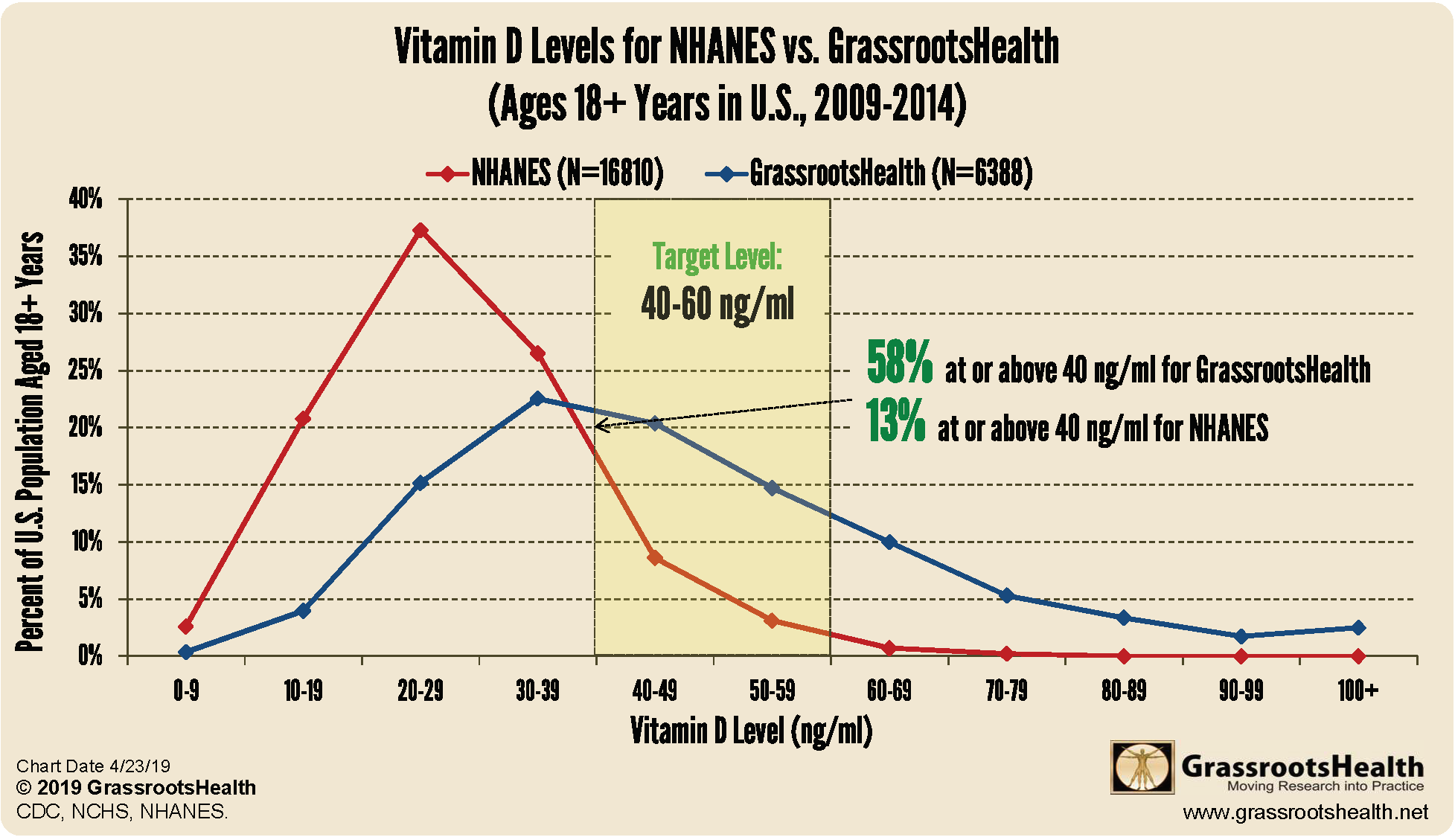 While the results from the SWAN study and NHANES indicate that vitamin D levels in the United States are increasing over time, almost a quarter have levels below 20 ng/ml, and a majority of individuals have levels below 40 ng/ml which leaves them at an increased risk for a number of health conditions. For more information on why a vitamin D level at or above 40 ng/ml is important, check out the Call to Action from the GrassrootsHealth panel of scientists.
Is your vitamin D level where you think it should be?
What is your vitamin D level? How about your magnesium level, an important co-nutrient of vitamin D? Make sure you know your nutrient levels are within the range for good health and optimal functioning. Find out your levels today! Log on to the shop (click the link below) to get your tests and see for yourself if your vitamin D and/or magnesium level can be improved.
Make sure you track your results before and after, about every 6 months!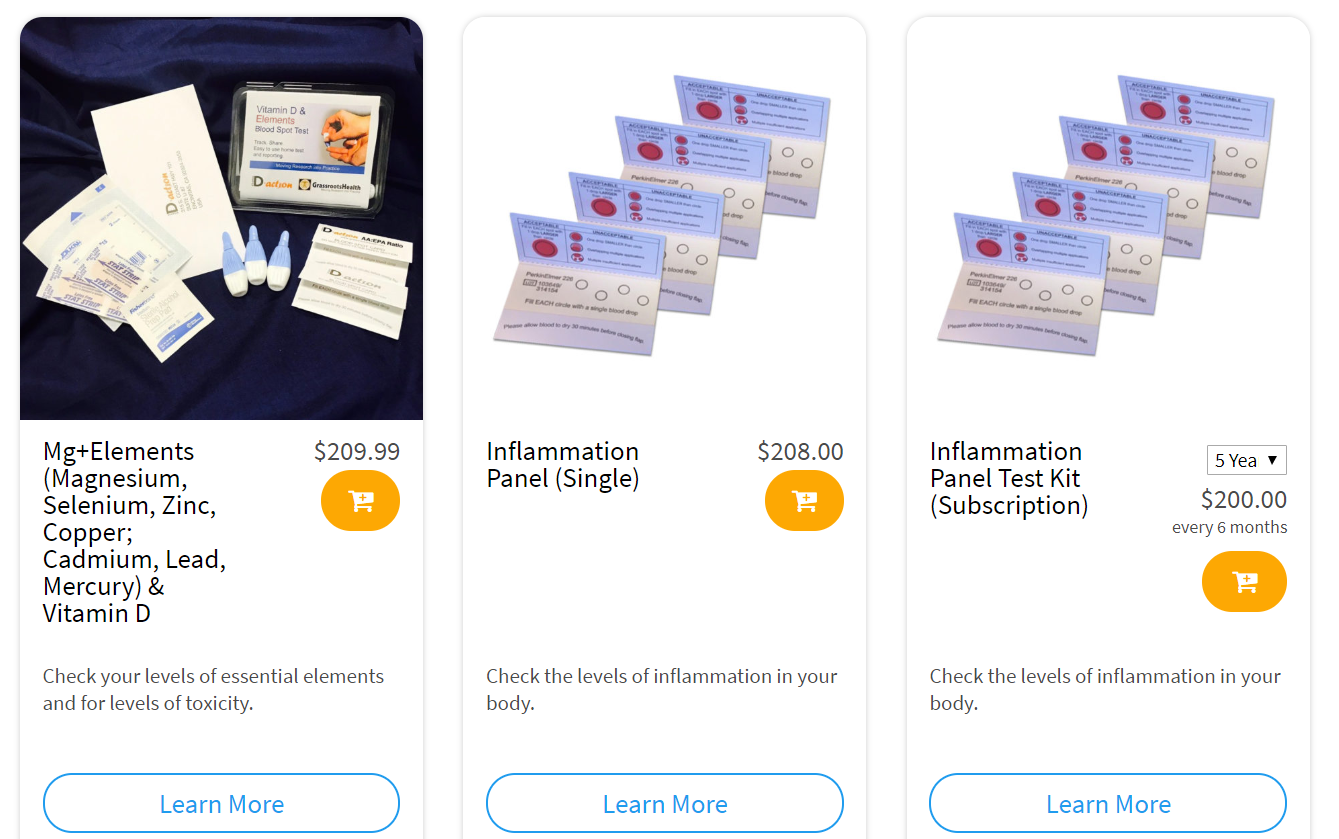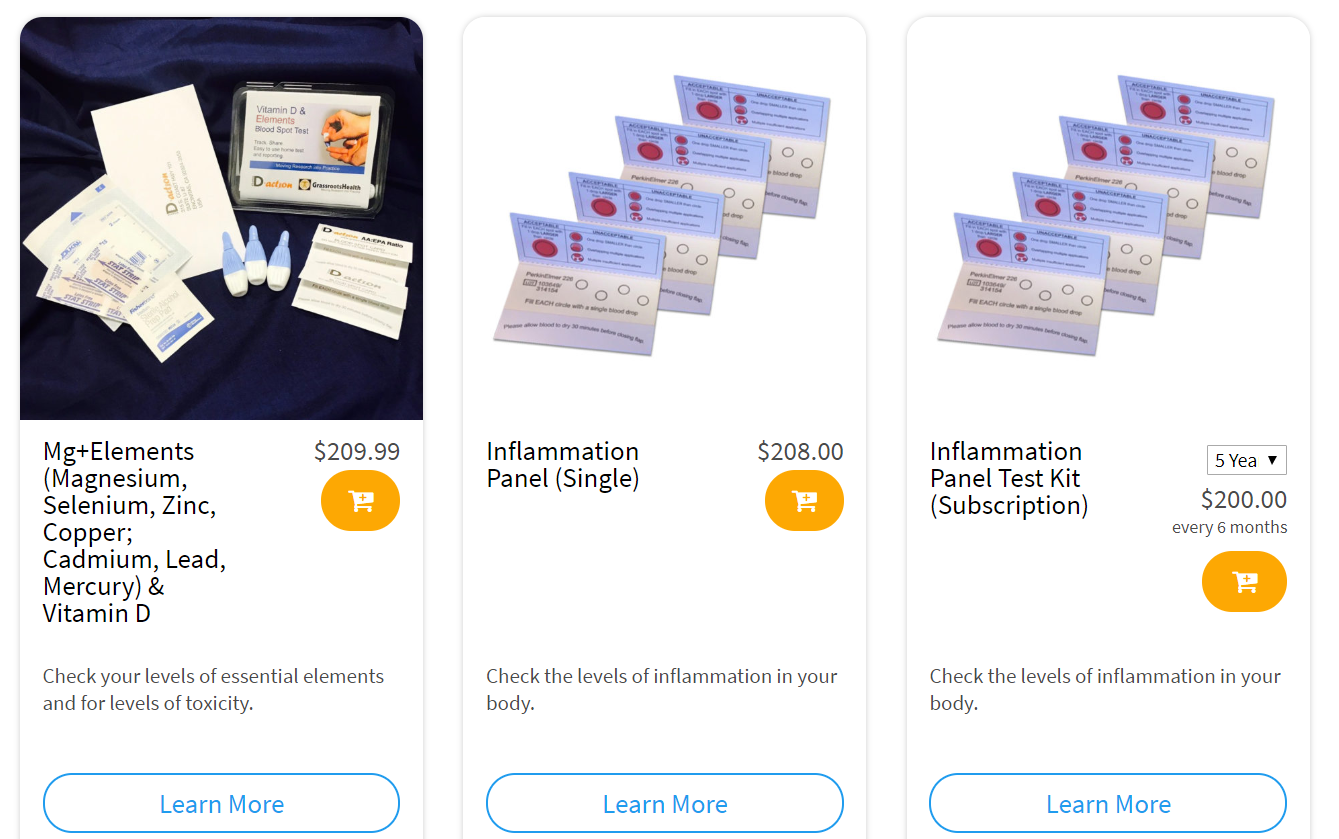 Click Here to Access the Shop Page
How can I track my vitamin D and magnesium levels?
To help you track your nutrient levels, GrassrootsHealth has created an online tracking system called myData-myAnswers. You can also track your supplemental and dietary nutrient intake to see how they impact your nutrient levels. Check it out today!
How Can You Use this Information for YOUR Health?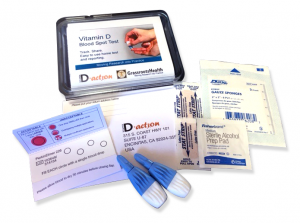 Having and maintaining healthy vitamin D and other nutrient levels can help improve your health now and for your future. Measuring is the only way to make sure you are getting enough!
STEP 1 Order your at-home blood spot test kit to measure vitamin D and other nutrients of concern to you, such as omega-3s, magnesium, essential and toxic elements (zinc, copper, selenium, lead, cadmium, mercury); include hsCRP as a marker of inflammation or HbA1c for blood sugar health
STEP 2 Answer the online questionnaire as part of the GrassrootsHealth study
STEP 3 Using our educational materials and tools (such as our dose calculators), assess your results to determine if you are in your desired target range or if actions should be taken to get there
STEP 4 After 3-6 months of implementing your changes, re-test to see if you have achieved your target level(s)