Published on June 12, 2023

GrassrootsHealth study reveals a daily pattern in fluctuation of vitamin D levels, as well as a 25% drop prior to illness
Key Points
This study found that mid-day vitamin D levels were approximately 20% higher than morning levels and approximately 13% higher than evening levels; taking a vitamin D supplement before or after sample collection did not make a difference
Vitamin D levels from samples taken the day before the onset of cold symptoms were about 25% lower than other testing days; by the time cold symptoms had passed, two weeks later, the vitamin D levels had returned to match the levels from previous testing days
For individuals tracking their vitamin D levels, it would be best to either collect your blood sample at the same time of day to have a consistent measurement over time, or consider the time of day samples were taken when comparing vitamin D results over a larger period time
---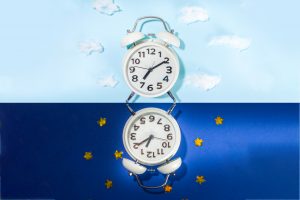 In February of 2019, findings from a study by GrassrootsHealth were published that assessed whether vitamin D levels fluctuate throughout the day and if the timing of the test (before or after supplementation) mattered.  The paper was published in the Journal of Medical Case Reports, with the study and findings summarized below.
How did the study work?
This case study involved a single GrassrootsHealth participant who collected vitamin D samples three times a day, roughly 8 hours apart, on four separate days.
Days 1 and 2 were 7 days apart in mid October (with midday samples completed approximately one hour after taking midday vitamin D supplement)
Days 3 and 4 were 13 days apart in mid-late November (with midday samples completed less than one hour before taking midday vitamin D supplement)
At each collection time, 5 separate samples were collected and the results were averaged.
Morning samples were taken between 5:45 and 6:45 am
Midday samples were taken between 1:45 and 2:50 pm
Evening samples were taken between 10:00 and 11:05 pm
What did the study discover?
This study found that mid-day vitamin D levels were approximately 20% higher than morning levels and approximately 13% higher than evening levels (see figure below). Each line represents the variation of vitamin D levels for each day.  Taking a vitamin D supplement before or after testing did not make a difference.
While this was a case study of a single individual designed to detect such a variation, previous studies (here and here) have also noted a variation in vitamin D levels based on time of day.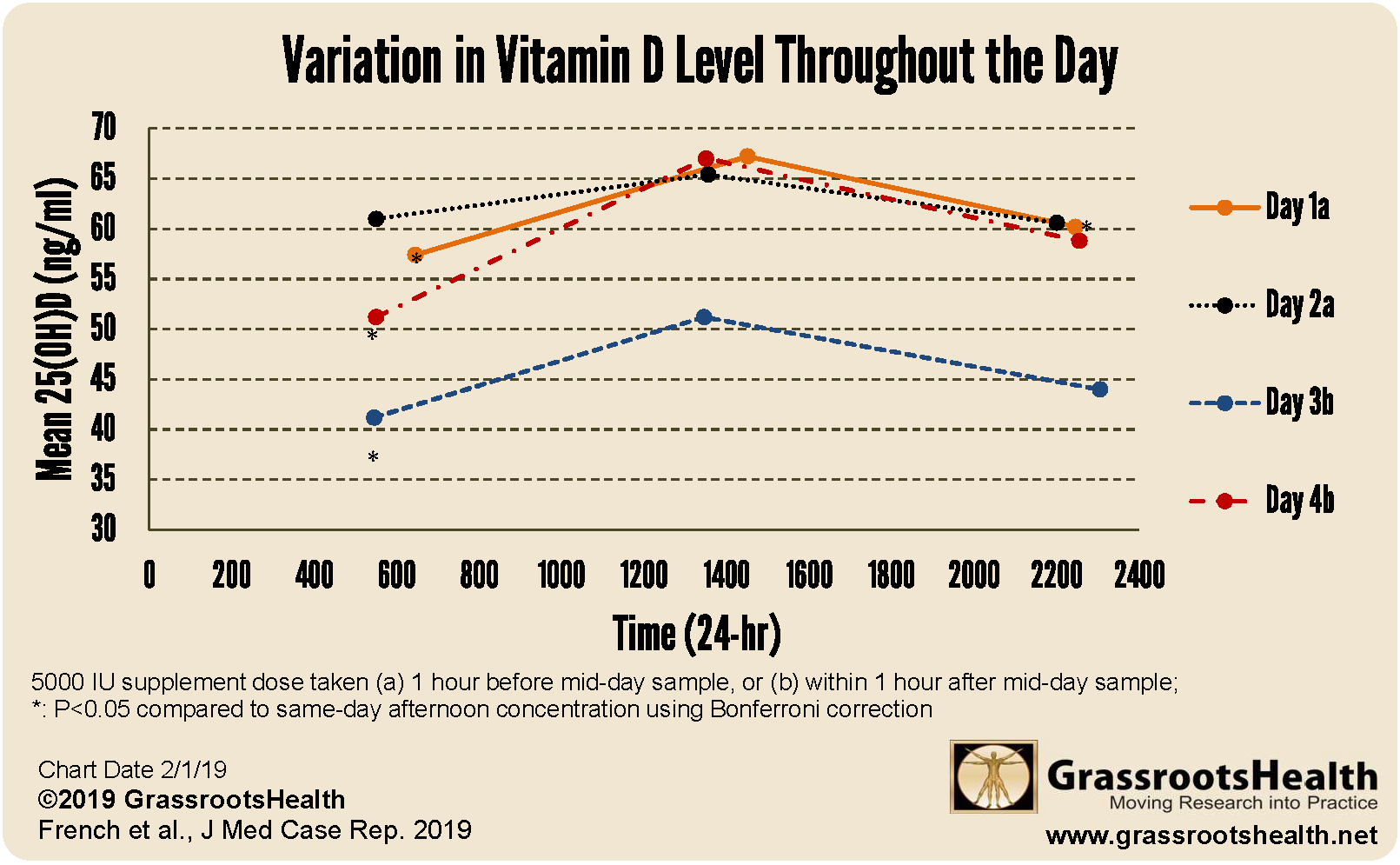 Vitamin D Levels were 25% Lower Just Before Onset of Illness
Interestingly, the study participant experienced a cold during the study and it was discovered that her vitamin D levels were about 25% lower on the day immediately before symptom onset (day 3b, represented by the blue dashed line in the chart above) compared to other testing days. By the time cold symptoms had passed, two weeks later, the vitamin D levels had returned to match the previous levels.
How Does this Information Affect Vitamin D Testing?
For individuals tracking their vitamin D levels, it would be best to either collect your blood sample at the same time of day to have a consistent measurement over time, or consider the time of day samples were taken when comparing vitamin D levels over a larger period time. Clinical trials should also keep this in mind when testing participants to reduce error from this variability. Additionally, this case study demonstrates how an acute illness can result in a lower than usual vitamin D level even before symptoms appear.
Testing your vitamin D level regularly and taking steps to keep it at a target level of 40-60 ng/ml (100-150 nmol/L) is important for all stages of health. Through GrassrootsHealth Nutrient Research Institute, you can also test your omega-3 status, inflammation levels, and levels of essential nutrients and toxins.  All test kits purchased support vitamin D education and research!
Is Your Vitamin D Level within Range?
The only way to know is to test your levels! Testing versus blind supplementation is essential to know for sure if what you are taking is the right amount for you. Once you test your vitamin D (and other levels) to know where you are NOW, you can account for any upcoming changes in lifestyle over the coming months and adjust your intake to reach (or maintain) your targets.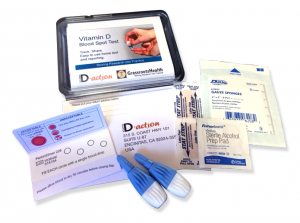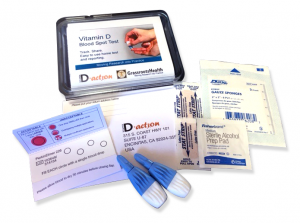 Through GrassrootsHealth, you can measure your:
Vitamin D
Magnesium PLUS Elements
Omega-3 Fatty Acids
hsCRP
HbA1c
TSH
Type 1 Diabetes Autoantibodies
Did you know that each of the above can be measured at home using a simple blood spot test? As part of our ongoing research project, you can order your home blood spot test kit to get your levels, followed by education and steps to take to help you reach your optimal target levels. Start by enrolling and ordering your kit to measure each of the above important markers, and make sure you are getting enough of each to support better mood and wellbeing!
Create your custom home test kit today. Take steps to improve the status of each of these measurements to benefit your overall health. With measurement you can then determine how much is needed and steps to achieve your goals.  You can also track your own intakes, symptoms and results to see what works best for YOU.
*All test kits purchased support vitamin D education and research!
Enroll in D*action and Test Your Levels Today!
How Can You Use this Information for YOUR Health?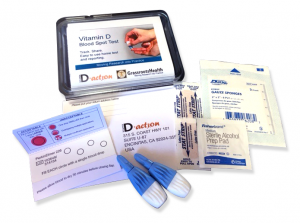 Having and maintaining healthy vitamin D and other nutrient levels can help improve your health now and for your future. Measuring is the only way to make sure you are getting enough!
STEP 1 Order your at-home blood spot test kit to measure vitamin D and other nutrients of concern to you, such as omega-3s, magnesium, essential and toxic elements (zinc, copper, selenium, lead, cadmium, mercury); include hsCRP as a marker of inflammation or HbA1c for blood sugar health
STEP 2 Answer the online questionnaire as part of the GrassrootsHealth study
STEP 3 Using our educational materials and tools (such as our dose calculators), assess your results to determine if you are in your desired target range or if actions should be taken to get there
STEP 4 After 3-6 months of implementing your changes, re-test to see if you have achieved your target level(s)