Published on February 6, 2018
A recent article published in the East-Bay Area, California, makes a rousing cry for change within the healthcare system in order to protect Black mothers and their babies. The very detailed article interviews doctors, nurses, mothers, and activists to come up with a complete picture surrounding Black births. The article exposes startling statistics around Black births and introduces some initiatives trying to solve the problem. Do any of them mention vitamin D?
Statistics uncovered
In the East Bay (California)
Black women are nearly three times as likely to give birth to a low-birthweight (less than 5.5 lbs) than white women
While 21.3% of births in Oakland are Black infants, they account for 45.8% of infant deaths
Black women are twice as likely to have a preterm birth than women of other races
Could vitamin D help?
Allison Bryant, a Boston-based physician and member of the American Congress of Obstetricians and Gynecologists' Alliance for Innovation on Maternal Health is quoted in the article as saying
There's no smoking gun. There's no one thing that you could fix that would then drive the preterm birth rates down by half. Every little bit helps.
Well, actually there is a low-cost, safe, effective protocol that COULD reduce over 50% of preterm birth, maybe even a higher number for Black babies. GrassrootsHealth's mission is to get this research into practice and will be contacting the doctors and organizations mentioned in this article.
How does vitamin D help?
Research has shown that getting maternal vitamin D levels above 40 ng/ml (100 nmol/L) could indeed reduce all preterm birth by over 60%, sometimes more with high-risk groups (previous preterm birth, Black women). It can also reduce other complications in pregnancy such as pre-eclampsia, gestational diabetes, and post-partum depression. In addition, by having the mother be sufficient this provides a better nesting ground for the baby and research shows a reduction in common colds, ear infections, type 1 diabetes, and improved language development. Read the summary of research here.
Can this be rolled out to a community?
Yes! When the research first came in, 2006… 2011… 2013, and all the findings were similar –
Vitamin D levels above 40 ng/ml reduced pregnancy complications
There were NO adverse cases (in the studies women took between 2,000 – 6,400 IU/day)
GrassrootsHealth developed a program, Protect our Children NOW!, which can be rolled out to a community, healthcare center, or hospital. It was implemented at the Medical University of South Carolina (MUSC) in 2015. After one year and over 1,000 births, data was published to show again that vitamin D supplementation was safe and effective in reducing preterm births.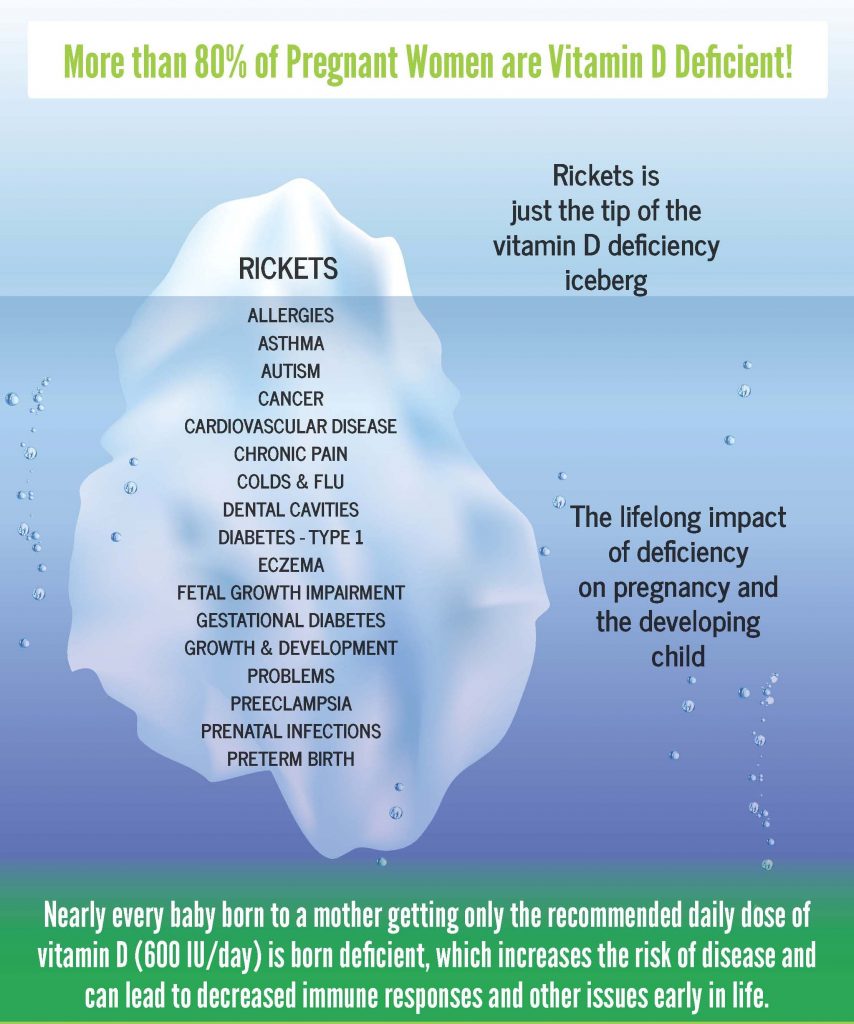 How do we make this change?
We spend a ton of money on medical care and relatively less on social programs, said Bryant, in the aforementioned article.
GrassrootsHealth will reach out to all the parties quoted in this article and let them know about Protect our Children NOW! With funding from one or more of these groups, we could roll this out in the East Bay immediately.
Why is the black community more at risk?
Oakland nurse Monica McLemore, Principal Investigator for the Preterm Birth Initiative, stated
…there is nothing inherent about black skin that makes pregnancy any more dangerous than it is for any other pregnant person.
TRUE! But, it is also true that Black people have more melanin in their skin, and thus need more sun exposure to get adequate vitamin D, and are more likely to be deficient in vitamin D than other races. A light-skinned white woman might only need 20 minutes in the sun to get adequate vitamin D, while a dark-skinned black woman might need 50 minutes. This difference means that Black women will not get as much "incident" vitamin D exposure. Incident exposure comes from walking outside to get a sandwich during lunch, or walking a child to school. Black women need to consciously try to get enough sun to maintain a healthy vitamin D level.
This blog explains in more detail, with links to references, about why Black people are more deficient than other races and how getting vitamin D levels above 40 ng/ml (100 nmol/L) could level the playing field with regard to the disparity in preterm birth.
What is a healthy vitamin D level?
A panel of 48 scientists agrees that a healthy level for disease prevention is 40-60 ng/ml (100-150 nmol/L).
Some researchers who looked at the association of vitamin D with preterm birth also researched vitamin D and breastfeeding. They found that 6,400 IU/day was SAFE and provided enough vitamin D in the mother's blood to transfer adequate vitamin D through breast milk to the baby. It is important that this vitamin D is taken daily, not weekly or monthly because the mother is feeding her child daily and the form of vitamin D that is transferred through breast milk does not last long in the body.
Community action
The article introduces a non-profit, The Best Babies Zone (BBZ), whose mission is
To give every baby born in a Best Babies Zone the best chance in life.
They do this through community outreach in three pilot communities in order to effect change before, during and after childbirth. This type of outreach program is exactly where vitamin D should be introduced and we will be reaching out to this organization to offer information and supporting materials.
Social Justice
GrassrootsHealth in no way intends to minimize the reality and importance of the many points in this article related to social injustice – Black women not getting the treatment or respect they deserve. These problems must also be addressed as we look into improving prenatal care.
Resources
Black Infants in the East Bay Are Experiencing Higher Negative Health Outcomes
Sarah Hoenicke, Sarah Cahlan, and Drew Costley
East Bay Express
January 31, 2018
Read Article
GrassrootsHealth Resources
About Protect our Children NOW!
Summary of pregnancy research
Summary of breastfeeding research
Diseases prevented with adequate vitamin D
Vitamin D toxicity (a common misconception)
Battling Over Birth
Black Women Birthing Justice
October 2017
Read Executive Summary
Black Women Birthing Justice
Collective of women committed to transforming birthing experiences for black women
Web Site
Best Babies Zone
Community initiative funded by W.K. Kellogg Foundation
Web Site