Published on August 23, 2021


Studies show several nutrient deficiencies are common for vegans, even among those taking supplements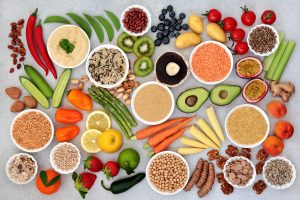 According to a 2016 US National Poll (the Harris Poll), approximately eight million adults in the United States follow a vegetarian diet, with about half consisting of vegans. Within the GrassrootsHealth cohort, based on an analysis done in 2019, approximately 1% of participants followed a vegetarian diet with an additional 2% following a vegan diet.
Studies have shown several benefits to these types of diets, including a decreased risk of obesity, hypertension, diabetes, cancer, and even a decreased risk of severe COVID-19, however, these diets are known to lack in specific nutrients, bringing with them added health risks due to nutrient deficiencies.
Which Nutrient Deficiencies are Vegans and Vegetarians at Higher Risk For?
Vegans are at risk of deficiency in vitamins B12, B2 (riboflavin), and vitamin D, protein, omega-3 fatty acids, calcium, and the trace elements iron, iodine, zinc and selenium. When analyzing nutrient status among vegans, a study by Elorinne et al. found that vegans had significantly lower levels of several nutrient and health markers, including vitamin D, iodine, selenium, EPA and DHA.
When comparing overall levels between 21 vegans and 18 non-vegetarians, vegans had
35% lower levels of vitamin B12 (p=0.002)
40% lower levels of total vitamin D (p<0.001)
58% lower levels of beta carotene (p=0.001)
21% lower levels of vitamin E (p=0.003)
64% lower levels of ferritin (p=0.011)
73% lower levels of EPA (p<0.001)
62% lower levels of DHA (p<0.001)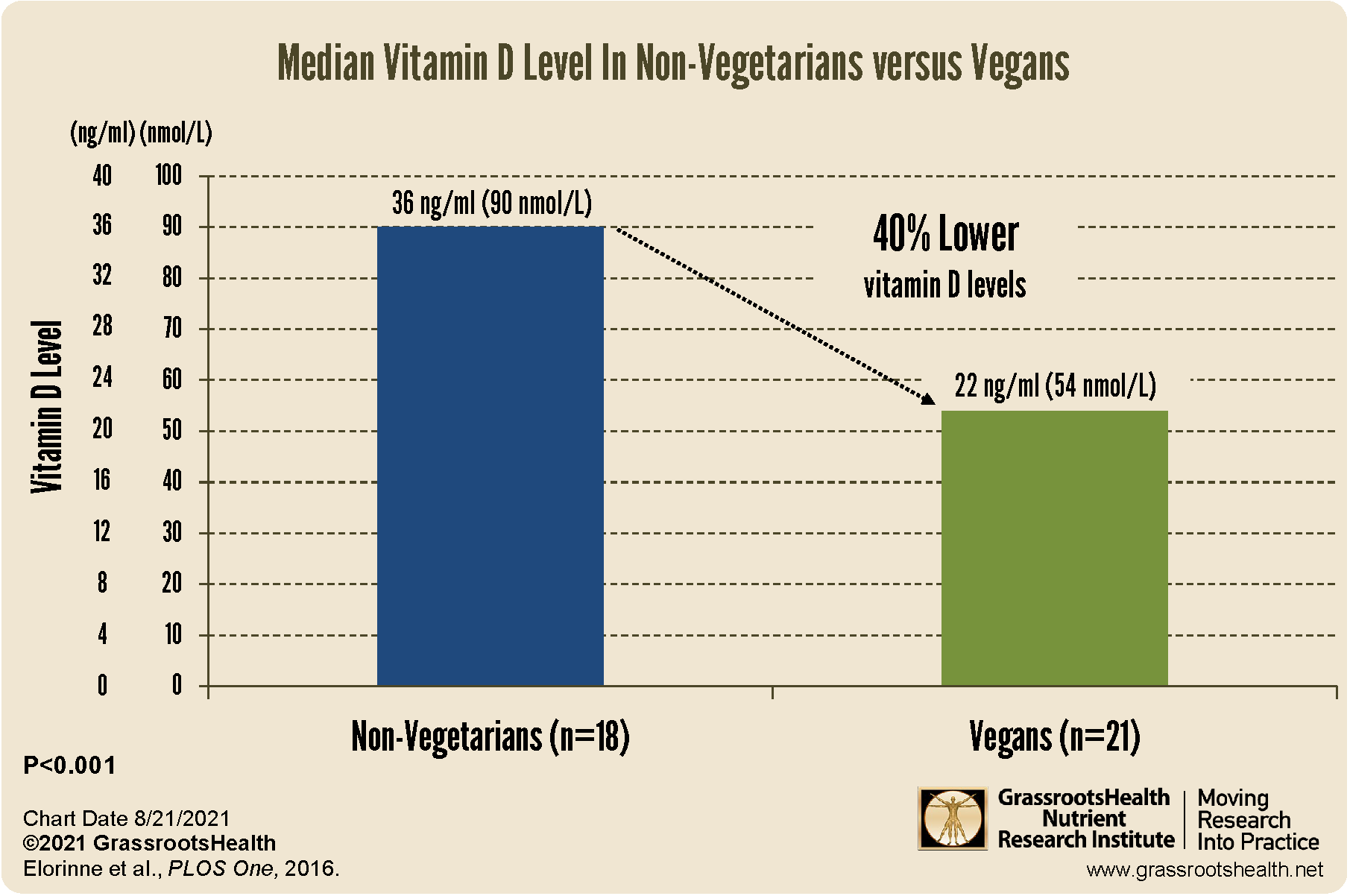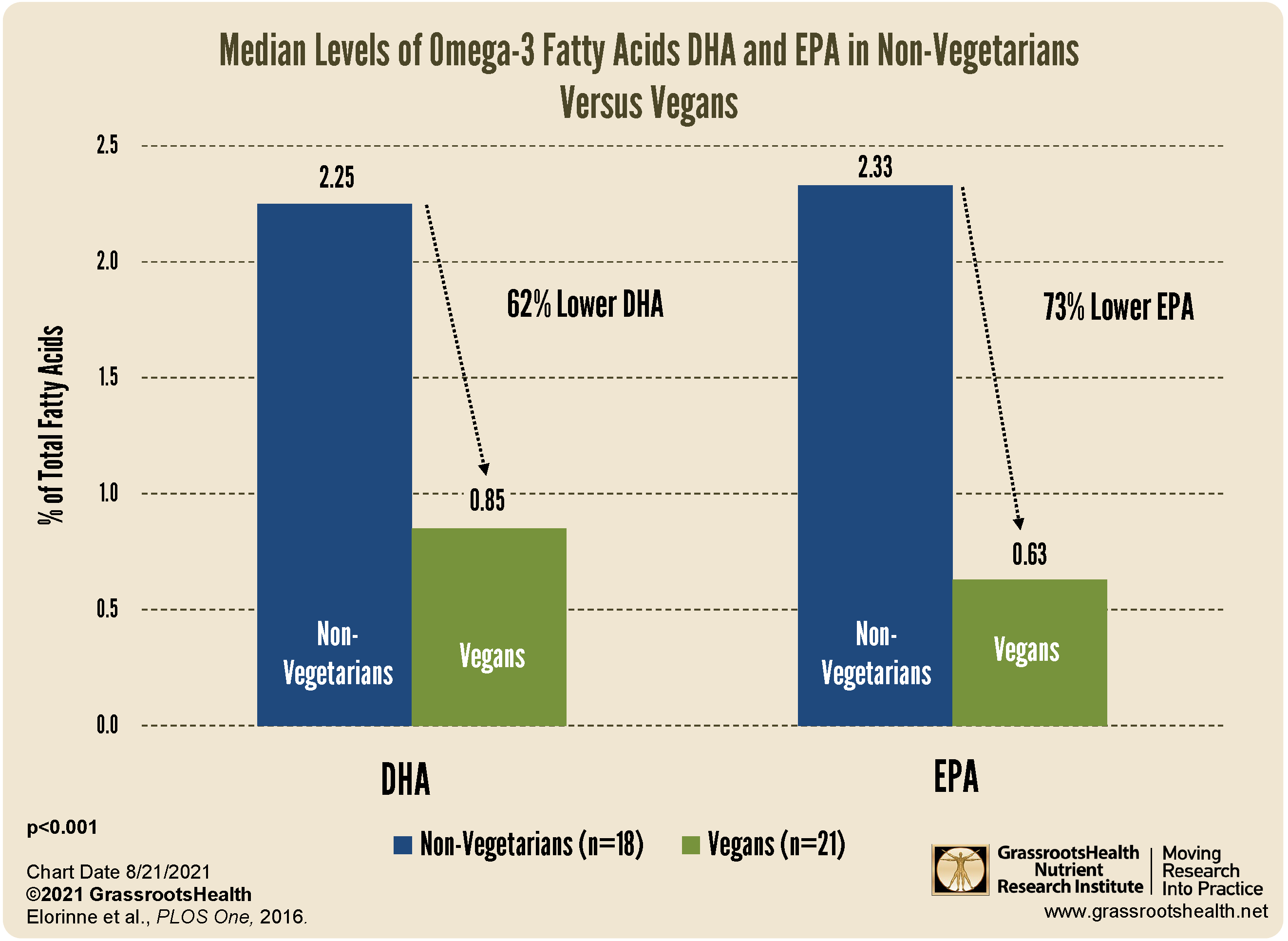 Vitamin D Deficiency is of Particular Concern
The study by Elorinne et al. also found that
77% of vegans took a vitamin D supplement, compared to 78% of non-vegetarians
Only 10% of vegans had a vitamin D level greater than 30 ng/ml (75 nmol/L) compared to 78% of non-vegetarians
24% of vegans had vitamin D levels at or below 20 ng/ml (50 nmol/L) compared to only 6% of non-vegetarians
Positive Findings for Vegans
In this study, beyond the nutritional deficits, compared to non-vegetarians, vegans had 20% lower serum total cholesterol, 25% lower serum LDL cholesterol, and higher concentrations of certain polyphenols overall.
Quality Foods Are Essential for Healthy Vegans and Vegetarians
Wholesome foods, such as whole grains, legumes, nuts, seeds, fruits and vegetables, play an important role in any diet, but especially a vegan or vegetarian diet. These foods are not only great sources of macro-nutrients, such as amino acids, proteins and fiber, but are also full of vitamins and minerals. Getting as many of these nutrients from the diet can help anyone, but especially vegans and vegetarians, rely less on supplements for their daily intakes. Below is a table of foods that tend to be high in some of the vitamins and minerals that are consider most critical for vegans. Keep in mind, vitamin D can also come from safe sunshine and indoor UVB.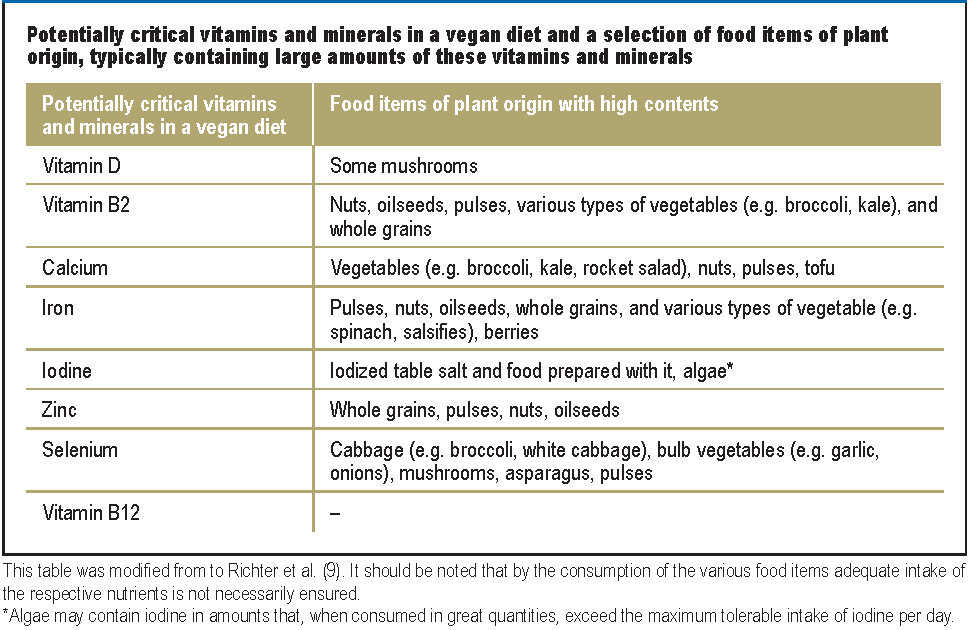 In Conclusion
As the authors state, "nutritional guidance is important to vegans and that vegan diets should be regularly supplemented with key nutrients. More emphasis should be placed on vitamin D…"
While a vegan diet may have several health benefits, vegans should be regularly supplemented with key nutrients, especially vitamin B 12, vitamin D and omega-3s DHA and EPA, in order to avoid negative health effects from nutrient deficiencies. Testing levels of vitamin D and other nutrients should be done regularly to help ensure deficiency is avoided.
Measure Your Level of Vitamin D, DHA and EPA, and Other Important Nutrients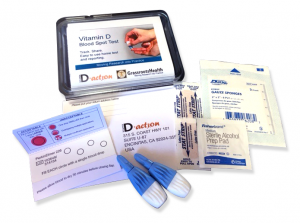 Having and maintaining healthy vitamin D levels and other nutrient levels can help improve your health now and for your future. Choose which to measure, such as your vitamin D, omega-3s, and essential minerals including magnesium and zinc, by creating your custom home test kit today. Take steps to improve the status of each of these measurements to benefit your overall health. You can also track your own intakes, symptoms and results to see what works best for YOU.
Enroll and test your levels today, learn what steps to take to improve your status of vitamin D (see below) and other nutrients and blood markers, and take action! By enrolling in the GrassrootsHealth projects, you are not only contributing valuable information to everyone, you are also gaining knowledge about how you could improve your own health through measuring and tracking your nutrient status, and educating yourself on how to improve it.
How Can You Use this Information for YOUR Health?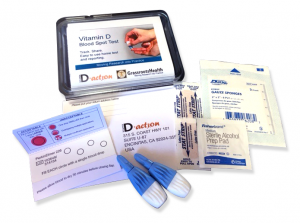 Having and maintaining healthy vitamin D and other nutrient levels can help improve your health now and for your future. Measuring is the only way to make sure you are getting enough!
STEP 1 Order your at-home blood spot test kit to measure vitamin D and other nutrients of concern to you, such as omega-3s, magnesium, essential and toxic elements (zinc, copper, selenium, lead, cadmium, mercury); include hsCRP as a marker of inflammation or HbA1c for blood sugar health
STEP 2 Answer the online questionnaire as part of the GrassrootsHealth study
STEP 3 Using our educational materials and tools (such as our dose calculators), assess your results to determine if you are in your desired target range or if actions should be taken to get there
STEP 4 After 3-6 months of implementing your changes, re-test to see if you have achieved your target level(s)