Published on July 22, 2019


Almost 1500 participants have provided information about their cholesterol since the questions were added to the D*action questionnaire in April of 2017. In our first post about cholesterol, we presented information about how many participants knew what their cholesterol and triglyceride levels were. Our last post discussed what the results looked like among those participants. Today, we will share information about triglycerides and what levels GrassrootsHealth participants have. Following this, we will present additional information about how cholesterol and triglyceride levels may be related to certain important nutrients, and what it means to your health.
What are triglycerides?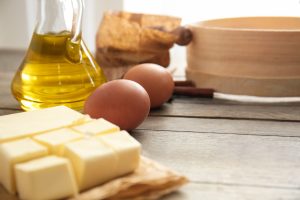 Triglycerides are a type of fat found in your blood and measured in conjunction with cholesterol levels. They are in foods such as butter, margarine and oils, but are also made in the body from excess calories, particularly from alcohol or simple sugars, and used for energy at a later time.
What does your triglyceride level mean?
Blood triglyceride levels are highest after eating, which is why fasting for 12 hours is recommended before a blood test. Other factors, such as alcohol, diet, menstrual cycle, time of day and recent exercise, can also affect triglyceride levels.
A desirable triglyceride level, according to the National Cholesterol Education Program, is one that is less than 150 mg/dL, with high levels being anything above 200 mg/dL. A high triglyceride level combined with high LDL or low HDL is often linked to a higher risk of heart disease.
What were the triglyceride levels of GrassrootsHealth participants?
The following chart shows the most recent triglyceride levels reported for those participants who indicated knowing their triglyceride levels.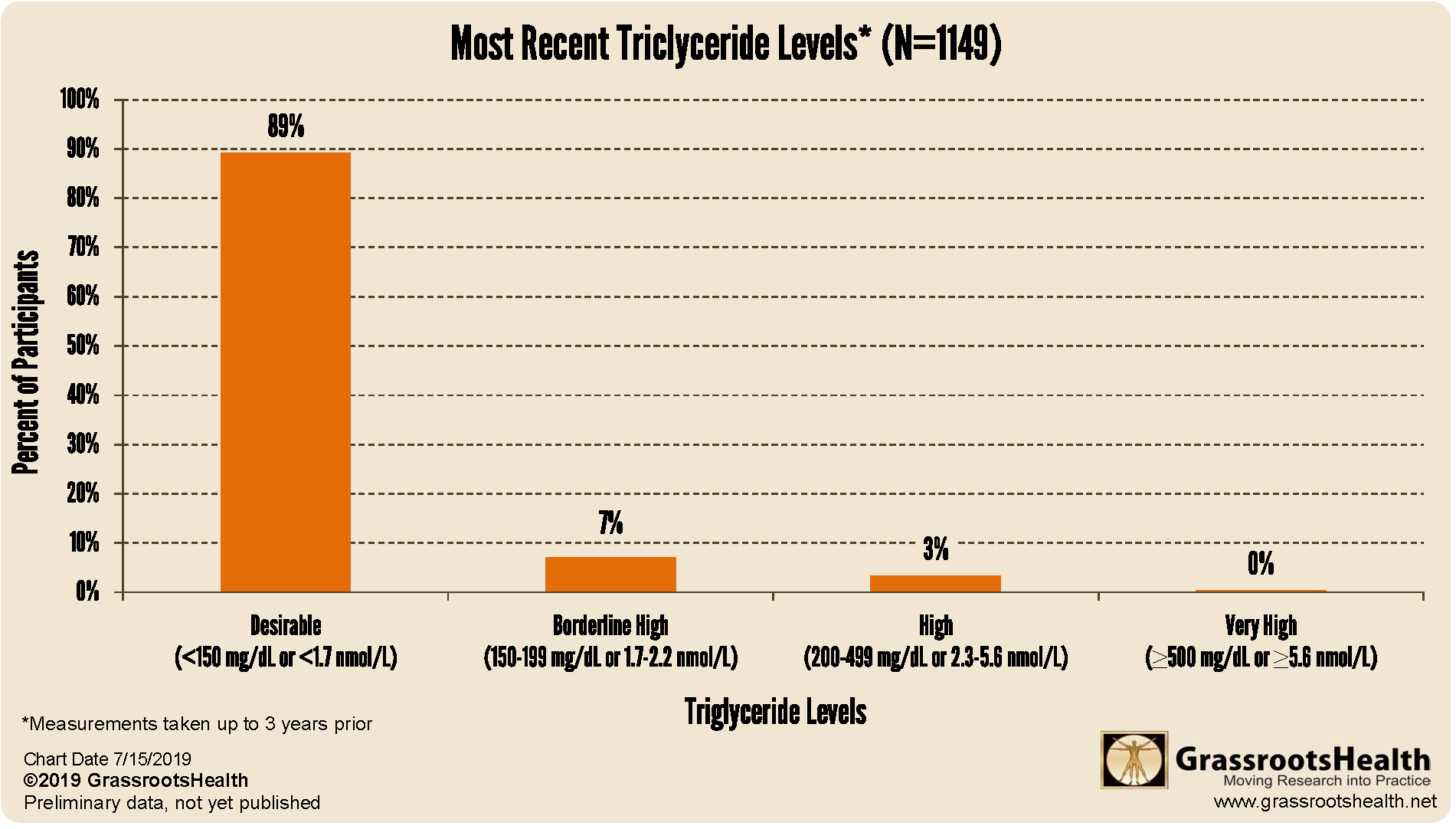 As you can see on the chart, 89% of GrassrootsHealth participants who had information to share about their triglyceride levels had levels below 150 mg/dL, and only 3% had high triglyceride levels (above 200 mg/dL).
Stay tuned for more information on the cholesterol and triglyceride levels reported by participants, followed by if and how certain nutrients might affect or be affected by your cholesterol and triglycerides.
Have questions you would like to see addressed?
Let us know! Send your news-worthy questions to jen @grassrootshealth.org and let us know what you think we should answer or share in our news.
Could my lead be in a toxic range?
Find out your level of lead and other essential and toxic minerals, along with your vitamin D, with the D*action Elements Test kit. Testing vitamin D levels and taking daily steps to keep it at a target level of 40-60 ng/ml (100-150 nmol/L) is important for all stages of health, as is knowing if your levels of essential and toxic elements are in a healthy range. Find out your levels today! Log on to the shop (click the link below) to get your tests and see for yourself if your levels can be improved.
Make sure you track your results before and after, about every 6 months!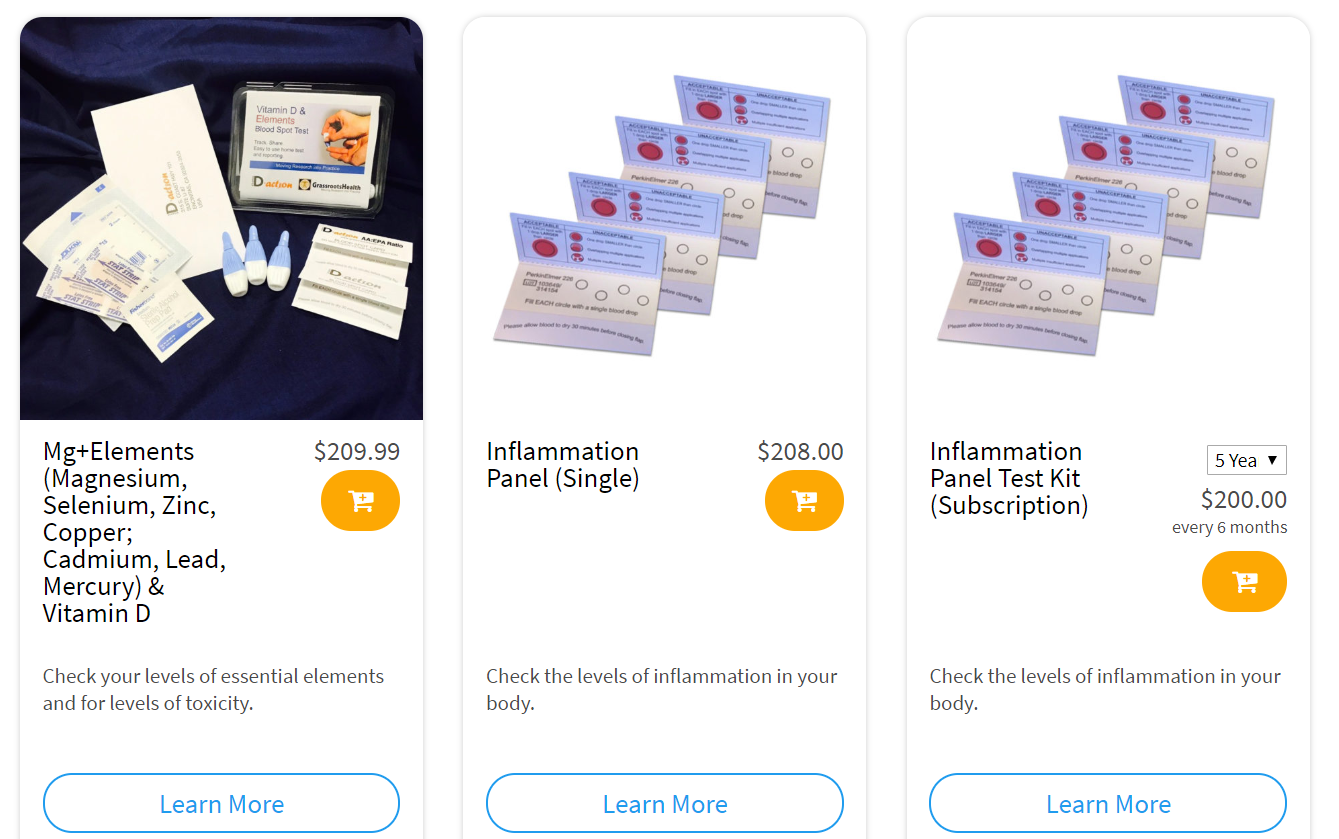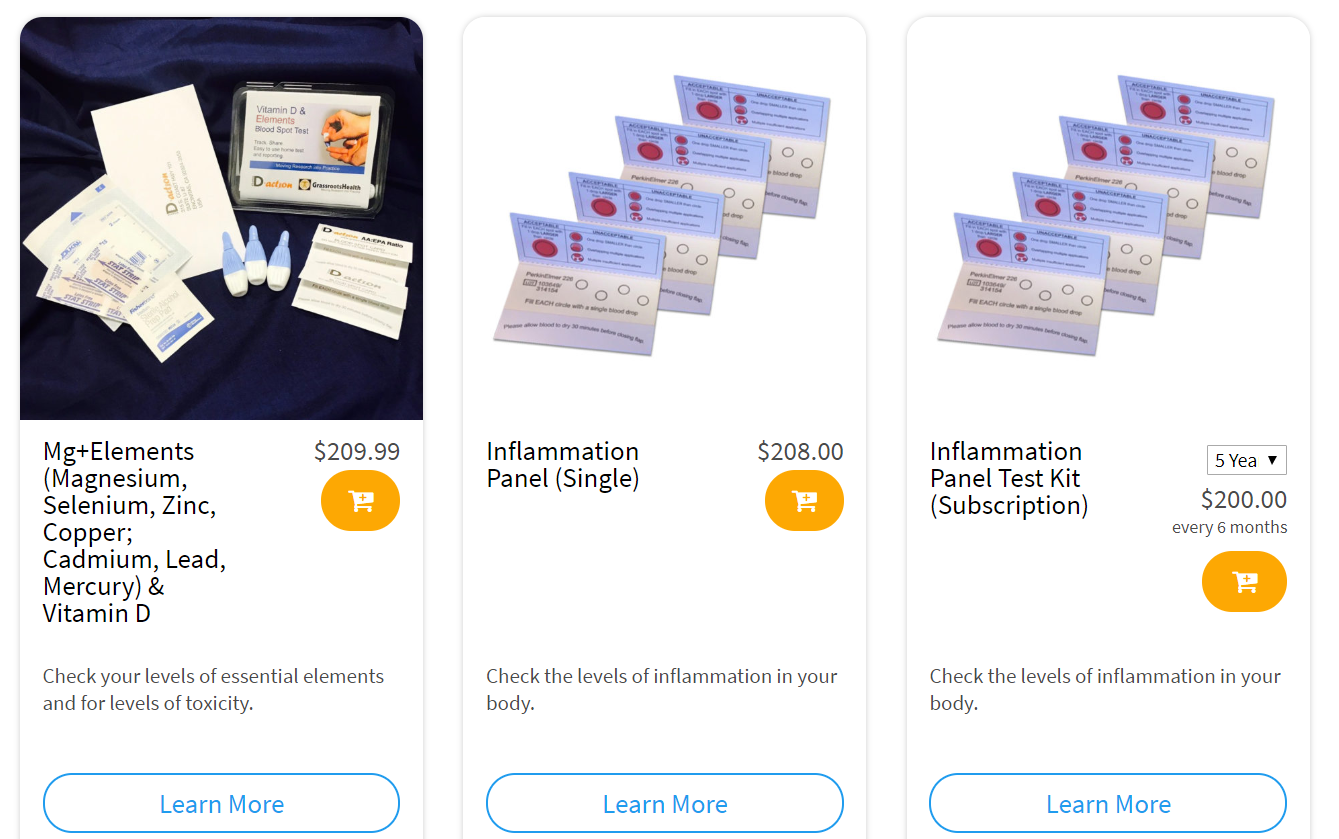 Click Here to Access the Shop Page
How can I track my Lead levels?
To help you track your toxin levels, GrassrootsHealth has created an online tracking system called myData-myAnswers. This will help you know how your toxin levels impact your health. Check it out today!
How Can You Use this Information for YOUR Health?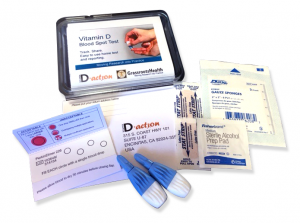 Having and maintaining healthy vitamin D and other nutrient levels can help improve your health now and for your future. Measuring is the only way to make sure you are getting enough!
STEP 1 Order your at-home blood spot test kit to measure vitamin D and other nutrients of concern to you, such as omega-3s, magnesium, essential and toxic elements (zinc, copper, selenium, lead, cadmium, mercury); include hsCRP as a marker of inflammation or HbA1c for blood sugar health
STEP 2 Answer the online questionnaire as part of the GrassrootsHealth study
STEP 3 Using our educational materials and tools (such as our dose calculators), assess your results to determine if you are in your desired target range or if actions should be taken to get there
STEP 4 After 3-6 months of implementing your changes, re-test to see if you have achieved your target level(s)