Published on March 5, 2019



Use coupon code MEASURE for 10% off your Inflammation Panel test kit!
Offer expires 3/11/2019
Published last month in Neurology is a new paper titled "Systemic inflammation during midlife and cognitive change over 20 years: The ARIC Study." The objective of this study was to assess the long-term effects of chronic, low-grade inflammation during midlife on cognitive decline.
In this study, researchers measured inflammatory biomarkers during middle adulthood for more than 12,000 participants in the United States. The specific inflammatory biomarkers were: C-reactive protein and an inflammation composite score consisting of fibrinogen, white blood cell count, von Willebrand factor, and factor VIII combined. Memory, language, and executive function were assessed over the course of 20 years (average age at first cognitive assessment was 57 years).
What was learned from the study?
The research team found that those with higher levels of inflammatory markers had increased cognitive decline over 20 years. Specifically, those with the highest levels of C-reactive protein (CRP) (≥4.69 mg/L) had a 12% steeper cognitive decline compared to those with the lowest levels of CRP (≤1.04 mg/L). Further analysis determined a threshold of CRP associated with cognitive decline to be approximately 1.05 mg/L, above which similar levels of cognitive decline were observed. Also, those with the highest inflammatory composite scores had an 8% steeper cognitive decline than those with the lowest scores. Participants with more elevated markers had a steeper dose-response decline in cognitive function.
What are the C-reactive protein levels among GrassrootsHealth Participants?
As of February 2019, 145 GrassrootsHealth participants have tested their C-reactive protein levels. As you can see from the chart below, a majority (79%) have levels <1.1 mg/L, the approximate threshold associated with lower cognitive decline according to this new study.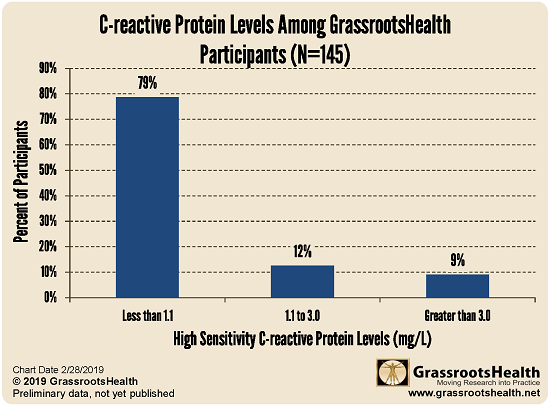 How can I find out my C-reactive protein levels?
GrassrootsHealth offers C-reactive protein testing with our Inflammation Panel. Using a high sensitivity assay, the lab is able to detect small elevations in CRP (called hs-CRP where "hs" means high sensitivity). These small elevations have been linked to metabolic syndrome, future heart attacks, stoke, peripheral arterial disease, and the development of diabetes. Chronic, low-level elevation may cause systems such as joint pain or fatigue, but often times there will be no symptoms until disease occurs. Find out your levels today!

Use coupon code MEASURE for 10% off your Inflammation Panel test kit!
Offer expires 3/11/2019
How can I track my C-reactive protein levels?
To help you track your CRP levels and other results, GrassrootsHealth has created an online tracking system called myData-myAnswers. This will help you know how your supplementation and intake may be affecting your nutrient and inflammation levels and impacting your health. Check it out today!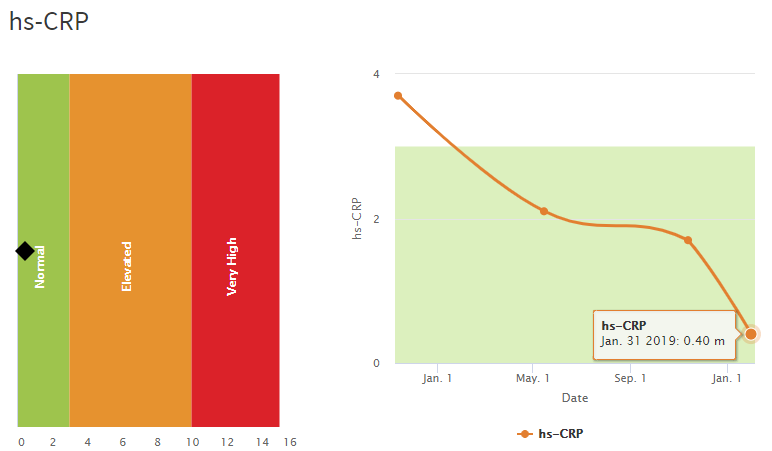 How Can You Use this Information for YOUR Health?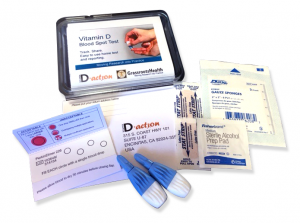 Having and maintaining healthy vitamin D and other nutrient levels can help improve your health now and for your future. Measuring is the only way to make sure you are getting enough!
STEP 1 Order your at-home blood spot test kit to measure vitamin D and other nutrients of concern to you, such as omega-3s, magnesium, essential and toxic elements (zinc, copper, selenium, lead, cadmium, mercury); include hsCRP as a marker of inflammation or HbA1c for blood sugar health
STEP 2 Answer the online questionnaire as part of the GrassrootsHealth study
STEP 3 Using our educational materials and tools (such as our dose calculators), assess your results to determine if you are in your desired target range or if actions should be taken to get there
STEP 4 After 3-6 months of implementing your changes, re-test to see if you have achieved your target level(s)