Published on October 16, 2019

October is Breast Cancer Awareness Month, but here at GrassrootsHealth Nutrient Research Institute we prefer to take the opportunity each October to focus on breast cancer prevention. To help educate the public on the effects of vitamin D and breast cancer prevention, we have started a series of posts focused on key research, starting with highlights from the first randomized controlled trial published on vitamin D and cancer. Today, we will highlight a study that replicated those findings, by the same author.
Please share this informational series with all you know who may have or be concerned with getting breast cancer.
Similar Study, Replicated Results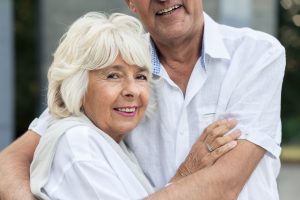 Dr. Joan Lappe replicated her 2007 study with a new 4 year study on vitamin D and calcium supplementation and a few key differences. This new study had a larger population of postmenopausal women (2303 vs 1179), the treatment group was given a larger dose of vitamin D (2000 IU/day vs 1100 IU/day), and cancer incidence was the primary study endpoint. This new group started with an average vitamin D level of 33 ng/ml (82 nmol/L). Results were published in 2017 as Effect of Vitamin D and Calcium Supplementation on Cancer Incidence in Older Women: A Randomized Clinical Trial.
When analyzed by treatment group, a 30% reduction in cancer incidence was found for those who received vitamin D and calcium versus those who received placebo; however, that reduction did not reach statistical significance (P value =0.06). When analyzed by serum level, the data showed that participants with a vitamin D level of 55 ng/ml were 35% less likely to get cancer as compared to those with a vitamin D level of 30 ng/ml; this result was statistically significant (P value = 0.03).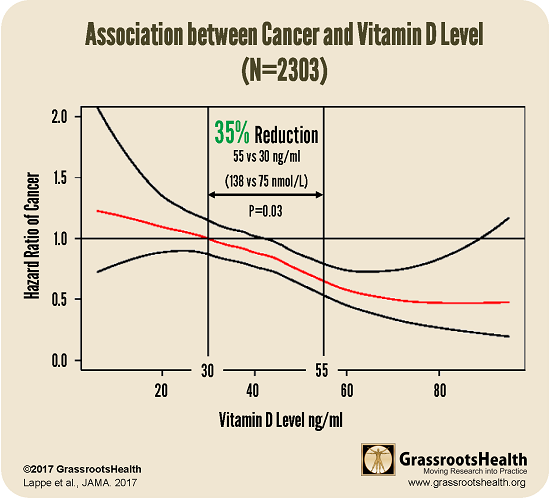 The red line in the chart above represents the "hazard ratio" which is a measure of risk. This line goes down (lower risk) with higher vitamin D levels. The two black lines represent the "confidence interval" which shows the range of values that contain the true risk with 95% certainty. A narrow band, such as between 30 and 55 ng/ml, indicates a more accurate estimate of the risk compared to wider bands (e.g. less than 30 and more than 55 ng/ml) which are often due to small sample sizes in those ranges.
Join the Study to Help Reduce Breast Cancer Incidence
Reduce Breast Cancer NOW! is a field trial of GrassrootsHealth using our methodology for moving nutrient research into practice. This model was developed and tested over 7 years, with over 10,000 participants, through the D*action project. All women can join this project to help demonstrate the effects of vitamin D on breast cancer prevention.

Are you concerned about your vitamin D level and cancer?
Testing your vitamin D level regularly and taking steps to keep it at a target level of 40-60 ng/ml (100-150 nmol/L) is important for all stages of health. Through GrassrootsHealth Nutrient Research Institute, you can also test your omega-3 status, inflammation levels, and levels of essential nutrients and toxins. Find out your levels today! Log on to the shop (click the link below) to get your tests and see for yourself if your level can be improved.
Make sure you track your results before and after, about every 6 months!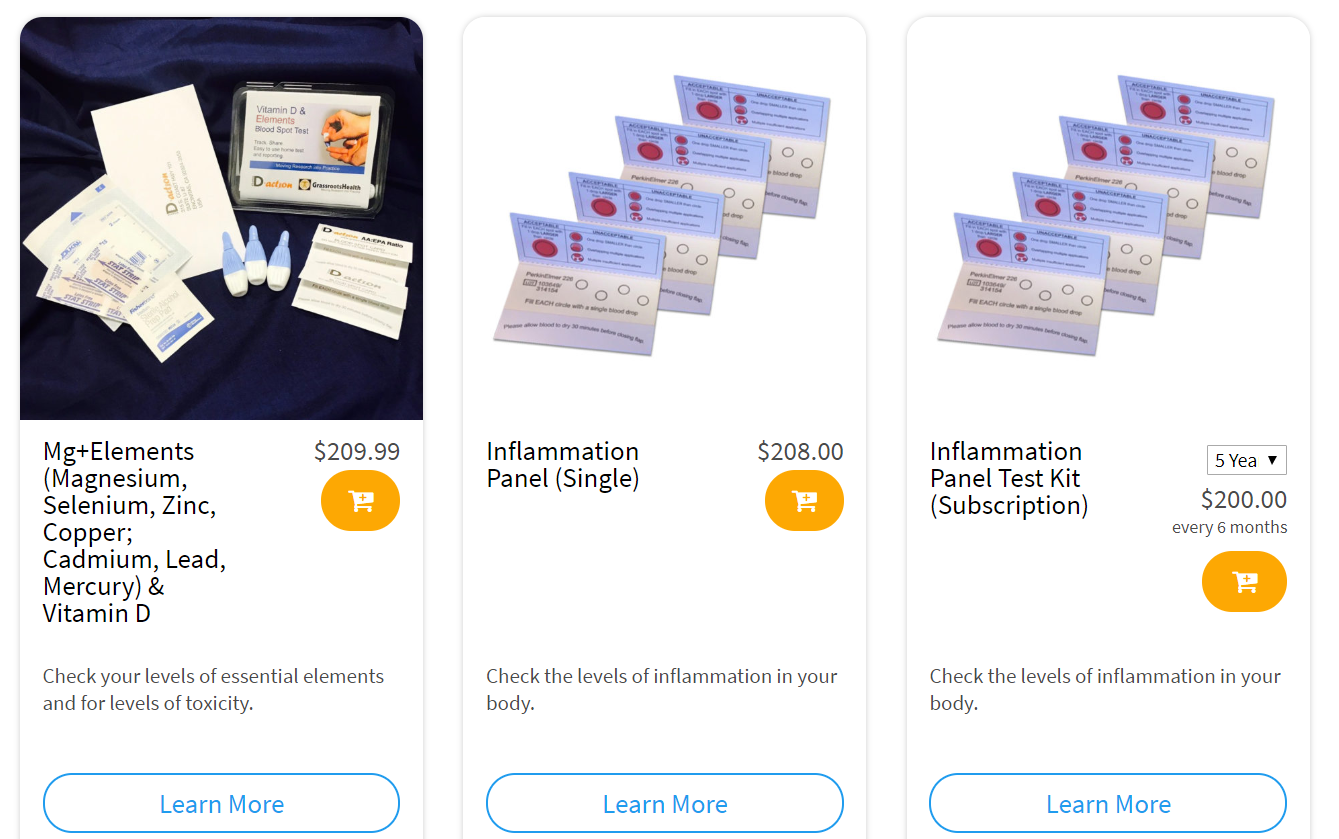 Click Here to Access the Shop Page
How can I track my nutrient intake and levels over time?
To help you track your supplement use and nutrient levels, GrassrootsHealth has created an online tracking system called myData-myAnswers. For each specific supplement, you can track what days you take it, how much, and many other details. This will help you know your true supplemental intake and what patterns of use work for you to reach and maintain optimum nutrient levels. Check it out today!
How Can You Use this Information for YOUR Health?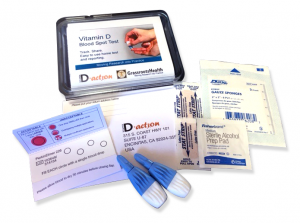 Having and maintaining healthy vitamin D and other nutrient levels can help improve your health now and for your future. Measuring is the only way to make sure you are getting enough!
STEP 1 Order your at-home blood spot test kit to measure vitamin D and other nutrients of concern to you, such as omega-3s, magnesium, essential and toxic elements (zinc, copper, selenium, lead, cadmium, mercury); include hsCRP as a marker of inflammation or HbA1c for blood sugar health
STEP 2 Answer the online questionnaire as part of the GrassrootsHealth study
STEP 3 Using our educational materials and tools (such as our dose calculators), assess your results to determine if you are in your desired target range or if actions should be taken to get there
STEP 4 After 3-6 months of implementing your changes, re-test to see if you have achieved your target level(s)