Published on January 11, 2023


January is National Staying Healthy Month – here are several key nutrients to help keep you healthy by supporting a strong immune system
Key Points
Diet, lifestyle (e.g. sleep and exercise patterns), intrinsic factors (e.g. genetics) and environmental factors (e.g. toxins) all play a central role in maintaining individual health
Diet, exercise, sunshine exposure, and getting enough of certain nutrients, such as vitamins A, C, D, selenium and zinc are essential to maintaining immune health
Other immune-relevant nutrients include amino acids (such as glutathione and glutamine), antioxidants (such as vitamin E), phytochemicals (such as quercetin), omega-3 fatty acids, and iron
---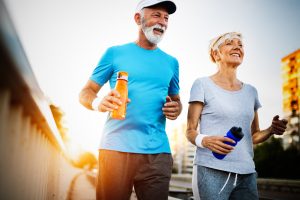 January has been dubbed "National Staying Healthy Month" to remind everyone of the importance of incorporating health-focused activities into their daily routine. This includes activities to encourage overall wellbeing and self-care and promote health of both mind and body.
Diet, lifestyle (e.g. sleep and exercise patterns), intrinsic factors (e.g. genetics) and environmental factors (e.g. toxins) all play a central role in maintaining individual health. Unhealthy eating patterns with lack of physical activity, over time, can have a cumulative effect on health and chronic disease with numerous harmful effects, including nutrient deficiencies, excess weight and obesity, heart disease and stroke, type 2 diabetes, cancer, deficits in brain function and many other chronic diseases – as well as a sub-par immune response that can leave us susceptible to infections and disease.
Nutrient Deficiencies Compromise Immune Health
Getting enough of certain nutrients is especially important to our immune system, as both the innate and adaptive immune responses rely on these nutrients in order to function properly, as illustrated in the following diagram.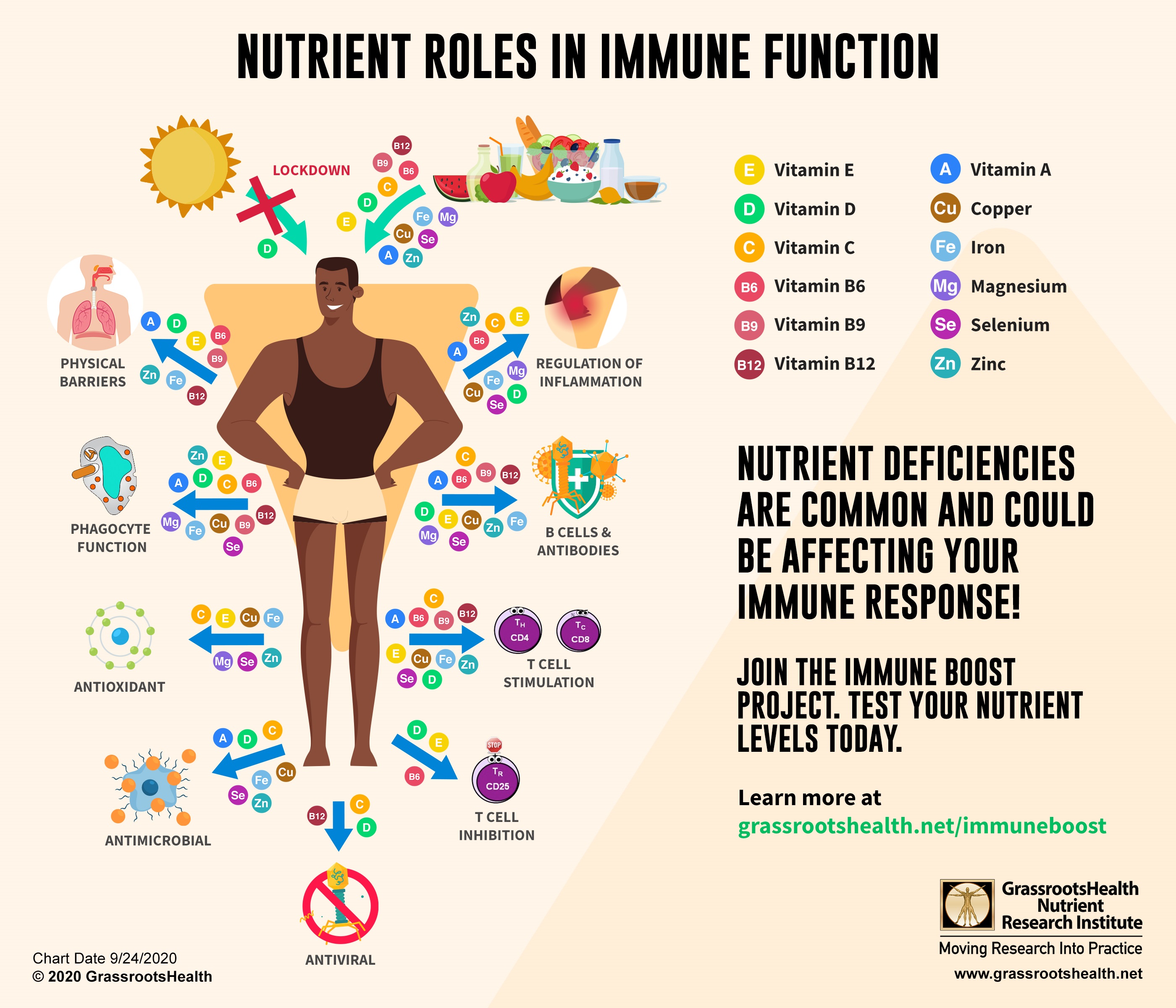 Each of these nutrients assist the body in performing specific actions within the immune system, reviewed in detail in this blog. The following protocol is a summary of several of these nutritional supplements that can be taken safely on a daily basis to help boost the integrity of our immune systems, help shield us from infection if we are exposed, and additionally, improve our immune response to minimize the risk of severe outcomes if we are infected.
Protocol for Staying Healthy by Promoting a Strong Immune System
Vitamin D: Learn what supplement amount is needed to achieve and maintain a vitamin D level of 40-60 ng/ml (100-150 nmol/L). Measure your level today, and use the vitamin D*calculator to determine what supplement amount might be needed to reach your target level.
Vitamin A (as retinol): 2,000 to 4,000 IU per day for all elderly, adults and adolescents
Vitamin C: 1,000 to 3,000 mg per day, in divided doses, along with a quercetin supplement
Selenium: 100-200 ug per day for elderly, adult, and adolescents, with a suggested serum level of 130-150 ug/L (measure your selenium level as part of the Elements Panel test kit)
Zinc: 10-20 mg per day
Additional supplements to support vitamin D and overall immunity:
Magnesium: 400 mg per day on average
Vitamin K: suggested intake of between 180-200 mcg MK7 (a form of vitamin K2) per day from diet and supplements
Other Key Nutrients worth Noting
Nutrients work synergistically with each other, and the authors of this paper felt that several other immune-relevant nutrients deserved mention. These include amino acids (such as glutathione and glutamine), antioxidants (such as vitamin E), phytochemicals (such as quercetin), omega-3 fatty acids, and iron.
Don't Forget the Sunshine!
Those who follow GrassrootsHealth are especially aware of the importance of vitamin D and sensible sun exposure to our health, for reasons including the production of vitamin D, nitric oxide, beta-endorphins, melatonin, and other health-benefiting reactions that are stimulated by exposure to sunlight.
Are You Getting Enough Vitamin D & Other Health Boosting Nutrients?
Measuring our levels of vitamin D and other important nutrients and health markers can be considered one way to check-in with our health status and guide us towards the steps to take next in improving and supporting our health.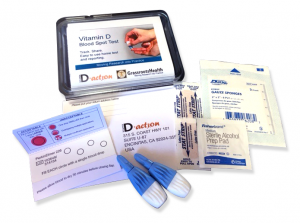 Having and maintaining healthy vitamin D levels and other nutrient levels can help improve your health now and for your future. Choose which to measure, such as your vitamin D, omega-3s, and essential minerals including magnesium and zinc, by creating your custom home test kit today. Take steps to improve the status of each of these measurements to benefit your overall health. You can also track your own intakes, symptoms and results to see what works best for YOU.
Enroll and test your levels today, learn what steps to take to improve your status of vitamin D (see below) and other nutrients and blood markers, and take action! By enrolling in the GrassrootsHealth projects, you are not only contributing valuable information to everyone, you are also gaining knowledge about how you could improve your own health through measuring and tracking your nutrient status, and educating yourself on how to improve it.
How Can You Use this Information for YOUR Health?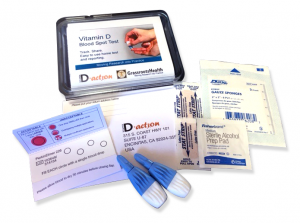 Having and maintaining healthy vitamin D and other nutrient levels can help improve your health now and for your future. Measuring is the only way to make sure you are getting enough!
STEP 1 Order your at-home blood spot test kit to measure vitamin D and other nutrients of concern to you, such as omega-3s, magnesium, essential and toxic elements (zinc, copper, selenium, lead, cadmium, mercury); include hsCRP as a marker of inflammation or HbA1c for blood sugar health
STEP 2 Answer the online questionnaire as part of the GrassrootsHealth study
STEP 3 Using our educational materials and tools (such as our dose calculators), assess your results to determine if you are in your desired target range or if actions should be taken to get there
STEP 4 After 3-6 months of implementing your changes, re-test to see if you have achieved your target level(s)