Published on November 7, 2017
November 1, 2017, March of Dimes announced that preterm birth rates are on the rise for the 2nd year in a row. Read more on CBS News or NBC News.
The average preterm birth rate across the US is 9.8 %, meaning approximately 1 in 10 babies are born prematurely, before 37 weeks. Preterm birth is the reason for 28% of newborn deaths. It also costs much more than a full term birth and can lead to longer-term problems such as ADHD, cerebral palsy, autism, asthma, and more.
GrassrootsHealth has been working with researchers and the community at the Medical University of South Carolina (MUSC) since 2011 and we have documented a way to curb the problem – vitamin D!
Researchers ran two randomized controlled trials and then used the findings from those trials to implement a two-year field trial with all pregnancy patients at MUSC. All results were similar – between a 40-60% lower risk of preterm birth for women who had vitamin D levels above 40 ng/ml (100 nmol/L) during the course of their pregnancy, as compared to less than 20 ng/ml (50 nmol/L). The field trial also showed an 80% reduced risk at those same levels for women who had a previous preterm birth.
If the US asked all OBs to change their standard of care so that every pregnant woman was given a vitamin D test at their first prenatal visit; advised to supplement or get sun to get their level to 40-60 ng/ml as soon as possible; and given a follow up test late in the 2nd trimester to make sure their target level was reached – this could significantly reduce the preterm birth rate across the country. Taking into account the average vitamin D level across the US, 25 ng/ml, and using the data from the RCT trials, if every woman raised her level above 40 ng/ml that would be a 53% reduced risk.
That means the 2016 map published in the 2017 Premature Birth Report Card that looks like this: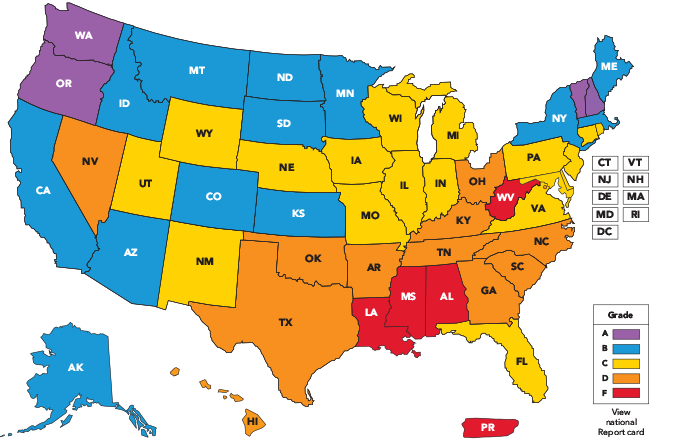 Could look like this: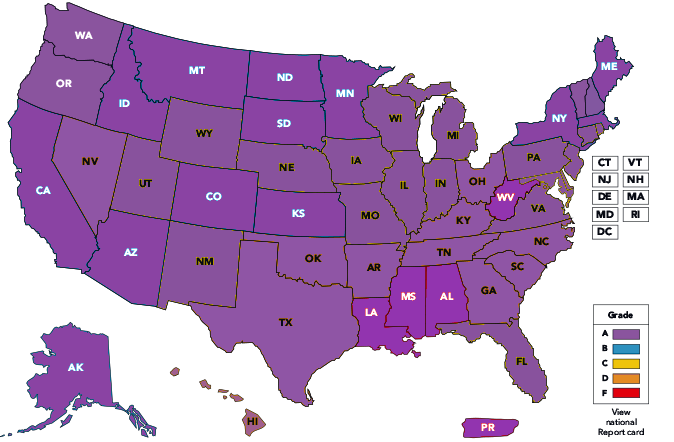 When will we make this change? The time is NOW!
What can you do today?
If you are pregnant or know someone that is pregnant, give them this information. They need to test their vitamin D level immediately!
You can donate to GrassrootsHealth, helping to further our communications so more pregnant women will know.
Introduce a group (OB practice, work place) to start a vitamin D program and contact us to find out how.