Published on March 2, 2022

Randomized controlled trial shows behavioral and mental health benefits of vitamin D and magnesium for children struggling with ADHD
Key Points
Studies have found that children with ADHD tend to have lower levels of both vitamin D and magnesium than those without ADHD, and that supplementation can be beneficial
An RCT of 66 children whose vitamin D level was below 30 ng/ml (75 nmol/L) found that those receiving vitamin D and magnesium supplementation had significant increases in both magnesium and vitamin D levels, as well as significant reductions in emotional problems, conduct problems, peer problems, prosocial score, total difficulties, externalizing score, and internalizing score
Children and teens are at high risk of vitamin D deficiency; 93% of children in the general US population have vitamin D levels below 40 ng/ml (100 nmol/L), 16% of whom are below 20 ng/ml (50 nmol/L)
---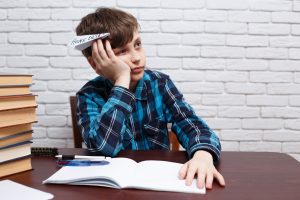 Attention Deficit Hyperactivity Disorder (ADHD) is said to affect almost 1 out of every 10 children in the United States, according to the CDC. Its main symptoms include inattention, hyperactivity, and impulsivity, and many of these symptoms can persist into adulthood.
Studies have found that children with ADHD tend to have lower levels of both vitamin D and magnesium than those without ADHD, and supplementation with magnesium, vitamin D, as well as omega-3 fatty acids, vitamin B6, and zinc have shown beneficial for these children.
What Difference Can Vitamin D and Magnesium Make for Children with ADHD?
A randomized, double blind, placebo-controlled trial by Hemamy et al. enrolled 66 children with ADHD to evaluate the effects of vitamin D and magnesium supplementation on their mental and behavioral health status. The children were between the ages of 6 and 12 years old, not currently taking any multivitamin or mineral supplements, had a baseline vitamin D level below 30 ng/ml (75 nmol/L) and a serum magnesium level below 2.3 mg/dL, and had been diagnosed with ADHD based on at least 6 of 9 of both inattention and hyperactivity cases. They were also excluded if they had been suffering from any chronic medical or other psychiatric disorders.
The 33 children assigned to the co-supplement group received both vitamin D (50,000 IU per week) and magnesium (6 mg/kg per day), while 33 other children of similar health characteristics were given placebos. The intervention lasted for 8 weeks, with before and after measurements for emotional problems, conduct problems, peer problems, prosocial score, total difficulties, externalizing score, and internalizing score completed by parents using a strength and difficulties questionnaire.
Significant Benefits Seen in the Co-Supplementation Group
After 8 weeks, children in the co-supplementation group had significant increases in both magnesium and vitamin D levels, as well as significant reductions in emotional problems (p = 0.001), conduct problems (p = 0.002), peer problems (p = 0.001), prosocial score (p = 0.007), total difficulties (p = 0.001), externalizing score (p = 0.001), and internalizing score (p = 0.001).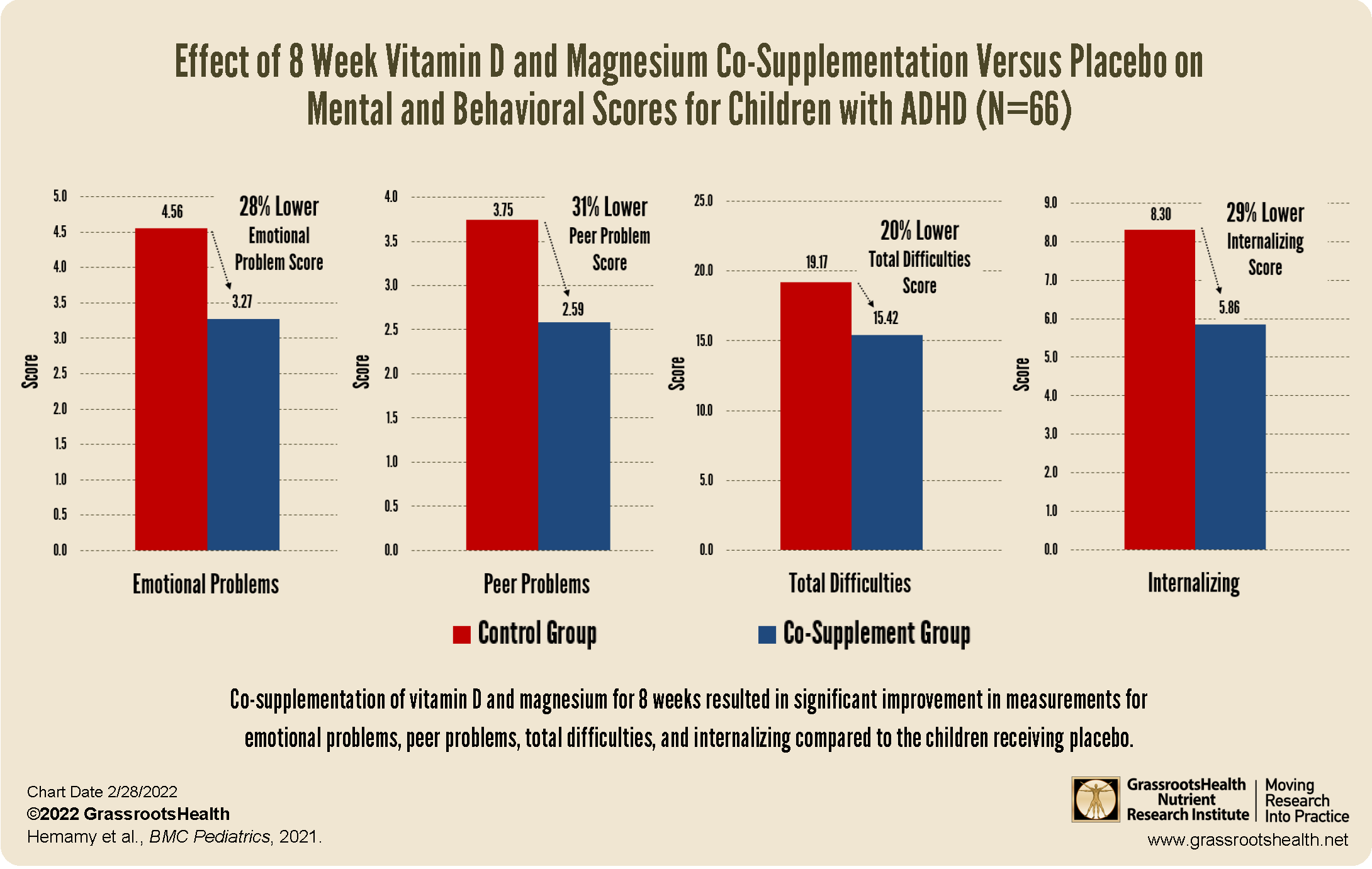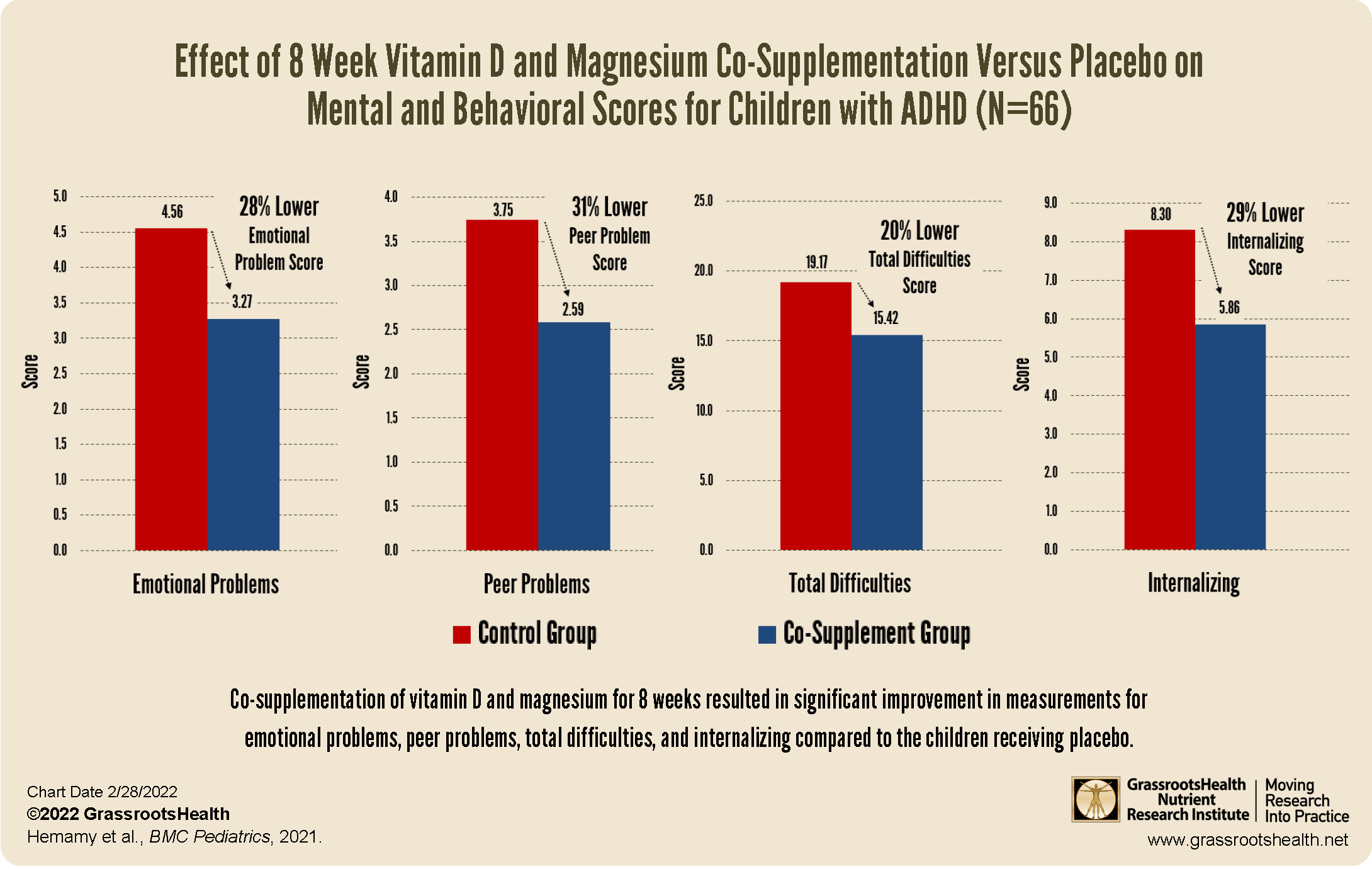 Click to Enlarge & Print
Compared to the placebo group, the children receiving vitamin D and magnesium co-supplementation had significantly better
emotional problem scores (28% lower)
peer problem scores (31% lower)
total difficulties score (20% lower)
internalizing score (29% lower)
Overall supplement compliance was high among both groups, and no side effects were seen from vitamin D or magnesium supplementation.
Could Vitamin D and Magnesium Make a Difference for You or Your Child?
Children and teens are at high risk of vitamin D deficiency; 93% of children in the general US population have vitamin D levels below 40 ng/ml (100 nmol/L), 16% of whom are below 20 ng/ml (50 nmol/L). Enroll your child in the Children of the World D*action project to measure their vitamin D level and other nutrient levels (including magnesium) from home and learn how to help them avoid deficiency.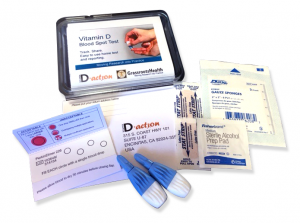 Having and maintaining healthy vitamin D levels and other nutrient levels can help improve your health now and for your future. Choose which additional nutrients to measure, such as your omega-3s and essential minerals including magnesium and zinc, by creating your custom home test kit today. Take steps to improve the status of each of these measurements to benefit your overall health. With measurement you can then determine how much is needed and steps to achieve your goals.  You can also track your own intakes, symptoms and results to see what works best for YOU.
Enroll in D*action and Test Your Levels Today!
How Can You Use this Information for YOUR Health?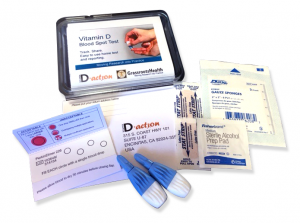 Having and maintaining healthy vitamin D and other nutrient levels can help improve your health now and for your future. Measuring is the only way to make sure you are getting enough!
STEP 1 Order your at-home blood spot test kit to measure vitamin D and other nutrients of concern to you, such as omega-3s, magnesium, essential and toxic elements (zinc, copper, selenium, lead, cadmium, mercury); include hsCRP as a marker of inflammation or HbA1c for blood sugar health
STEP 2 Answer the online questionnaire as part of the GrassrootsHealth study
STEP 3 Using our educational materials and tools (such as our dose calculators), assess your results to determine if you are in your desired target range or if actions should be taken to get there
STEP 4 After 3-6 months of implementing your changes, re-test to see if you have achieved your target level(s)