Published on November 2, 2023


November 2nd is Vitamin D Day – and November is Vitamin D Awareness Month! Here is how we are celebrating this month and how you can participate.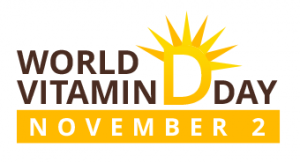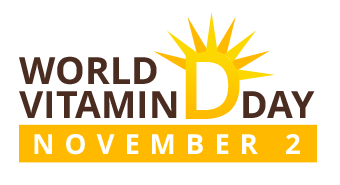 Today, November 2nd, is Vitamin D Day! And the whole month of November is dedicated to Vitamin D Awareness. See below for how you can participate in the celebrations this month. Enjoy!
---
Vitamin D Conversations & Questions "Office Hours"*
Every Wednesday of this month, GrassrootsHealth will be open for "office hours!" Do you have a general question about vitamin D? Do you need help understanding your vitamin D results or what to do with them? Join us on Wednesdays at 11am PT/2pm ET at any point during our one-hour live zoom session to ask your questions or to join in on the conversation.
Register to get your link to our next live office hours session here.
*Medical advice will not be given during these office hours; for private or personal medical issues, please consult your health care provider.
Ask the Vitamin D Scientists
This month, we will be featuring interviews with some of the world's leading vitamin D scientists and researchers, as well as with medical doctors who have successfully and safely implemented vitamin D protocols into their practice. If you have top-level questions about vitamin D that would be appropriate for these doctors and scientists, please submit your question to the form linked to below, and we will either include your question in one of our upcoming interviews, or we will ask our scientist and medical advisory panel for a direct answer.
Help spread the word about vitamin D with a chance for someone to win a FREE test!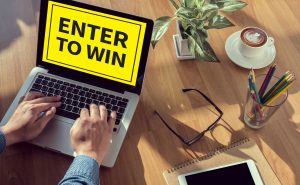 To create momentum around learning about vitamin D and the individual risk factors that contribute to deficiency, we will be asking all vitamin D "newbies" to complete our Vitamin D Deficiency Risk Assessment Quiz. Everyone who completes the quiz this month will be entered to win a FREE vitamin D home test kit! (Offer available to new participants only.) Please help us spread the word!
How can you share about this?
Forward this newsletter/blog or one of our upcoming newsletters with the opportunity to take the quiz and enter to win
Share any of our social media posts this month with a link to the quiz
Share any of our blogs and charts on social media quickly and easily by using the social media share buttons at the top of each of our blogs
Share any of the images created specifically for Vitamin D Day found at https://worldvitamindday.net/tools.php with a link to the quiz
Follow us on
Have Fun Sharing About Vitamin D this November for Vitamin D Awareness Month!
Measure Your Vitamin D Level with Your Custom Home Test Kit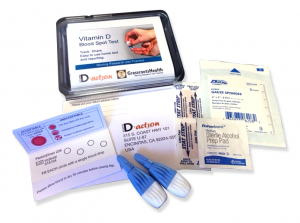 Create your custom home test kit to measure your levels at home as part of the D*action project!
With your kit you can measure your:
Vitamin D
Magnesium PLUS Essential and Toxic Elements
Omega-3 Fatty Acids
hsCRP
HbA1c
TSH
Type 1 Diabetes Autoantibodies
Did you know that each of the above can be measured at home using a simple blood spot test? As part of our ongoing research project, you can order your home blood spot test kit to get your levels, followed by education and steps to take to help you reach your optimal target levels. Start by enrolling and ordering your kit to measure each of the above important markers, and make sure you are getting enough of each to support better mood and wellbeing!
Create your custom home test kit today. Take steps to improve the status of each of these measurements to benefit your overall health. With measurement you can then determine how much is needed and steps to achieve your goals.  You can also track your own intakes, symptoms and results to see what works best for YOU.
How Can You Use this Information for YOUR Health?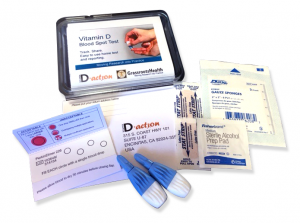 Having and maintaining healthy vitamin D and other nutrient levels can help improve your health now and for your future. Measuring is the only way to make sure you are getting enough!
STEP 1 Order your at-home blood spot test kit to measure vitamin D and other nutrients of concern to you, such as omega-3s, magnesium, essential and toxic elements (zinc, copper, selenium, lead, cadmium, mercury); include hsCRP as a marker of inflammation or HbA1c for blood sugar health
STEP 2 Answer the online questionnaire as part of the GrassrootsHealth study
STEP 3 Using our educational materials and tools (such as our dose calculators), assess your results to determine if you are in your desired target range or if actions should be taken to get there
STEP 4 After 3-6 months of implementing your changes, re-test to see if you have achieved your target level(s)