Published on December 9, 2022

Purchase a gift card this month and both you and its recipient will receive 15% OFF your next order
Give the gift of health to others, while sharing the knowledge and tools that anyone can use to improve their vitamin D level and other health measures – with a GrassrootsHealth gift card!
Purchase a GrassrootsHealth Gift Card and Both
YOU AND ITS RECIPIENT WILL RECEIVE 15% OFF YOUR NEXT ORDER
Offer valid now through December 31th, 2022 at 11.59PM PST.*
Make sure you and your loved ones know the status of these important nutrients, and are taking action to maintain target levels on a daily basis.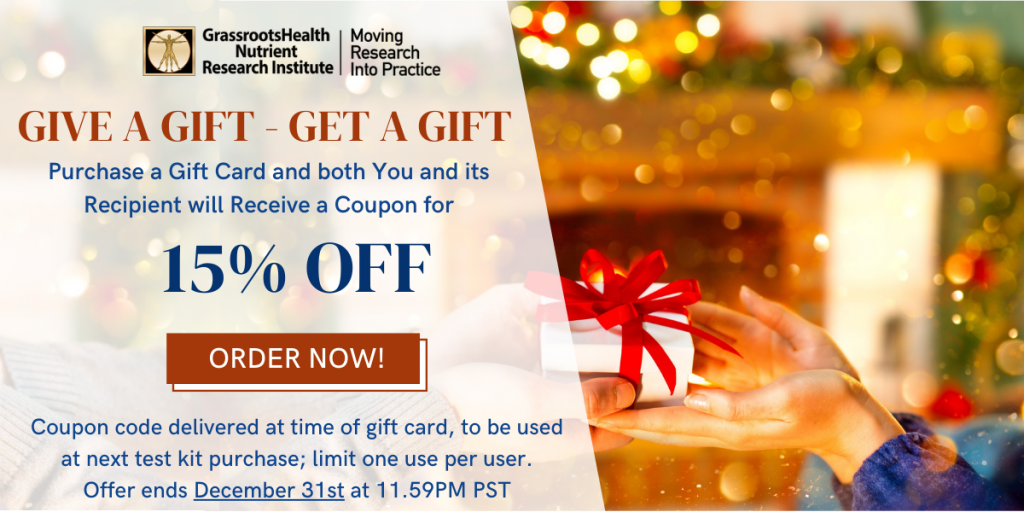 Unlock 15% Off for You and Your Recipient(s)! Just Follow These Steps
There's nothing easier to getting and sharing this gift and discount:
Go to the gift card product by clicking on the following link: https://daction.grassrootshealth.net/product/gift-card/
Choose the gift card amount that you would like to send to your recipient(s).
Enter the email(s) of who you would like to send the gift card(s) to, along with a custom message, who the gift is from, and when you want the gift cards to be received. If you would like to send more than one of the same gift card to each recipient, simply change the quantity.
Click "Checkout" and confirm the email(s), message, and amounts are correct.
To send a different gift card amount or message to another recipient, simply add a new gift card to the cart.
Complete your order as instructed. The 15% off coupon code will arrive in the email the recipient(s) receive when they get the gift card, and your 15% off coupon code will arrive in your emailed receipt.
Note that the 15% off coupon code has a limited use of one time per user.
What Tests Can You Order with a Gift Card?
Measure any combination of the following along with your vitamin D:
Omega-3 Index, including AA:EPA and Omega-3/6 Ratios – measure your omega-3 levels with the Omega-3 Index; get additional insights on the balance of essential fats in the body and how they may be contributing to inflammation and disease by adding the ratios
High Sensitivity C-Reactive Protein (hs-CRP) – a marker of inflammation in the body
HbA1c (Glycated hemoglobin) – measures the health of recent blood sugar levels
Magnesium, with additional elements such as Selenium, Zinc, Copper, Zinc:Copper Ratio and toxic elements Cadmium, Lead, and Mercury
Thyroid Stimulating Hormone (TSH)
Build a custom kit by adding your choice of the options above, or choose from our top selling test combinations:
| Vitamin D Test | Vitamin D & Omega-3 Index | Immune Boost Panel |
| --- | --- | --- |
| | | |
| | | |

ENSURE HEALTHY NUTRIENT LEVELS BY TESTING TODAY
Having and maintaining healthy nutrient levels can help improve your health now and for your future. Choose which nutrients to measure with your vitamin D, such as your omega-3s and essential minerals including magnesium and zinc, by creating your custom home test kit today. Take steps to improve the status of each of these measurements to benefit your overall health. With measurement you can then determine how much is needed and steps to achieve your goals. You can also track your own intakes, symptoms and results to see what works best for YOU.
*Offer valid until Saturday, December 31st, 2022 at 11.59PM PST. Coupon code is limited to one use per user, and is valid on all at-home test kits from GrassrootsHealth except the T1D Prevention Test Kit; enrollment included. Not cumulative with other coupon codes.
Take steps for your own health to ensure optimal vitamin D levels – for your family and loved ones as well – by measuring at home today.
How Can You Use this Information for YOUR Health?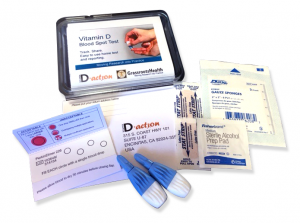 Having and maintaining healthy vitamin D and other nutrient levels can help improve your health now and for your future. Measuring is the only way to make sure you are getting enough!
STEP 1 Order your at-home blood spot test kit to measure vitamin D and other nutrients of concern to you, such as omega-3s, magnesium, essential and toxic elements (zinc, copper, selenium, lead, cadmium, mercury); include hsCRP as a marker of inflammation or HbA1c for blood sugar health
STEP 2 Answer the online questionnaire as part of the GrassrootsHealth study
STEP 3 Using our educational materials and tools (such as our dose calculators), assess your results to determine if you are in your desired target range or if actions should be taken to get there
STEP 4 After 3-6 months of implementing your changes, re-test to see if you have achieved your target level(s)