Published on March 23, 2020

GrassrootsHealth recently posted an updated analysis of how much EPA and DHA are needed on a daily basis for most to achieve the recommended minimum Omega-3 Index of 8%. This analysis showed that almost 2000 mg per day would be needed for the majority of the population to reach that goal. There are many benefits to supplementing with omega-3s and ensuring an Omega-3 Index of at least 8%.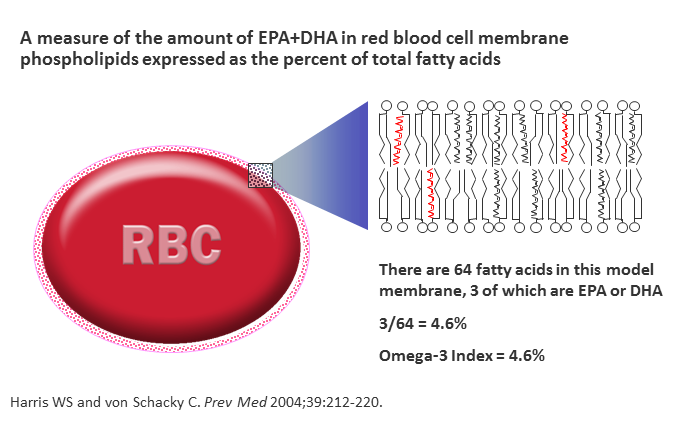 The above diagram illustrates that there are different types of fatty acids that make up the membrane of a red blood cell, and what an Omega-3 Index measures. The more EPA or DHA in the cell membrane, the higher the Omega-3 Index. When taking higher amounts of omega-3s, however, should people worry about previous speculation indicating that omega-3 fatty acids can increase the risk of bleeding?
Why May This Be Concerning?
When the omega-3 fatty acids EPA and DHA are consumed, the EPA substitutes AA (arachidonic acid) in the blood and platelet cell membranes. This, in turn, may act to decrease platelet aggregation, which is a necessary part of blood clotting.
A Systematic Review Determines that Fish Oil Supplements Do Not Increase Bleeding Risk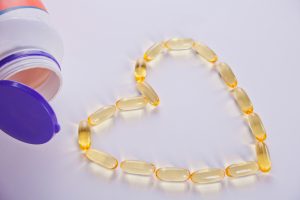 A review published by Begtrup et al. looked at 52 published papers on omega-3 supplementation in healthy subjects as well as in patients undergoing surgery. They found that, while supplementation with fish oil did reduce platelet aggregation, it did not increase bleeding in those undergoing surgery.
Among all the papers analyzed in this review, there was no consistent impact seen of fish oil supplementation on bleeding, and no reported increases in intra- or post-operative bleeding among surgery patients who had been taking fish oil supplements when compared to control groups. In fact, some surgery patients who had been supplementing with fish oils had less need for red blood cell transfusions. A separate meta-analysis by Mozaffarian et al. showed significantly less bleeding among 165 cardiac surgery patients who had supplemented with fish oils than those who had not.
Could Your Health Benefit from More Omega-3s?
Research supports a target Omega-3 Index level of 8% for a variety of health reasons – do you know your level? Test your Omega-3 Index now to make sure you are getting enough omega-3s for your ongoing health!
Make sure you also know your vitamin D level, and take steps to keep it within a target of 40-60 ng/ml or 100-150 nmol/L! Through GrassrootsHealth Nutrient Research Institute, you can also test your essential elements magnesium, copper, zinc and selenium, toxins such as lead, mercury and cadmium, as well as your omega-3 levels, inflammation levels and thyroid stimulating hormone (TSH) level. Find out your levels today! Log on to the test selection page (click the link below) to get your tests and see for yourself if your levels can be improved.
Make sure you track your results before and after, about every 6 months!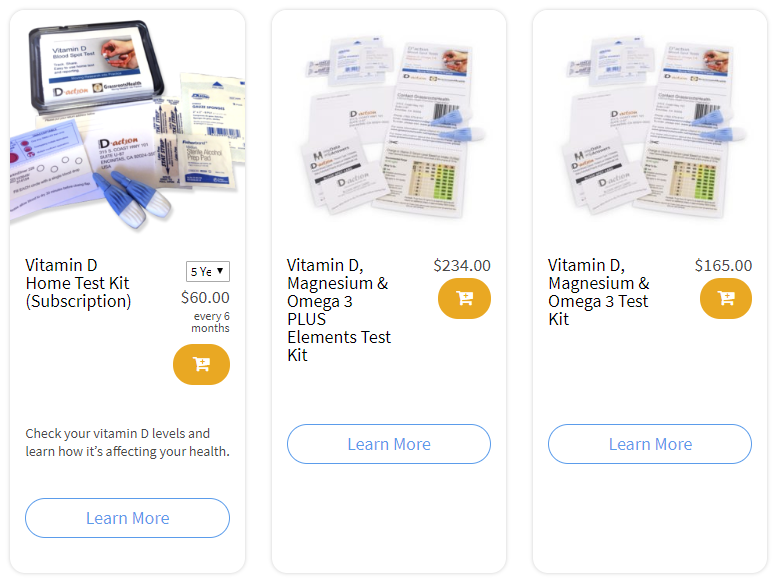 Click Here to Access the Test Page
How can I track my nutrient intake and levels over time?
To help you track your supplement use and nutrient levels, GrassrootsHealth has created the Personal Health Nutrient Decision System called


For each specific supplement, you can track what days you take it, how much, and many other details.  This will help you know your true supplemental intake and what patterns of use work for you to reach and maintain optimum nutrient levels.  Check it out today!
How Can You Use this Information for YOUR Health?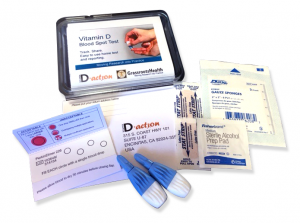 Having and maintaining healthy vitamin D and other nutrient levels can help improve your health now and for your future. Measuring is the only way to make sure you are getting enough!
STEP 1 Order your at-home blood spot test kit to measure vitamin D and other nutrients of concern to you, such as omega-3s, magnesium, essential and toxic elements (zinc, copper, selenium, lead, cadmium, mercury); include hsCRP as a marker of inflammation or HbA1c for blood sugar health
STEP 2 Answer the online questionnaire as part of the GrassrootsHealth study
STEP 3 Using our educational materials and tools (such as our dose calculators), assess your results to determine if you are in your desired target range or if actions should be taken to get there
STEP 4 After 3-6 months of implementing your changes, re-test to see if you have achieved your target level(s)