Published on January 8, 2019
Science Speaks: How much vitamin D do I need?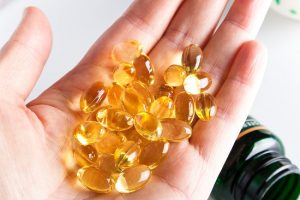 We often receive questions about how much supplemental vitamin D someone should take. The key indicator of vitamin D status is the nutrient level in the body, but since each person responds differently to a specific dose, everyone will have a personalized dose that enables their body to achieve at least 40 ng/ml (100 nmol/L). Our scientists' consensus recommended range of vitamin D status for general health is 40-60 ng/ml.
What dose will work for me?
Using your data from our health questionnaire, we plotted every participant's supplemental intake (dose) and nutrient level (response) and determined the average trend line. As you can see from the dose-response chart below, there is a considerable amount of variability in response to any specific dose. For example, among those taking 5000 IU/day of vitamin D, levels ranged from about 20 to 140 ng/ml.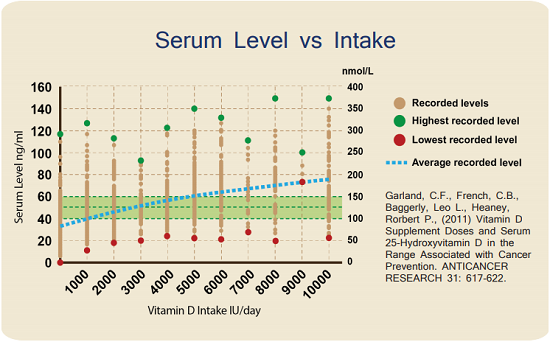 One of the main factors contributing to this variability is a person's weight. Therefore, we also calculated a dose-response curve adjusted to an individual weighing 150 pounds (68 kg), shown below. Indicated on the chart are supplemental dose amounts that ensure a specific proportion of the population achieves particular vitamin D levels.  For example, 55% of participants achieved at least 40 ng/ml with 2000 IU/day and 94% of participants achieved at least 40 ng/ml with 8000 IU/day. This chart can be used as a guide to select your starting dose.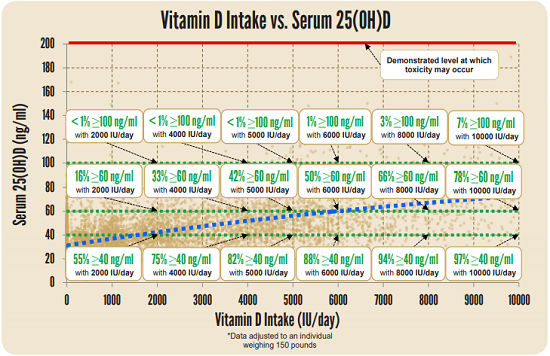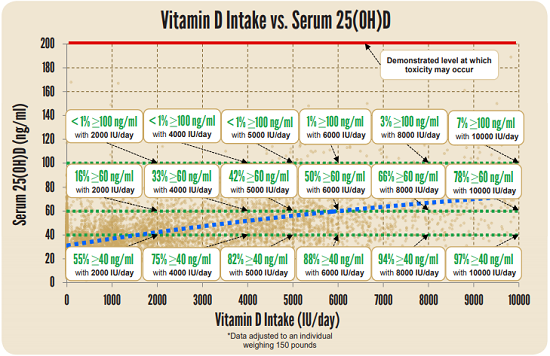 To further assist with knowing what dose you need, we created a chart indicating the additional vitamin D needed based on your current vitamin D level (below). You can also use the Vitamin D*calculator on our website.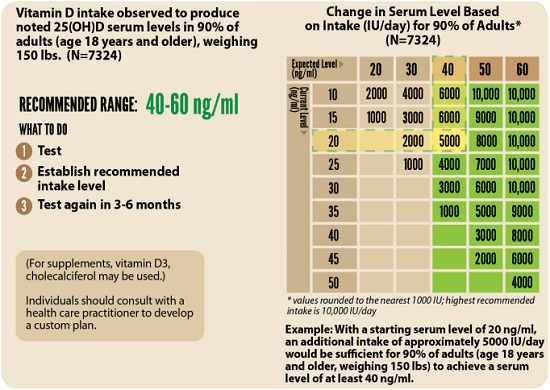 What other factors impact my vitamin D level?
On the dose-response chart above, you can see that individuals with no supplemental vitamin D intake do not have a 0 vitamin D level; in fact, the average trend line shows about 30 ng/ml. Vitamin D from other sources including sun exposure, indoor tanning, and diet (e.g. eggs and meat) have an impact on vitamin D levels.
Additionally, factors such as age, gender, smoking, alcohol use, ethnicity, exercise, the presence of some diseases, and having adequate intake of vitamin D co-factors (i.e. other nutrients that work with vitamin D such as magnesium and vitamin K) can influence dose-response. Also, taking vitamin D with a fatty meal has also been shown to increase absorbance by approximately 35%. However, much of the variability is likely due to intrinsic biological factors, such as differences in metabolism rates.
How do I know if it's working for me?
The only way to know how much supplemental intake you need is to test your levels. This will tell you whether the dose you are taking is the right dose for you to reach optimum nutrient levels. It is also important to check your nutrient levels at regular intervals because lifestyle changes may create a need for dosing adjustments.
To help you track your supplement use and nutrient levels, GrassrootsHealth has created an online tracking system called myData-myAnswers. For each specific supplement, you can track what days you take it, what time of the day, if it was with a meal, and many other details. This will help you know your true supplemental intake and what patterns of use work for you to reach and maintain optimum nutrient levels. Check it out today!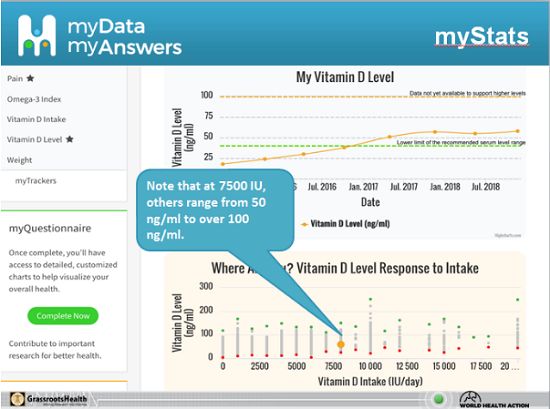 Click Here
How Can You Use this Information for YOUR Health?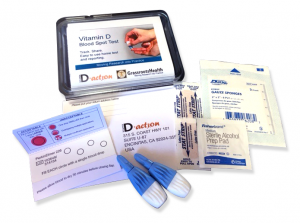 Having and maintaining healthy vitamin D and other nutrient levels can help improve your health now and for your future. Measuring is the only way to make sure you are getting enough!
STEP 1 Order your at-home blood spot test kit to measure vitamin D and other nutrients of concern to you, such as omega-3s, magnesium, essential and toxic elements (zinc, copper, selenium, lead, cadmium, mercury); include hsCRP as a marker of inflammation or HbA1c for blood sugar health
STEP 2 Answer the online questionnaire as part of the GrassrootsHealth study
STEP 3 Using our educational materials and tools (such as our dose calculators), assess your results to determine if you are in your desired target range or if actions should be taken to get there
STEP 4 After 3-6 months of implementing your changes, re-test to see if you have achieved your target level(s)