Published on August 29, 2019

The Natural Marketing Institute (NMI) recently released its 2019 Consumer Trends Report which is a comprehensive analysis of the dietary supplement market from the consumer perspective. The report identified four important market trends for today's consumers: 1) proof of effectiveness, 2) tangible value, 3) emerging attributes such as sustainability and organic ingredients, and 4) control of their own health with natural supplements that address underlying issues.
GrassrootsHealth is uniquely designed to contribute to three key consumer needs (we don't currently capture information on organic ingredients). With our initial focus on vitamin D, we have been able to use the data you provided on blood tests and questionnaires to demonstrate the tangible benefits and degree of effectiveness of having a vitamin D level of at least 40 ng/ml (100 nmol/L). Below are some of our key findings for vitamin D and health using YOUR data. Also, our method of providing nutrient status testing results and evidence-based information about target nutrient levels allows participants to take ownership over their health.
All Cancers Combined
In this analysis, data from GrassrootsHealth was pooled with data from a randomized controlled trial conducted by Dr. Joan Lappe, a scientist from GrassrootsHealth's panel of vitamin D experts. This pooled cohort had improved statistical power due to the larger sample size and provided a broader range of vitamin D levels than either cohort alone. We found that among women aged 55 years and older, those with vitamin D levels at or above 40 ng/ml had a 67% lower risk of cancer than those with levels less than 20 ng/ml (P=0.03), adjusted for age, BMI, smoking status, and calcium supplement intake.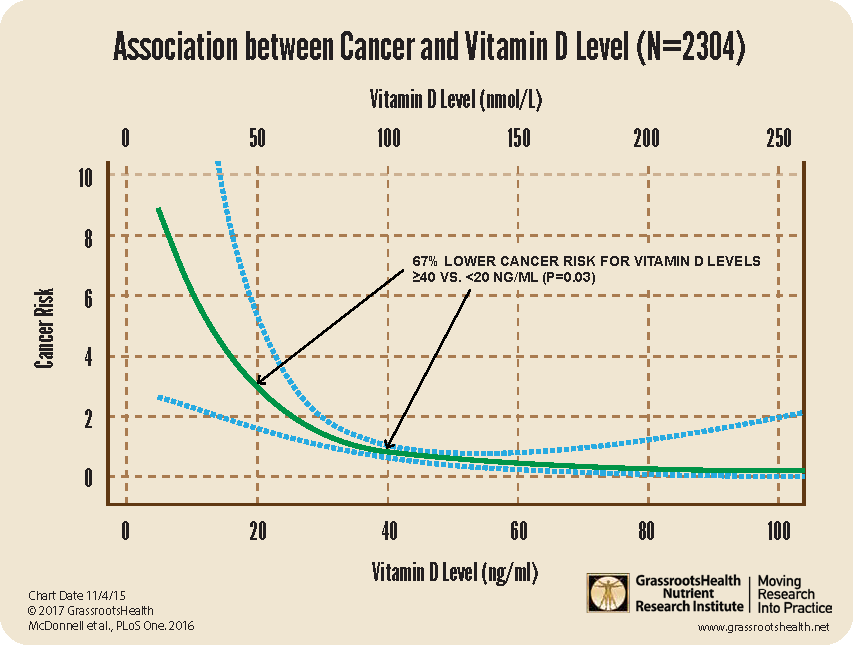 Breast Cancer
This analysis also used pooled data from GrassrootsHealth and two randomized controlled trials by Dr. Joan Lappe. We found that among women aged 55 years and older, those with vitamin D levels at or above 60 ng/ml (150 nmol/L) had an 80% lower risk of breast cancer than those with levels less than 20 ng/ml (50 nmol/L) (P=0.03), adjusted for age, BMI, smoking status, calcium supplement intake, and study of origin.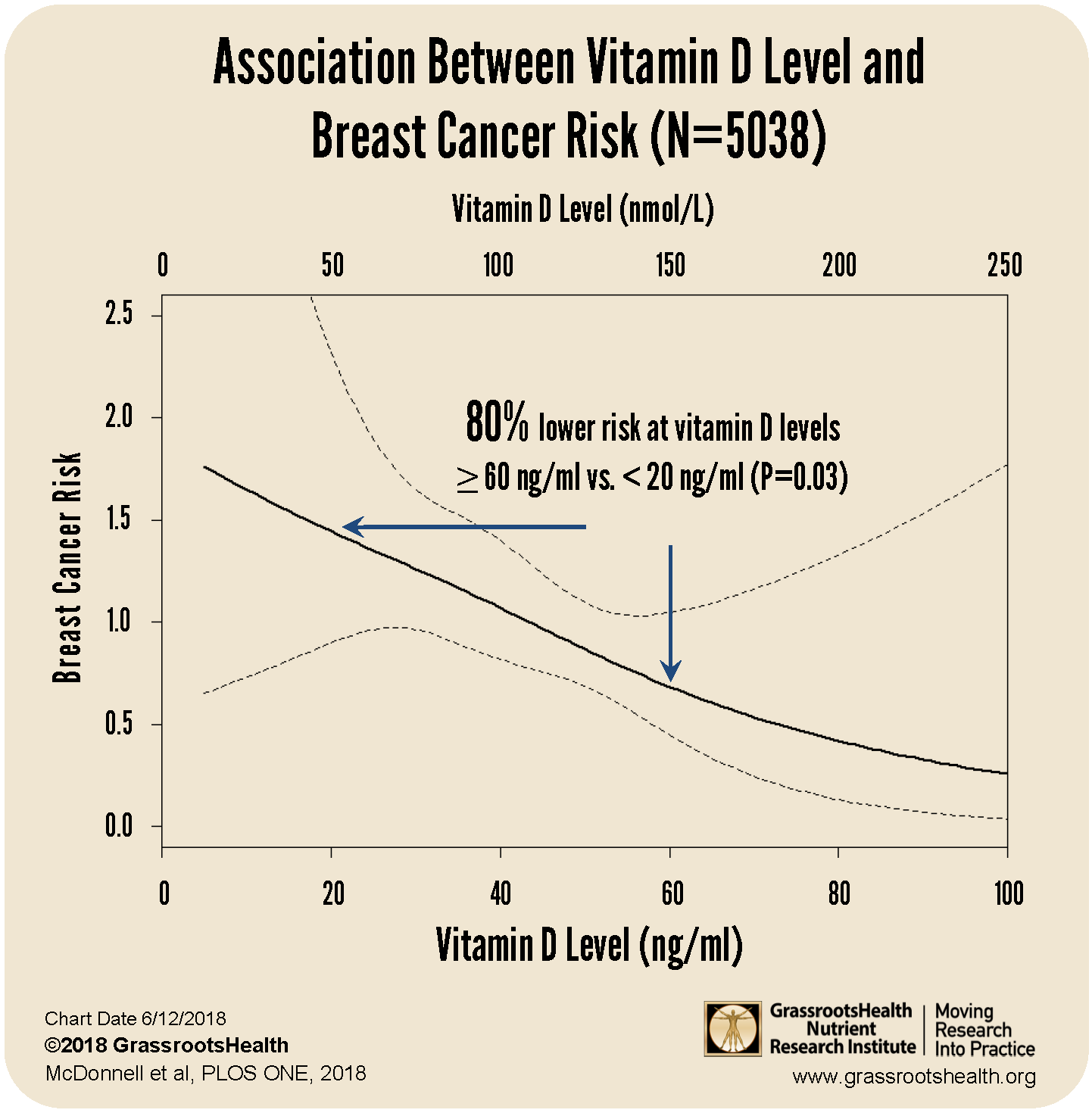 Type 2 Diabetes
This analysis compared type 2 diabetes incidence rates among U.S. participants aged 20 years and older in the GrassrootsHealth study (average vitamin D level = 41 ng/ml) and in the 2005-2006 National Health and Nutrition Examination Survey (NHANES) study (average vitamin D level = 22 ng/ml). We found that there was a 60% lower risk of type 2 diabetes in the GrassrootsHealth cohort compared to the NHANES cohort (P=0.01), adjusting for age, gender, race, smoking status, and BMI.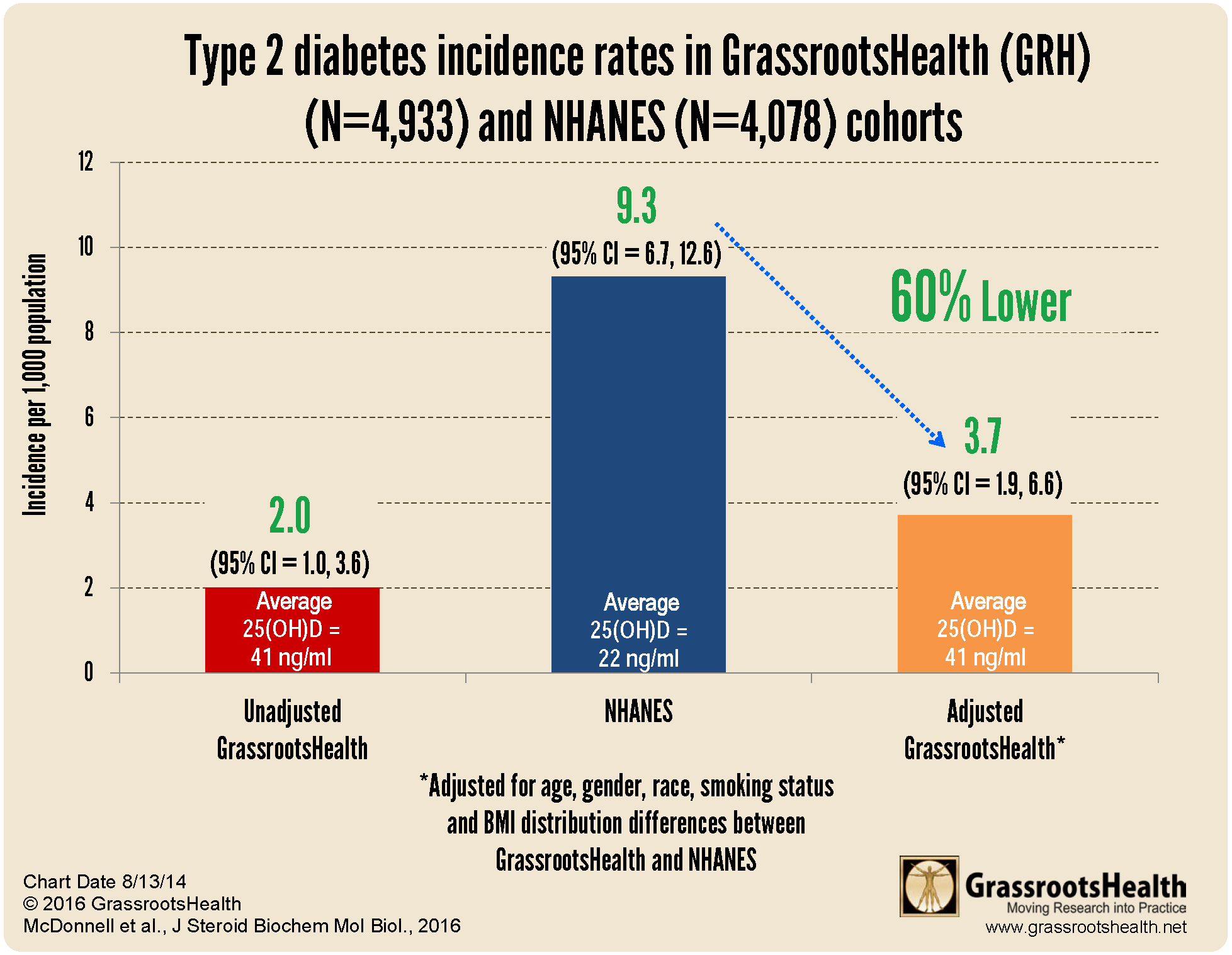 Kidney Stones
This analysis investigated the relationship between vitamin D status and kidney stones among GrassrootsHealth participants. We found that there was no association between vitamin D levels in the range of 20 to 100 ng/ml and kidney stone risk.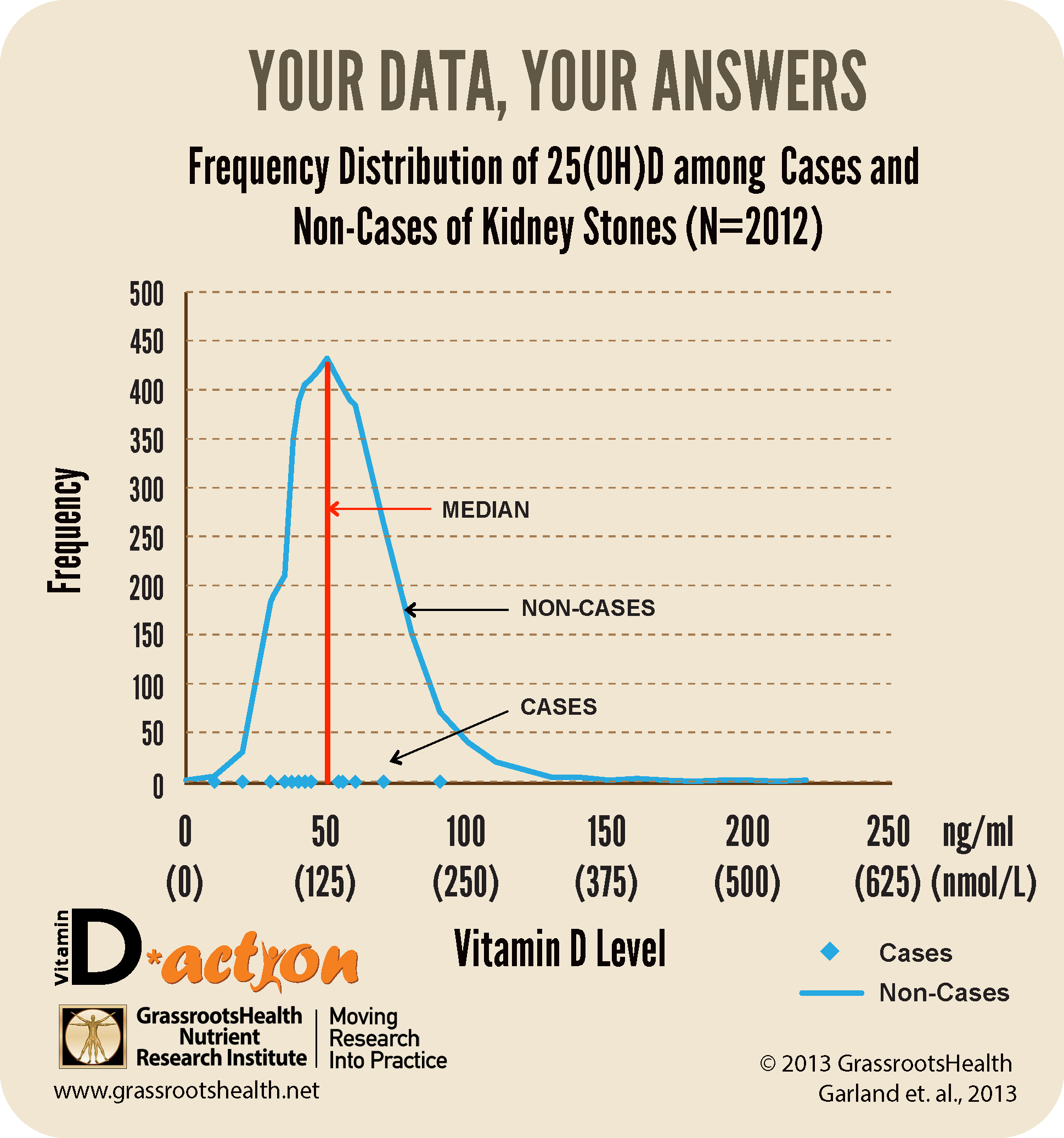 Are you getting enough vitamin D?
Testing your vitamin D level regularly and taking daily steps to keep it at a target level of 40-60 ng/ml (100-150 nmol/L) is important for all stages of health. Find out your levels today! Log on to the shop (click the link below) to get your tests and see for yourself if your level can be improved.
Make sure you track your results before and after, about every 6 months!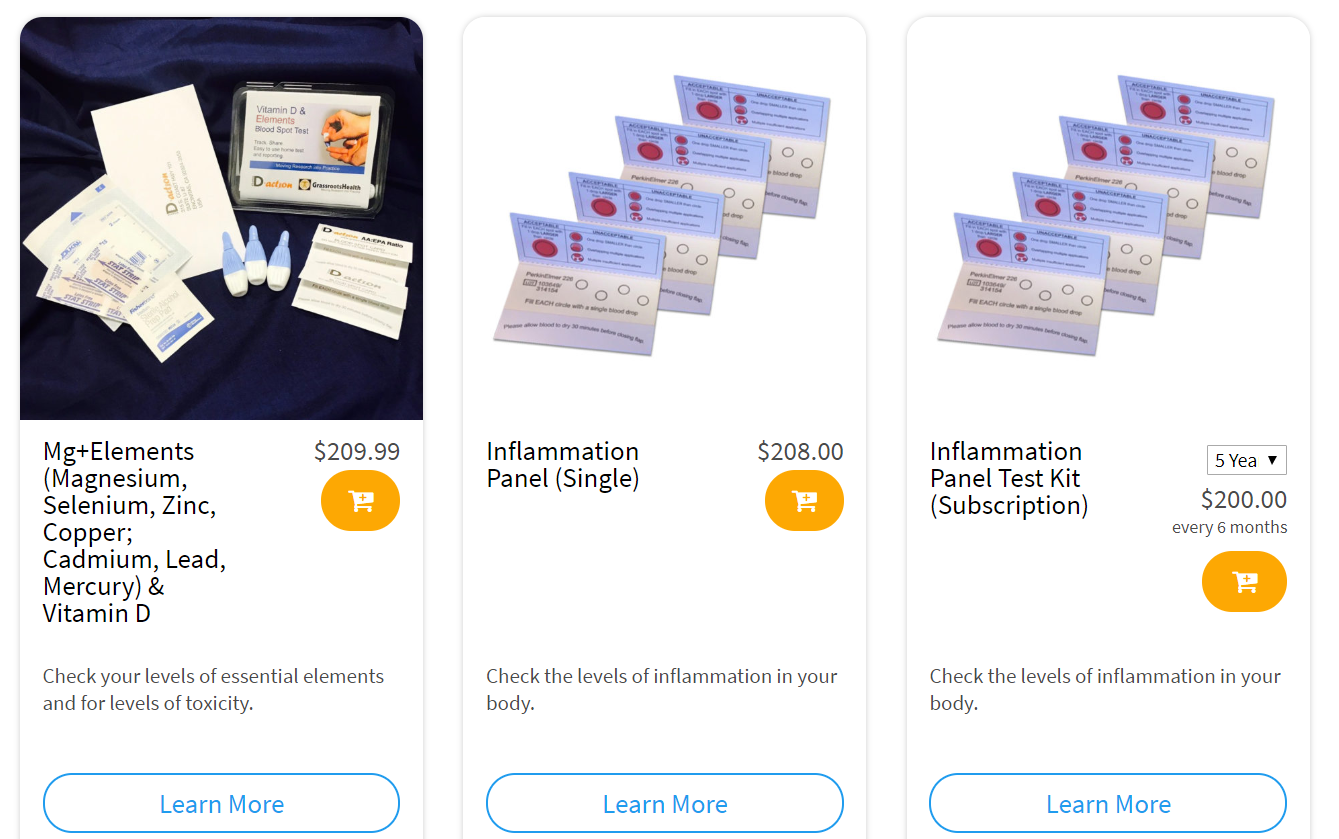 Click Here to Access the Shop Page
How can I track my nutrient intake and levels over time?
To help you track your supplement use and nutrient levels, GrassrootsHealth has created an online tracking system called myData-myAnswers. For each specific supplement, you can track what days you take it, how much, and many other details. This will help you know your true supplemental intake and what patterns of use work for you to reach and maintain optimum nutrient levels. Check it out today!
How Can You Use this Information for YOUR Health?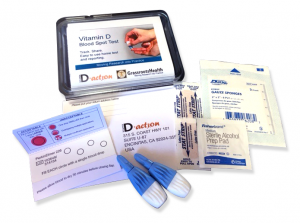 Having and maintaining healthy vitamin D and other nutrient levels can help improve your health now and for your future. Measuring is the only way to make sure you are getting enough!
STEP 1 Order your at-home blood spot test kit to measure vitamin D and other nutrients of concern to you, such as omega-3s, magnesium, essential and toxic elements (zinc, copper, selenium, lead, cadmium, mercury); include hsCRP as a marker of inflammation or HbA1c for blood sugar health
STEP 2 Answer the online questionnaire as part of the GrassrootsHealth study
STEP 3 Using our educational materials and tools (such as our dose calculators), assess your results to determine if you are in your desired target range or if actions should be taken to get there
STEP 4 After 3-6 months of implementing your changes, re-test to see if you have achieved your target level(s)