Published on November 18, 2022
The importance of vitamin D to help prevent and fight illnesses such as the respiratory infections that are becoming prevalent these winter months
Key Points
An analysis found that, compared to those with vitamin D levels less than 20 ng/ml, 43% fewer of those with levels at or above 60 ng/ml experienced flu-like illnesses; higher vitamin D levels were associated with a dose-response decrease in flu risk with concentrations ≥40 ng/ml being most protective
A study on RSV in infants found that babies with cord blood vitamin D levels below 20 ng/ml were 6.2 times more likely to have an infection compared to babies with cord blood levels greater than or equal to 30 ng/ml
A review using data from a total of 38 studies and 207,587 patients found a 118% increased risk of SARS-CoV-2 infection, a 138% increased risk of severe COVID-19 disease, and a 135% increased risk of death due to COVID-19 among those with low vitamin D levels versus higher vitamin D levels
---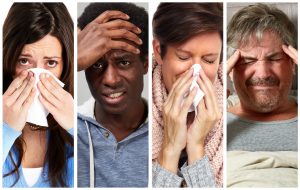 Are you concerned about the "Tridemic?" Did you know that when vitamin D is available in sufficient amounts, it is able to fulfill its multiple roles within the immune response that are especially influential in fighting respiratory infections, including the flu, RSV, and COVID? In fact, research has now shown that vitamin D has the ability to disrupt the function of 19 out of 27 (70%) SARS-CoV-2 proteins!
Read below about the important of vitamin D and other nutrients within the immune system, and how having higher vitamin D levels might help prevent and fight illnesses such as the respiratory infections that are becoming prevalent these winter months.
Flu Incidence and Vitamin D Levels
October is generally the month when we start to see an increase in cold and flu activity, with flu activity peaking between December and March. What might contribute to this pattern, and how might vitamin D factor into it? What can you do to decrease your chances of getting the cold or flu, or lessen its severity and symptoms if you do get it?
There are two basic reasons that contribute to increased flu activity in winter – 1, the influenza virus lives longer outside the human body when it is cold and dry, resulting in the flu season starting in late fall as cold air reduces the absolute humidity of the air, and 2, vitamin D levels tend to be lower in winter.
A GrassrootsHealth analysis showed that, compared to those with vitamin D levels less than 20 ng/ml, 43% fewer of those with levels at or above 60 ng/ml experienced flu-like illnesses. When adjusted for age and season, which were also significant predictors (P<0.05), those with levels at or above 60 ng/ml had a 27% lower risk of illness than those with levels less than 20 ng/ml (P=0.03). Higher vitamin D levels were associated with a dose-response decrease in flu risk with concentrations ≥40 ng/ml being most protective.
Severe Lower Respiratory Tract Infections Caused By Respiratory Syncytial Virus (RSV) In Infants Is Related To Vitamin D Level at Birth
Respiratory syncytial virus (RSV) is a common cause of cold-like symptoms, bronchitis, and pneumonia.  Infection in early life can be very serious, or even fatal. A set of researchers decided to study the role of vitamin D in utero on the incidence of these infections during the first year of life.
Mirjam E. Belderbos et al. enlisted mothers in a birth cohort in Utrecht, Netherlands. They studied 156 babies who were all born healthy and full term (37 weeks or later). Cord blood was taken at birth and a consultation was done with the parents between 1 and 3 weeks of age. Parents kept a daily log for one year to report any symptoms. If any cough or wheeze lasted for 2 days parents were instructed to get a sample via swab and send it to the lab. Physician reports were also used if the baby was brought to the doctor.  They found that babies with cord blood vitamin D levels below 20 ng/ml (50 nmol/L) were 6.2 times more likely to have an infection due to RSV compared to babies with cord blood levels greater than or equal to 30 ng/ml (75 nmol/L).
COVID 19: Double the Risk of Infection, Severity & Death with Lower Vitamin D Levels
A review using data from a total of 38 studies and 207,587 patients found a 118% increased risk of SARS-CoV-2 infection, a 138% increased risk of severe COVID-19 disease, and a 135% increased risk of death due to COVID-19 among those with low vitamin D levels versus higher vitamin D levels. The study also showed that vitamin D supplementation was associated with a 62% lower risk of severe COVID-19 disease and a 65% lower risk of death among those supplementing with vitamin D; an even higher risk reduction was found among patients who were older as well as those living at higher latitudes.  This is only one of many studies showing similar results on vitamin D and COVID-19.
Other Nutrients Can Also Affect Our Immune Health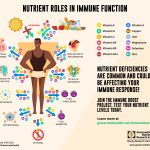 Ensuring adequate nutrient intake is important for a well-functioning immune system and an easy way to boost your protection. Learn more about the roles that other specific vitamins and minerals play in optimizing immune function, reducing inflammation, and lowering the risk of infections.
Measure Your Status of Vitamin D and Other Nutrients (Save 10% with Code DMonth22)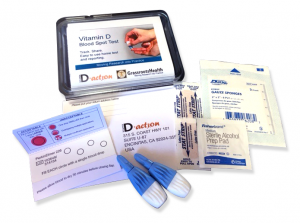 Having and maintaining healthy nutrient levels can help improve health, now and for your future. Choose which to measure, such as your vitamin D, omega-3s, and essential minerals including magnesium and zinc, by creating your custom home test kit today. Add hs-CRP to measure your level of inflammation as well.  Take steps to improve the status of each of these measurements to benefit your overall health. You can also track your own intakes, symptoms and results to see what works best for YOU.
Enroll and test your levels today, learn what steps to take to improve your status of vitamin D (see below) and other nutrients and blood markers, and take action! By enrolling in the GrassrootsHealth projects, you are not only contributing valuable information to everyone, you are also gaining knowledge about how you could improve your own health through measuring and tracking your nutrient status, and educating yourself on how to improve it.
How Can You Use this Information for YOUR Health?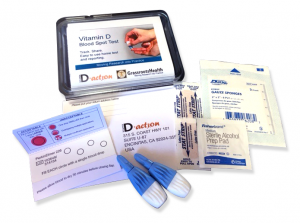 Having and maintaining healthy vitamin D and other nutrient levels can help improve your health now and for your future. Measuring is the only way to make sure you are getting enough!
STEP 1 Order your at-home blood spot test kit to measure vitamin D and other nutrients of concern to you, such as omega-3s, magnesium, essential and toxic elements (zinc, copper, selenium, lead, cadmium, mercury); include hsCRP as a marker of inflammation or HbA1c for blood sugar health
STEP 2 Answer the online questionnaire as part of the GrassrootsHealth study
STEP 3 Using our educational materials and tools (such as our dose calculators), assess your results to determine if you are in your desired target range or if actions should be taken to get there
STEP 4 After 3-6 months of implementing your changes, re-test to see if you have achieved your target level(s)