Published on October 4, 2019

In our last post about cold and flu season approaching, we reviewed similarities between months with the highest flu activity and vitamin D levels in a general population, as well as the risk reduction in cold and flu incidence compared to vitamin D levels that have been observed in the GrassrootsHealth cohort. Today, we provide evidence that supports the usefulness of vitamin D in helping to reduce the risk of getting the flu and improve flu outcomes.
How could vitamin D help prevent the flu?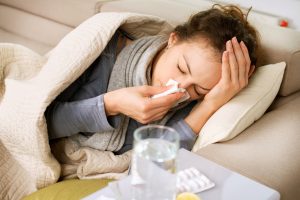 In the paper, "On the epidemiology of influenza," authors point to evidence that the innate immune system depends on vitamin D to activate several genes involved in cellular protection against pathogens, such as the influenza virus, when exposed to microbes. It is through this process that antimicrobial peptides (AMPs), including cathelicidin, are produced, reducing the risk of influenza infection. This is explained in the section – Vitamin D, innate immunity, and influenza.
Dr. Carlos Camargo explains the connection
In the video below, Dr. Carlos Camargo presents the scientific evidence connecting vitamin D to upper respiratory infections, including the flu, common cold, and pneumonia (which will be covered in our next post in more detail). This video, along with its follow-up question and answer session, provides must-know information on the research available, how to interpret it, and how to use the information for your own health decisions.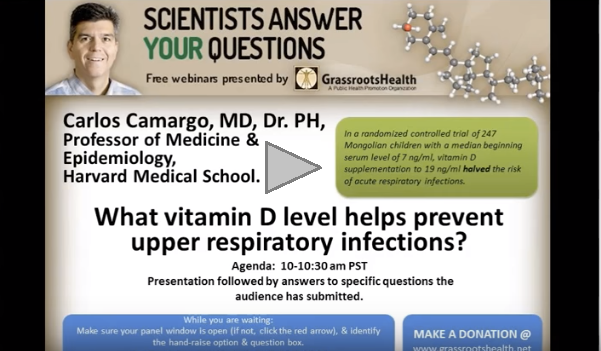 What does the research say about vitamin D and the flu?
That vitamin D is effective in reducing the risk of the flu has been demonstrated in several trials.
In a post hoc analysis of influenza and colds developed by postmenopausal African American women living on Long Island, NY there was a much lower incidence of colds and flu for those receiving vitamin D versus placebo. At the start of the trial, the average vitamin D level was 19 ng/ml (47 nmol/l). During the three year study, there were 30 respiratory tract infections in 312 person-years on the placebo, eight infections in 208 person-years on 800 IU/day vitamin D, but only one case in 104 person-years for those taking 2000 IU/day. The achieved vitamin D level of the placebo group did not change significantly throughout the study, while those given vitamin D had an average level of 28 ng/ml (70 nmol/L) after 3 months at 800 IU/day and 35 ng/ml (87 nmol/L) after 3 months at 2000 IU/day. Compared to the placebo group, those taking 2000 IU/day saw a 90% reduced risk of respiratory infections.
A trial in Japan involving 167 school children aged 6-15 years taking 1200 IU/day or a placebo found those children taking vitamin D had a significant 40% reduced risk of influenza A infection (no effect was found for influenza B). However, for those who had not been taking vitamin D prior to enrolling in the trial, the reduction was 64%. Unfortunately, starting or ending vitamin D levels were not measured in this trial. These measurements are important as there is a six-fold variability in vitamin D levels based on supplement amount.
In a study on the 1918-1919 pandemic influenza, which was a type A strain, case fatality rates were significantly lower in U.S. states in the south and west, which have higher UVB doses in summer.
The research mentioned above demonstrates that, in the range from roughly 20 to 50 ng/ml (50 to 125 nmol/L), as vitamin D levels increase, the risk of influenza virus infection decreases for children and the elderly.
Is your vitamin D level in the range to help reduce your risk of getting the flu?
Through GrassrootsHealth Nutrient Research Institute, you can measure and track your level of vitamin D and other nutrients to help determine if your supplements, diet, and other sources are having the effect you would like on your resulting nutrient status. Testing levels of vitamin D and taking daily steps to keep it at a target level of 40-60 ng/ml (100-150 nmol/L) is important for many aspects of health. Find out your levels today! Log on to the shop (click the link below) to get your tests and see for yourself if your level can be improved.
Make sure you track your results before and after, about every 6 months!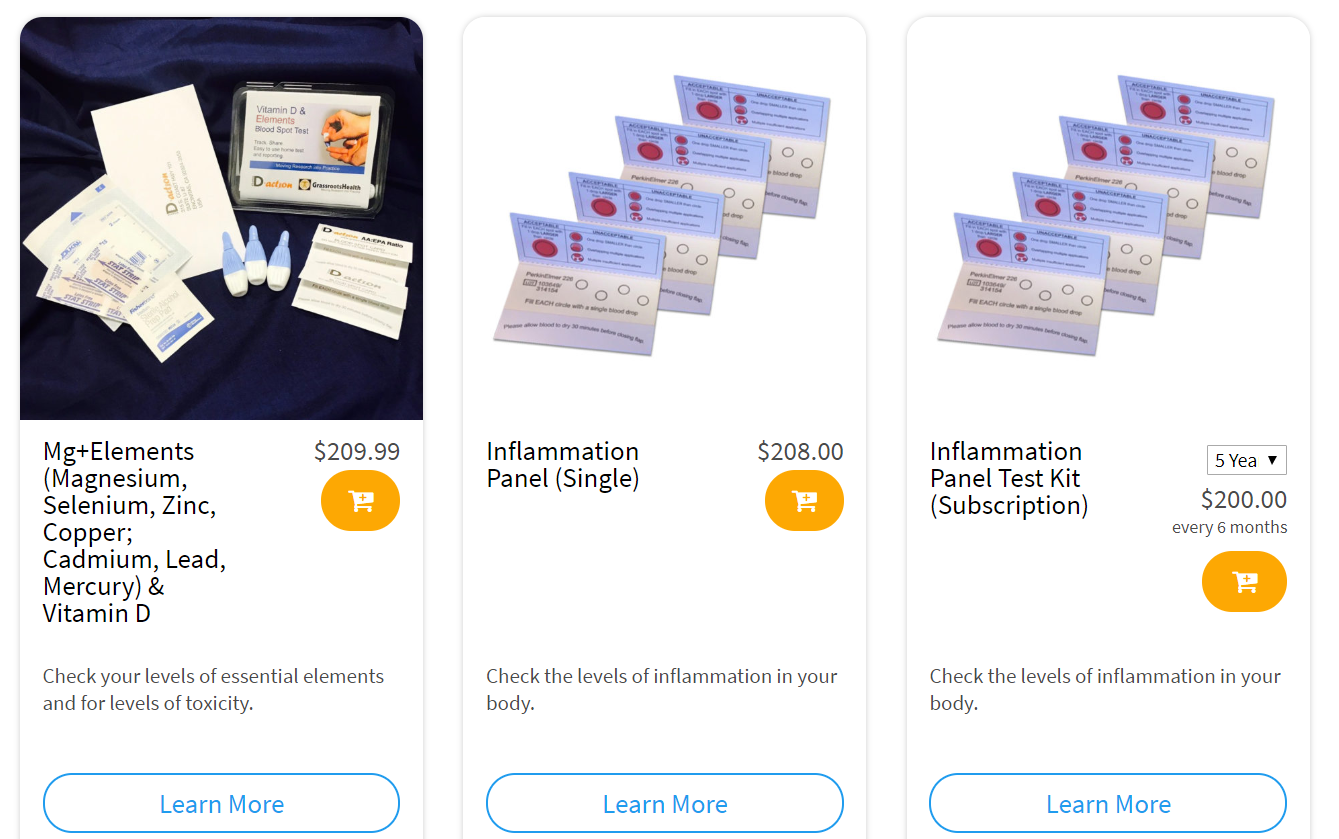 Click Here to Access the Shop Page
How can I track my nutrient intake and levels over time?
To help you track your supplement use and nutrient levels, GrassrootsHealth Nutrient Research Institute has created an online tracking system called myData-myAnswers. For each specific supplement, you can track what days you take it, how much, and many other details. This will help you know your true supplemental intake and what patterns of use work for you to reach and maintain optimum nutrient levels. Check it out today!
How Can You Use this Information for YOUR Health?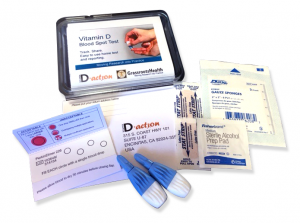 Having and maintaining healthy vitamin D and other nutrient levels can help improve your health now and for your future. Measuring is the only way to make sure you are getting enough!
STEP 1 Order your at-home blood spot test kit to measure vitamin D and other nutrients of concern to you, such as omega-3s, magnesium, essential and toxic elements (zinc, copper, selenium, lead, cadmium, mercury); include hsCRP as a marker of inflammation or HbA1c for blood sugar health
STEP 2 Answer the online questionnaire as part of the GrassrootsHealth study
STEP 3 Using our educational materials and tools (such as our dose calculators), assess your results to determine if you are in your desired target range or if actions should be taken to get there
STEP 4 After 3-6 months of implementing your changes, re-test to see if you have achieved your target level(s)