Published on June 15, 2023

Save 15% on orders of $100 or more with our Celebration Sale, celebrating Father's Day and our founder Carole Baggerly's Birthday!
To celebrate Father's Day and our founder Carole Baggerly's birthday, we are offering 15% off our home test kits on orders of $100 or more! See where your vitamin D, omega-3, and other nutrient levels are at while enjoying a healthy and fun summer! Include other measurements to gain insight on what else could be addressed to help improve overall health, energy, and wellbeing.
Take advantage of this special offer to measure your levels with
15% OFF HOME TEST KIT ORDERS OF $100 OR MORE*
with code CELEBRATE
Hurry! This offer is available now until Tuesday, June 20th, 2023 at 11.59PM PST.*
(Offer not valid on the T1D Prevention Test Kit or with any other offers)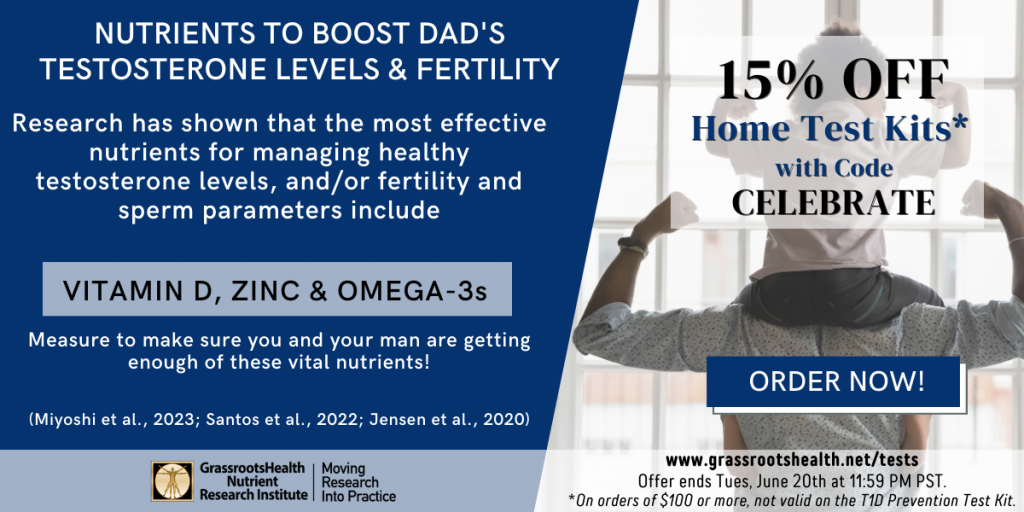 ---
Boost Dad's Testosterone Levels by Addressing Specific Nutrients
Measuring levels of specific nutrients, such as vitamin D, omega-3s and zinc, can offer insights on steps to take to help improve testosterone levels as well as overall reproductive, physical and mental health for men (and women too).
Research shows that the following nutrients are especially important for healthy testosterone levels in men:
VITAMIN D
OMEGA-3s
Men supplementing with omega-3 fish oils were found to have higher semen volumes and sperm count, larger testicular size, and improved hormone levels. These findings were stronger among men who had been supplementing longer, demonstrating a dose-response relationship between omega-3 fish oils and men's reproductive health. (Santos et al., 2022; Jensen et al., 2020)
ZINC
A 2022 review by Santos et al. evaluated the current research on nutraceuticals and lifestyle modification approaches to determine those most effective for managing healthy testosterone levels, as well as fertility and sperm parameters. Among all of the functional nutrients and nutraceuticals reviewed, the following showed the best results:
Zinc
Vitamin D
L-arginine
Mucuna
Ashwagandha
The authors also concluded that omega-3 fatty acids improved fertility and sperm parameters among men with infertility. Important lifestyle modifications included getting adequate sleep, exercise, and maintaining a healthy weight.
---
Through GrassrootsHealth, you can also measure
BALANCED OMEGA-6s & OMEGA-3s
The AA:EPA ratio and Omega-6:3 ratio are measures of pro/anti-inflammatory fatty acids; knowing these ratios can help you take more specific steps towards achieving lower levels of inflammation through diet and supplements
MAGNESIUM PLUS ESSENTIAL & TOXIC ELEMENTS
Magnesium deficiency is a contributor to health problems such as musculoskeletal pain, atrial fibrillation, stroke, heart failure, preeclampsia, bone health, mental, emotional & behavioral disorders, diabetes, and even vitamin D deficiency
Choose to measure additional elements such as Selenium, Zinc, Copper, Zinc:Copper Ratio and toxic elements Cadmium, Lead, and Mercury
DIRECTLY MEASURE INFLAMMATION LEVELS WITH hsCRP
Elevated CRP levels have been linked to metabolic syndrome, future heart attacks, stoke, peripheral arterial disease, and the development of diabetes
MEASURE YOUR METABOLIC HEALTH WITH HbA1c
HbA1c is a measure of how healthy average blood sugar levels have been in the recent few months, and is a better representation of blood sugar health than a single glucose measurement
Higher levels of HbA1c are associated with higher levels of inflammation, a higher risk of metabolic syndrome, diabetes, and cardiovascular disease
THYROID STIMULATING HORMONE (TSH)
Measure your TSH levels as an indicator of thyroid health
CHECK YOUR TYPE 1 DIABETES AUTOANTIBODY STATUS
T1D Autoantibodies are immunologic markers of the process that can cause type 1 diabetes
The presence of these autoantibodies can indicate an autoimmune response against the cells of the pancreas, and is strongly associated with the development of T1D

---
Make Sure You Are Getting Enough of these VITAL Nutrients – Measure Today!
Build your custom kit by adding your choice of the options above, or choose from our top selling test combinations:
| Inflammation Panel | Vitamin D & Omega-3 Index | Immune Boost Panel |
| --- | --- | --- |
| | | |
| | | |
---
ENSURE HEALTHY LEVELS BY TESTING TODAY
Having and maintaining healthy nutrient levels can help improve your health now and for your future. Choose which nutrients to measure with your vitamin D, such as your omega-3s and essential minerals including magnesium and zinc, by creating your custom home test kit today with our special offer. Take steps to improve the status of each of these measurements to benefit your overall health. With measurement you can then determine how much is needed and steps to achieve your goals. You can also track your own intakes, symptoms and results to see what works best for YOU.
*Offer valid until Tuesday, June 20th, 2023 at 11.59PM PST. Valid on all at-home test kits from GrassrootsHealth except the T1D Prevention Test Kit; enrollment included. Not cumulative with other coupon codes.
Take steps for your own health to ensure optimal vitamin D levels – for your family and loved ones as well – by measuring at home today.
How Can You Use this Information for YOUR Health?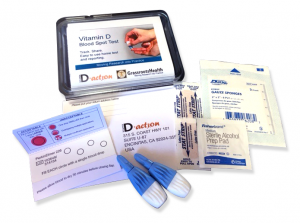 Having and maintaining healthy vitamin D and other nutrient levels can help improve your health now and for your future. Measuring is the only way to make sure you are getting enough!
STEP 1 Order your at-home blood spot test kit to measure vitamin D and other nutrients of concern to you, such as omega-3s, magnesium, essential and toxic elements (zinc, copper, selenium, lead, cadmium, mercury); include hsCRP as a marker of inflammation or HbA1c for blood sugar health
STEP 2 Answer the online questionnaire as part of the GrassrootsHealth study
STEP 3 Using our educational materials and tools (such as our dose calculators), assess your results to determine if you are in your desired target range or if actions should be taken to get there
STEP 4 After 3-6 months of implementing your changes, re-test to see if you have achieved your target level(s)