Published on October 20, 2020


Breast Cancer Risk 80% Lower with Higher Vitamin D (60+ ng/ml) – Part 4 (Lowe et al.)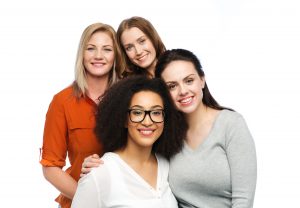 In a previous post we showed that breast cancer risk was 80% lower with vitamin D levels at or above 60 ng/ml (150 nmol/L) compared to less than 20 ng/ml (50 nmol/L). This analysis was published by GrassrootsHealth in 2018 using data from the GrassrootsHealth Breast Cancer Prevention Study cohort and two randomized controlled trials, led by Dr. Joan Lappe at Creighton University. This analysis wasn't the only study to show an approximate 80% risk reduction with vitamin D levels above 60 ng/ml. In today's blog we will summarize the findings from Lowe et al., a hospital-based case control study conducted in the United Kingdom.
Lowe Study Finds Similar Results
In this study, 179 breast cancer patients and 131 controls (women without breast cancer) had their vitamin D levels measured. The researchers found that women with 25(OH)D concentrations above 60 ng/ml (150 nmol/L) had an 83% lower risk of breast cancer than women with concentrations less than 20 ng/ml (50 nmol/L) (P<0.001).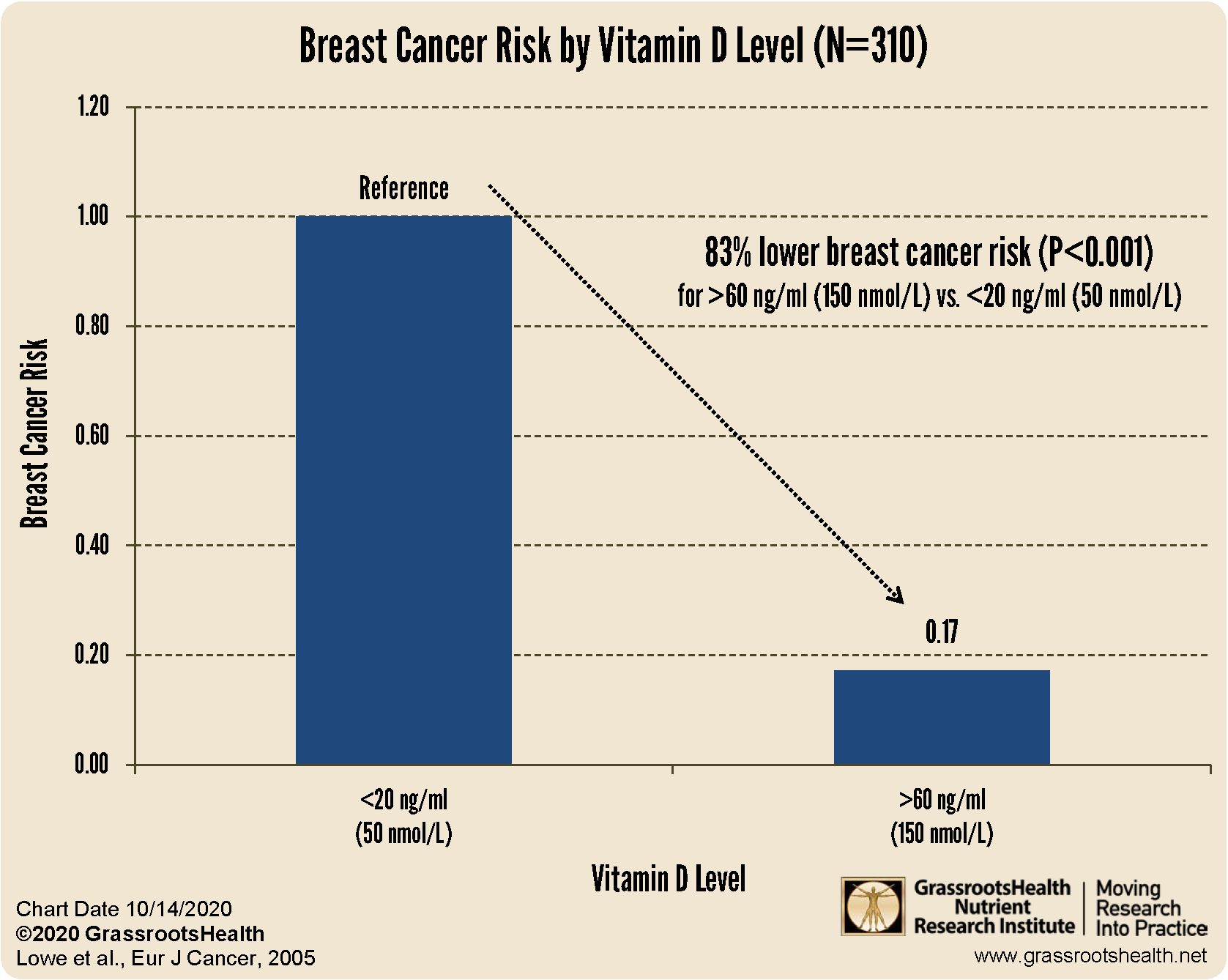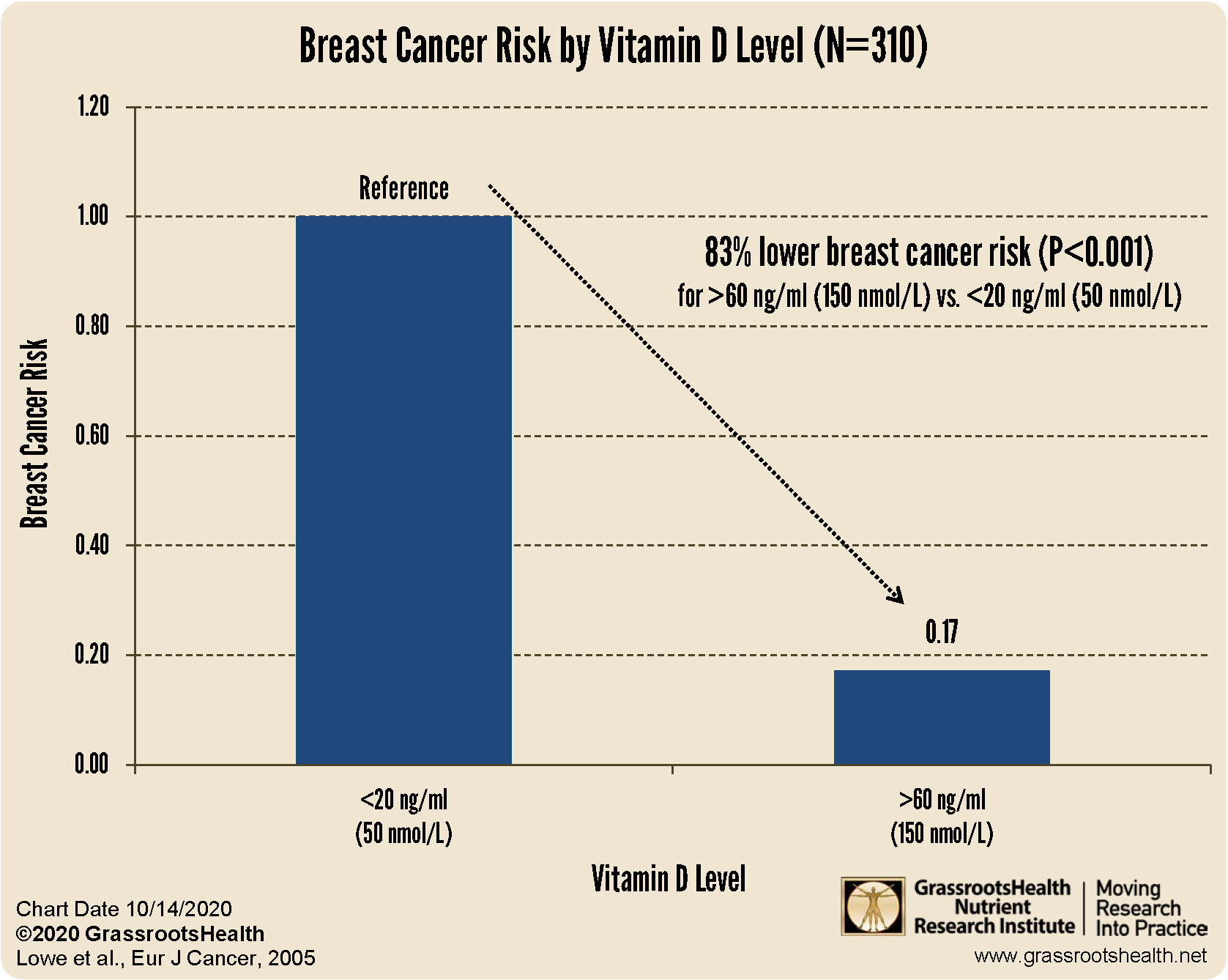 This similarity in findings emphasizes the importance of improving vitamin D status for breast cancer prevention, with levels at or above 60 ng/ml being the most protective!
Do you know your vitamin D level? Take action now to reach your target vitamin D level; start by finding out where your level is at today.
Many other studies have also been published showing a decreased risk of breast cancer associated with a higher vitamin D level! A summary of this research can be found on our Breast Cancer Prevention Study project page.
Stay tuned over the rest of the month of October for more information on vitamin D and other nutrients that may help reduce the risk of breast cancer.
Could Vitamin D Deficiency be Hindering Your Body's Ability to Fight Disease?
Nutrients work synergistically in order to carry out specific functions within the body. For example, we have recently discussed how different immune cells rely on a variety of nutrients, including vitamins D, C, B6, B12, zinc, and magnesium, in order to carry out their actions in an immune response. Without these necessary nutrients, immune function may be hindered.
Could a vitamin D or other nutrient deficiency be putting a damper on your immune response? Find out by testing your vitamin D, omega-3s, magnesium and other essential elements (including selenium), as well as your inflammation levels, with the new Immune Boost home test kit offered by GrassrootsHealth. Measuring levels is the only way to know if you are supporting your immune system and whether additional changes should be made, with supplementation, dietary changes, or both.
Enroll now with the Full Immune Boost Panel (which includes tests for vitamin D, Omega-3 Index, magnesium, zinc, selenium, copper, and hsCRP), and get 10% off when you use coupon code BoostTen at checkout.
What Does it Take YOU to Get Your D to 40 ng/ml (100 nmol/L)?
Did you know your health could be greatly affected by making sure you have a vitamin D level of at least 40 ng/ml (100 nmol/L)? Help us help you.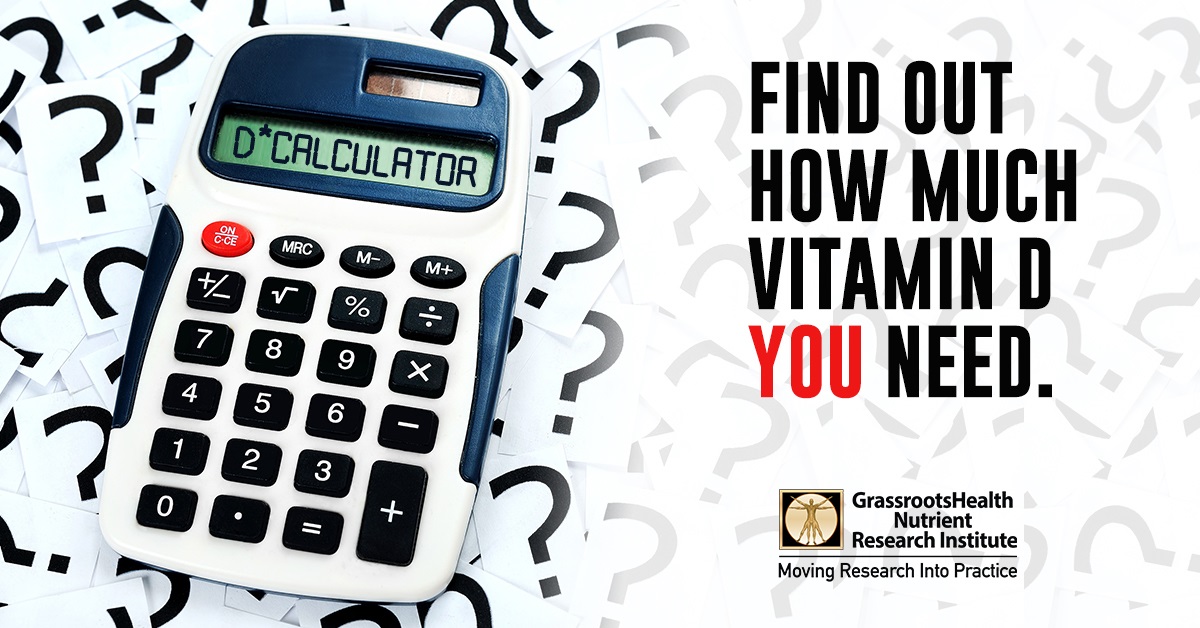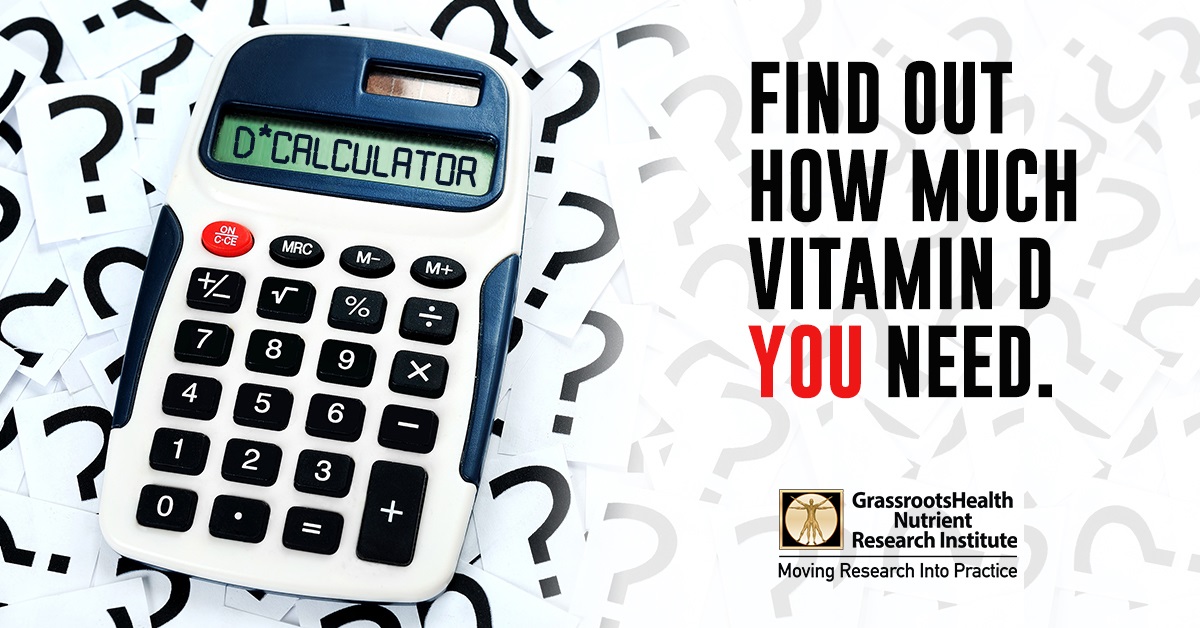 STEP 1 – Do you know what your vitamin D level is? If not, be sure to test today to find out.
STEP 2 – Determine your target level. Are you at your target level? Experts recommend a level of at least 40-60 ng/ml (100-150 nmol/L).
STEP 3 – Need to boost your level? Use the D*calculator to see how much vitamin D it may take to reach your target. Opt for the Loading Dose for a quicker boost.
STEP 4 – Optimize how your body absorbs and utilizes vitamin D with co-nutrients and these simple steps.
STEP 5 – Re-Test! This is an important step to make sure you have reached your target level, and to ensure you are not taking too much! Re-testing after 3-4 months is recommended.
STEP 6 – Adjust, Repeat…
How can I track my nutrient intake and levels over time?
To help you track your supplement use and nutrient levels, GrassrootsHealth has created the Personal Health Nutrient Decision System called


For each specific supplement, you can track what days you take it, how much, and many other details.  This will help you know your true supplemental intake and what patterns of use work for you to reach and maintain optimum nutrient levels. Check it out today!
How Can You Use this Information for YOUR Health?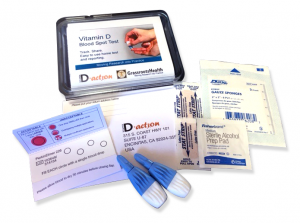 Having and maintaining healthy vitamin D and other nutrient levels can help improve your health now and for your future. Measuring is the only way to make sure you are getting enough!
STEP 1 Order your at-home blood spot test kit to measure vitamin D and other nutrients of concern to you, such as omega-3s, magnesium, essential and toxic elements (zinc, copper, selenium, lead, cadmium, mercury); include hsCRP as a marker of inflammation or HbA1c for blood sugar health
STEP 2 Answer the online questionnaire as part of the GrassrootsHealth study
STEP 3 Using our educational materials and tools (such as our dose calculators), assess your results to determine if you are in your desired target range or if actions should be taken to get there
STEP 4 After 3-6 months of implementing your changes, re-test to see if you have achieved your target level(s)