Published on January 16, 2023


Gain essential knowledge about vitamin D with this e-course, part of an award-winning project proven to help increase confidence when discussing vitamin D needs and concerns for those within your personal and professional sphere of influence
Did you know that vitamin D deficiency is (still) the most common nutritional deficiency in the world?
Help end the vitamin D deficiency epidemic by educating others on the importance of vitamin D for health, the steps each person needs to take in order to achieve their target vitamin D level, and gain the basic knowledge needed to answer the most common questions you might be asked about vitamin D.
A new online educational course titled Moving Vitamin D Research into Practice: Addressing Vitamin D Deficiency to Improve Patient Outcomes, Population Health & Reduce Costs is now available to anyone, along with the Vitamin D Best Practices Toolkit, for $29.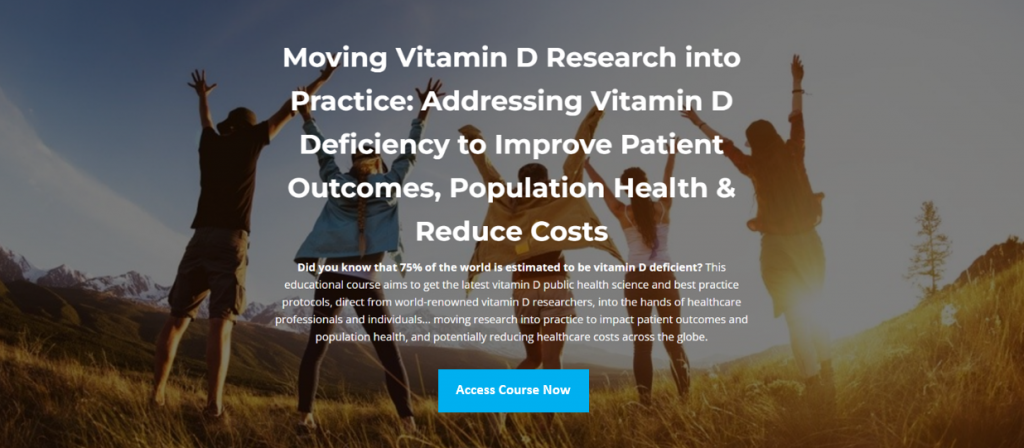 What You Get with the Course
This educational course was the core component of an award-winning presentation (see below). It aims to get the latest vitamin D public health science and best practice protocols, direct from world-renowned vitamin D researchers, into the hands of healthcare professionals and individuals… moving research into practice to impact individual and patient outcomes and population health, and potentially reducing healthcare costs across the globe.
What you'll get:
Access to the Vitamin D*Education course
Access to the Vitamin D Best Practices Toolkit
Approved for 1.5 CNE and CPEU for nurses and dietitians
Pre-requisite for the Vitamin D*Practitioner Certification
Learn the essentials about vitamin D, its role in health, how much is needed for each individual, how to achieve and maintain optimal levels, why it is important, and so much more.
Add-on to the Vitamin D*Education Course: Become a Certified D*Practitioner!
Showcase yourself as an expert in vitamin D with this certification and a listing on the Vitamin D*practitioners page! A passing score of the Vitamin D*Education course post-test is required.
What you'll get upon passing the Vitamin D*education course post-test:
A Vitamin D*Practitioner Certificate from GrassrootsHealth
A listing on the grassrootshealth.net Vitamin D*Practitioner webpage
Access to other experts through the Vitamin D*Practitioner Forum, a community of other certified D*practitioners, experts and advisors for added professional support
Did you already pass the Vitamin D*Education course? 
Add the Vitamin D*Certification Here
Feedback from Course Participants
"I was impressed with the quantity and quality of resources. Thank you for sharing! I plan to use some of the materials in my teaching practice."
"Thought the course was well done, format easy to follow, provided actionable steps."
"The course contained a ton of research-based information and resources. I was amazed at the data and how nicely it was compiled in this format. Well done!! Although I haven't had much time yet to pass along the information since taking the course, I definitely plan to!"
Part of an Award-Winning Presentation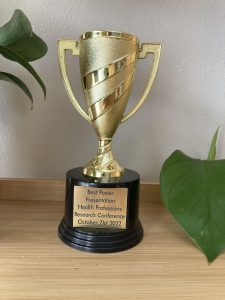 The educational content in this course is presented by GrassrootsHealth Nutrient Research Institute in collaboration with Beth S. Sanford, DNP, MSN-Ed, RN, ACN, CLC, and the NDNA and NDAND. Course content was reviewed and approved by senior vitamin D researchers and scientists.
The course was developed as part of Dr. Sanford's Doctor of Nursing Practice (DNP) doctoral translational research project to implement vitamin D research findings into public health and practice. Preliminary results of the project were disseminated at the 2022, Fifteenth National Doctors of Nursing Practice Conference in Tampa, FL, "Collaborating to Improve Healthcare Outcomes." Results found that completion of a vitamin D toolkit, which included this e-course, a translational model, e-tools, and key resources (such as those found in the included Toolkit) significantly increased knowledge, confidence, and translation to practice and sphere of influence among nurses and dietitians.
Final results of this project were disseminated at the Health Professions Collaboration Conference: "Bridging Research with Practice," hosted by the North Dakota Nurses Association, where the project won the award for Best Poster Presentation.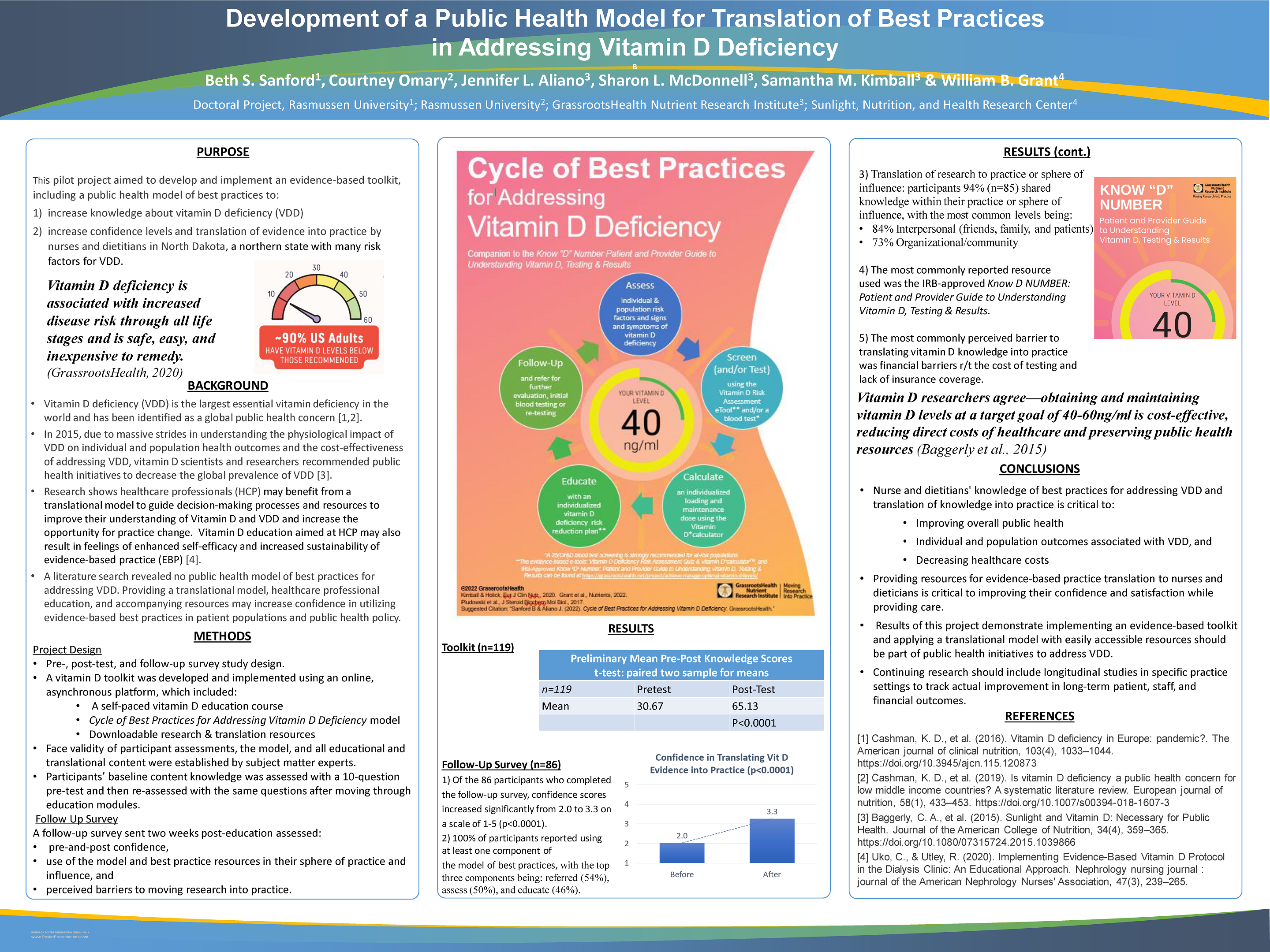 View the original translational research project paper here: (PDF) Development of a Public Health Model for Translation of Best Practices in Addressing Vitamin D Deficiency (researchgate.net)
Disclosures
No individual with the ability to control the content of this activity has any relevant financial relationship with ineligible companies to disclose.
This course has been approved for 1.5 CNE/CPEU.
Criteria for successful completion of this educational program are attendance of the entire activity, completion of an evaluation, completion of a pretest and post-test.
Nurses:
This nursing continuing professional development activity was approved for 1.5 CNE by the Montana Nurses Association, an accredited approver with distinction by the American Nurses Credentialing Center's Commission on Accreditation. Contact hour is available through 4/1/24.
Dietitians:
The Commission on Dietetic Registration, the Academy of Nutrition and Dietetics credentialing agency, will accept 1.5 CPEU for this self-study activity.
Are You Getting Enough Vitamin D & Other Health Boosting Nutrients?
Measuring our levels of vitamin D and other important nutrients and health markers can be considered one way to check-in with our health status and guide us towards the steps to take next in improving and supporting our health.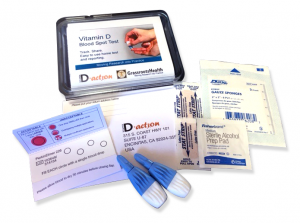 Having and maintaining healthy vitamin D levels and other nutrient levels can help improve your health now and for your future. Choose which to measure, such as your vitamin D, omega-3s, and essential minerals including magnesium and zinc, by creating your custom home test kit today. Take steps to improve the status of each of these measurements to benefit your overall health. You can also track your own intakes, symptoms and results to see what works best for YOU.
Enroll and test your levels today, learn what steps to take to improve your status of vitamin D (see below) and other nutrients and blood markers, and take action! By enrolling in the GrassrootsHealth projects, you are not only contributing valuable information to everyone, you are also gaining knowledge about how you could improve your own health through measuring and tracking your nutrient status, and educating yourself on how to improve it.
How Can You Use this Information for YOUR Health?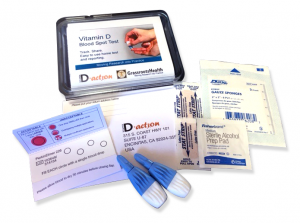 Having and maintaining healthy vitamin D and other nutrient levels can help improve your health now and for your future. Measuring is the only way to make sure you are getting enough!
STEP 1 Order your at-home blood spot test kit to measure vitamin D and other nutrients of concern to you, such as omega-3s, magnesium, essential and toxic elements (zinc, copper, selenium, lead, cadmium, mercury); include hsCRP as a marker of inflammation or HbA1c for blood sugar health
STEP 2 Answer the online questionnaire as part of the GrassrootsHealth study
STEP 3 Using our educational materials and tools (such as our dose calculators), assess your results to determine if you are in your desired target range or if actions should be taken to get there
STEP 4 After 3-6 months of implementing your changes, re-test to see if you have achieved your target level(s)