Published on October 3, 2017
In April 2016, GrassrootsHealth published a research paper which focused on vitamin D levels achieved and cancer incidence.
Why is this important? Because we have found, through our D*action members, that there is a six-fold variability in achieved serum levels. Really? Yes! That means that two people, both taking 5,000 IU/day, could be vastly different. Our study data has found that at 5,000 IU/day one person achieved a paltry 20 ng/ml (50 nmol/L) and another a whopping 120 ng/ml (300 nmol/L).
Who was involved with this paper?
GrassrootsHealth has four researchers on staff capable of analyzing and publishing study data. We can use data from our three population cohorts – D*action, Breast Cancer Prevention, and Protect our Children NOW! and have partnerships with leading researchers who allow us access to their study data. For this paper, we partnered with leading vitamin D and cancer researchers – Dr's Garland, Gorham, and Lappe as well as late GrassrootsHealth Research Director, Dr. Heaney.
Was this a new study? Where did the data come from?
For this analysis we combined data for women 55 and older from our GrassrootsHealth cohort (N = 1,135, median serum level = 48 ng/ml) and the cohort of a previously published randomized controlled trial (RCT) of vitamin D and calcium supplementation with respect to cancer (Read Lappe RCT paper; N= 1,169, median serum level = 30 ng/ml) and used the pooled cohort to investigate cancer incidence over time (median = 3.9 years).  Combining cohorts gave us a wider range of serum levels, more data, and thus improved statistical power. We looked at all invasive cancers combined, excluding skin cancer.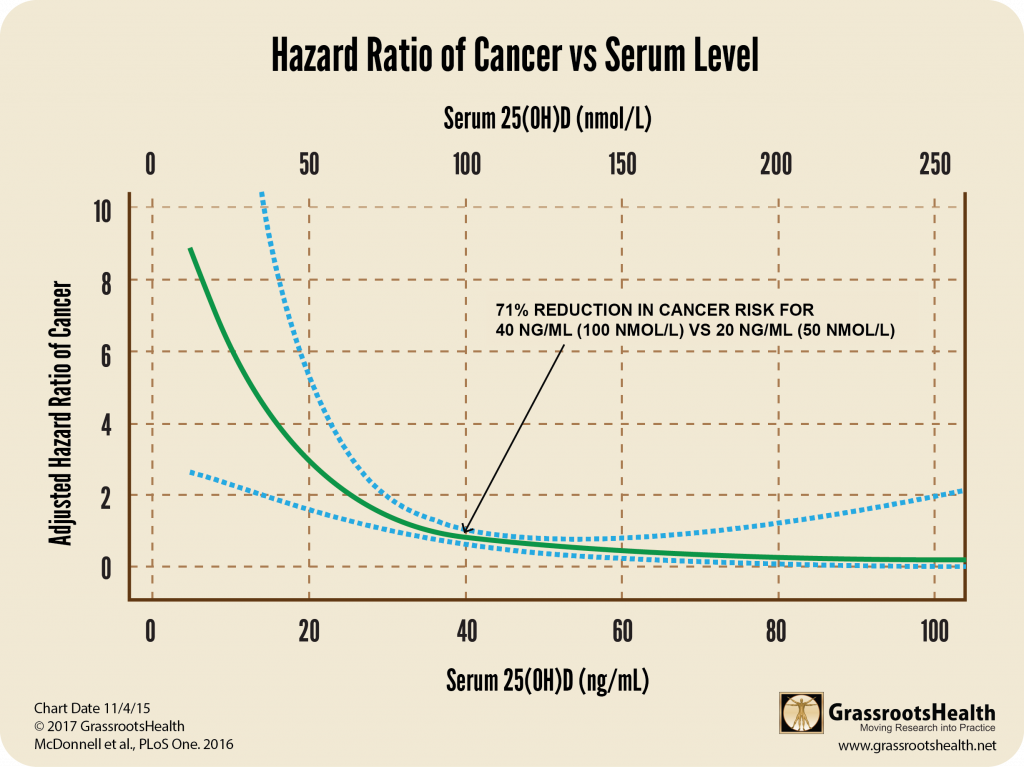 Using statistical analysis, we found that women with vitamin D serum levels greater than or equal to 40 ng/ml had a 71% lower risk of cancer than women with serum levels less than 20 ng/ml. In the graph above you can see that the greatest decrease in risk occurred between about 10 – 40 ng/ml. Calcium did not have any significant effect on cancer risk in this analysis.
Same data, another view
A different way to look at the data is through what a Kaplan-Meier plot which shows the proportion of cancer-free participants (so you want to be close to 1.0, or fully cancer-free) over time by their vitamin D level. Notice the group of participants at or above 40 ng/ml (100 nmol/L) are in a line significantly above the less than 20 ng/ml (50 nmol/L) line.

Future Studies
In order to change the standard of care and have consistent results, future studies should base their analysis on vitamin D status. They should analyze by vitamin D serum level, and not limit analysis to a treatment group or dosage and they should try to effect change over the complete response range (with overall cancer this seems to be between 10-40 ng/ml).
References
Serum 25-Hydroxyvitamin D Concentrations ≥40 ng/ml are Associated with >65% Lower Cancer Risk: Pooled Analysis of Randomized Trial and Prospective Cohort Study
Sharon L. McDonnell, MPH et al.
GrassrootsHealth
PLOS One
April 2016
Read Paper