Published on July 25, 2023

This video on 6 Benefits of Copper reviews why the body needs copper, what foods are high in copper, and signs that you may not be getting enough
Key Points
Copper has a wide range of health benefits, such as helping to keep bones, skin, nerves, and the immune system healthy and working properly; it is essential for the formation of collagen, a main component of connective tissue, and is therefore needed for heart and blood vessel function, skin integrity, wound healing, and bone strength
Symptoms of copper deficiency include anemia, premature greying of the hair, loss of bone and collagen, low white blood cells, decreased thyroid function, and hair loss
Since too much zinc can inhibit the absorption of copper and lead to deficiency, it is important to know the ratio between these two essential elements
---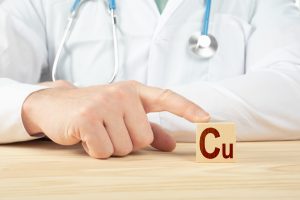 A recent post reviewed copper levels among GrassrootsHealth participants.  Among the 1,652 participants who had tested their copper levels, the average level of their most recent test was 0.92 mg/L which is in the higher end of the lab reference range (0.64-0.96 mg/L).
Copper has a wide range of health benefits, such as helping to keep bones, skin, nerves, and the immune system healthy and working properly. Copper is essential for the formation of collagen, a main component of connective tissue, and is therefore needed for heart and blood vessel function, skin integrity, wound healing, and bone strength. It is also necessary for iron absorption, conversion to its useable form, and transport around the body.
Featured Video: 6 Benefits of Copper
For a quick review of several key benefits of copper and signs of copper deficiency, check out this video by Dr. Eric Berg DC, or review the video summary below.
Watch Now
Video Summary
Taking too much zinc can deplete copper reserves; they are best taken together as part of a multi-mineral mixture
Copper helps connect neurons in the brain
Copper is needed for the production of neurotransmitters; an imbalance in neurotransmitters can lead to mood disorders
Copper is involved in the anti-inflammatory process and in immune system responses
Copper is important for collagen and melanin
Copper deficiency can lead to premature greying of the hair
Foods high in copper include oysters, organ meats such as beef liver, mushrooms (especially shiitakes), chocolate, almonds, pecans and leafy greens
Symptoms of copper deficiency include anemia, premature greying of the hair, loss of bone and collagen, low white blood cells, decreased thyroid function, and hair loss
Excess Zinc Intake Can Induce a Copper Deficiency
Since too much zinc can inhibit the absorption of copper and lead to deficiency, it is important to know the ratio between these two essential elements. The lab reference range for the ratio of zinc to copper (Zn:Cu) is 6.6 to 10.8. We will cover the latest results of this test in an upcoming post.
Make Sure You Are Getting the Right Amounts of Copper, Zinc, and other Essential Elements!
Do you know your selenium, magnesium, zinc, copper, and copper:zinc ratio levels? Make sure you know the status of these important elements and others with the Magnesium Plus Elements blood spot panel, and see if changes in your diet and supplementation could improve your element status and health outcomes. To know if you are getting enough, make sure you test today!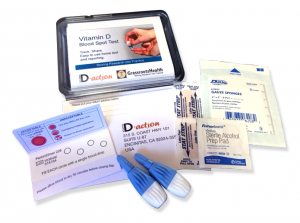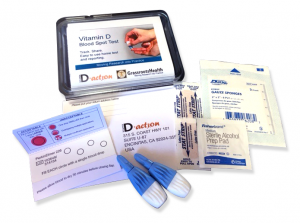 You can also measure your:
Vitamin D
Magnesium PLUS Essential and Toxic Elements
Omega-3 Fatty Acids
hsCRP
HbA1c
TSH
Type 1 Diabetes Autoantibodies
Did you know that each of the above can be measured at home using a simple blood spot test? As part of our ongoing research project, you can order your home blood spot test kit to get your levels, followed by education and steps to take to help you reach your optimal target levels. Start by enrolling and ordering your kit to measure each of the above important markers, and make sure you are getting enough of each to support better mood and wellbeing!
Create your custom home test kit today. Take steps to improve the status of each of these measurements to benefit your overall health. With measurement you can then determine how much is needed and steps to achieve your goals.  You can also track your own intakes, symptoms and results to see what works best for YOU.
Enroll in D*action and Test Your Levels Today!
How can I track my nutrient intake and levels over time?
To help you track your supplement use and nutrient levels, GrassrootsHealth has created the Personal Health Nutrient Decision System called


For each specific supplement, you can track what days you take it, how much, and many other details.  This will help you know your true supplemental intake and what patterns of use work for you to reach and maintain optimum nutrient levels.  Check it out today!
How Can You Use this Information for YOUR Health?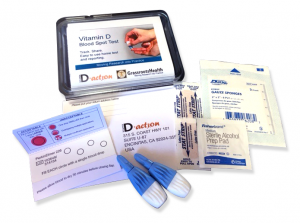 Having and maintaining healthy vitamin D and other nutrient levels can help improve your health now and for your future. Measuring is the only way to make sure you are getting enough!
STEP 1 Order your at-home blood spot test kit to measure vitamin D and other nutrients of concern to you, such as omega-3s, magnesium, essential and toxic elements (zinc, copper, selenium, lead, cadmium, mercury); include hsCRP as a marker of inflammation or HbA1c for blood sugar health
STEP 2 Answer the online questionnaire as part of the GrassrootsHealth study
STEP 3 Using our educational materials and tools (such as our dose calculators), assess your results to determine if you are in your desired target range or if actions should be taken to get there
STEP 4 After 3-6 months of implementing your changes, re-test to see if you have achieved your target level(s)