Alexander Wunsch, MD
Wismar University of Applied Sciences, Germany
Watch this detailed presentation of why sunlight is good for you or take the continuing medical education (CME) course presentation.
The History of Light Therapy
Until the 1950's the sun was the most prescribed and most effective treatment for a variety of ills. In this talk, Wunsch presents the history of heliotherapy, including some illustrative photographs of some of Dr. Auguste Rollier's heliotherapy patients, such as this before and after picture of a man with lupus vulgaris who underwent light therapy in the early 1900s.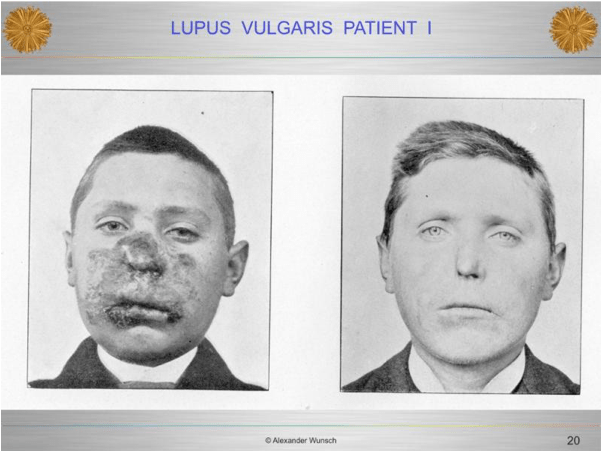 Dr. Wunsch presents another Rollier case study showing a young boy who had severe rickets and was weeks away from death. After undergoing light treatment, he lived a healthy life. Below are pictures of before and after therapy, as well as at different stages of his life.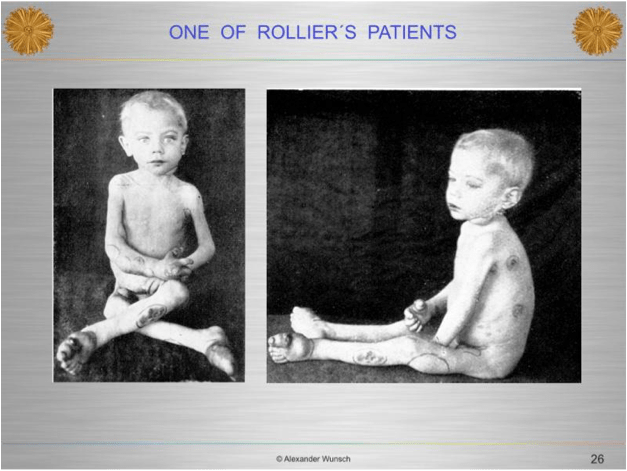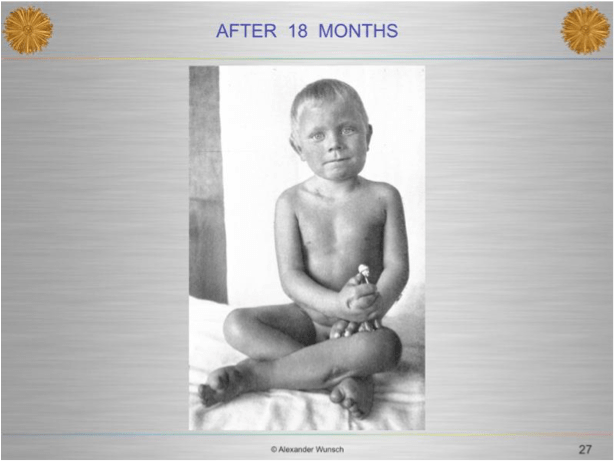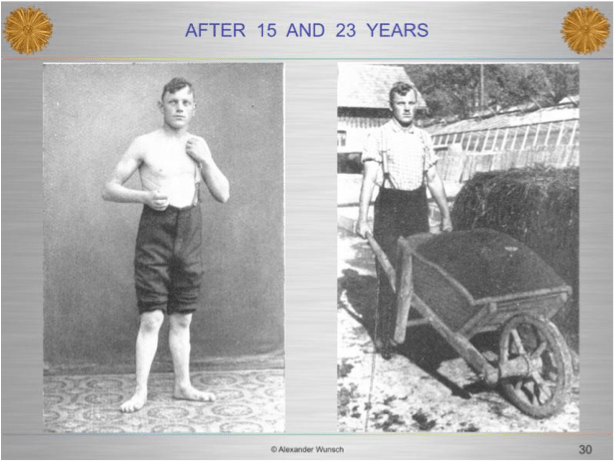 There are many case studies documenting the positive effects of the sun and light treatment. For those who read French, you can order Rollier's book and find out more about his practice.  He also presented the picture below. What do you think it is?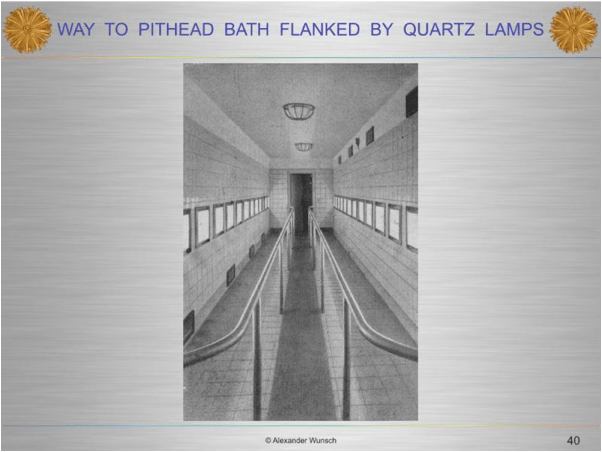 It is an entrance into the baths that coal miners used at the end of their workday. Understanding that the miners were underground all day, the owners of the mine, wanting to keep their workers healthy and producing coal, made sure their workers still received the benefits of sun exposure (in this case sun lamps). The workers stripped down and walked in a slowly moving, single file line, into the entrance of the baths at the end of their day. Was this a precursor to today's preventative health plans? Could you see a company doing this today? Similar to lactation rooms, companies could provide areas for employees to take a "sun break" during lunch time. Would you like that in your workplace?
Acclimating to the Sun – Preparing for Summer
Wunsch presents this chart as an illustration of how light therapists gradually acclimate the body to light (sun or lamp).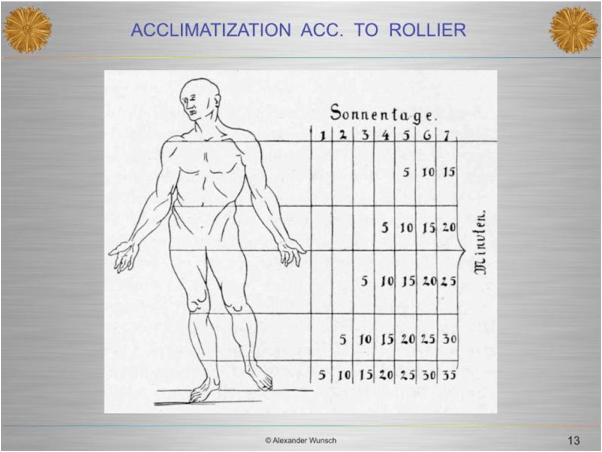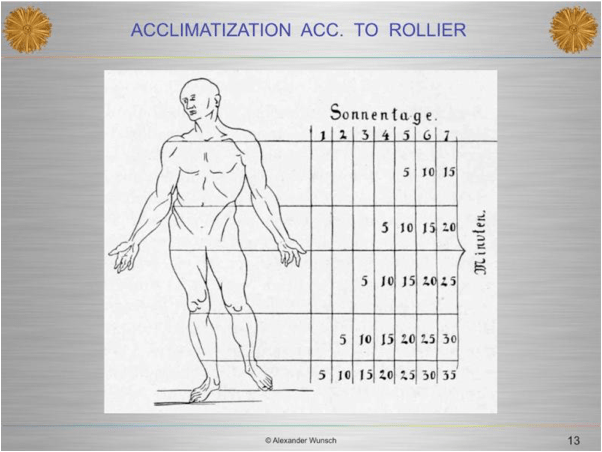 Session 1 you only expose the feet to 5 minutes of light. Session 2, after 5 minutes of exposure only on the feet, a blanket is raised to expose the lower leg along with the feet for an additional 5 minutes, etc. You can see that this is a very gradual process.
What Can You Do with This Information?
Understand that coming out of winter, you will need to acclimate your body slowly before going in the sun. The chart above is very important, and our culture has lost sight of this point of view. If you hibernated all winter, don't go whole hog at your first chance. Your skin is not prepared for it. During Wunsch's presentation, he explains why – showing how skin cells acclimate to the sun and provide a natural sunscreen with gradual exposure.
Secondly, let's go back to thinking that the sun has healing properties. What can it do for us? There are a lot of benefits derived from sun exposure, and if done correctly, can improve your health.
Important Message
NEWS ALERT: States, Governments Acknowledge the Need for Vitamin D to Build the Immune System; Vitamin D*action has achieved a major milestone of 'Moving Research into PRACTICE'!
EVERYONE needs to know about the benefits of vitamin D... We need your help to do this. Donating $25.00 today will positively affect millions of lives!
We will take this opportunity to use our extensive network to get pertinent information on vitamin D to the new US COVID Panel as well as local and state government representatives around the world.
Donate $25 today to help support this outreach effort (and, let us know if your employer could match the donations made by individuals from now until January 1, 2021!). You can also "text-to-give" by simply texting Daction to 44321.
Donations made through GiveLively are received in full by GrassrootsHealth.
What Does it Take YOU to Get Your D to 40 ng/ml (100 nmol/L)?
Did you know your health could be greatly affected by making sure you have a vitamin D level of at least 40 ng/ml (100 nmol/L)? Help us help you.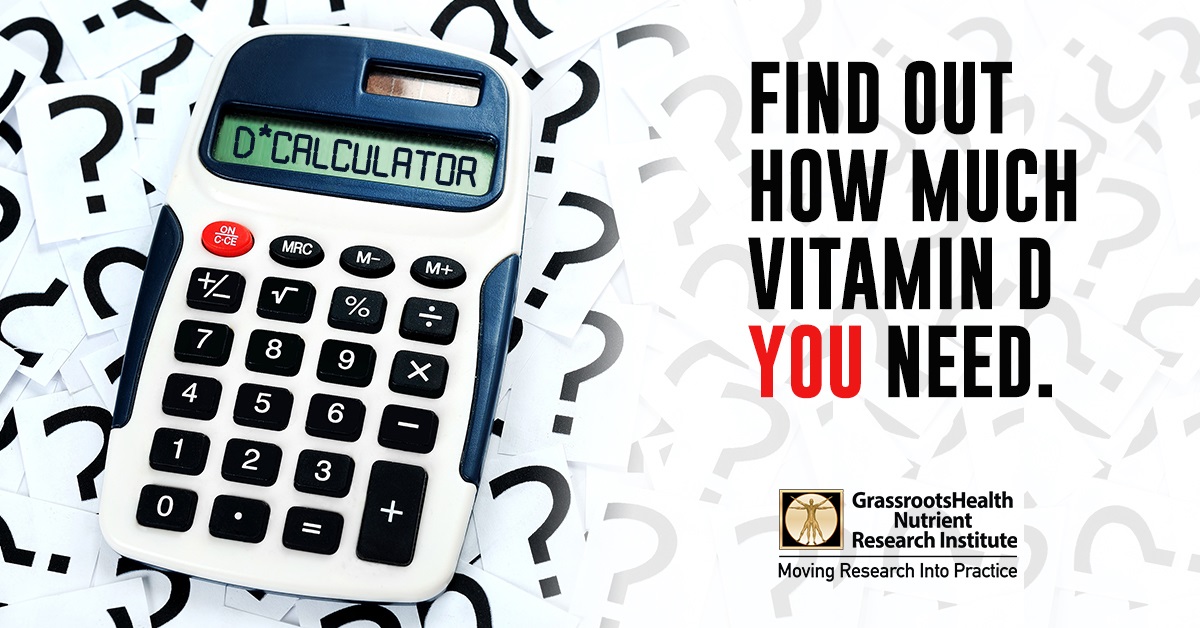 STEP 1 - Do you know what your vitamin D level is? If not, be sure to test today to find out.
STEP 2 – Determine your target level. Are you at your target level? Experts recommend a level of at least 40-60 ng/ml (100-150 nmol/L).
STEP 3 – Need to boost your level? Use the D*calculator to see how much vitamin D it may take to reach your target. Opt for the Loading Dose for a quicker boost.
STEP 4 – Optimize how your body absorbs and utilizes vitamin D with co-nutrients and these simple steps.
STEP 5 – Re-Test! This is an important step to make sure you have reached your target level, and to ensure you are not taking too much! Re-testing after 3-4 months is recommended.
STEP 6 – Adjust, Repeat…
Give your immune system the nutrients it needs to support a healthy you and protect yourself from unnecessary diseases, especially COVID-19.
NEWS ALERT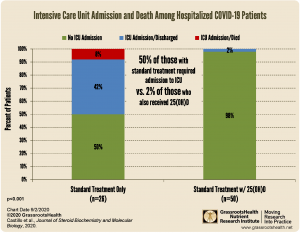 The first Randomized Controlled Trial on vitamin D and COVID-19 has shown a 96% lower risk of ICU admission for those receiving vitamin D (as 25(OH)D to quickly boost vitamin D blood levels) along with the standard treatment, compared to those receiving standard treatment alone.
These results support many previous observational studies showing a relationship between vitamin D levels and intake and COVID-19 severity.
Review the Latest Nutrient Research for COVID-19
GrassrootsHealth Nutrient Research Institute has launched the new Immune Boost project with the use of our myData-myAnswers nutrient health system that nearly 15,000 people are already using for their health. Specific markers that influence immune health are suggested for testing as part of this project including:
Vitamin D
Omega-3 Index
Essential elements magnesium, selenium, and zinc
hsCRP
Our goal is to demonstrate how one can use the Nutrient Research Model established by Dr. Robert Heaney to show the effect of vitamin D serum levels of at least 40 ng/ml (100 nmol/L) on risk reduction for all ethnicities in the population. Status and intake of other nutrients will also be analyzed for any type of relationship to immune status and symptom severity. Join the project today!
Please let us know if you're interested in helping sponsor this project.

CLICK HERE for updates and new information about the project.
Through GrassrootsHealth Nutrient Research Institute, you can also test your essential elements magnesium, copper, zinc and selenium, toxins such as lead, mercury and cadmium, as well as your omega-3 levels, inflammation levels and thyroid stimulating hormone (TSH) level. Find out your levels today! Log on to the test selection page (click the link below) to get your tests and see for yourself if your levels can be improved.
Make sure you track your results before and after, about every 6 months!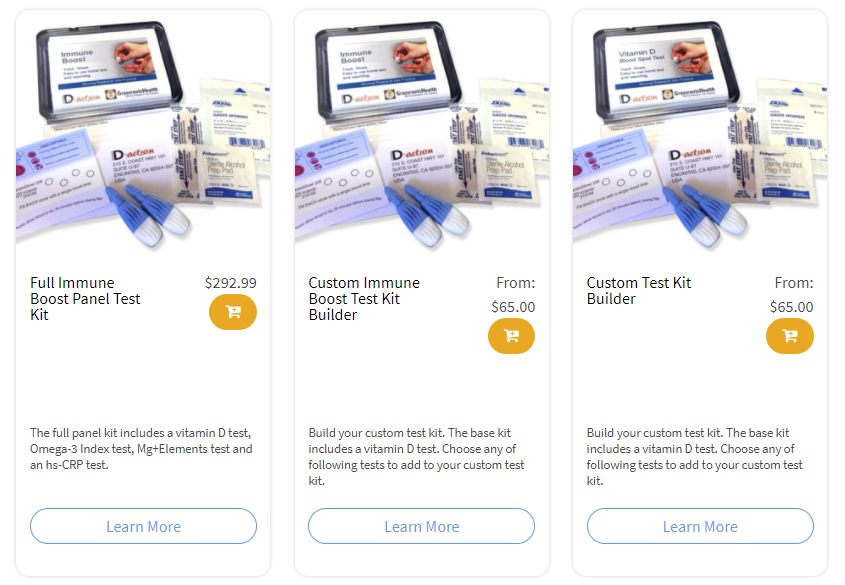 Click Here to Access the Test Page
How can I track my nutrient intake and levels over time?
To help you track your supplement use and nutrient levels, GrassrootsHealth has created the Personal Health Nutrient Decision System called

For each specific supplement, you can track what days you take it, how much, and many other details.  This will help you know your true supplemental intake and what patterns of use work for you to reach and maintain optimum nutrient levels. Check it out today!